At the beginning of December, Emily and I had the pleasure of attending a special two-day event held by Chalk Ink in Austin, Texas! It was a first time for both of us visiting Austin and we loved it! It was great to learn more about Chalk Ink markers, visit their fun headquarters, and explore a new city.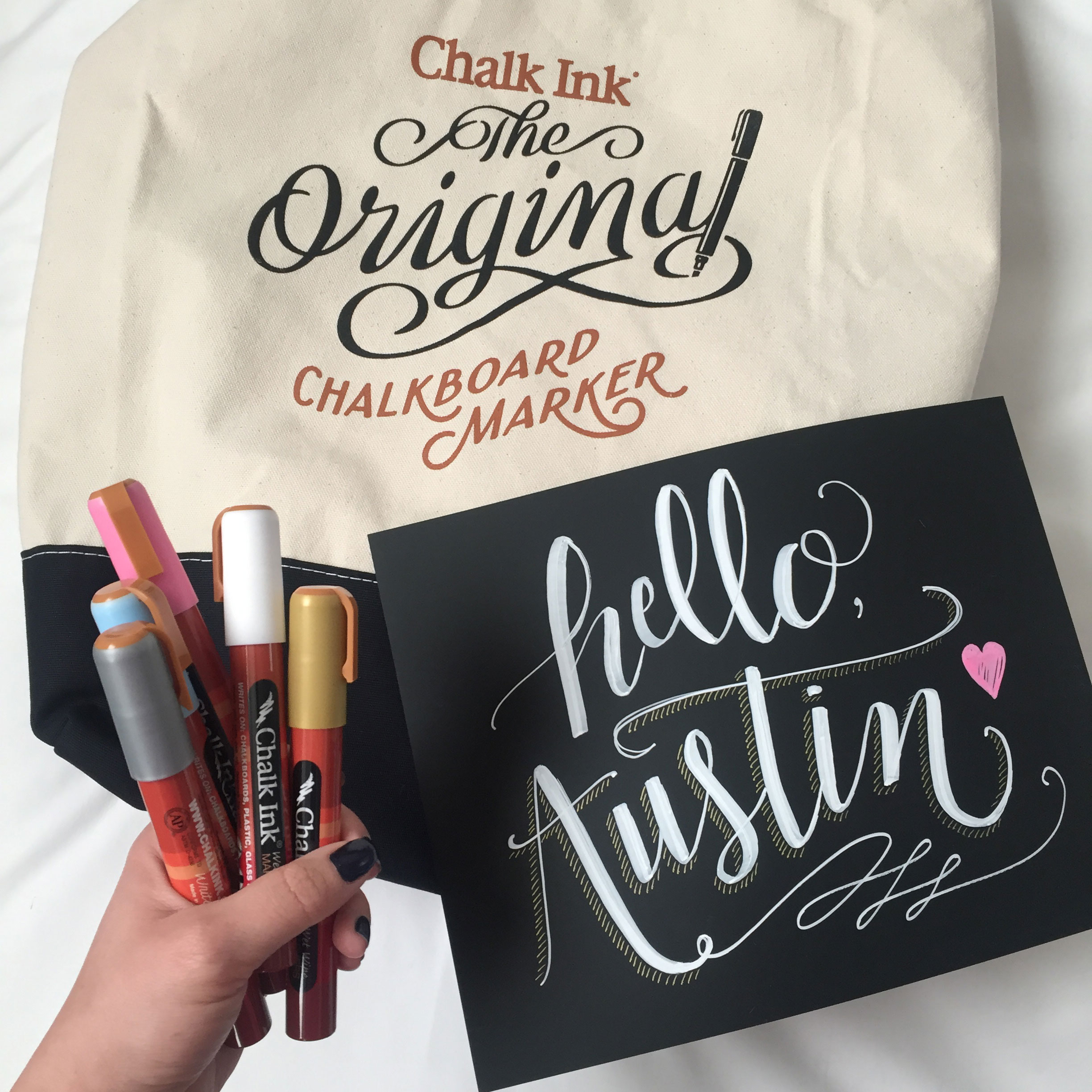 How amazing is this "Welcome to Austin" sign hanging in the Chalk Ink headquarters? It was created by Anilyn. She used Chalk Ink's Artista Pro line, which is their line of water resistant markers perfect for sign painters or projects requiring the most staying power. These markers can be removed with ammonia based cleaners.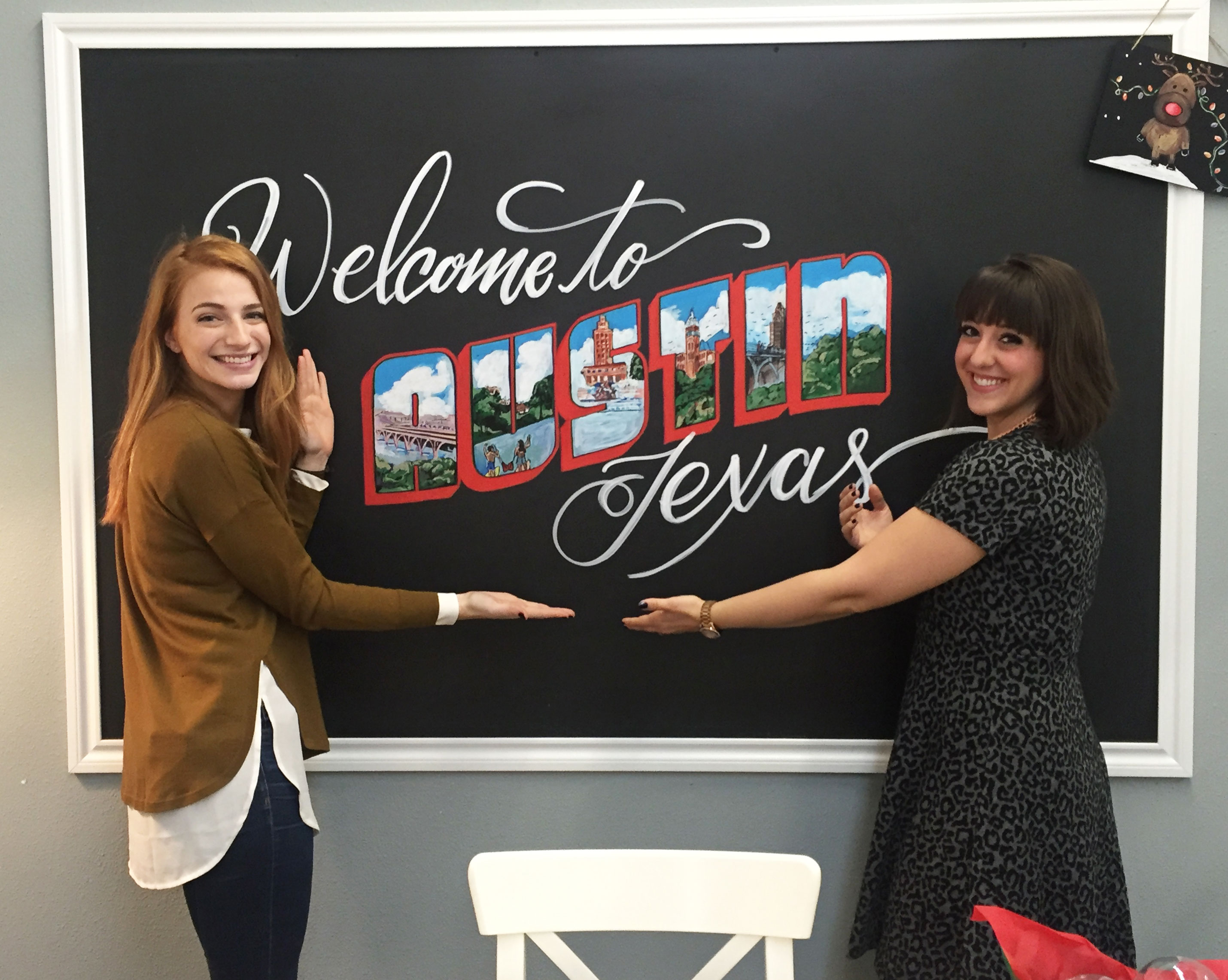 One of my favorite things I learned about Chalk Ink markers is that they can be used on any non-porous surface! My mind was racing with possibilities. Yay for adding hand lettering to wine bottles, glasses, windows, and even granite countertops as they did here! Love.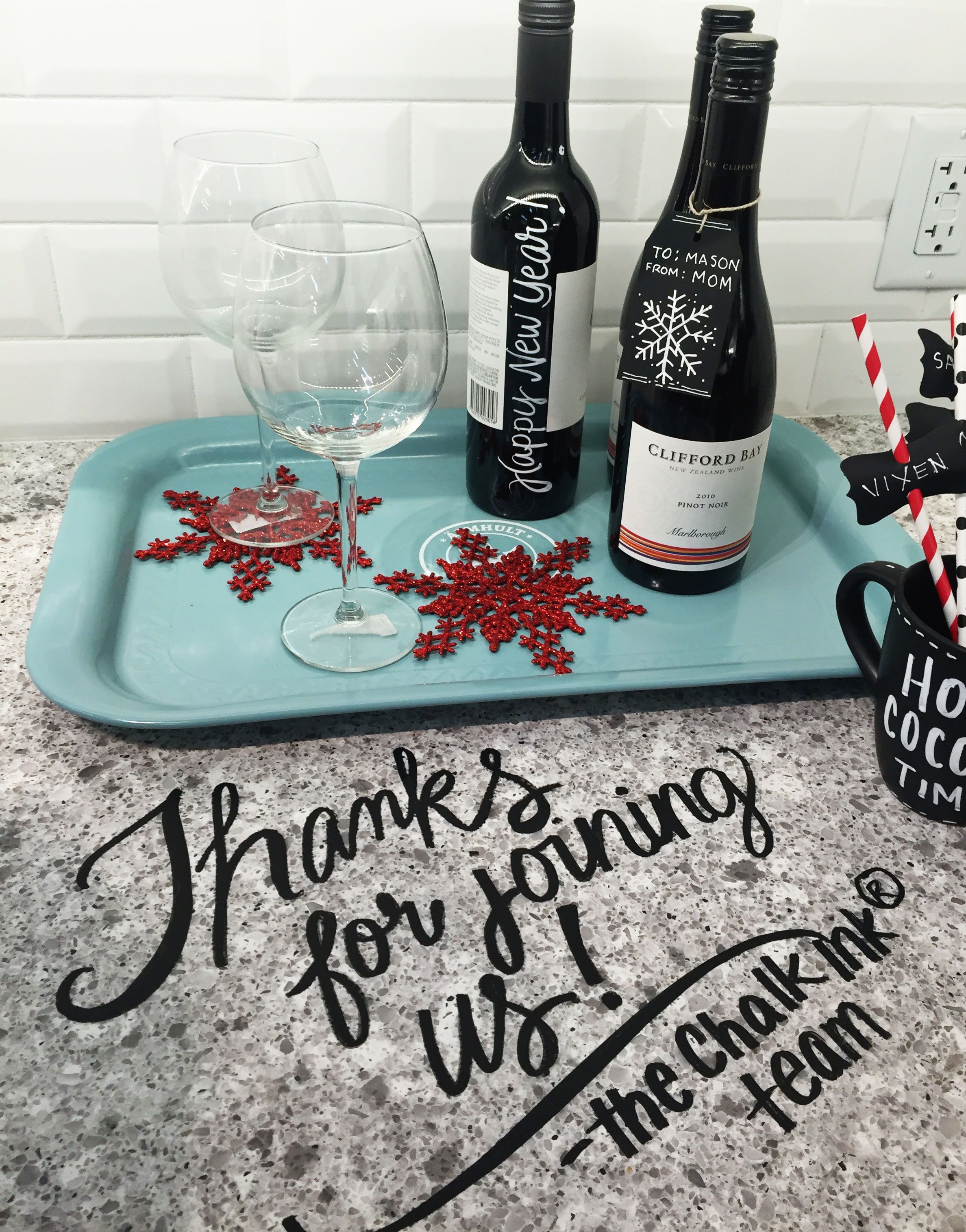 As part of the visit, we played and experimented with the markers. They set up a table with multiple chalkboards, surfaces, makers in a bunch of gorgeous colors, and we got to sit down and craft together. Drawing and crafting with Emily and the other amazing bloggers and artists attending the event was a real pleasure. I could have stayed and crafted all day long.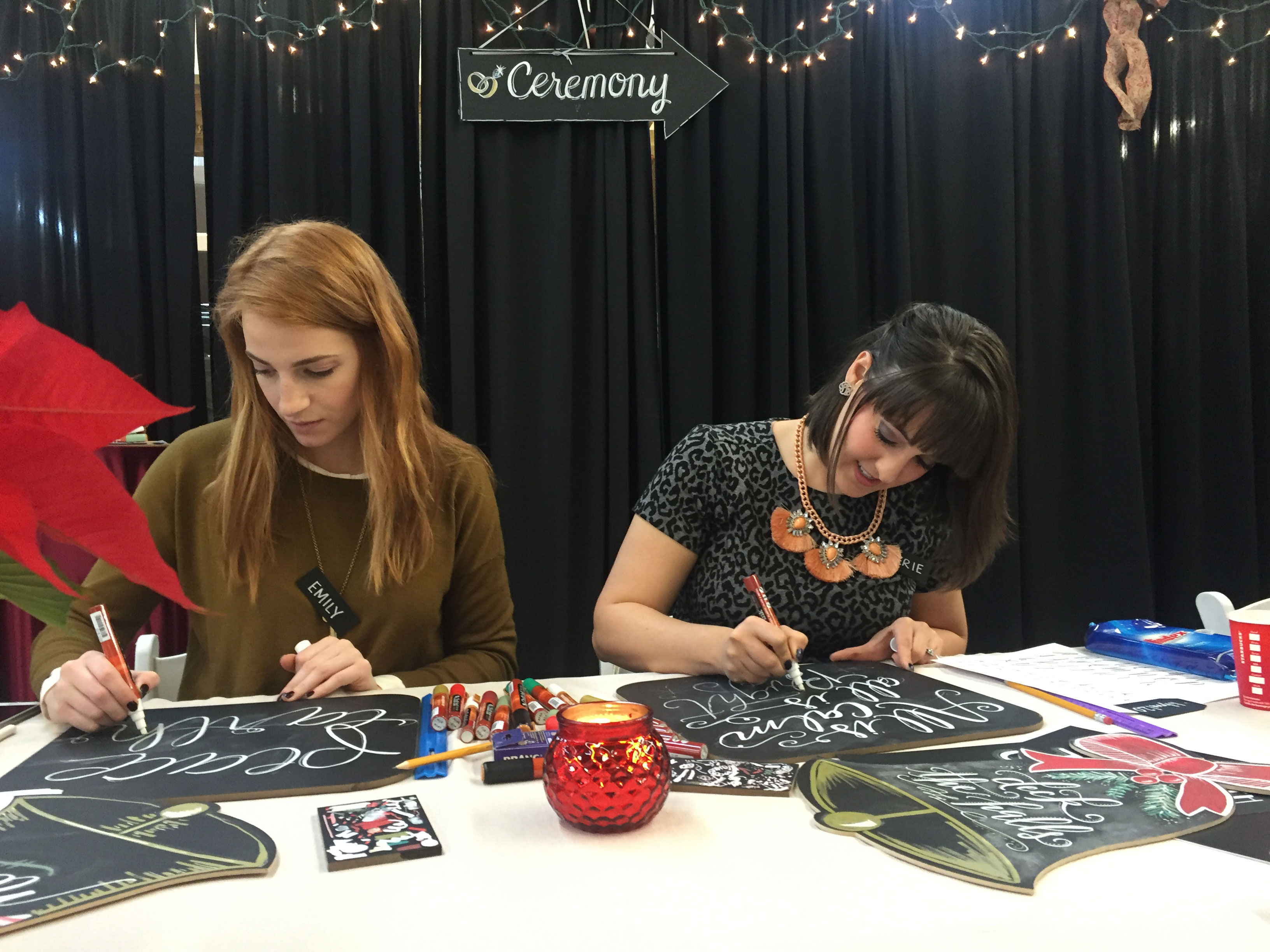 I was so impressed with how vibrant the markers are. Every color is beautiful and they come in multiple-sized tips, which is very helpful for different projects. You can also blend the colors while they are wet.
As many of you know, I absolutely love working with the dustiness of real chalk. I think the dust really adds a special rustic charm to chalk pieces and I will continue to produce prints using real chalk. Luckily for me, since I take a photograph of the artwork, I don't need to worry about transporting and smudging it. That said, one of my most frequently asked questions is about producing signs that need staying power and how to prevent smudging. Insert: Chalk Ink markers. They are a great alternative that I can now recommend!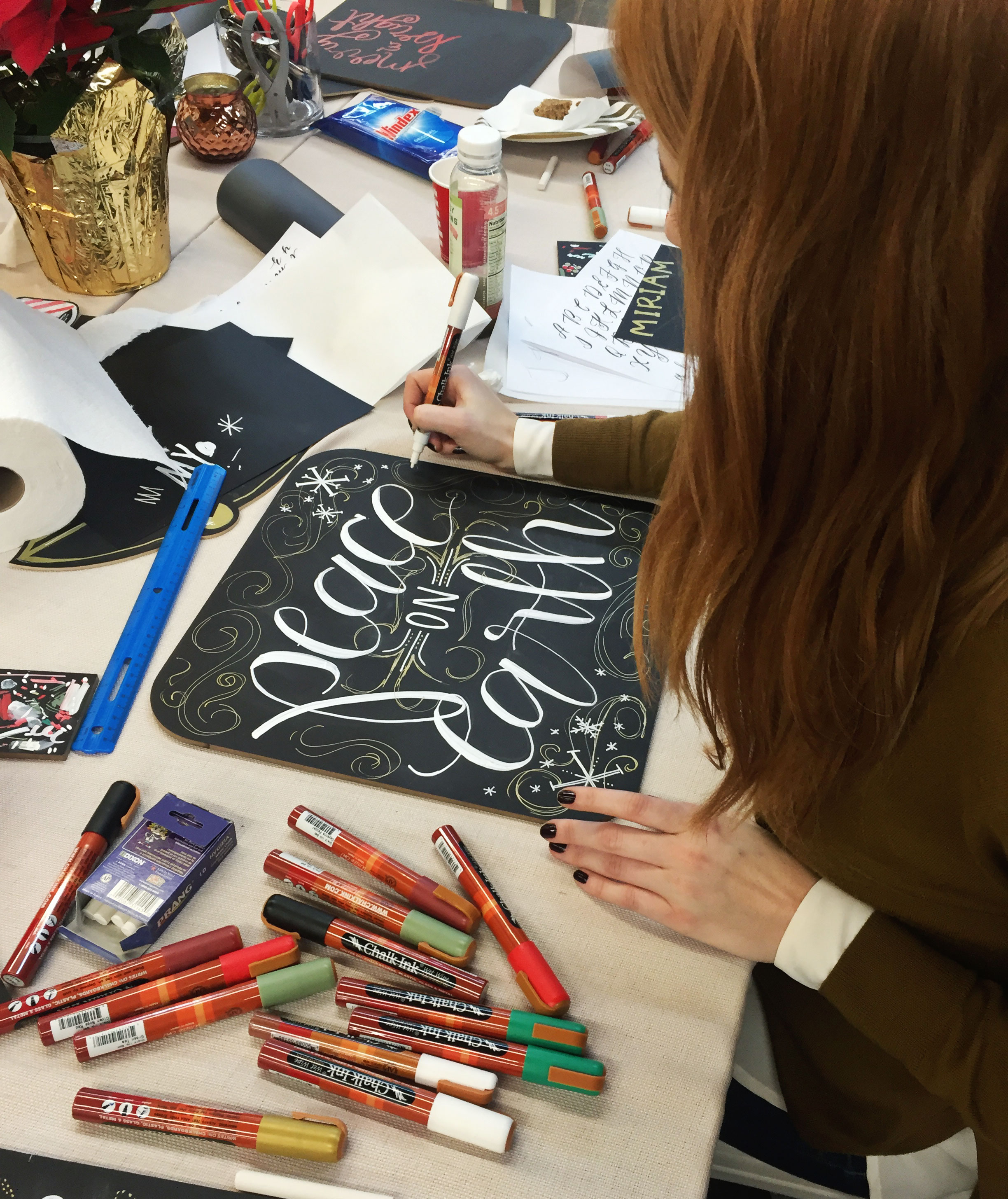 A few helpful tips/things to keep in mind when using Chalk Ink Markers:
– It is important to use Chalk Ink markers on a non-porous surface. Many of the DIY chalkboards made out of particle board or MDF board and chalkboard spray paint will not work well because they are a porous surface. The good news is, Chalk Ink will be releasing a new line of chalkboard paint soon! This paint will eliminate this issue.
– Use regular chalk to create guides for your artwork. The markers will write beautifully over the chalk guides.
– For a pretty dimension on the chalkboard, add bits of chalk dust. On my "All is calm, all is bright" sign, I added sporadic bursts of chalk dust on the background. I really like this authentic chalkboard look and it won't disturb the marker portion.
– There are two types of formulas: Wet Wipe and Artista Pro. Wet wipe markers will erase easily with water and Artista Pro will require a cleaning solution.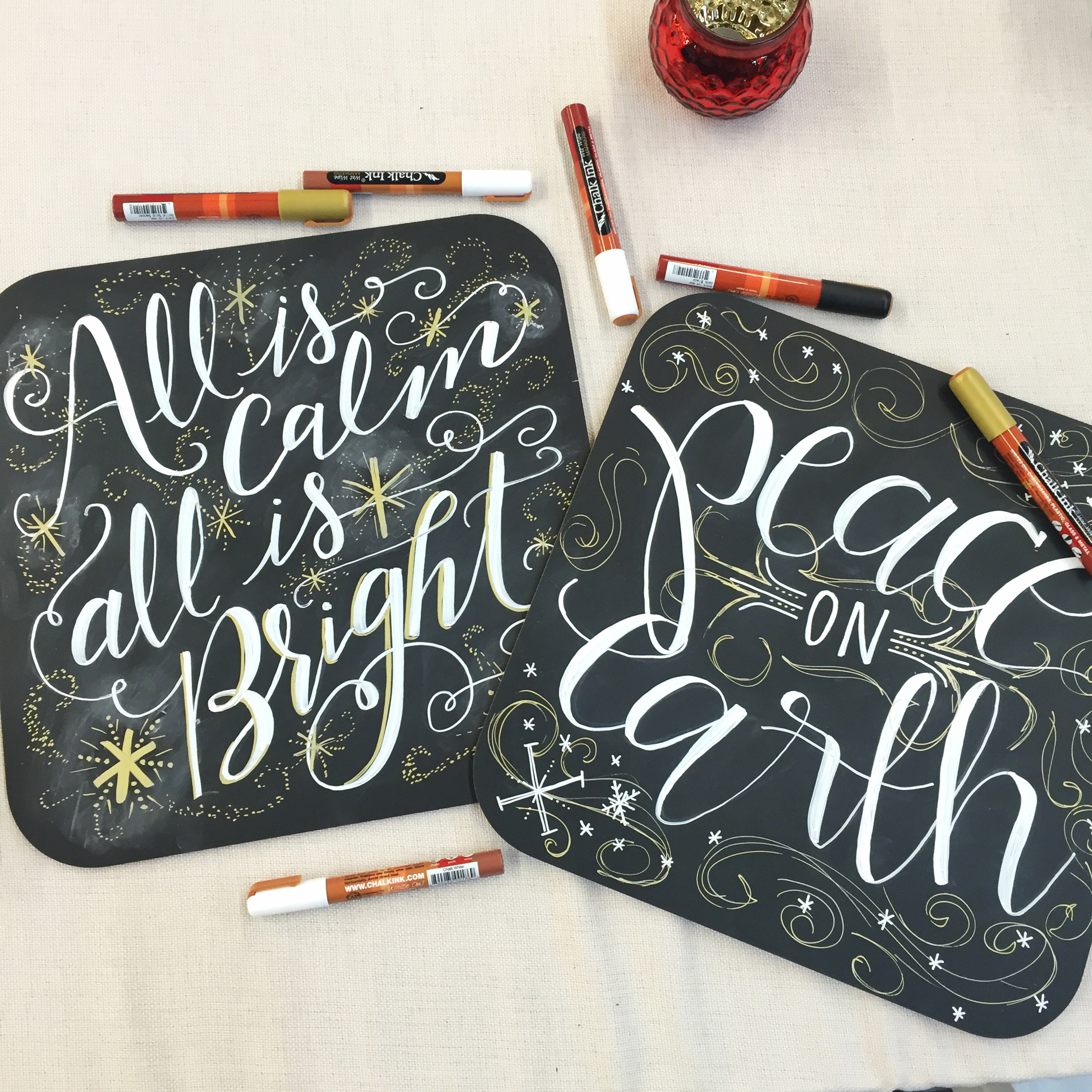 All varieties of Chalk Ink markers can be purchased on their website: chalkink.com.
And something special for Lily & Val blog readers – use discount code "lilyval20" at checkout on chalkink.com for 20% off your entire order!
 
This is a sponsored post between Lily & Val and Chalk Ink. Lily & Val has received payment and/or products in exchange for promoting, however I only work with brands and products that I love and all opinions are my own.