I just love decorating for Fall! Getting my pumpkins and fall items can be as exciting to me as decorating for Christmas! This year, I've been using a lot of raw cotton in my Fall decor because I think it is so beautiful, rustic and cozy. I even drew this design inspired by my love of cotton! Since my wreath was in need of a change, I decided to DIY one using  raw cotton and some other pretties. It was an easy project and I'm excited to share it with you!
I purchased my faux raw cotton from Hobby Lobby, but you could also use dried! I have a dried stem that I keep in a simple bottle vase on our entryway table and I love it.  The eucalyptus I used in my wreath is also dried. It is the same eucalyptus from my fall dining room table centerpiece last year!
Fall Raw Cotton Wreath

You will need:
A plain grapevine wreath
Faux or dried raw cotton bolls
Faux or dried flowers and greenery of your choosing. I used: faux yellow filler from Hobby Lobby (you could also use wheat here for that golden color and texture!), faux lavender, and dried eucalyptus. I really love how these colors look together!
A pinecone
Wire cutters
Hot glue/gun
Directions:
Start by placing your base layer into the grapevine wreath. I wanted my golden leaves at the bottom, so I started with those. Next, I added dried eucalyptus, making sure to balance the color. The grapevine wreath should hold the items well, but use a hot glue gun when necessary to affix certain parts to the wreath so they lay the way you would like.  I also decided to only add flowers to one side of the wreath, but you could add it the whole way around!
Next, add lavender sprigs throughout. The key is to mix up the textures and colors for interest. I wanted the lavender to look loose and a bit unruly.
Now that there is a space left in the center, where the stems from either side meet, add the raw cotton on top. They are the star of the show! Use your wire cutters to remove individual bolls or leave some on the stem. Add stems into the grapevine wreath and hot glue individual bolls to cover some of the stems.
To break up the white of the cotton, I added a single, large pinecone in the center and hot glued it in place. This was just the final bit of interest the wreath needed!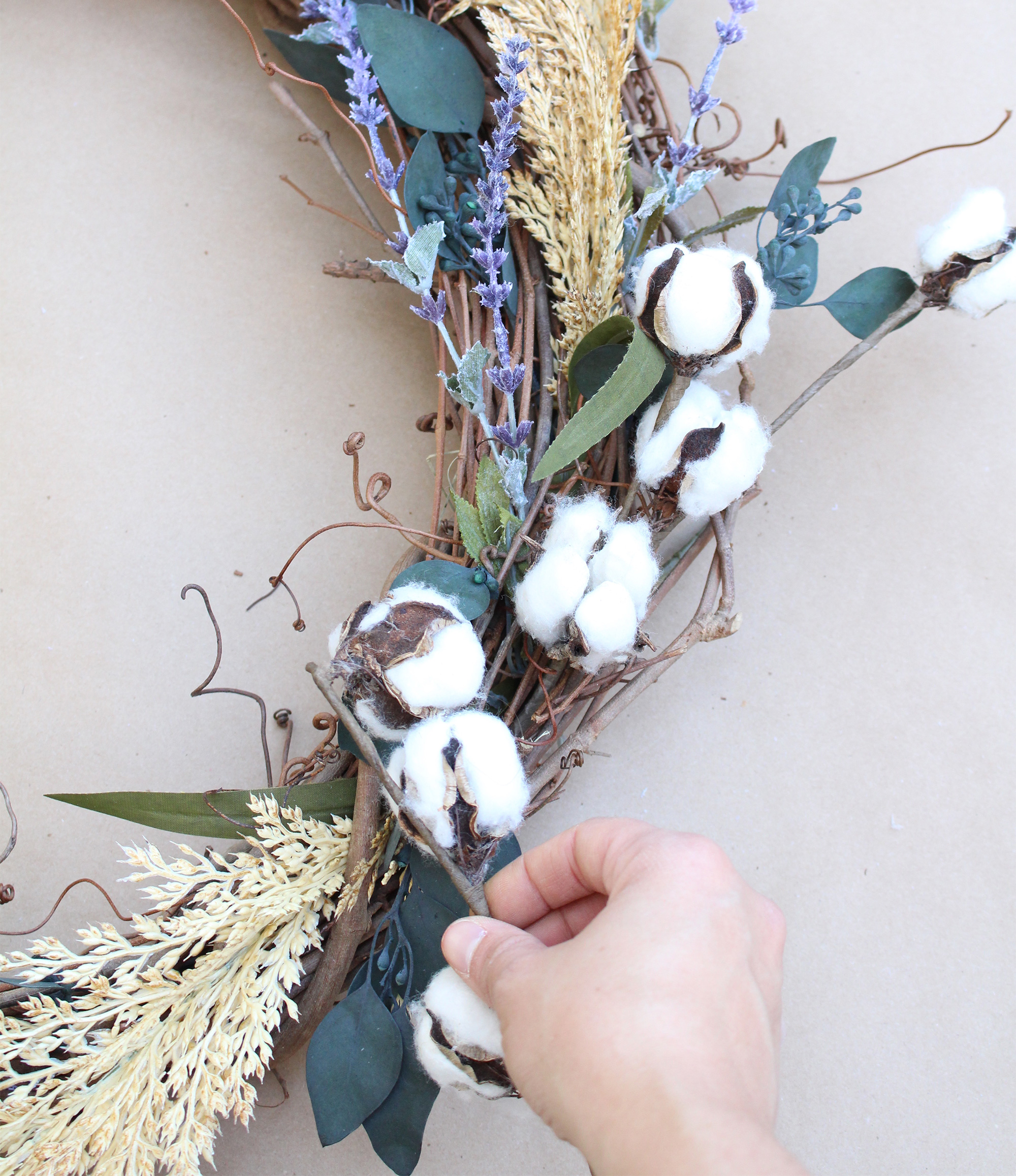 I love my new Fall wreath!