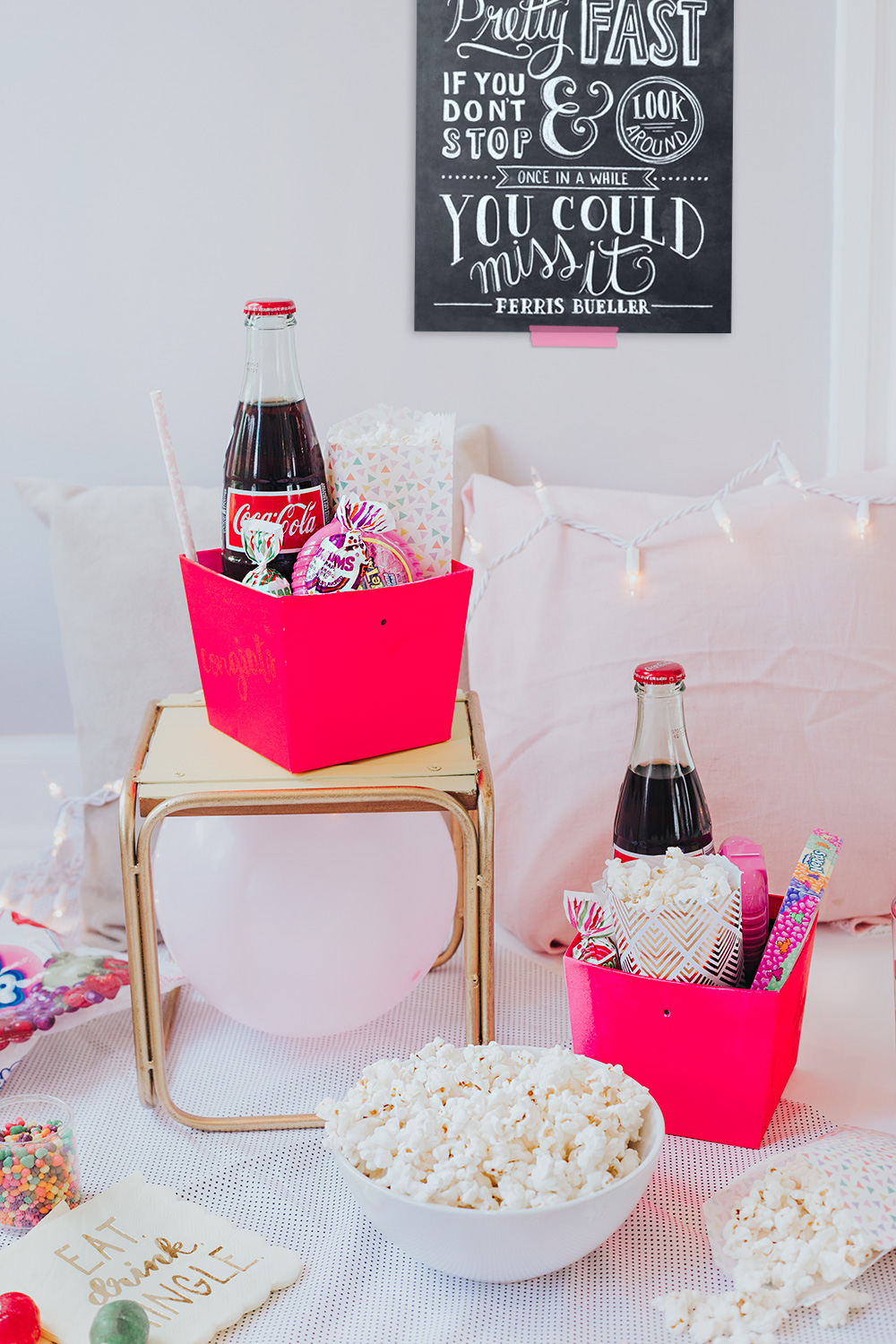 There really is no better way to kick off warm weather than with the carefree vibes of the 1980s. Am I right? And when it comes to the 80s, you just can't beat those classic movies like Pretty in Pink, The Breakfast Club and – of course – Ferris Bueller's Day Off. So we've come up with an adorable 80s movie night plan for you to throw for your girl gang.
80s Movie Night Supplies:
Classic glass Coke bottles
Popcorn (try a few of our topping suggestions here!)
Blow Pops
Bubble Tape
Nerds
Sweet-Tarts
Candy Buttons
Pillows and blankets
String lights
Ferris Bueller's Day Off movie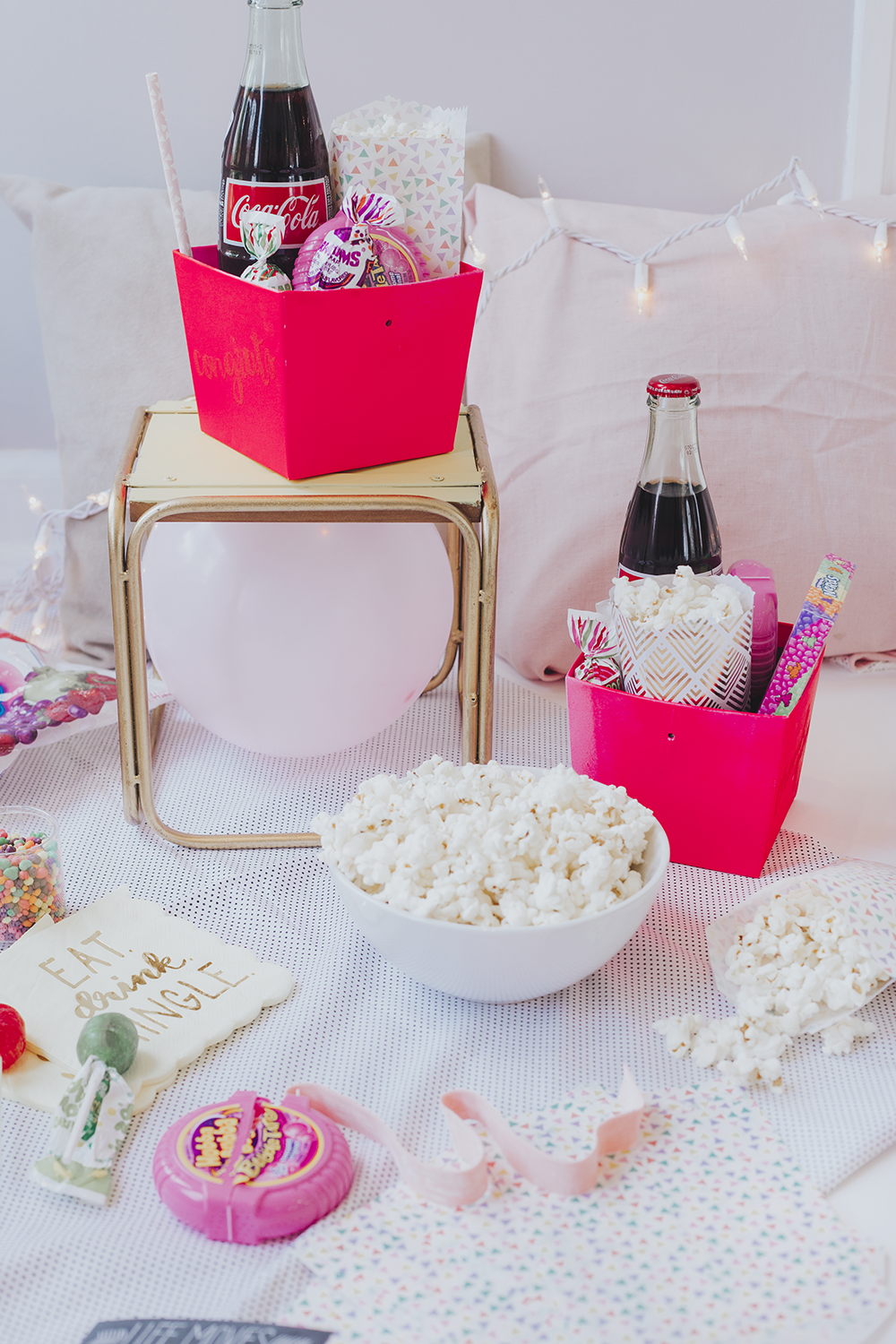 Send Themed Invitations
If you're throwing an 80s movie night and not mailing (or dropping off) themed invitations, you're missing a huge opportunity! But don't worry – we've got you covered.
Lily & Val happens to have the perfect invitation for this very party – a Ferris Bueller quote card in our signature chalk lettering. It's basically saying "Life moves pretty fast – if you don't come to this party, you could miss it."
Grab a boxed set of our Ferris Bueller cards and send 'em off to your closest couple of friends to get your 80s movie night underway properly. Don't forget to handwrite the envelopes for a personalized touch!
Washi tape makes for the perfect "dividers" on your DIY invitation to separate out the "when", "where", and "what"! Add in some handwriting with bright pens and you're all set.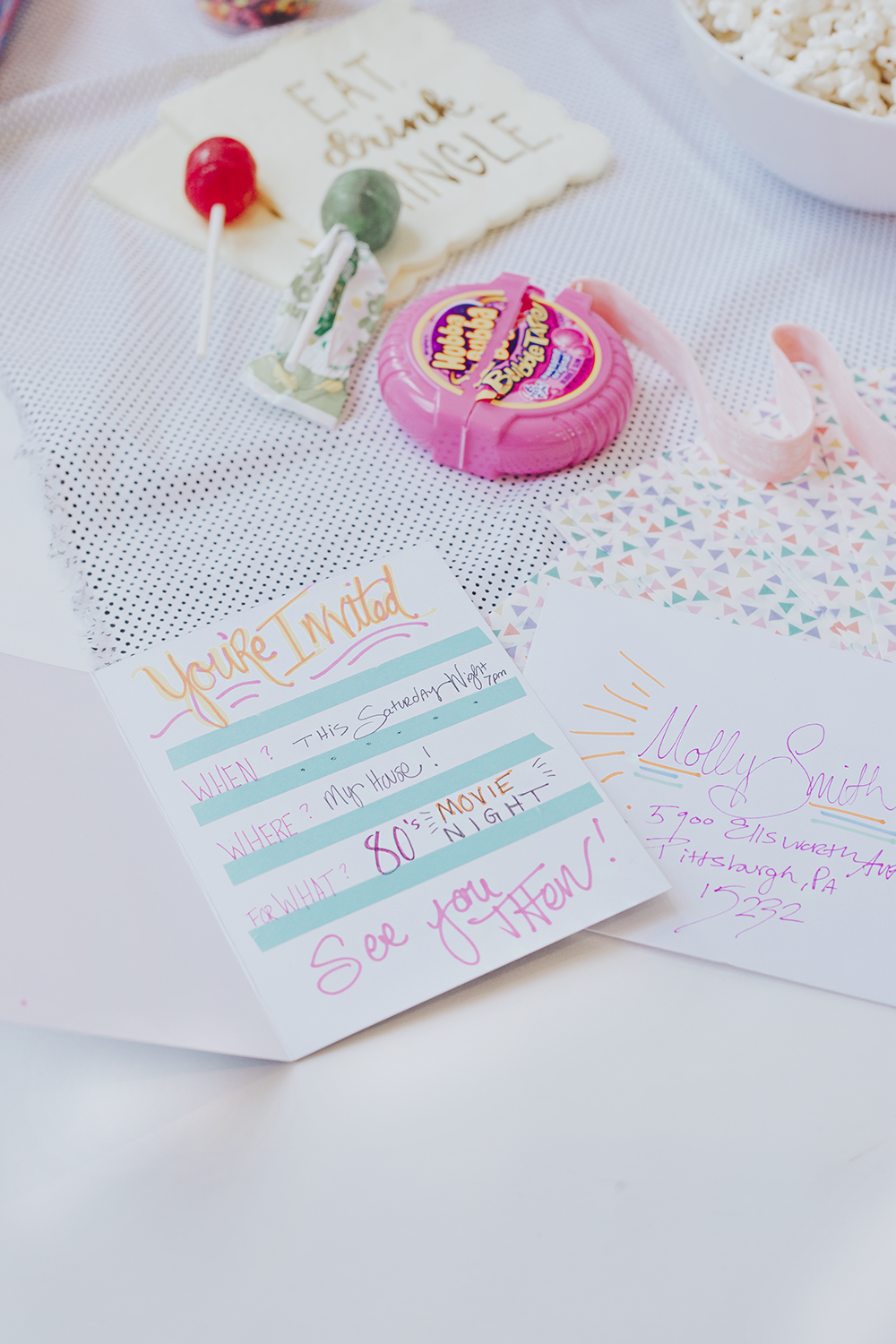 Make Movie Night Snack Boxes
Everybody loves snacking when watching movies, right? It's not just me. And while we already know popcorn is a staple, you can really up the fun level at your 80s movie night by coordinating your snacks to go with the theme.
We had a great time looking up 80s candy to go in our little hot pink boxes (which, by the way, were white boxes from the Target dollar section that I spray painted). It made me super nostalgic.
Set up enough boxes for your guests and let them fill them up with whatever they'd like! You can make a DIY snack bar with a few of our recommendations: Coke in glass bottles, Blow Pops, Nerds, Candy Buttons, Bubble Tape, Sweet-Tarts, and of course, popcorn.
Each friend can create their own custom snack box to fit their personal candy needs and they'll be good to go for the movie!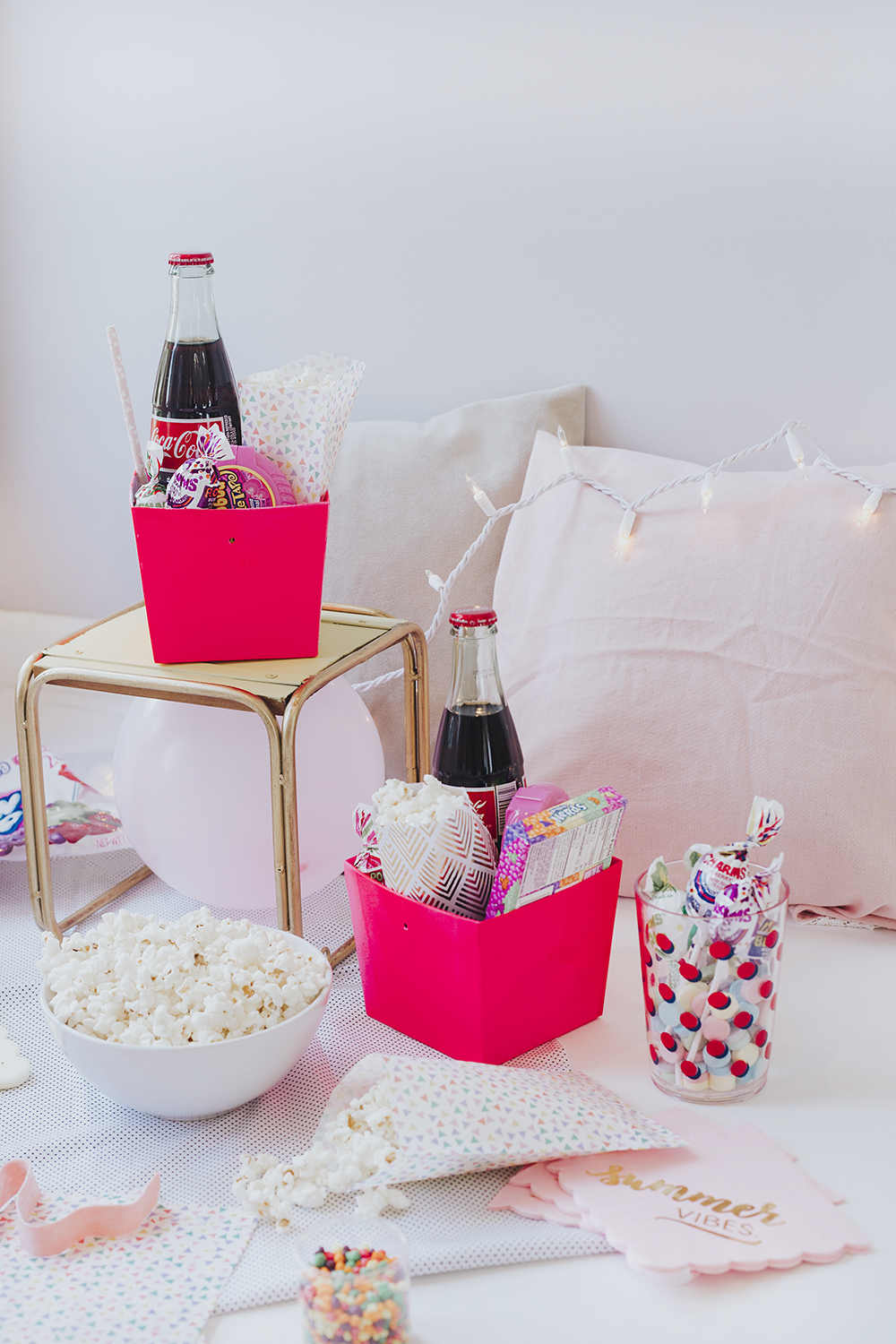 Throw in Bright Decorations
We love an 80s movie night in the summertime, whether its indoors or outdoors. If you're going the outdoors route, string up a few strands of icicle lights and hang a sheet on the side of the house for a projector!
If you're hanging out inside, brighten up your movie night with neon decorations. I found these "summer vibes" napkins along with colorful treat bags. Match your decorations – from your glassware (or plasticware) to your napkins to your lights – with the 80s theme.
Coordinate your invitations with our matching Ferris Bueller chalk art print! The black and white color will contrast all your neon and colorful decorations so nicely! Hang your print with some neon washi to tie it all together.
Set the Scene with Cozy Touches
Again, whether you're watching your movies inside or outside, cozy touches go a long way towards making your party feel special.
I love the idea of throwing a few pillows and blankets on the floor and having everyone lounge around together. String up fairy lights (or icicle or globe lights) and turn off the house lights to create that warm glow.
Got an old boombox lying around? Play Twist and Shout! A quick dance party before you settle into a movie will never go out of style. And everyone loves the iconic parade scene from Ferris Bueller's Day Off.
Play Dress Up
The very best part of the 80s might be the fashion. If I'm not mistaken, this would include leg warmers, stirrup pants, those windbreaker jackets, side ponytails, neon colors, cutoff sweatshirts, and giant scrunchies.
Just imagine the photo opportunities if you have your friends show up in their best 80s costumes – you could even set up a DIY photo booth using a roll of movie tickets!
I don't know about you, but I'm definitely throwing an 80s movie night this summer. I might throw a few, even! My personal favorite flicks of the decade are Ferris Bueller's Day Off (of course), The Breakfast Club, E.T., Ghostbusters, Footloose, Dirty Dancing, and Back to the Future.
What are your favorite 80s movies? If you throw an 80s movie night, let us know! We'd love to see your photos on Instagram (tag us with #lilyandvalliving). And as always, pin the above image if you'd like to share this post!
If you wanna know a secret, I've never seen Sixteen Candles or Pretty in Pink. I'm going to have to fix that immediately.
Get your boxed set of Ferris Bueller cards below: