I'm a big fan of creating experiences that make the simple things feel special. It's one of our core values at Lily & Val – treasuring the simple things in life. For me, coffee has become a simple ritual that can truly make my morning. It wakes me up and starts my day, so it's important to me that I enjoy this time. Enter our DIY coffee bar.
If you want my steps for creating the perfect home coffee bar, keep reading!
Create Variety with Your Coffee
There are a few basic necessities for a great coffee bar, one of those being coffee. And as they say, variety is the spice of life. I personally feel it makes more of an experience when there are multiple coffee options to choose from – the variety in flavors or blends makes you feel like you're at a coffee shop.
I'm no connoisseur by any means, but I do think there's a difference in taste between freshly ground beans and store-bought grounds. Regardless, having the option between grinding your own coffee and scooping out pre-made grounds is fun! Imagine you wake up on a lazy Sunday morning and you walk over to your adorable coffee bar. Hey – it's a Sunday, you have the time to grind some beans. How luxurious!
Include both beans and grounds (as well as multiple blends) on your coffee bar to give you the cafe experience that makes having a designated coffee bar special.
Pro-tip: Buy inexpensive glass containers for your coffee (mine are from the Target dollar section) and write  labels on the glass with a paint or chalk marker. Instant classy organization!
Make Homemade Syrups
How sugary I like my coffee is often a joke to my friends and family. But who cares! You like what you like. If you're a flavored coffee person (like me), try your hand at making a few syrups yourself. Pictured below is a toasted marshmallow syrup alongside vanilla almond milk creamer.
The toasted marshmallow syrup recipe is pretty easy to make – just be sure to watch the pan closely when caramelizing the sugar so it doesn't burn. It's super tasty, so don't give up if it takes a few tries! Also, it can be dairy-free when you substitute coconut milk for half and half. I need sweetness in my coffee so a syrup and flavored creamer (or even those espresso marshmallows I made in December) are musts for me.
Show Off Your Mug Collection
Feel free to disagree here but I think drinking coffee is more fun out of your favorite mug. When I look in the cupboard and see that all my best mugs are in the dishwasher, I get a little bummed for a second. I never want to settle for a second-rate mug.
I personally love to drink out of mugs that feel like I stole them from a diner. Case in point with my 61C Cafe mug – though it's not stolen, I promise. 61C Cafe is one of my favorite coffee shops in Squirrel Hill, Pittsburgh so you better believe I cherish that mug and use it as often as I can.
A great way to display your mugs, especially if you live in an apartment, is to hang up a few hooks with command strips. I found these wood and copper hooks in the Target dollar section (where else?) and adhered them to the wall above the bar cart with the extra strong velcro strips.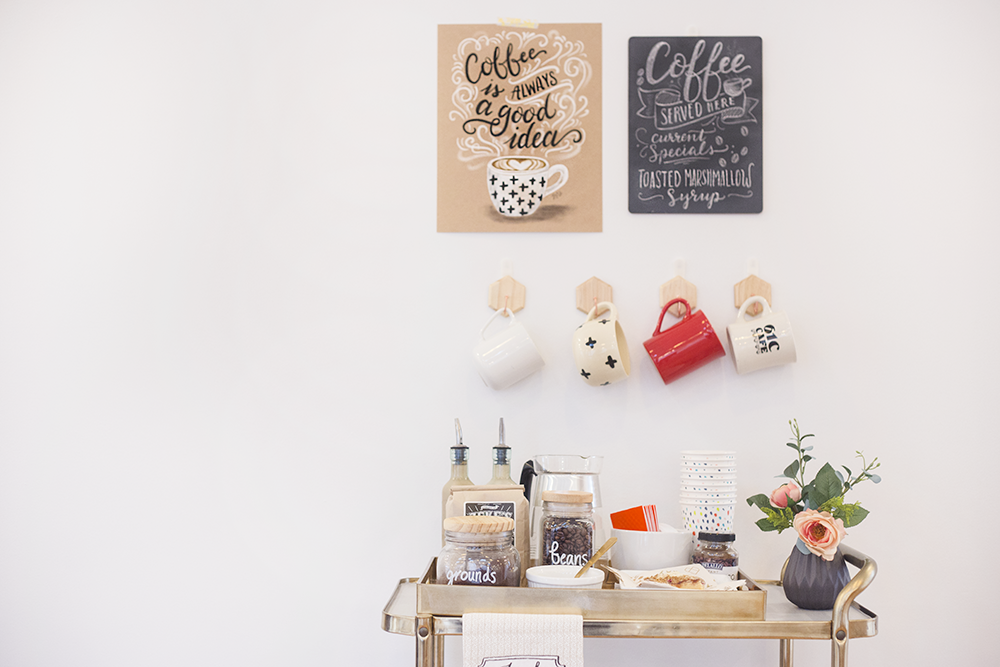 Set Out a To-Go Option
Pinterest tends to overlook to-go options when it comes to coffee bar pins. Whether you have a favorite thermos or prefer paper to-go cups like these from Cheeky x Brit + Co, I think having a way to take your coffee with you is so necessary for busy mornings.
If you're in a rush, it can also be helpful to have a spoon rest handy. I love the look of my gold spoon so I found a little ramekin to rest it in when I'm between cups of coffee.
Make a Menu
To really hit that coffee shop vibe home, make a menu for your bar! Val illustrated ours shown below with the "current specials." If you want to try your hand at chalk lettering, check out Val's book, the Complete Book of Chalk Lettering!
I asked Val to write the "current special" on the menu board to be the toasted marshmallow syrup I made.  It's like I'm running my own cafe/diner, à la Luke Danes from Gilmore Girls.
Don't forget to hang up a few prints! Use washi tape for a pretty and relatively light hold on paper. This coffee print can be found on the Lily & Val site or in the flagship store if you want to shout your love of coffee to the rooftops (like we do).
As a blogger, you start noticing over time how many props you've collected from the posts you've done. I've started a prop closet recently since I began contributing to L&V Living and I lugged most of it to our office when shooting this DIY.
What I'm saying is that this adorable and functional DIY coffee bar is brought to you by my prop closet. Target officially – and unknowingly – sponsors this prop closet.
On Our L&V Coffee Bar
From the Lily & Val Flagship Store*:
Bar cart | Plus sign mug | Coffee print | Home Barista book | Pour over Hario | Gold tray
*Come visit us to find these products!
From Target:
Wood and glass containers (Dollar section) | Tea towel | Red mug (similar) | White mug | Sugar container (similar) | Coffee filter container | Gold measuring cups | Hooray napkins | Syrup jars | Brit + Co cups | Ramekin | Gold spoon
Also featured:
Zeke's Coffee and pastry | Vintage coffee pot | 61C Cafe mug | Floral arrangement (by L&V Merchandising Director Emily C.)
So, what do you think? I hope you are inspired and that you have another reason to make mornings fun (though that's hard for me). Feel free to use the above pinnable image if you liked this post! Tag us on Instagram too with #lilyandvalliving.
Did I leave anything out that you think should definitely be included in your coffee bar? Let me know in the comments!