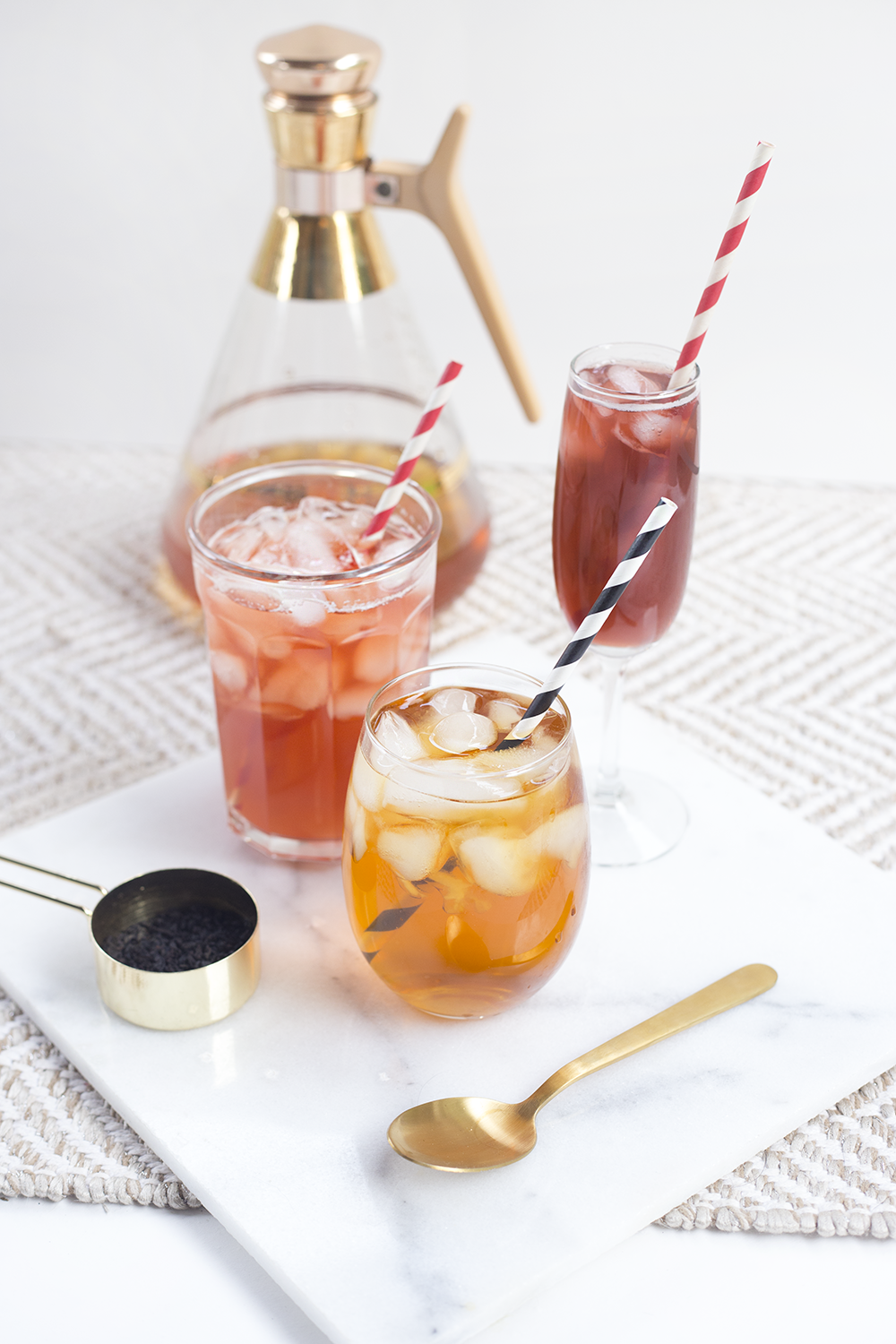 One of my very favorite things on our Lily & Val Spring Favorites list – something I enjoy every week – is iced tea! I wanted to put a twist to the classic, though, and try making sparkling iced tea with loose leaves from a local tea shop. The result is not only delicious, but colorful!
Sparkling Iced Tea Ingredients
To make these delicious sparkling iced teas, you'll need:
Loose leaf tea in 3 flavors
Water
Sparkling water
Ice
Sugar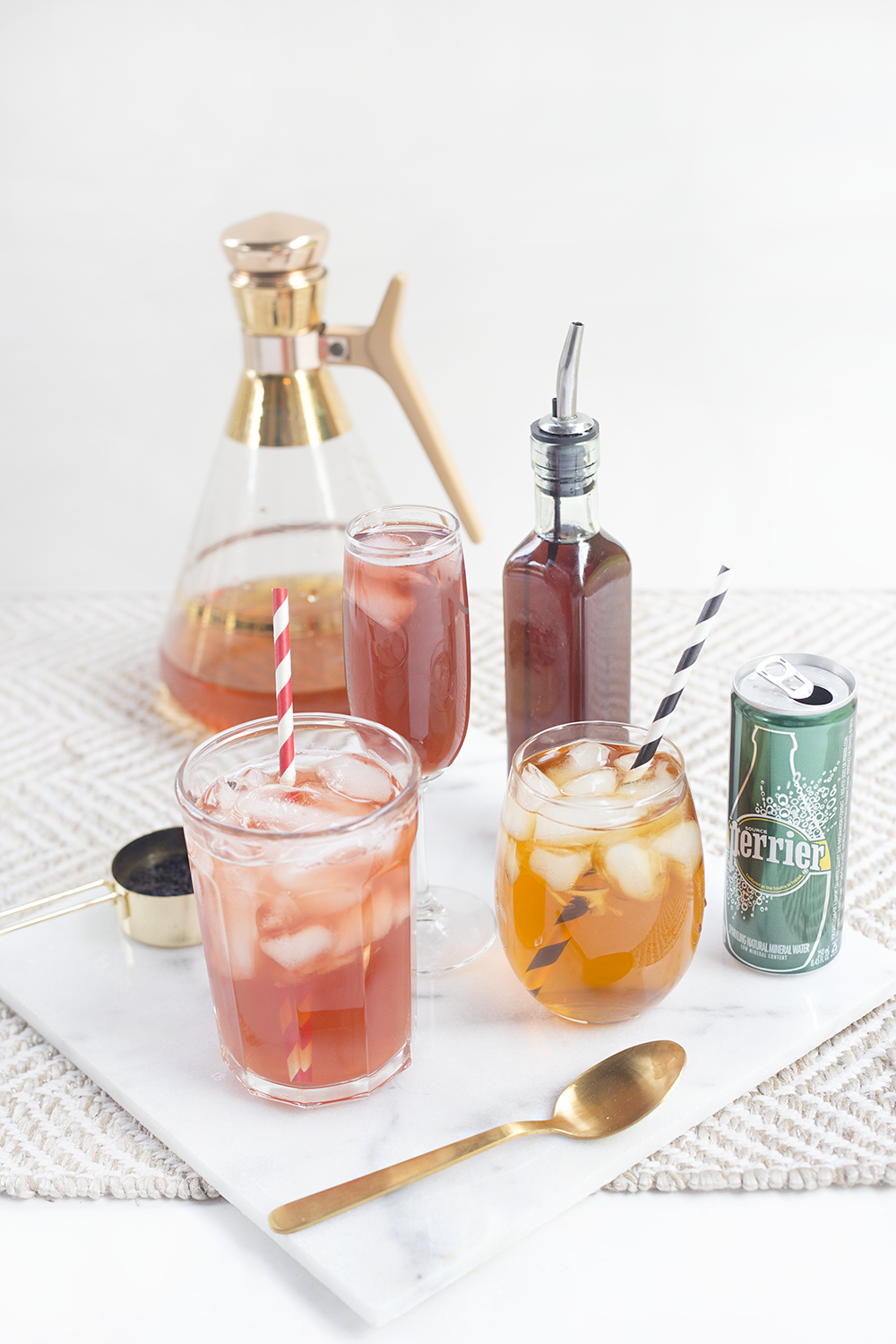 Step One – Brew Your Teas
For this post, I went to one of my favorite local shops in Pittsburgh's Strip District – Allegheny Coffee & Tea Exchange.
They have a huge variety of coffee grounds and loose leaf tea to choose from so I had a lot of fun smelling around. In the end, I went with (from left to right) Cinnamon Apple, Champagne with Berries, and Peach Mango.
To brew each tea, I used my coffee maker (with no coffee grounds) to quickly boil about a quart of water. Then, I put 4-5 teaspoons of loose leaves into the infuser on my Takeya Flash Chill Iced Tea Maker, but any infuser should do. I immersed my infuser into the quart of boiling water and allowed the tea to brew for about 5 minutes. Once brewed, let it cool while you make the syrup.
I repeated this step for all flavors.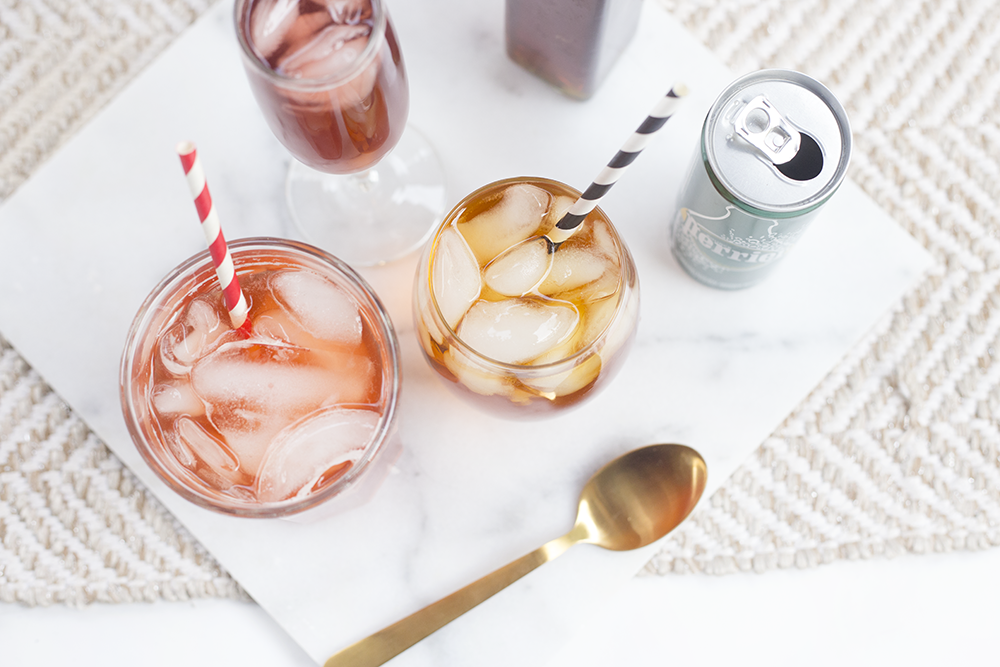 Step Two – Make the Syrups
To sweeten the sparkling iced tea, I made a flavored syrup for each variety. This is super easy!
Over medium heat, combine in a pot over the stove 1 cup water, 1 cup sugar (or sugar substitute) and 1 tablespoon of tea leaves. Stir all ingredients together and let simmer until the sugar is dissolved.
Strain the syrup into a jar and dispose of the used tea leaves. Let this cool in the fridge until you're ready to drink your tea.
Step Three – Pour Over Ice and Chill
Finally, to finish off your tea, pour the cooled down brew into a pitcher filled 1/3 with ice. Put this in the fridge and allow to chill.
If you use an iced tea maker like mine, remove the infuser part and fill the remaining space in the jug with ice. Seal the lid tightly and shake for thirty seconds until chilled.
Step Four – Mix in Syrup and Sparkling Water
Once your tea has chilled, pour it into a glass with ice and add 2 tablespoons of your corresponding flavored syrup.
Top your drink with sparkling water to your preference. I personally don't love the carbonated water taste, so I add about 2 tablespoons to get that fresh, clean tingly feeling but I don't overdo it.
Stir together and enjoy!
I really loved the flavors of my sparkling iced tea, but you could experiment with all kinds of teas! I'm itching to try out Allegheny Coffee and Tea Exchange's granny smith apple.
My favorite flavor from this batch was definitely the Peach Mango – with the sparkling water it almost tastes like Italian soda! Iced teas are such a spring and summer staple – what's your favorite kind? If you need more flavor inspiration, check out our Iced Tea syrups post!
If you make any of these, show us on Instagram with #lilyandvalliving! We'd love to see what you create. And pin the image above if you liked this post!
Happy brewing!