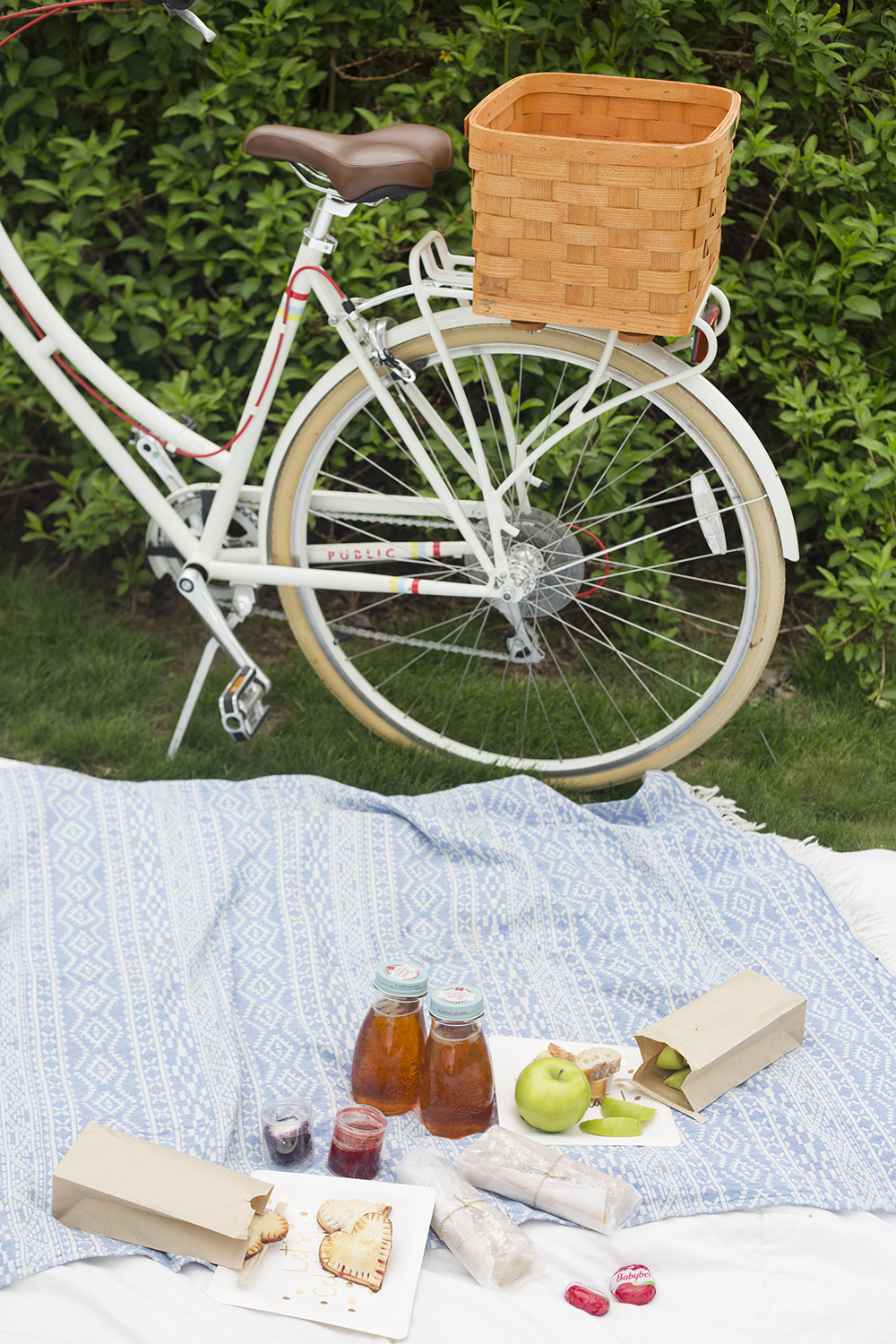 It's no secret we love a picnic around here. In fact, there's a whole series on the blog called "The Art of the Picnic" and it's pretty great. And since spring is the perfect season for both picnics and bike dates, I thought I'd share my ideas on how to plan a picnic on the go!
Pack a Basket
Perhaps the most important aspect of a picnic on the go is the "on-the-go" part. Unless you're really good at biking with a backpack on, I recommend attaching a basket to the back of your bike.
This can be as easy as using zip ties to hold down a plastic crate on your back bike rack, or you can invest in a more traditional basket. A good thing to remember is that the rear bike rack is steadier and can hold more weight than a basket attached to your handlebars.
Make Your Blanket Work Double Duty
I bought this Turkish beach towel on Etsy before I went to a music festival last summer and it has gotten a ton of use. Not only does it work for sitting on the grass – it acts as a knapsack to carry a picnic in!
Whatever blanket, sheet or towel you use to picnic on, try lining your basket with it, filling it up with goodies, then tying the ends together to form a makeshift bundle of sorts. If you're carrying any glass, place that as the bottom layer and top with the lighter, less breakable items.
To keep your food cool while you're riding, try freezing a couple of mini water bottles and using them as ice packs in your basket. By the time you get to your spot, they should have melted and when you unfold your blanket, your picnic is pretty much ready to go!
Keep the Mess Minimal
A  good trick to keeping the mess down (and avoiding drawing ants) is to use paper bags that have a wax-coated lining inside. I bought brown paper coffee bean bags for about fifty cents each and they work great at keeping any sticky stuff from leaking through. They're also recyclable!
To wrap my sandwiches, I used parchment paper tied with twine. Not only can I recycle these wrappers too, the waxy seal also keeps stickiness at bay.
Instead of bringing along bulky Tupperware containers, I used small, plastic jars (from The Container Store) to hold goat cheese and strawberry preserves. For drinking some delicious sparkling iced tea, I recycled sturdy glass milk jars that had lids for resealing.
Aside from the sandwiches, everything else was bite-sized and easily packed. Babybel cheese makes for a great snack with apple slices or baguette slices. For a wonderful, transportable dessert I made a Lily & Val recipe for mini strawberry pies. Adorable and tasty!
I brought paper plates and no silverware (who needs it?) to help keep my picnic light and easy to clean up. If you want a stress free date, this is definitely it!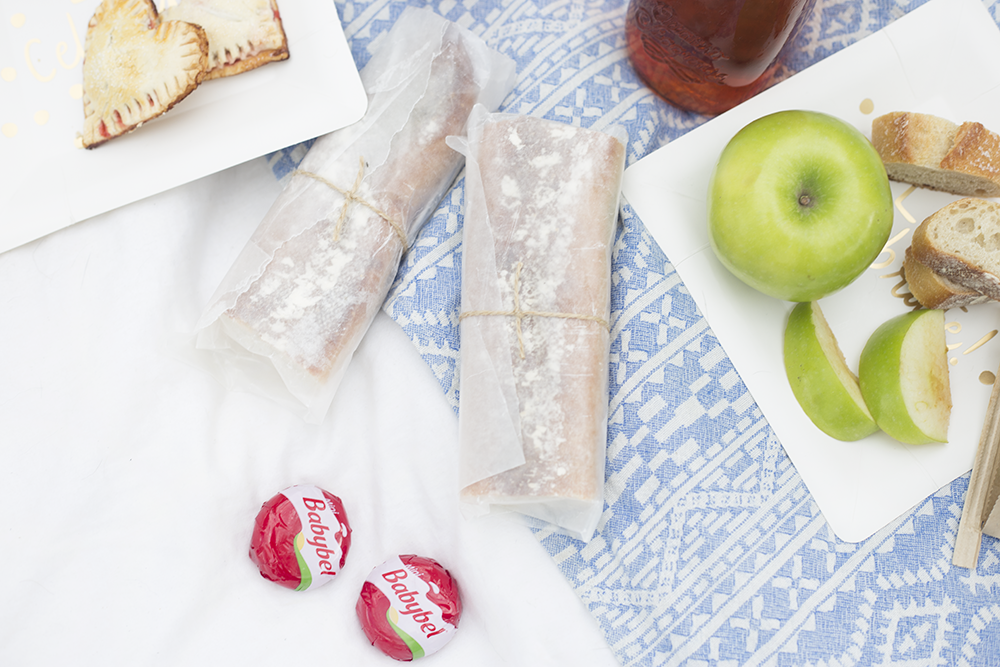 Find a Flat Spot to Park Your Picnic on the Go
Another super important thing for your picnic on the go is to find flat ground to park your bikes on. If you try to rest on a hill, not only will your bike fall over, your picnic will be uncomfortable and your food will roll everywhere.
I typically like to pack a heavier blanket (like a comforter) when I'm sitting on the ground so I don't notice how hard and bumpy it is, but do whatever you prefer that you can fit in your basket.
Are you ready for a picnic? We'd love to hear your ideas in the comments about how you'd pack for a picnic on the go! To make your bike date picnic extra special, check out our Happy Picnic Season card!
Feel free to tag us on Instagram with #lilyandvalliving with any photos you take of your bike date picnics and pin the above image if you liked this post!
Happy picnic season!