This month marks a huge milestone…
It is the 10th anniversary of Lily & Val!!!
In fact, it was today, June 6th, 2012 when I opened my chalk art shop on Etsy. What a ride it's been since then!
So today, I thought I would invite you on a trip down memory lane sharing 10 photos, one for each of the 10 years of Lily & Val.
It was so hard to boil down this 10-year journey with ups, downs, surprises, and lots in between, but here are the highlights…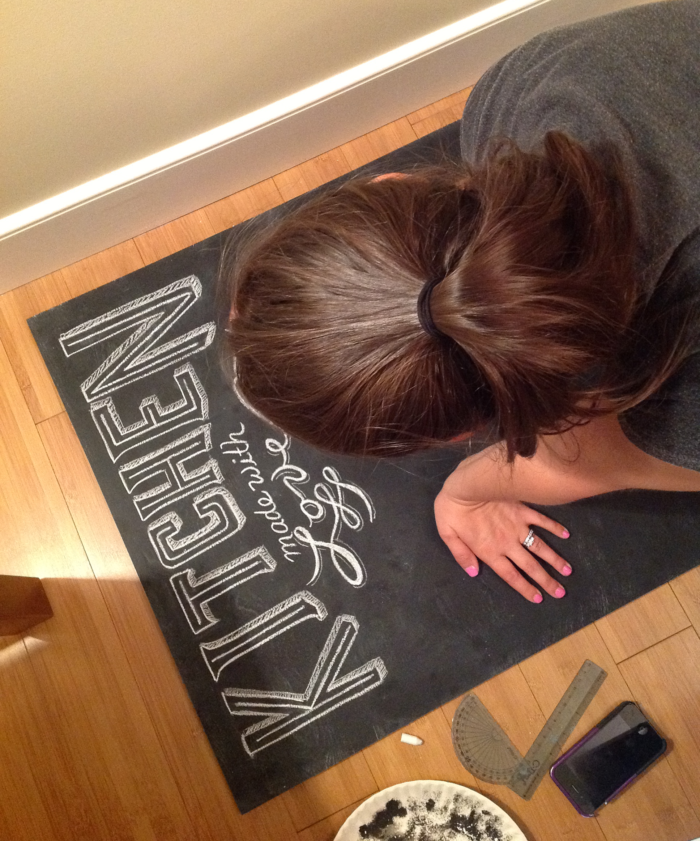 2012
Lily & Val begins innocently and accidentally as a hobby making handmade, custom, cozy chalkboards for the kitchen. This is me on our dining room floor. Our garage was turned into a chalkboard manufacturing facility and I made and painted each and every one by hand.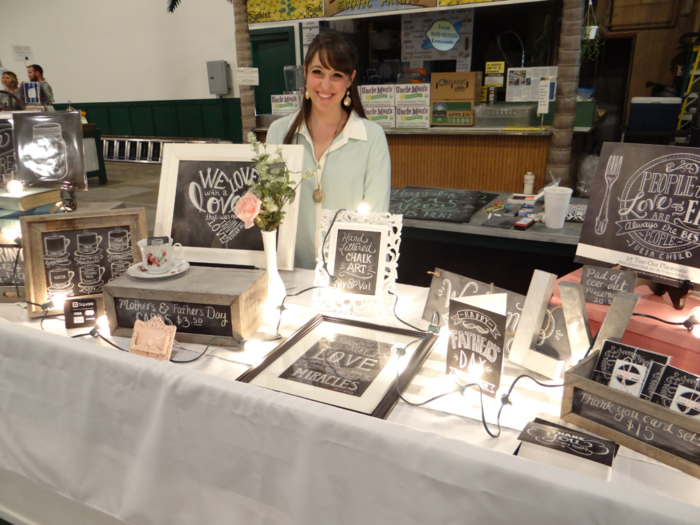 2013
An artist friend suggested that I take a photograph of my chalkboards and use that to produce prints! The sky became the limit! Authentic chalk art – minus the dust. This photo was taken at a craft show that I attended in those early days.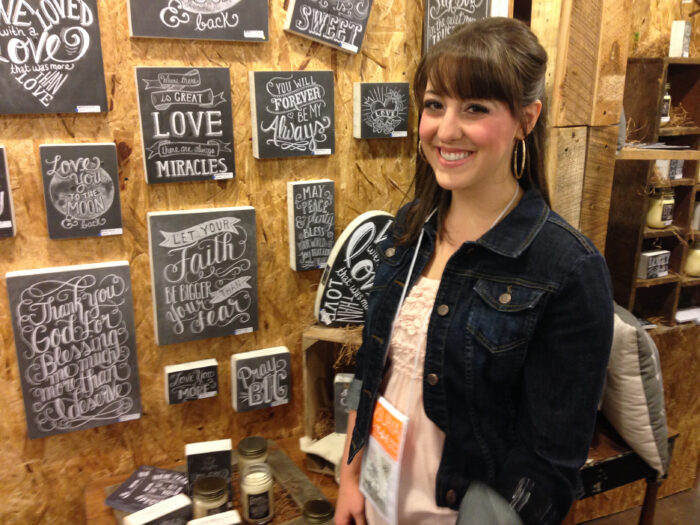 2014
From craft shows to AmericasMart in Atlanta! Through Etsy, I began receiving interest from manufacturers to license my art! (I had no idea what art licensing even was!) The exposure of my chalk art quickly became on a worldwide scale – what a thrill and whirlwind!!
2015
The year my book came out through Workman Publishing! The Complete Book of Chalk Lettering became a best-seller. I was invited to the Martha Stewart offices along with many events across the country teaching chalk lettering! Someone pinch me!!!
2016
Lily & Val continued to grow and Mak and I decided to open a brick and mortar store in our neighborhood of Shadyside in Pittsburgh, PA. We were still managing our online & wholesale businesses, hired a staff, and delved deeper into product manufacturing. We called it our Flagship Store because our plan was to open more stores.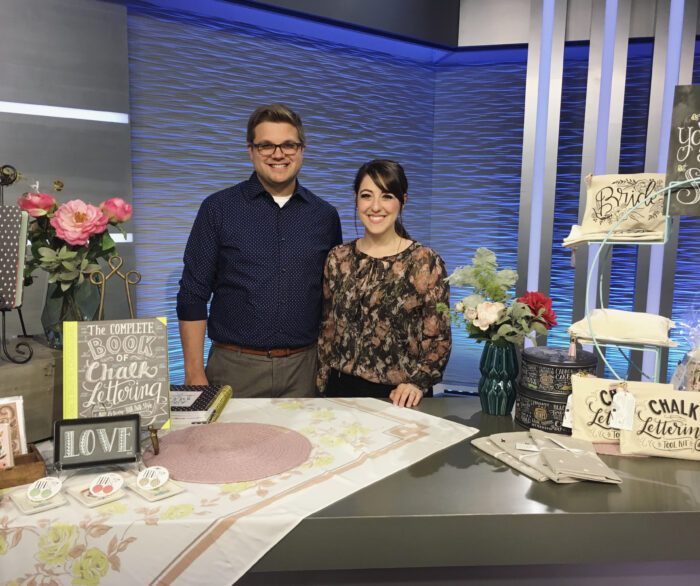 2017
Mak and I on Pittsburgh Today Live. 2017 would maybe seem from the outside like the year of "arrival," but internally we were going through so much. I was fearful, stressed out, and burnt out. Incredibly grateful for these opportunities, but something had to change.
2018
Lily & Val products spotted in-store at Joann's as I closed my own store. It was an incredible, albeit painful, learning experience. I didn't realize it then, but this was just the tip of the iceberg. I still had so much to learn and discomfort/pain to work through!
2019
The year of Vienna. Instead of being swept up in the whirlwind of business, I started asking tough questions about what success looks like to me, how I could slow down, and break these patterns of fear that gripped me. I was creating with this little sweetheart by my side.
2020
After wrestling with the last several years, I thought, "should I close my business?" 2020 was tough, but also a year of more clarity. I realized that wasn't the course of action, but instead a lot needed to change. Lily & Val underwent a rebrand, which felt amazing. A new chapter.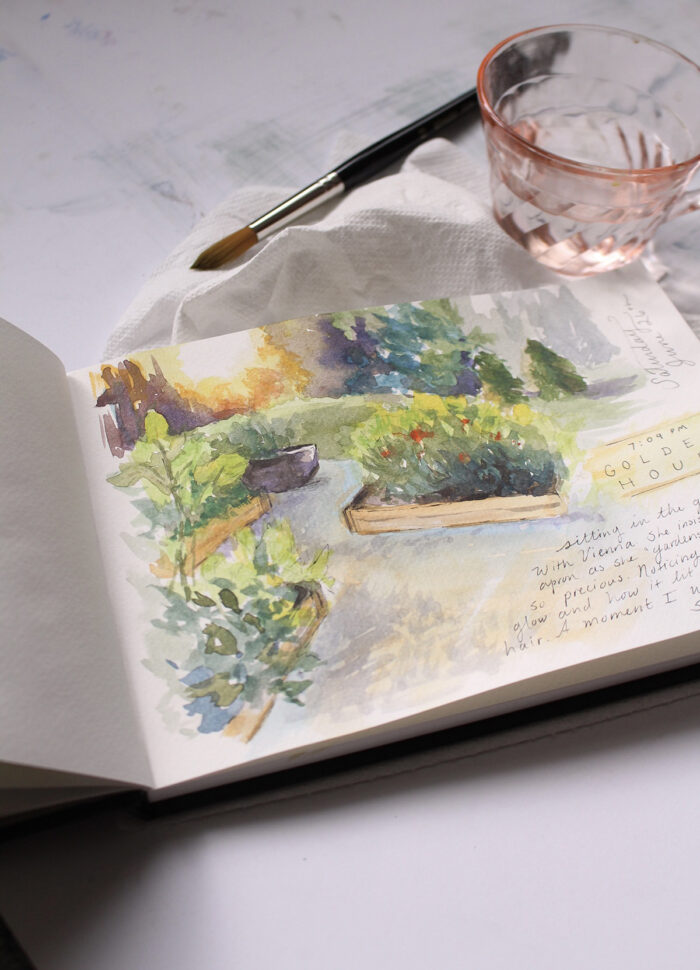 2021
New passions were ignited. I allowed myself to play creatively, try new things, and find my joy. I planted a cut flower garden and it felt like a missing piece of my heart was suddenly found. I dove into painting landscapes in soft pastel. I silenced business and marketing advice and opted instead for the voices of artists of all kinds.
A bonus 11th photo for 2022
The story isn't over. In a lot of ways, the journey feels like it's just getting started! Thank you for being here. I will have more to share about what's to come later this month. You won't want to miss it. If you're not already a Love Letter subscriber, sign up here!
If you've been part of the L&V community since the beginning or if you're just joining, I appreciate you so much, more than I can say. Leave a comment and tell me!