Dear Friends, I think it's safe to say we could all use a little R&R this summer before the hustle and routines of Fall set in!  As nice as it is to travel and go on vacation, sometimes the best retreats can be right from the comfort of your home! Inspired by the idea of vacating wherever you are and whenever you need it – we've curated and specially designed our latest Surprise Box with a STAYCATION theme!
Get ready, this special Staycation Surprise Box will be launching on Thursday, July 26th at noon Est!
Although we have increased quantities each time, our Surprise Boxes sell out very quickly! Our previous boxes have sold out in under an hour Ahh! We're thrilled you guys are loving these boxes so much and we're doing our best to offer more, but still a VERY limited number. So, set those alarms!
About L&V Surprise Boxes:
Our curated boxes are filled with L&V products, gifts & goodies from makers we love and one-of-a-kind items handmade by us and only available exclusively through the box! We don't just throw together random objects, each piece has been thoughtfully designed and selected to create a wonderful experience for you. We put them for sale at an AMAZING price (which includes shipping) and once they're gone, they're gone for good!
A peek at what you can expect to find in this Summer Staycation In A Box:
I have to say, this might be one of my favorite boxes we've done so far! I want to share everything, but I know there's no fun in giving all the secrets away!  I did, however, want to share just a tiny peek of what you can expect to find as part of your Summer Staycation in a box!
Box Exclusive Lily & Val Hand-Lettered Print:
Our environment has so much to do with how we feel, so we wanted to give you an exclusive piece of art to display and bring those comforting vibes! I love this quote and thought it was just perfect for our theme. I also love the soothing tones and colors in these fine art prints! Your box will come with one of these two designs! It's a surprise which one you will receive and you can't find them anywhere else!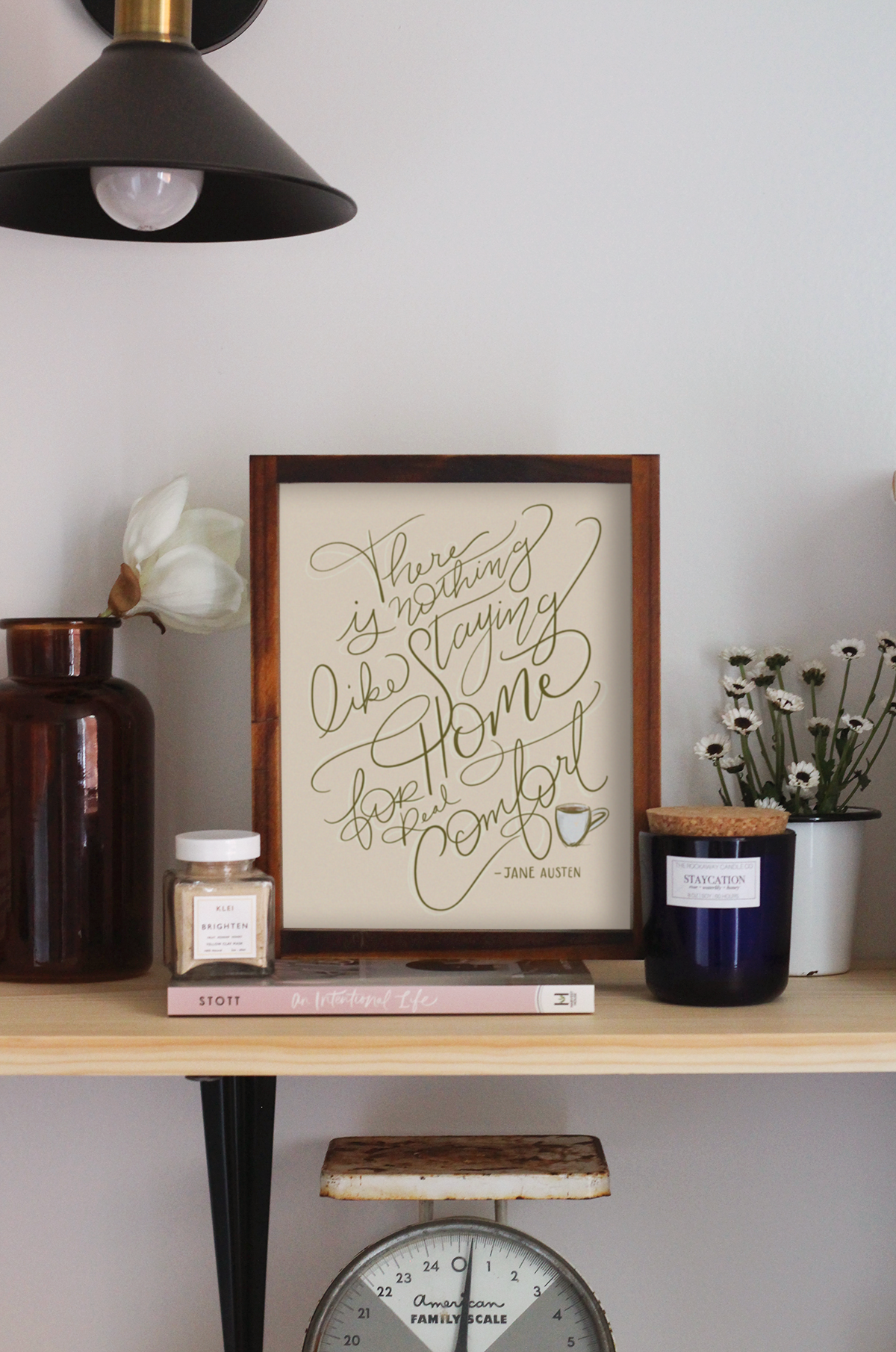 "An Intentional Life" by Karen Stott:
What's a vacation without a book on your reading list?! I have read An Intentional Life TWICE this summer and it has been truly life-changing for me. When we had the idea to include a book in the box, I knew I had to reach out to author Karen Stott. Reading the book is like having a conversation with a dear friend. It's a breath of fresh air and I'm thrilled to get these into your hands through the Staycation Box!
Box Exclusive Candle by Rockaway Candle Co:
I had the privilege of connecting with Morgan Mack, owner of The Rockaway Candle Co., and I absolutely love her story! She is a 22 year old college student, in Rockaway Beach NY who started making candles as a hobby and is now transitioning to selling them full time! She handmakes and handpours each candle using 100% natural, organic ingredients and all components of the products are completely sourced in the U.S.
When I talked to Morgan about creating a custom Staycation candle – she came up with THIS:
Staycation combines top notes of sweet orange and wildflower honey with middle notes of water lilies and roses to create a beautifully airy, floral fragrance. Hints of woody amber and musk in the base provide a rich, earthy balance to the clean floral notes. Orange and lemon essential oils enhance the bright freshness of this ozonic fragrance. This candle has a marine freshness that's infused with rose petals for a soft, romantic character perfect to help washrooms and living areas maintain that just-cleaned scent. This fragrance is infused with natural essential oils, including Orange, Lemon, and Tagete.
What more can I say?! Amazing.
A Full Experience:
We truly wanted this box to transport you – to give you an excuse to take time for yourself, to unplug and unwind. We wanted to offer you more than amazing items (which the box certainly has), but a full experience. So, in addition to the contents of the box, we are doing something completely new this time…
Everyone who purchases the box will also receive special, exclusive content delivered to your inbox in order to make your Staycation more fruitful and fun. 
That is all I'm going to say before I reveal too much! What I can say is that not only will this Staycation Surprise Box likely be the cheapest "vacation" you could take, but we are going to back it up with valuable content.  With a total value of almost $150 in products, you'll be ready to give yourself some pampering and self-care this Summer.
Set Those Alarms
The day before the box goes on sale (July 25th at noon EST), we will be jumping on Facebook LIVE to show you even more!
A few other announcements to answer your questions before the boxes go on sale:
* The price of the box includes shipping! The value of this Staycation box is approximately $150 so we can assure you it's going to be an amazing deal!
* Because the box is already priced as such, no other discounts or coupon codes will apply.
* Boxes are currently only available in the U.S. (international friends, we are very sorry and hope to have a future solution!)
*You guys are just the best. We love you!
Sign up to receive L&V emails and be notified when the box is on sale! And don't forget to set those alarms- Thursday,  July 26th at noon EST! We expect to sell out quickly!