Happy new decade, everyone!! For the past few years, I decided to make January's desktop download my personal word of the year. Lettering it out has been really helpful for me to set an intention for many aspects of my life and actions in the year ahead. I've found a word of the year to be less intimidating than a huge list of goals and I love looking back to see how that word has shaped my year. I also like to have this visual reminder on my screens and thought it might resonate with you, too. This year, I couldn't choose just one word, it's more of a phrase.
Humble & deep.
It's based on one of my favorite Mister Rogers' quotes.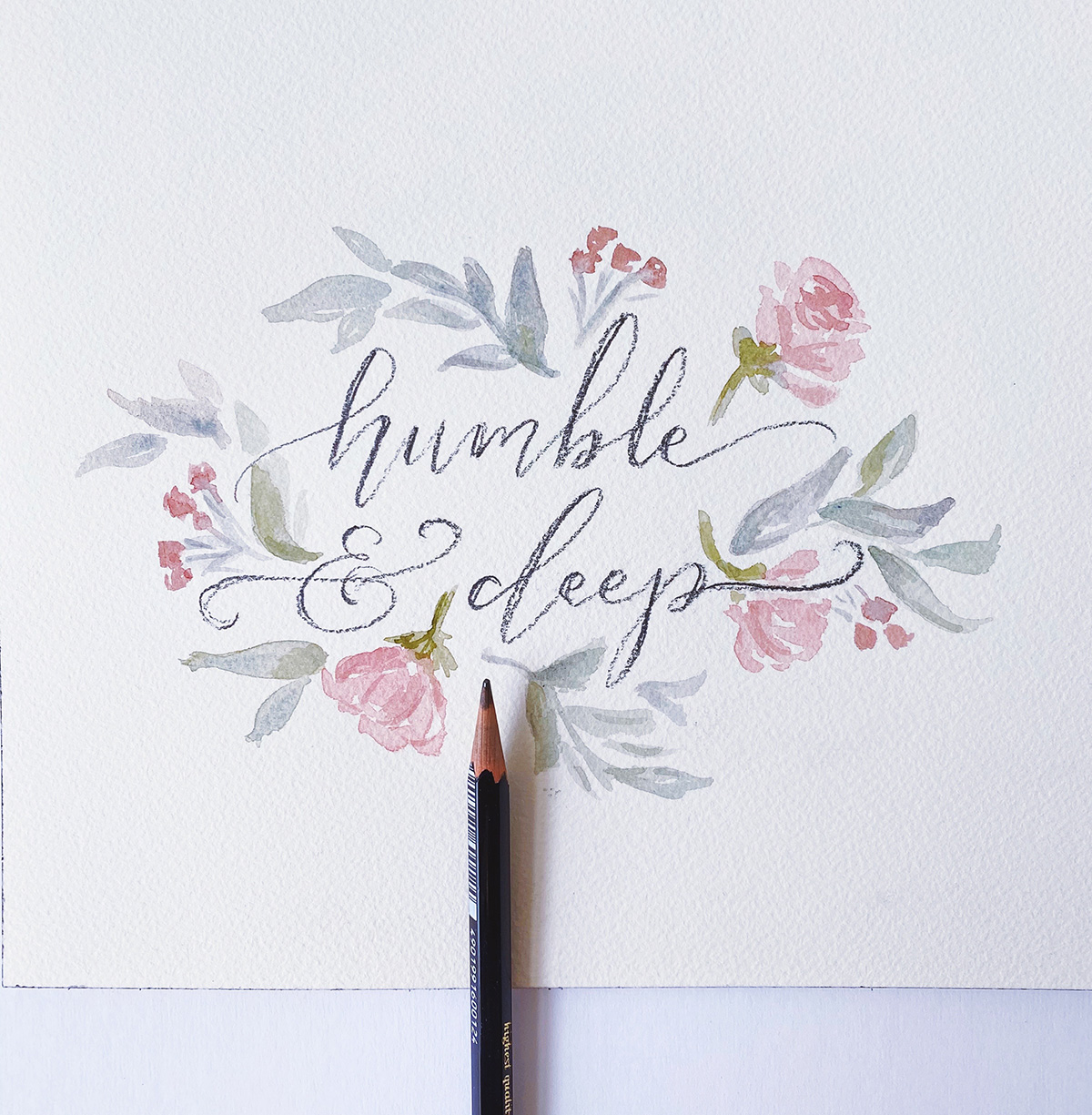 Here's the backstory:
"A high school student wrote to ask, "What was the greatest event in American history?" I can't say. However, I suspect that like so many "great" events, it was something very simple and very quiet with little or no fanfare (such as someone forgiving someone else for a deep hurt that eventually changed the course of history). The really important "great" things are never center stage of life's dramas; they're always "in the wings". That's
why it's so essential for us to be mindful of the humble and the deep rather than the flashy and the superficial."
Goodness, this cuts me to the core. Ever since I read this quote a few months back, I haven't been able to shake it. This is what I want my life to represent in 2020 – the notion of substance over shallowness. I truly believe the simple things become the big, important things. Not only that, I've come to realize just how caught up I've been in the flashy and superficial. Here are a few of the ways that has manifest for me: an over obsession with portraying the right image, making it seem like I have everything together, spending my time in search of praise and acceptance (which will never feel like it's enough), choosing unimportant ways to spend my time instead of taking small steps to invest in what truly matters. Social media can play a big role in perpetuating this….get more likes, grab attention, etc. These struggles are hard to admit, but I want to share in case there is someone feeling this pressure too.
Here's what I want instead:
My offscreen life to be tended to way more than my online life.
My artwork to be an expression of what's in my heart without the over concern for how it will be received.
Depth in relationships.
Trust in God's plan and timing for my life.
Release the pressure of thinking I should be farther along in various aspects of my life and instead, just be where I am, finding joy in that.
Embrace the reality that seemingly insignificant things might have huge implications and impact.
…A humble and deep 2020. 
So here are this month's downloads! I thought a soft, loose floral with humble pencil writing struck the feel of simplicity I was trying to convey. I hope you enjoy!
Our Love Letter subscribers receive new wallpaper downloads each month via email as well as access to the Lily & Val Wallpaper Vault! Receive years' worth of monthly downloads right at your fingertips!