Can you believe Easter is only a month away? Despite the snow, it feels like winter has flown by in Pittsburgh. I'm ready for spring for sure – so I've been looking into different ideas to get my house ready too. I knew I didn't want to decorate in the traditional way for Easter – pastels and bunnies – so I tried out this modern Easter decor DIY.
After looking for minimalist egg inspiration, I found a handful of tutorials that planted seeds, herbs, or flowers in egg shells. Since my favorite herbs aren't quite in season yet, I thought I'd plant something that even I couldn't kill – succulents. Keep reading to see how we did it!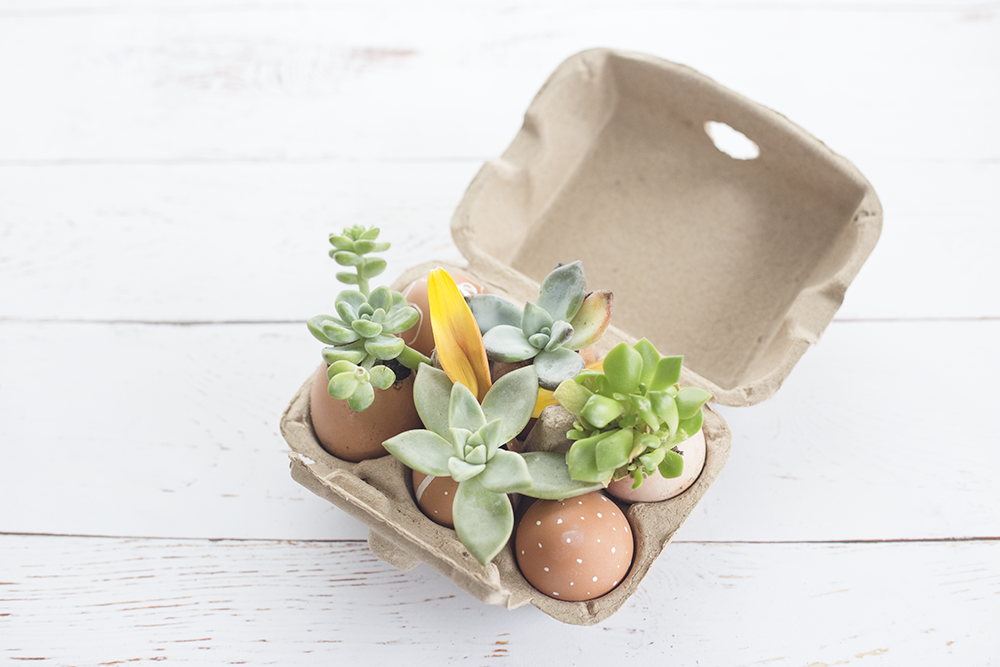 Modern Easter Decor Supplies
This is a pretty inexpensive DIY as long as you can find reasonably priced mini succulents. I found mine at Home Depot for about $4 a plant.
You'll need:
1 Half-dozen brown eggs
An egg carton (mine is from the Target dollar section)
White paint pen or chalk marker
4-6 varying mini succulents 
A small knife or carving tool
Step One – Decorate Your Eggs
I went through a lot of trial-and-error with this DIY, mostly in the egg cracking phase. But something I learned during my practice run was that decorating your eggs first is a lot easier than trying to draw on empty eggshells when they're wet and fragile.
I recommend using a white paint pen that will be permanent when dry. Draw on your eggs first before cracking them and let them sit until the paint is no longer tacky. Since the eggs are a natural brown, the white really pops!
I think the cutest patterns to try are dots of various sizes, thin lines and even a marbled effect (cover your egg in white paint pen and then use a bit of water to smudge the paint into the eggshell). You can see in the picture below that the bottom left egg is lighter than the others – that's the egg I tried the marbling technique on.
The thing to remember with modern Easter decor is to keep it simple, at least in design.
Step Two – Remove the Top of the Eggshells
Use your small knife or carving tool to poke a hole in the top of each egg (the narrower part is the top). Once you've poked through, turn your knife inside the hole to widen it. The egg whites will start to come out – turn the egg upside down over the sink to empty it. You may have to remove more of the shell to allow the yolks to empty out as well.
Once you've removed the insides of your eggs, use your fingers to widen the hole enough that you can fit in the roots of your succulents. Be careful not to crack the base of your eggs!
Step Three – Plant Your Succulents
Rinse out your eggshells to remove any smell or remaining yolk. Place the shells upright in an egg carton so they're held snugly.
Take one of your succulents out of its pot and use your small knife to brush off excess soil. You'll want to put a small handful of this soil in the base of the eggshell to support your plant, but be sure to trim the soil enough that your succulent will fit inside the egg.
Roots first, place your plant inside the eggshell, being careful not to crack the egg or damage the roots. It's tricky, so go slow. You'll probably have extra soil covering your egg – just dust it off the best you can. Do this with the other 3-5 eggs! I chose to plant only four succulents so that I could have a few in-tact eggs for decoration.
Step Four – Display Your Eggs Proudly!
Now that you've done all this work, sit back and admire your beautiful new modern Easter decor!
I love the rustic look of keeping my eggs in the cardboard carton but if you bought your eggs in a clear container, that's another great way to show off your plants so all your designs are seen equally.
This project would make an adorable coffee table centerpiece or decoration for the mantle. It could brighten up a bookshelf or side table – or even your desk! I used this hand-drawn Lily & Val Monet print next to my egg display.
If you'd like to actually plant these, you can do that too. To make this work, poke another small hole at the base of the eggs for water drainage and moisten the soil every so often. Succulents don't need as constant care as a lot of other plants, which is why I love them.
That's it! What did you think of this project? I was happy with how creative and nontraditional my Easter decor turned out.
Would you plant your eggs or keep them as a centerpiece? We'd love to see what you create! Show us your projects on Instagram with #lilyandvalliving and pin the above image if you liked this post!
Want more modern Easter decor? Need more egg inspired projects? We thought so. Check out this Brushstroke Easter Egg DIY or this Modern Easter Tree DIY!
Happy spring decorating!