Happy National Letter Writing Month, friends! I'm going to state the obvious and say this Letter Writing Month is different than ever before. Since we're all at home and going through this crazy time of isolation and quarantine, a letter is a wonderful (and socially distant) way to deepen connections.
Because of this, I had an idea for an Instagram challenge. I'm calling it the #eastersnailmailchallenge.
Easter is this week, and we're all preparing for an Easter at home. For many, it may feel quite depressing to be away from family and friends on this special holiday. Easter is a time of hope. And although we cannot celebrate in person, we can spread a little joy in the form of a letter to the people we love. A letter offers a great opportunity to say things we might not normally say in a text or in person. Plus, it's a chance to get a little creative! So, create a piece of Easter snail mail, snap a pic and tag me with #eastersnailmailchallenge.
To give a little inspiration, I thought I would share some ideas I came up with for Easter mail!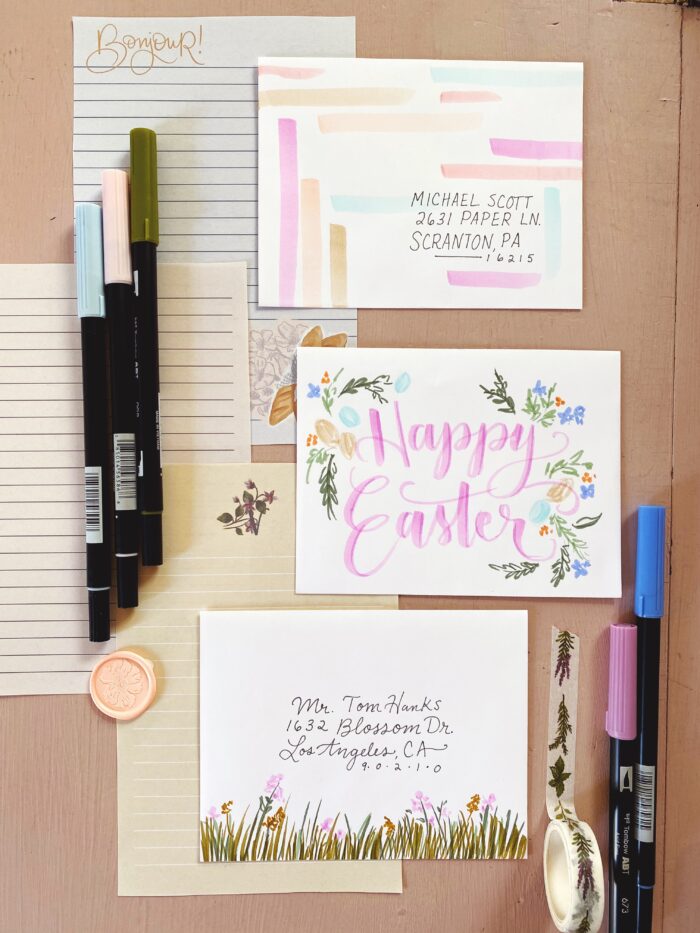 For these ideas I'm using my Tombow Dual Brush pens. You guys know how much I love these pens! They come in such pretty colors and I chose ones I thought would work well for pretty, Springy mail art!
For those who are interested, here are the exact colors!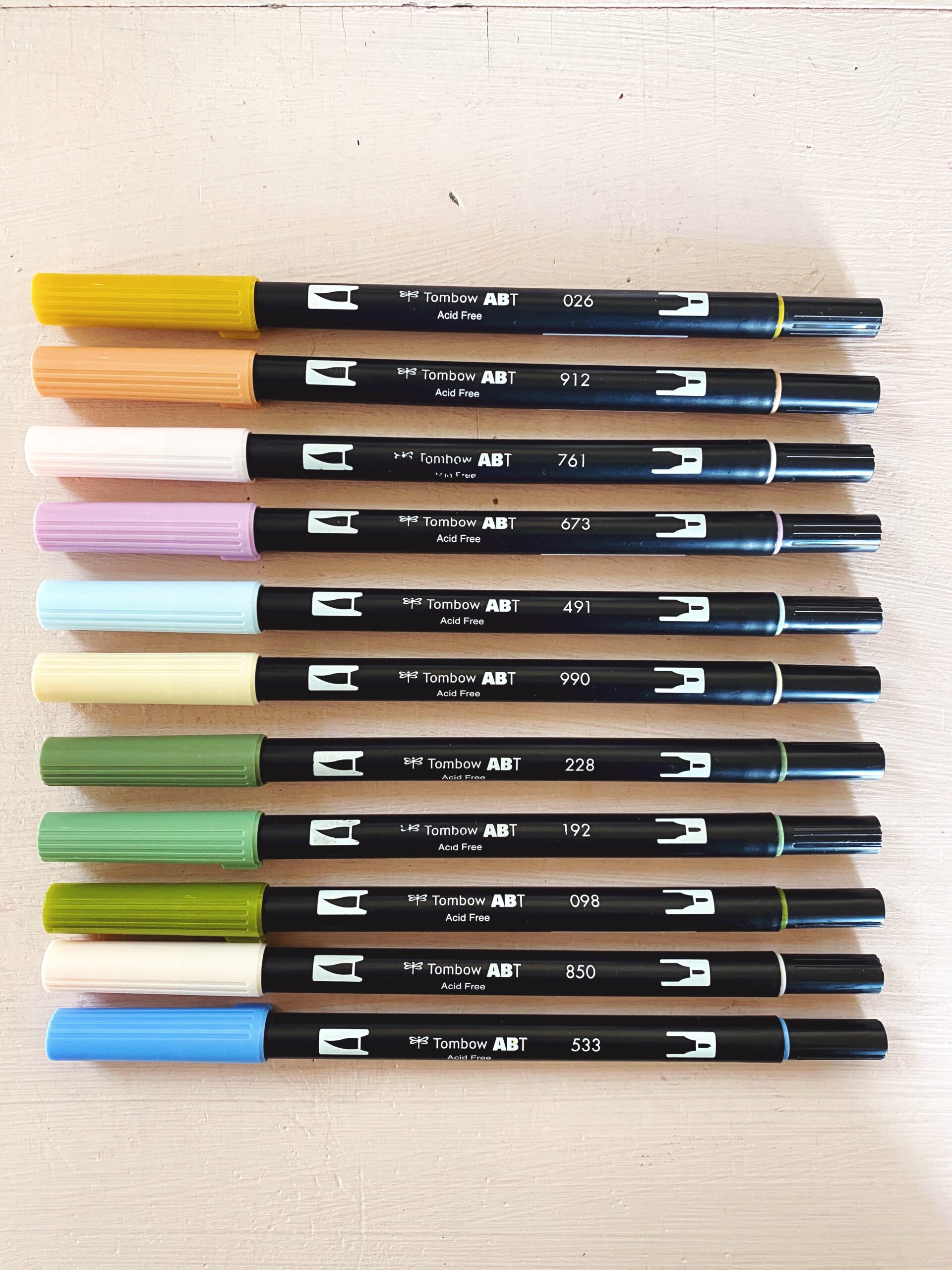 Envelope Idea 1: Spring Grasses
For this idea, you will want to grab a piece of scrap paper to lay under your envelope so the grass can "bleed" off the edge. Then, simply use short strokes of varying thickness and height all along the edge. It's really hard to mess this up. 🙂 No lines should be perfectly straight – it should look organic and wild. I used three different colored green pensto give the grass some nice dimension. Then, add some little flower clusters (again, no details here, just the idea of flowers.)
I wanted the grass to be the star of the show, so I used a Le Pen to letter the address in simple handwriting. I love how the Lily & Val herbs washi tape pairs with this one!
Envelope Idea 2: Happy Easter Egg & Floral
Okay, this one doesn't have room for an address, so maybe this is for your neighbor to sneak into their mail slot or include with a flower on the porch (a socially distant drop off, of course!) Or, you could take this idea and create a handmade card with it. Either way, you start with Happy Easter brush lettering.
Here's a little tip I love for the lettering:
When using Tombow Dual Brush Pens, if you make multiple strokes, the ink will get darker. So, I used this to my advantage here and once I lettered the words I went back over the strokes just on the right side to create a shadow. This is a subtle detail, but it really elevates it! Then, I surrounded the words with loose florals and little egg illustrations. Playful and pretty!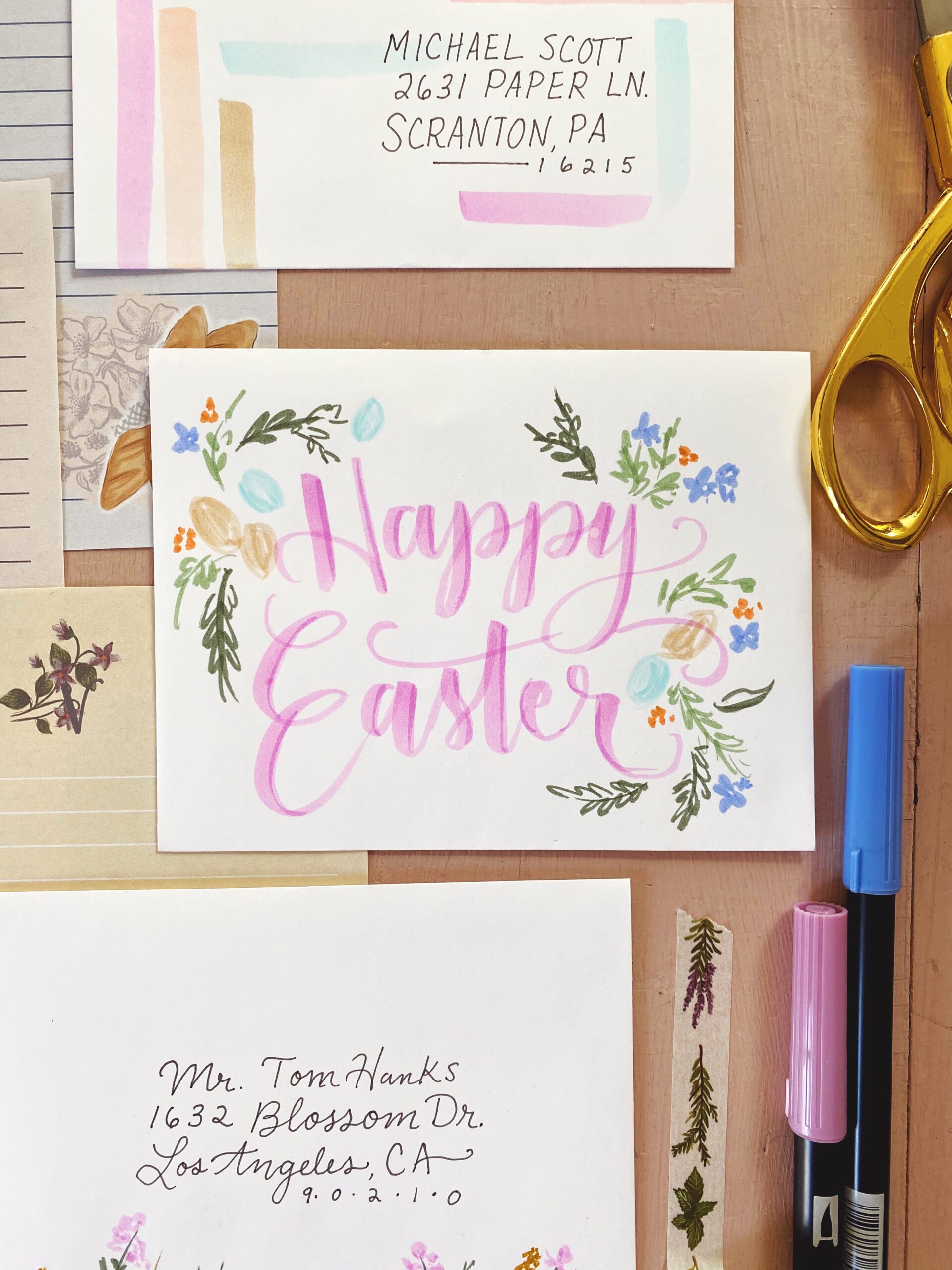 Envelope Idea 3: Brushstrokes
This is another idea that is so simple! Using varying colors and stroke lengths, you just brushstroke the envelope (front and back!) Use your scrap paper again to catch the pen so it can bleed off the edge.
I off-centered the address on this one to show off the brushed design.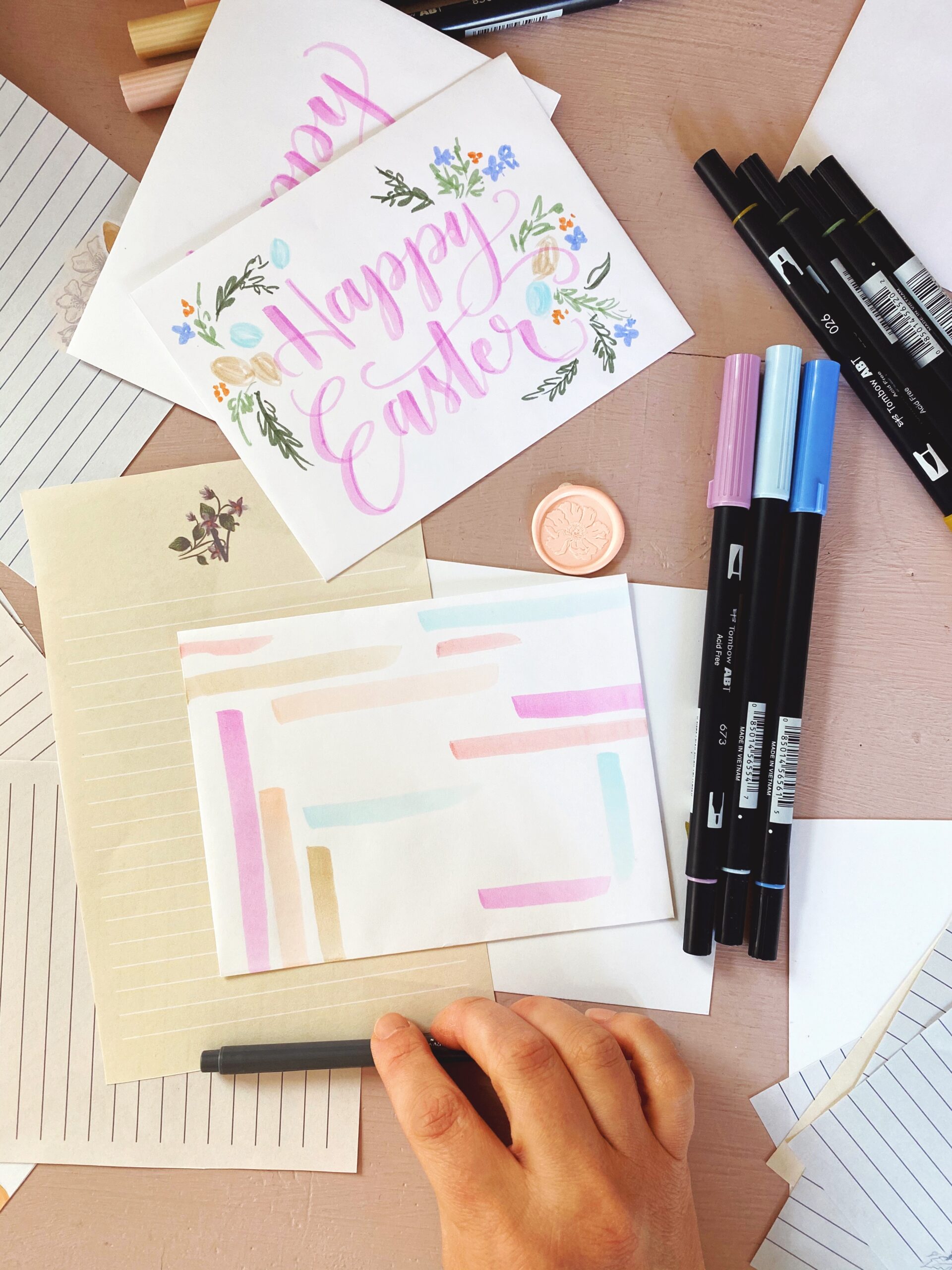 If you don't have any appriorate cards on hand, stationery sheets are perfect for your letters! We have printable sheets available in the Lily & Val shop. Print off as many as you like and cut out the design! Instant stationery without needing to leave your house. 🙂 I especially love the monogram options.
I hope you enjoyed these ideas! I can't wait to see how we can spread some hope and love through the mail this Easter!