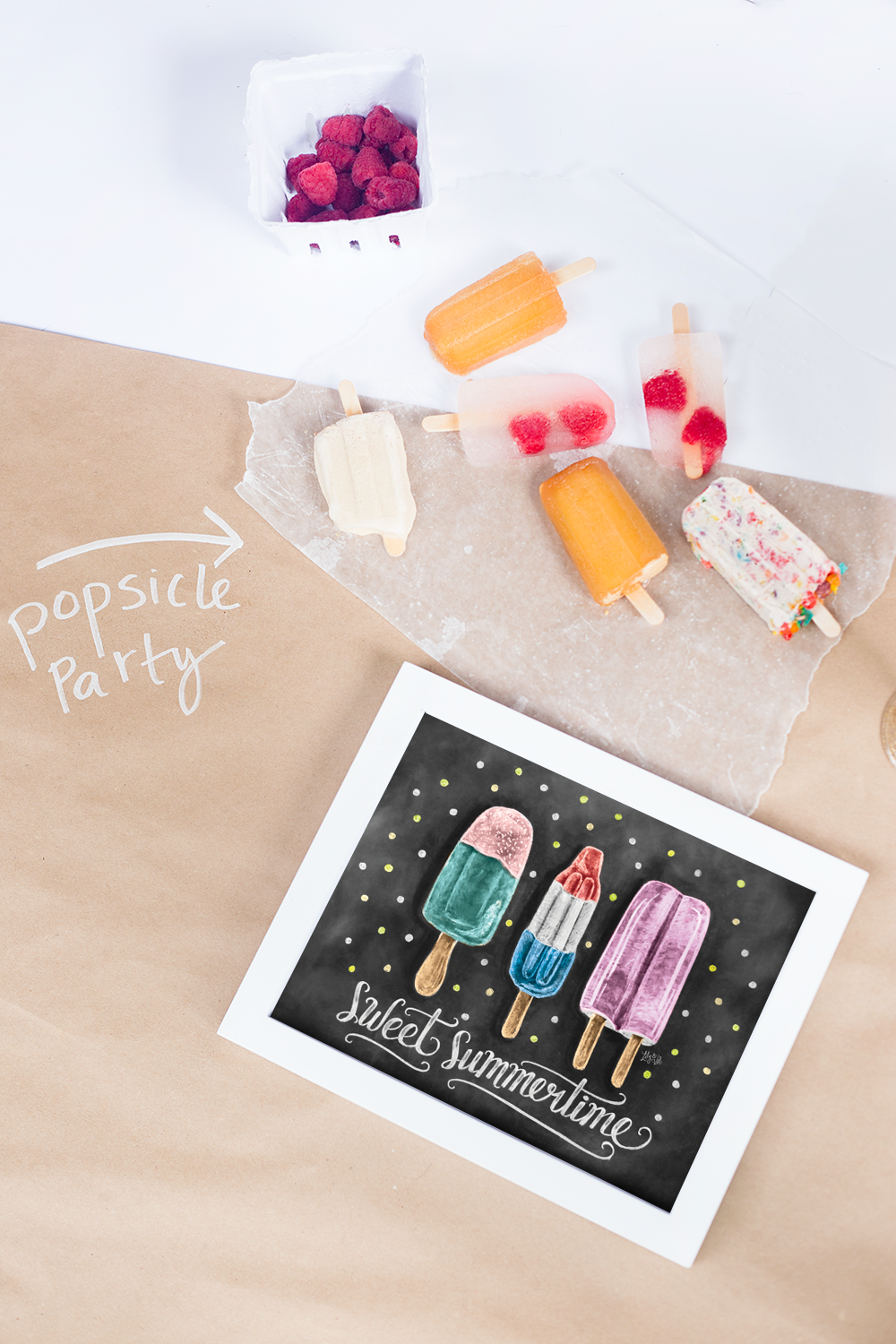 Today's post is a huge treat (pun intended) because not only do we have delicious homemade popsicles for you to make, we also have tips and tricks from the master: Todd from Pittsburgh's own Sticklers!
Todd chatted with me about how to get your recipe right, how to remove your popsicles from the molds without breaking them, and how there's a Facebook group where food truck owners in Pittsburgh talk and support each other. That's pretty cool. Hehe. Sticklers was just voted best popsicles in Pittsburgh by Pittsburgh Magazine, too! So let's dive in.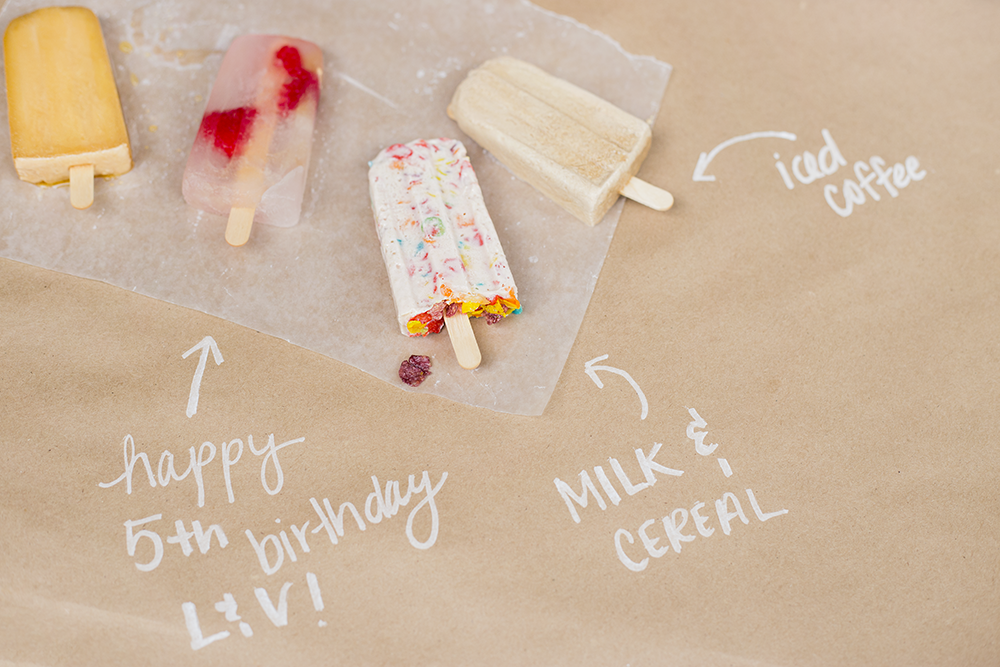 Homemade Popsicles Ingredients
For today's post, we have four different recipes for you to taste-test. I whipped up an Arnold Palmer (as an homage to my favorite Sticklers popsicle), a Milk & Cereal, an Iced Coffee and a Lily & Val 5th Anniversary popsicle.  Here's what I used for each:
Arnold Palmer Pop : Black tea bags, Water, Fresh lemons or lemonade, Sugar
Milk & Cereal Pop: Strawberry milk. Fruity Pebbles. Banana. Greek yogurt
Iced Coffee Pop: Freshly brewed coffee. Half and Half, Water, Sugar, Caramel sauce
Lily & Val Anniversary Pop: Prosecco. Pink lemonade. Raspberries. Sprite
When you're deciding which to make, listen to this sage advice from Todd: "Anything milk or cream-based will be harder to make [than liquid-based] because it's more sensitive to temperature change."
Are you up for the challenge?
Since I only crafted from scratch the Lily & Val Anniversary Popsicles, I'll walk you through that recipe but will leave the rest to the blogger masters (click on the links above for those!).
Tips from Todd
I spent about an hour on the phone with Todd from Sticklers and I learned way more about popsicle making than I ever thought possible. It was great!
I asked Todd why people like popsicles so much and he said that popsicles are popular because they're "a nice alternative to ice cream – it gives an alternative to people who might have certain food allergies or preferences." 
Continuing, "The ingredients and the freezing process are the most important things…Fruit, water, sugar [simple syrup], citrus juice like lemon or lime – this is the basic recipe for a popsicle. The citric acid brings out the natural flavor of the fruit and sugar.
The proportions are where it makes or breaks how well a popsicle is going to turn out. You learn pretty quickly that proportions are roughly the same – what makes it harder when you're trying to scale up is that you have to then make the recipe larger and sometimes it doesn't come out the same. 
Start with fresh fruit, chop it up, puree it with simple syrup and citrus, you want it to be well blended and need to have as much air in the mixture as possible."
Taking Todd's advice to heart, I decided to focus on a liquid-based recipe since he suggested that might be easier to pull off. He did warn me, though, that using Prosecco and Sprite could be difficult because the carbonation in the drinks can add too much air to your mixture.
Nevertheless, I persisted.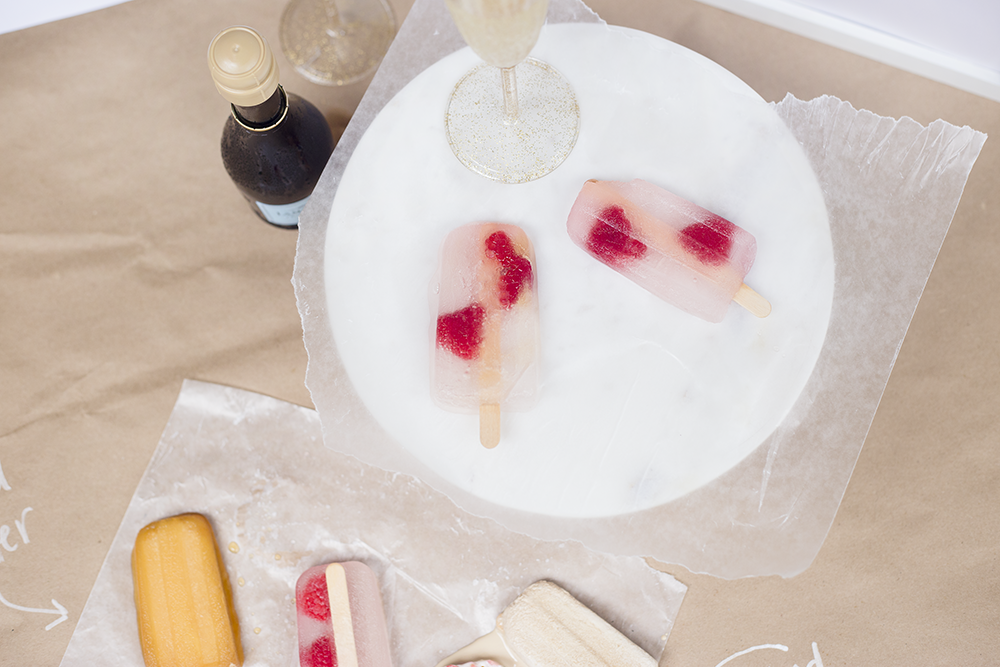 L&V Anniversary Popsicle
To make our 5th anniversary popsicle (!!), get out the ingredients from above and mix them in a large bowl.
You'll need:
Water – 1 cup
Pink Lemonade – 1 cup
Prosecco or similar – 1 cup
Handful of fresh Raspberries
After you've combined all the ingredients in a bowl, pour the mixture into your popsicle molds – filling them only 3/4 of the way full (which I didn't do correctly the first time – thanks, Todd!) You may want to use a straw or popsicle stick to shove the raspberries towards the bottom of the mold.
Todd suggests using a layer of aluminum foil between your popsicle mold and the lid so that the popsicle sticks have more resistant to rest against (and don't move around in the freezing process).
Let your homemade popsicles freeze for 4-6 hours (or overnight).
The hardest part will be removing your done popsicles from the mold. Todd recommends filling a bowl slightly larger than your mold with hot water and letting the mold displace the water until it almost reaches the top of the plastic.
Rock the mold back and forth gently and then once your popsicles have loosened, yank them out right away. Todd says this is an "all hands on deck" process. Yank them quickly so the hot water doesn't melt them!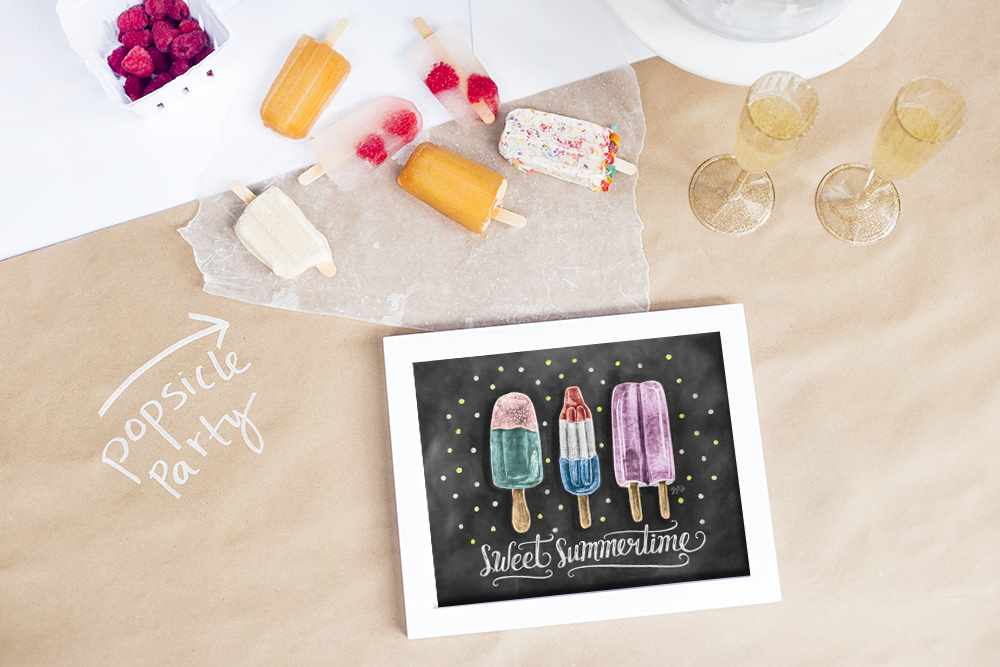 Serving Your Popsicles
Once you've made all your popsicles, you have to show them off! It would be criminal not to.
We recommend filling a large bowl (I like glass for this) with ice and then placing clear plastic cups in the bowl to hold your pops and keep them chilled. Not only is this useful to avoid early melting, it's cute!
And of course, you can't have a summer party without reminding your guests that your homemade popsicles are the best dessert. Show off your hard work with our Sweet Summertime print! You can't let your adorable popsicles go unnoticed.
I also recommend kraft paper on your popsicle table! It protects the table (wax paper is good for this too) and also gives you the perfect palette to write which popsicles are which. Use a white paint marker to label your desserts and no one will have to ask!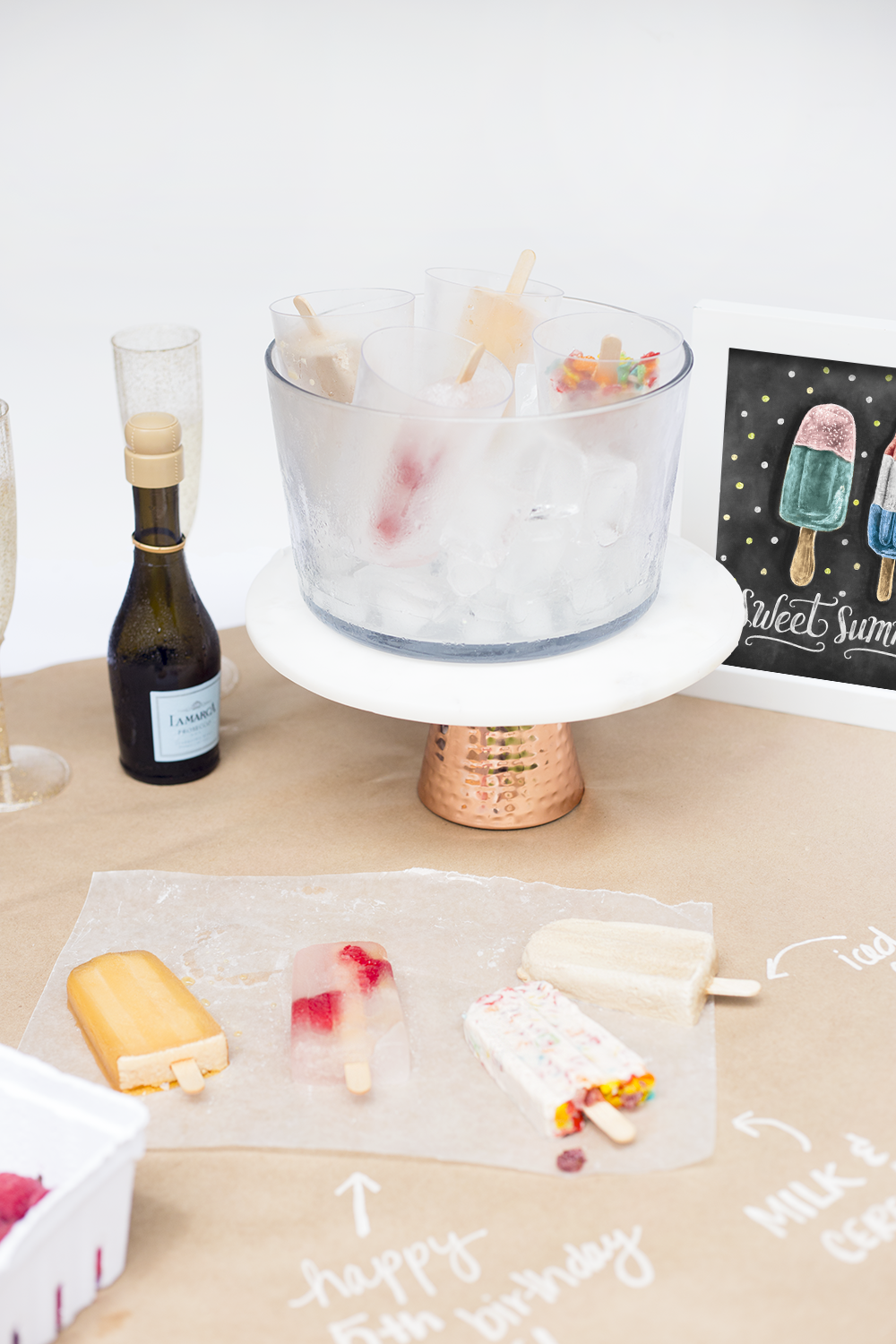 My personal favorite popsicle flavor (aside from the L&V pop) is Sticklers' Arnold Palmer, which they recently renamed "Golfer's Delight." That's Todd's favorite, too! Sticklers gets their tea for these brewed for them by Tupelo Honey Teas based in Millvale, PA. Yay for local makers!
Looking for more popsicle inspiration? Todd recommends the books People's Pops and Poptails – the last one for cocktail-inspired recipes!
Most important to making a good popsicle is to remember that even if it doesn't go well, "A bad popsicle is still a popsicle," says Todd. "Popsicles are all about fun and having something cool and refreshing on a hot summer day. Throw a bunch of fruit in a blender with simple syrup and you can't go wrong."
Please let us know if you try our Lily & Val 5th Anniversary popsicle recipe! I'd love to see what you create! Tag us in your photos with #lilyandvalliving.