Happy New Year, all! As 2014 comes to a close, I am filled with gratefulness. I can't express my thanks enough to everyone that supported Lily & Val during the year. This small business continues to grow and I am so blessed.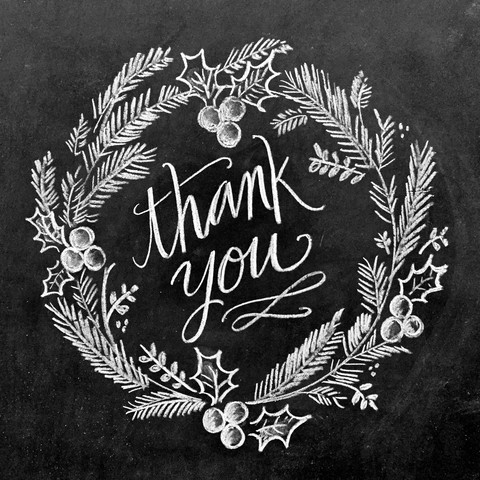 Here is a little recap of the past year at L&V:
In January I attended the Atlanta Gift Show for the first time. It was surreal to see all the licensed products I designed.
In February I began working with So Delicious Dairy Free to draw the booth artwork for the Natural Products Expo West. I traveled to Anaheim California in March to complete the booth on site. It was my first time visiting the West Coast.
Our wholesale business continued to expand this year and in April we launched our largest collaboration to date with Indigo. We also signed with the incredible team at Jewel Branding & Licensing to manage the L&V brand through licensing.
In May we introduced Lily & Val Handmade Collabs! This section of lilyandval.com was born out of a desire to support my fellow makers and make pretty things. Shortly thereafter, we also introduced a line of real chalkboard signs. May also took us to NYC for Surtex, an art licensing show.
In June, Mak and I received an invitation to attend the CMT Awards in Nashville, TN! A special selection of Lily & Val products were included in the celebrity gift bags. Life & Style Weekly mentioned L&V as part of the bags.
On July 3rd, Mak and I left our home in Central PA and moved to Pittsburgh! We immediately loved city life. I quickly settled into my new studio and Alyssa of Chasing Eden Photography captured it beautifully. The photos were used in my interview as the Etsy Featured Shop at the end of July. This was a huge honor and accomplishment.
August takes us back to NYC for NYNow. Lily & Val was chosen to display in the Etsy Wholesale Pavilion to launch the new Etsy Wholesale portal. I'm grateful for the friendships and connections made here.
AH Inspired was held in September and I had the privilege of teaching a chalk lettering & illustrating workshop. It was a lovely, refreshing retreat.
October took us back again to NYC for an Etsy Weddings Press Event. The new lilyandval.com launched and Mak and I traveled to Europe! We spent a breath-taking 10 days in Paris, Provence, and Barcelona. I came back filled to the brim with inspiration. I turned 30 on this trip!
In November, we welcomed Emily to the L&V team. The 2015 calendar I designed was spotted in retailers nationwide, including Target. We also launched two new products: mugs and smart phone cases! 
December concludes with an amazing holiday season and a Huffington Post article.
What a year! I am looking forward to 2015 and the possibilities it holds. Last year I hand lettered my personal New Year's Resolutions and decided to continue for this year. Having something pretty to look at helps me remember them throughout the year. Also, as a thank you to my lovely customers, we are offering the image as a FREE digital download. Perhaps my resolutions will resonate with you too.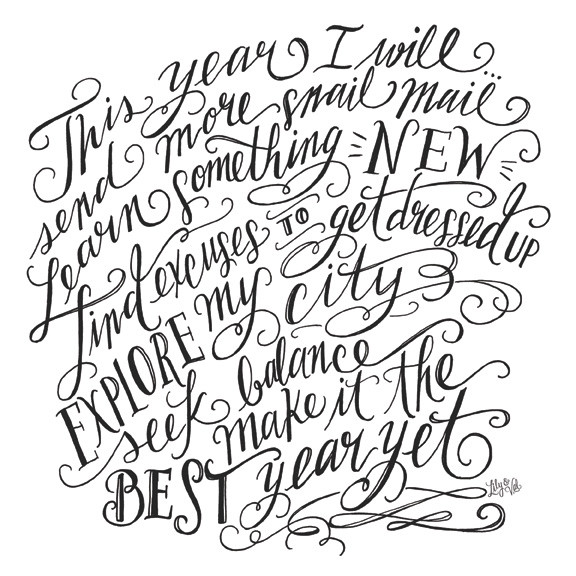 I've made it available in charcoal or L&V signature pink.
I wish you all the very best in 2015, friends. Here's to love, happiness, and much success. Happy New Year! xoxo