The Lily & Val team carved out a special day of creative messiness (and snackiness!) to spend together. The occasion? Filling our Keepsake Kitchen Diaries with our very favorite recipes!
We've heard many times from various fans that they are afraid of messing up their recipe spreads – and reluctant to begin recording in the Kitchen Diary at all! We've heard:
What if I make a mistake?
What if it doesn't look perfect?
I could never create a spread that's anything special/beautiful.
What if I ruin a page forever and my family disowns me in shame?
Okay, so the last one I may have stretched – but the rest are true! Valerie, Emily and I sat down and tackled these fears: let me tell you, we get it! With a sea of Tombow Dual Brushes and Micron Pens before us, there was a hesitation in the air. Deciding to dig in, we tentatively began writing.
Moments passed and the nervous giggles dissipated. The silence morphed into an air of creative concentration. Before we knew it, there was a slew of gorgeous, imperfect, treasurable memories right before our eyes! How, though?
In my professional and indisputable opinion, our crafting day was a success after we realized a few very important things:
1. JUST DIG IN! Nothing will ever be accomplished if you are too afraid to try.
2. Mistakes are beautiful! Our favorite embellishments and elements were nearly all due to happy accidents. A watercolor spill became an artistic smear and badly-drawn cannolis became one of my favorite things to chuckle about. Embrace the journey.
3. If the mistakes aren't too beautiful, you can always cover them up! Our team used an array of tactics from this thought. We cut patterns from magazines, craft paper booklets, and employed old photos. We pulled washi tape like it was taffy! I even ended up covering an entire page with a pattern I thoroughly enjoyed….definitely not because I messed up, though *wink*.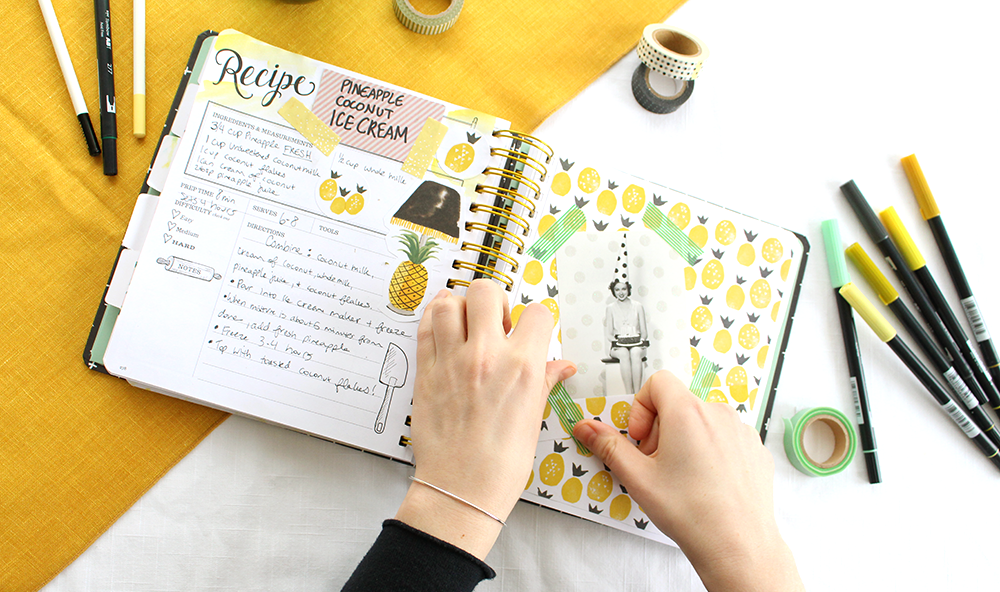 4. GET MESSY! Following our hygge mantra for the year, digging your paws into something new yields a great sense of satisfaction. "Perfect" is never a word in our vocabulary because life itself is imperfect and we wouldn't have it any other way! For example, check out my incredibly awful handwriting below. My third grade teacher might be a little upset that her cursive lessons were lost on me (Mrs. H, you did a wonderful job) but that's what makes this page truly mine. Other loved ones will look at the recipes I wrote and smile at how much it reminds them of me.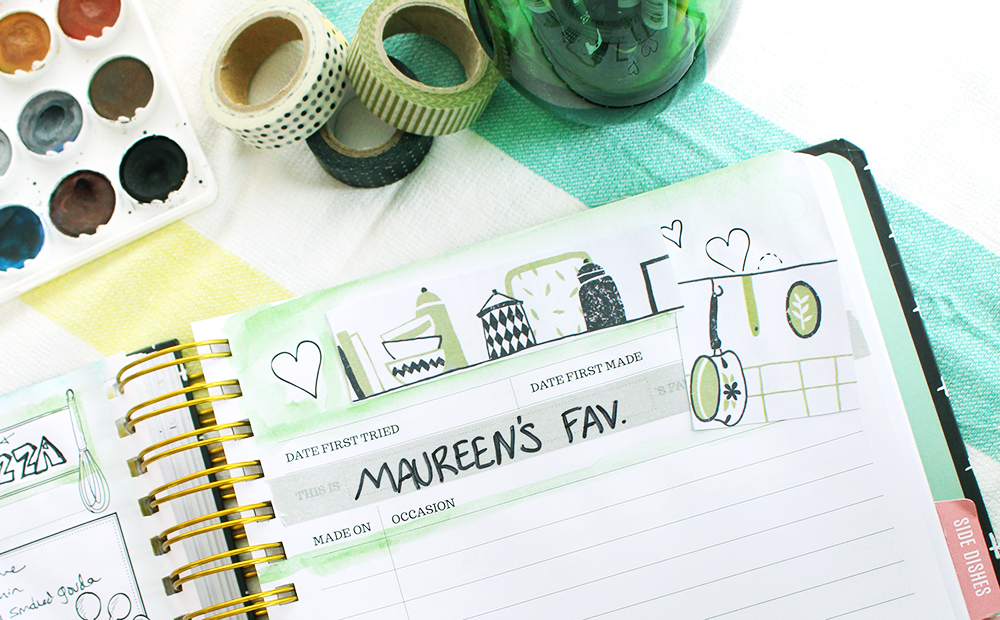 5. Make it fun & be yourself. The L&V team brought food and plenty of coffee to get the ball rolling. We reveled in our successes and laughed at our experiments! Our creative crew soon saw each page as a fresh slate to try something new, pressure-free. Though we ended up using our favorite stickers and a slew of pretty paper patterns from Flow's books for paper lovers, there really is no "right way" to fill in your Kitchen Diary. Does a day of scrapbooking make you cringe? Just write in your recipe, old-fashioned and sweet. Just be you!
Readers and friends…the moral of the story is a copyrighted slogan by Nike and I therefore cannot share it with you. However, we encourage you to JUST DIG IN! Don't forget to post your Keepsake Kitchen Diary spreads on Instagram and tag us: @keepsakekitchendiary