.
Pittsburgh has been unseasonably warm so far this summer. And I'm a fall girl myself, so I find myself searching out water as often as possible. Luckily, summer means going to the pool! We thought you might need some inspiration for what to throw in your bag if you're headed for water, too – so keep reading to see what we recommend on our pool essentials list!
Find the perfect pouch to hold your pool essentials!
It's hard to tote around your pool essentials if you don't have a pouch to put everything in. But we've got you covered on that. Lily & Val carries an array of adorable zippered pouches, but we've picked out the Hello Lovely pouch specifically for your pool needs. So even if you're covered in sweat and your hair is a mess and you're dying of heat stroke, just know that we think you're lovely.
Our pouches also have a zippered pocket inside to hold your bobby pins and whatever else you're worried might roll away out and about. You can throw all your smaller trinkets in these pouches to keep things organized and toss the whole pouch into your beach bag!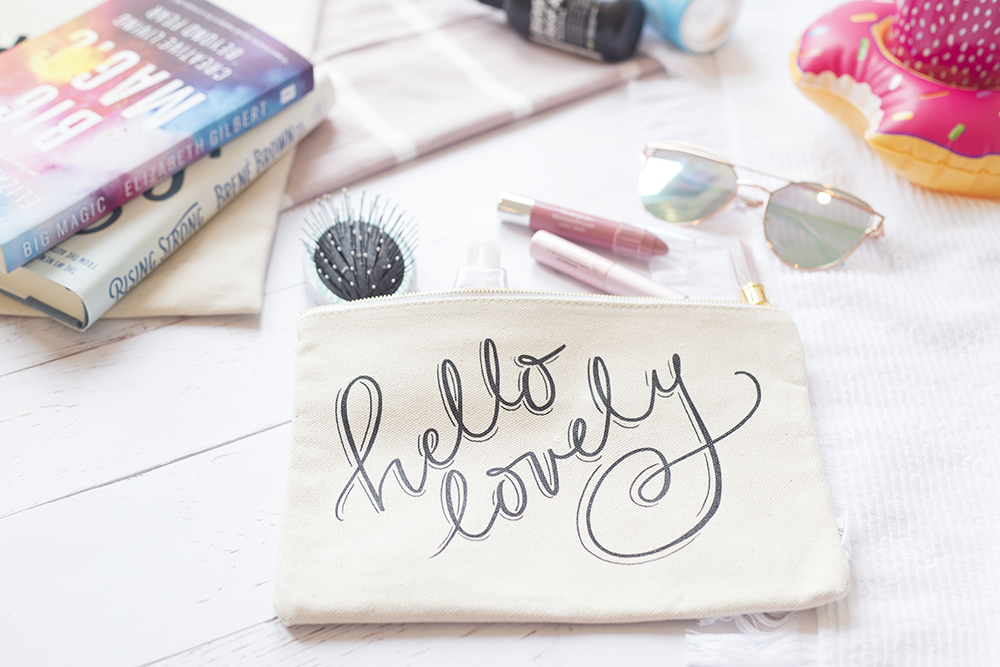 Bring along your favorite book
Right now I'm loving nonfiction – specifically nonfiction focusing on creativity, vulnerability and empowerment. My two pool (or beach) book picks are Big Magic by Elizabeth Gilbert (remember Eat Pray Love?) and Rising Strong by Brené Brown.
Don't forget a summery drink!
When I ran into these inflatable drink cozies at Target, I realized I found my new favorite thing. I don't just use it to hold my drink at the pool, I use it on my desk at home to bring summer indoors. I may look silly, but it makes me happy.
We have a few summer drink recipes on the blog for you – try a lavender iced chai latte, flavored sparkling iced tea, La Croix mocktail or strawberry lemonade! Fill a sealable tumbler (with a straw, of course) and stick it in your inflatable drink holder. You won't lose out if your cup falls in the pool!
Grab a few waterproof makeup essentials
All of my favorite makeup for summer is waterproof. For a trip to the pool, you don't want to be covered in makeup. You want just enough to feel put together in an easy, breezy way. I love a tinted lip balm or balm stick (like this pink one from Neutrogena). Waterproof mascara is a must – I don't leave the house without mascara on, but I don't want it streaking down my face at the pool.
To keep your face cool and moisturized during a hot day, I love this Lush "Breath of Fresh Air" face mist. It's a spritz of toner water to keep your skin from tightening and drying when you're sweating.
Sunscreen is also a must! I love this Nourish sunscreen from Trader Joe's. It's SPF 50 (I'm pale) and comes in a power spray so you don't get your hands all sticky. And if your hands do get sticky, make sure you have hand sanitizer in your pouch! I love Bath & Body works for this – 5 sanitizers with yummy smells for $5.
Other pool essentials you can throw in your pouch – your sunglasses and a wet brush (for brushing through wet and tangled hair! This one from Target is a serious miracle for my curly hair).
Be practical, too!
It's a good idea to prepare for practical issues when you're going to the pool or beach. For example, pack a plastic Ziplock bag to put your cell phone in when you're not using it. You do not want to drop that in the water! The zipped bag keeps moisture out way better than the plastic bags you just press shut.
To be extra cautious in the sun, bring a big floppy hat! Old Navy has a great, plain option on the less expensive side. If you want a decorative floppy sun hat, I love this one from ASOS.
Don't forget extra hair ties, headbands and bobby pins! I'm always losing these things when I'm out. Especially when your hair is a big wet mess, not having a hair tie is so frustrating.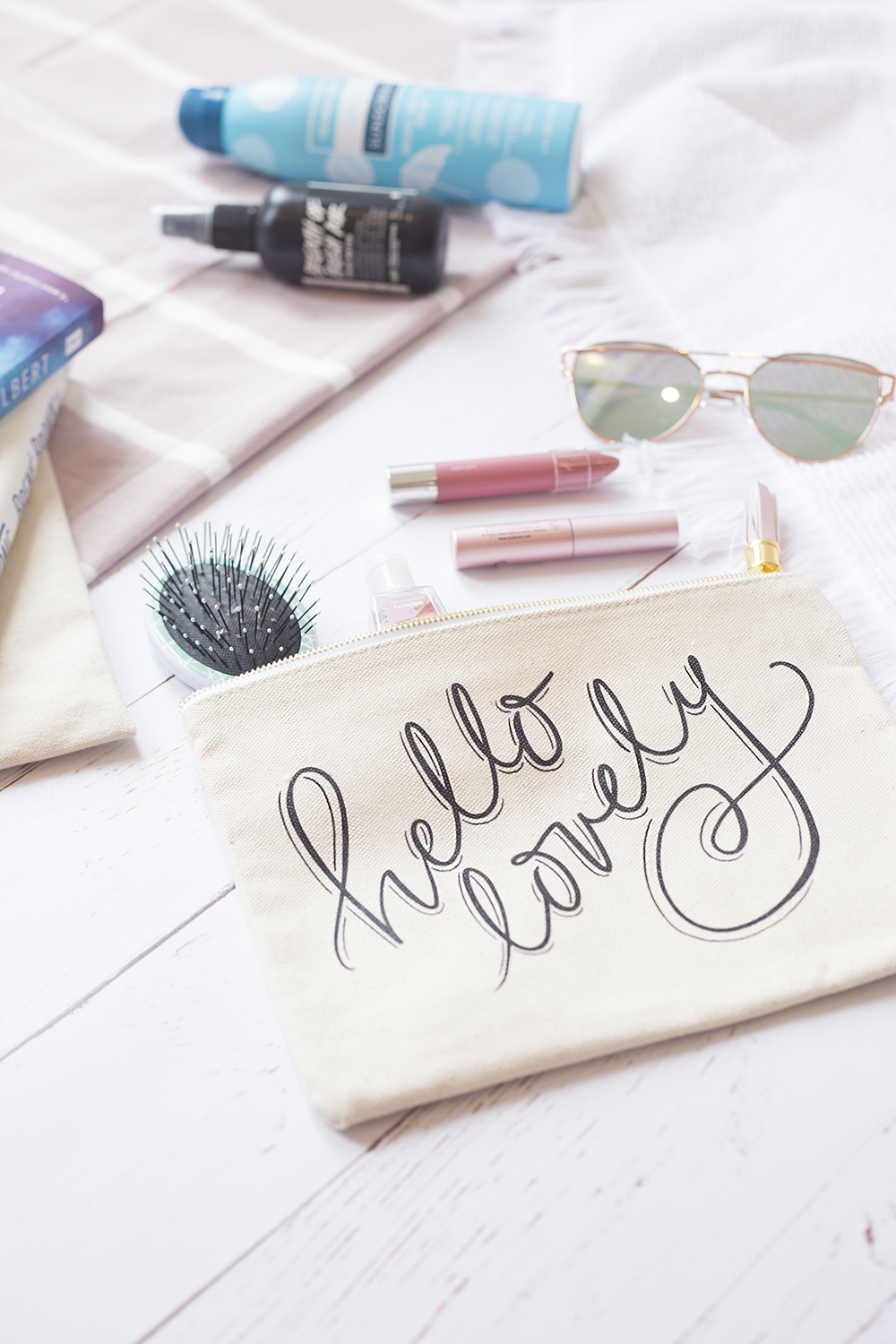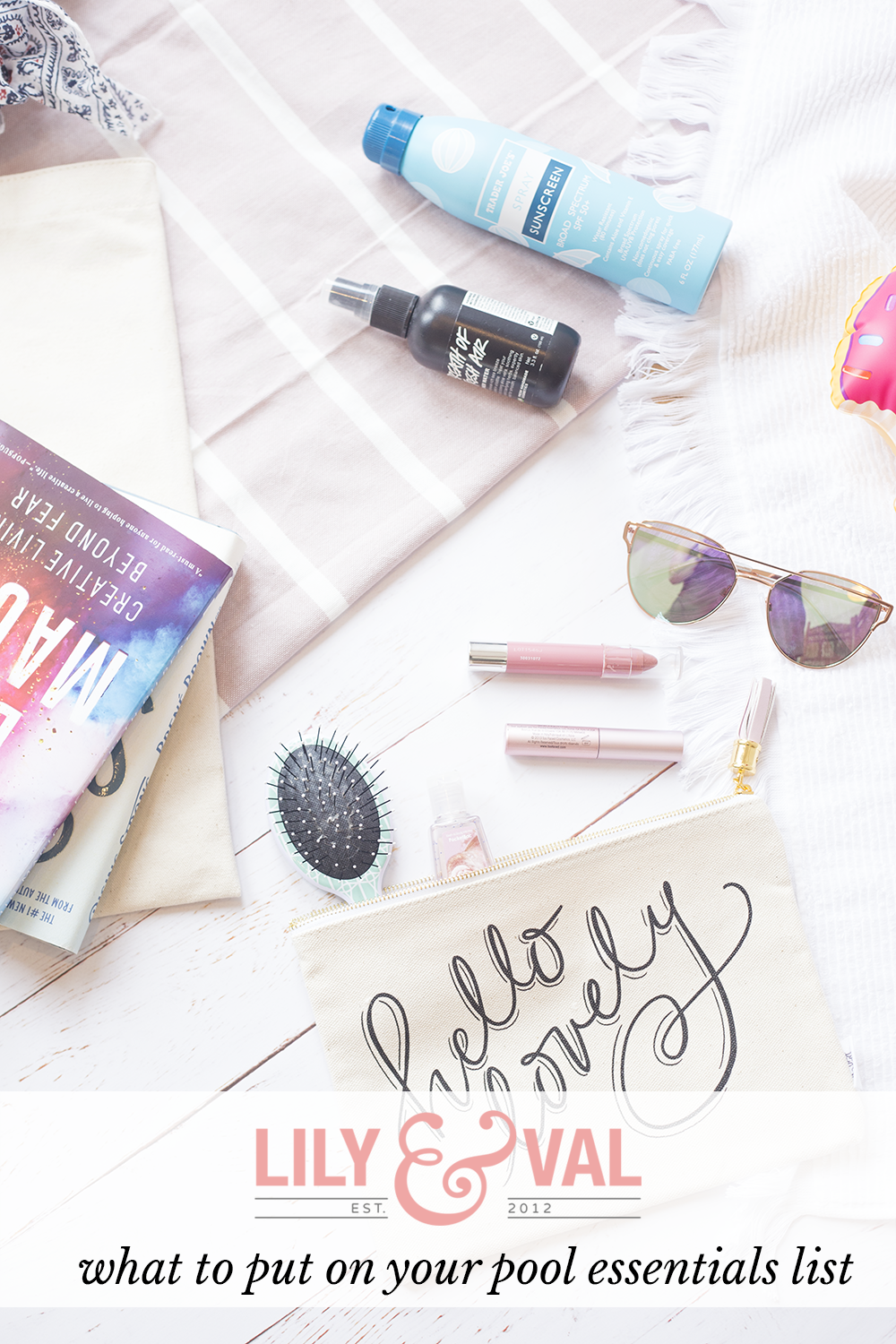 What would you put on your pool essentials list? Check us out in Instagram @lilyandval – we're currently running a Summer of Simple Pleasures challenge and would love to see your photos there!
Feel free to pin the above image if you liked this post and, as always, tag us with your pool essentials photos on Instagram with #lilyandvalliving! Happy summer!