If you haven't noticed from all of the Lily & Val Product Photos…I LOVE lamb's ear! For every season…every color scheme…every style. Ok so maybe that is a bit overboard, but I do love using lamb's ear in flower arrangements and photo styling! Especially in the winter, I love lamb's ear as an unexpected greenery. The soft texture and minty green color is so versatile.
In honor of this amazing green…I did a little DIY cone tree for holiday & winter decorating. We all need a little more time to decorate, so I love items like these that are not "Christmas Specific" and can stay up later in the winter season, because…you did all the work already, so why not!
You will need:
Various sizes of cardboard cones painted white. (You could make these or just buy them at any local craft store. I suggest using a Gesso Spray because it will cover better than just plain white spray paint.)
Gesso Spray or white paint
Lamb's ear faux floral stems
Wire cutters
A low temp glue gun and glue sticks
Directions:
Cut apart all of your lamb's ear stems using floral or wire cutters. I love the little clusters of small leaves at the top of the stems I had, but you can also just cut down to the individual leaves. Separate the sizes so you can use the smaller ones at the top and larger ones toward the bottom. (Set a couple small ones aside to use later)
Using a low temp glue gun will keep the plastic on your faux florals from melting …and you will be happy you did when it gets all over your fingers!
Work your way in a spiral motion overlapping the leaves as you go from top to bottom. Then use those extra little leaves to fill in any big gaps.
In the photo above I did a little more "natural" style but using a leaf cluster at the top and using a less perfect pattern on my way down the cone.
Below is a more perfect option. Start the top with a large leaf glued around the tip of the cone and begin laying your leaves all in the same direction in rows on the way down the cone.
With the more perfect approach, you will not have any gaps to fill in at the end.
(note the amount of hot glue on my hand…told you!)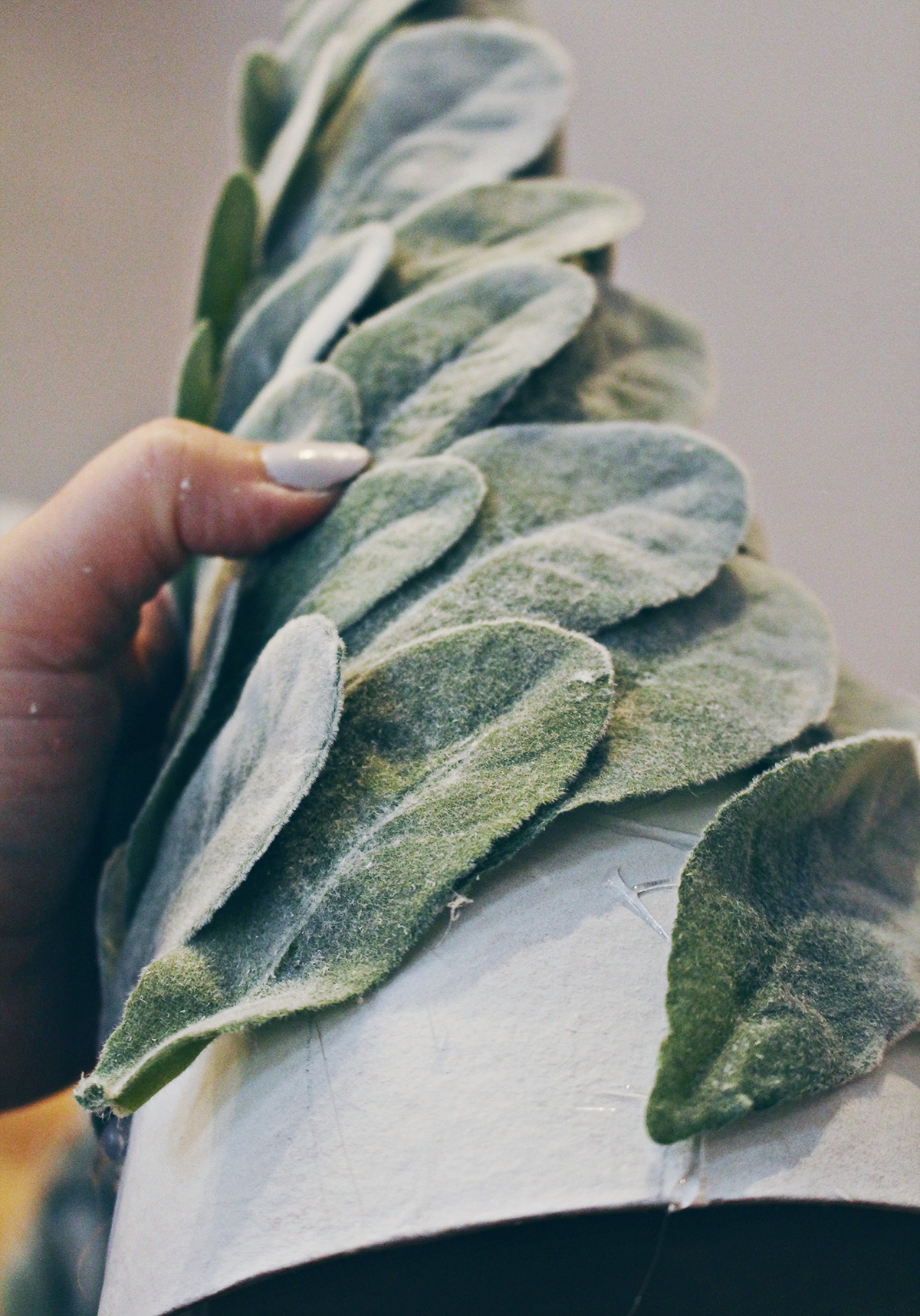 I loved mixing the two style trees in my decorating. Variety is the spice of life right?!
These trees pair so beautifully with the prints and canvas from the 2017 Holiday Collection (as in the photo below)!
You could take idea a step further and use another type of leafy green, a plum lamb's ear, or glitter dust your trees at the end! Make a bunch and put them down the center of your table for a beautiful wintery centerpiece, or line your mantle and mix in some taper and tea-light candles! The possibilities are endless! Be sure to tag #lilyandval so we can see what you did with this DIY! Have FUN!