It's that time of year!! The 2014 L&V Holiday Shop is now open and I'm overjoyed to share these pieces of my heart with you all. Not to mention, I'd like to formally welcome you to the brand new lilyandval.com! We worked with the amazing team at Aeolidia to create our updated and fresh look. Besides being pretty, I think you will find our new website to be extremely easy to navigate. We've also added new functions like a wish list – great for holiday shopping! I hope you love this streamlined user experience.
Last year I began what I hoped to be a L&V tradition by offering a Limited Edition design. This chalk art creation includes a traditional greeting "Merry Christmas & Happy New Year" with the year included. I'm over the moon about the 2014 Limited Edition piece. The silhouetted city and Santa's sleigh resulted in a whimsical, nighttime effect that I adore. The retro look of the stars and lettering really captured the overall festive feel I was going for. It can be purchased as a single greeting card or boxed set here.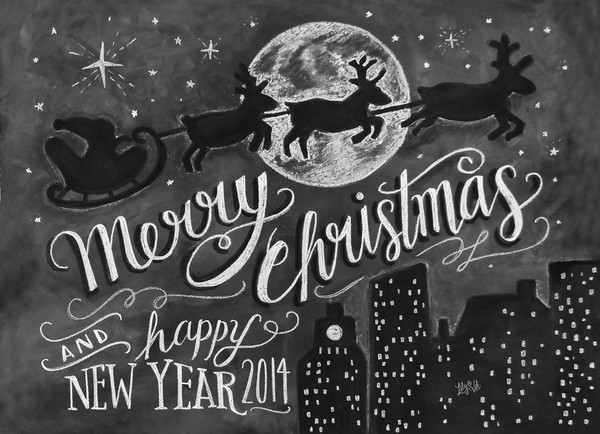 Food, parties, and entertaining are a huge part of the Christmas season and one of the most delightful parts. To help make your celebrations just a bit cozier, we introduced an "Eat Drink & Be Merry" holiday placemat design! Contained in this book are 25 heavy-weight tear-out placemats. I get giddy thinking about all the special holiday gatherings they will see!
And what would a holiday party be without Egg Nog?! The L&V recipe collection continues with the addition of this beloved holiday classic illustrated in chalk with traditional colors added. As with our other recipe designs, this functional piece of art will look beautiful on your wall and it is also available as a card to send to loved ones. I'm pretty sure they will want to keep it handy throughout the holidays!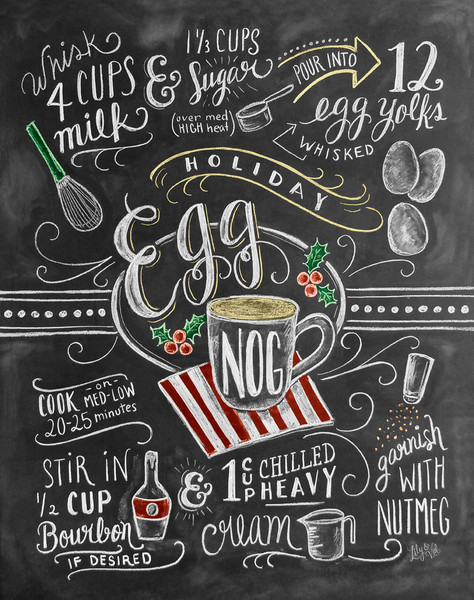 Speaking of cards, due to the popularity of our holiday assorted card set in 2013 we introduced a freshly drawn 2014 assorted boxed set of 8 cards! Each card is brand new for 2014 and color has been a focus. We've also upgraded our product packaging and the backs of the white card boxes include a branded label showing each design.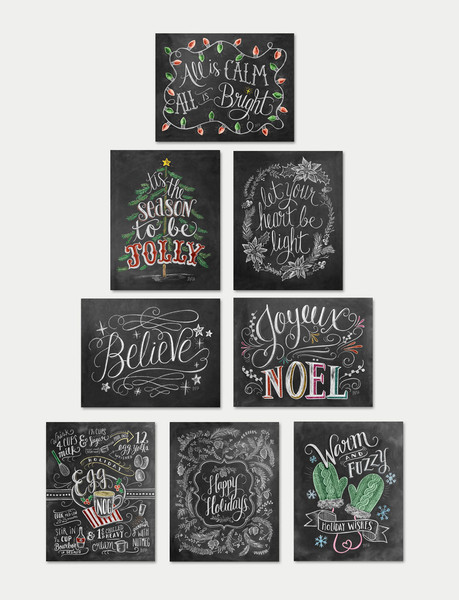 Joyeux Noel is one of my favorites especially since Mak and I just returned from a trip to Paris last month. I fell in love with this stunning city and have been incredibly inspired to offer more Parisian themed designs in the future. Keep an eye out!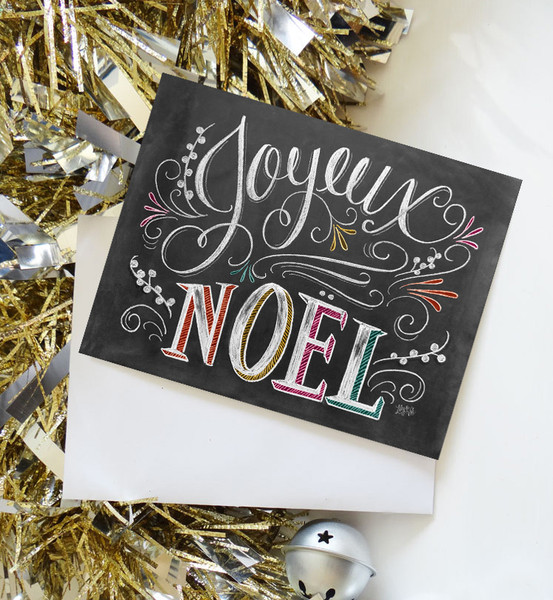 Another favorite of mine – Warm & Fuzzy Holiday Wishes. Oh how I love the chalk cable knit! The innate fuzziness of chalk art made this design come alive. Each card in the assorted set can also be purchased as individual cards or boxed sets of the same design.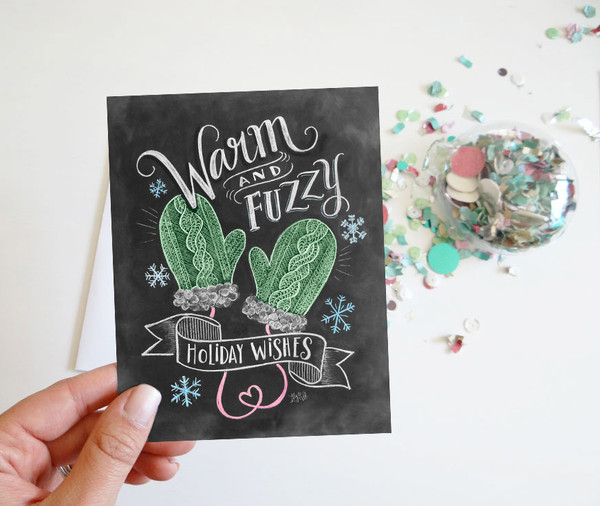 A close up of the cable knit chalk action: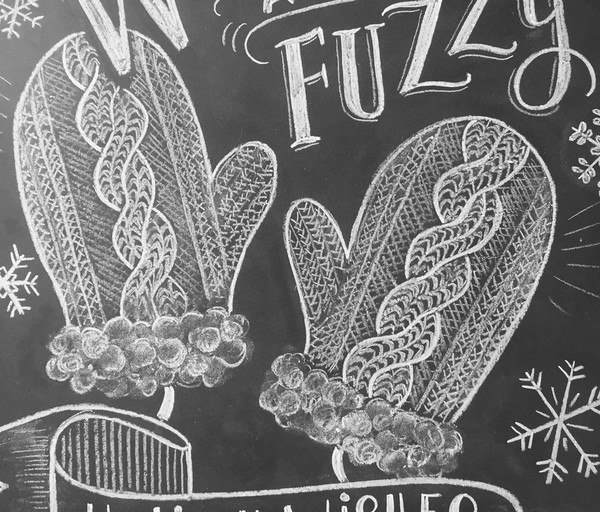 During the holiday season last year, I couldn't get the words "Let Your Heart Be Light" out of my head. It's such an amazing sentiment from a treasured song and I just knew it had to be part of the 2014 lineup. I designed the lettering to be simple, sweet and light. This is my wish for you all during the holidays.
Holiday wrapping sheets are BACK!! Last year, we sold out before Thanksgiving and I'm pleased to offer them again. They come in three designs, can be purchased singly, or as rolls of 3 for a discount.
The 19″ x 25″ sheets are perfect for wrapping small gifts and a multitude of craft projects. Each design has been completely hand lettered without any pattern repetition! I was blown away by my customer's creativity using the sheets last year like Amanda Dumouchelle Photography putting multiple sheets together to create this gorgeous photo backdrop! (Use hashtag #lilyandval on social media to share your projects and holiday decor using L&V items!)
View the entire Holiday Shop here: http://lilyandval.com/collections/2014-holiday-collection
I hope that you find something that speaks to you in this year's collection. I would love to hear your feedback! Please leave it in the comments below. Happy November, all! May this season be a blessed one.