Calling all paper and stationery lovers! As we are in the midst of National Letter Writing Month, we just couldn't resist the opportunity to offer another Surprise Box with, you guessed it, a Snail Mail theme!  Get ready, this special Snail Mail Surprise Box will be launching on Wednesday, April 11th at noon Est!
Although we have increased quantities each time, our Surprise Boxes sell out very quickly! The last two sold out in just 20 minutes! Ahh! We're thrilled you guys are loving these boxes so much and we're doing our best to offer more, but still a VERY limited number. So, set those alarms! 🙂
About L&V Surprise Boxes:
Our curated boxes are filled with L&V products, gifts & goodies from makers we love and one-of-a-kind items handmade by us and only available exclusively through the box! We put them for sale at an AMAZING price (which includes shipping) and once they're gone, they're gone for good!
A peek at what you can expect to find in this Snail Mail Box:
My paper-loving heart wants to share everything inside this box because I'm just so excited for you to see everything, but I know there's no fun in giving all the secrets away!  I did, however, want to share just a tiny peek of what you can expect to find as part of these Snail Mail themed goodies!
Exclusive Lily & Val Designed Stationery Sheets:
When I was a kid, I love love loved stationery sheets! (Lisa Frank stationery, anyone?) Now, they're a little harder to find, so we decided to design our own! Pretty papers make our hearts beat a little faster and we're including multiple sheets of each of the two designs – a blush and a mustard color, both with hand-drawn florals and lettering. These are perfect for your longer correspondence and they were made specifically to coordinate with the contents of the box! You can't find them anywhere else!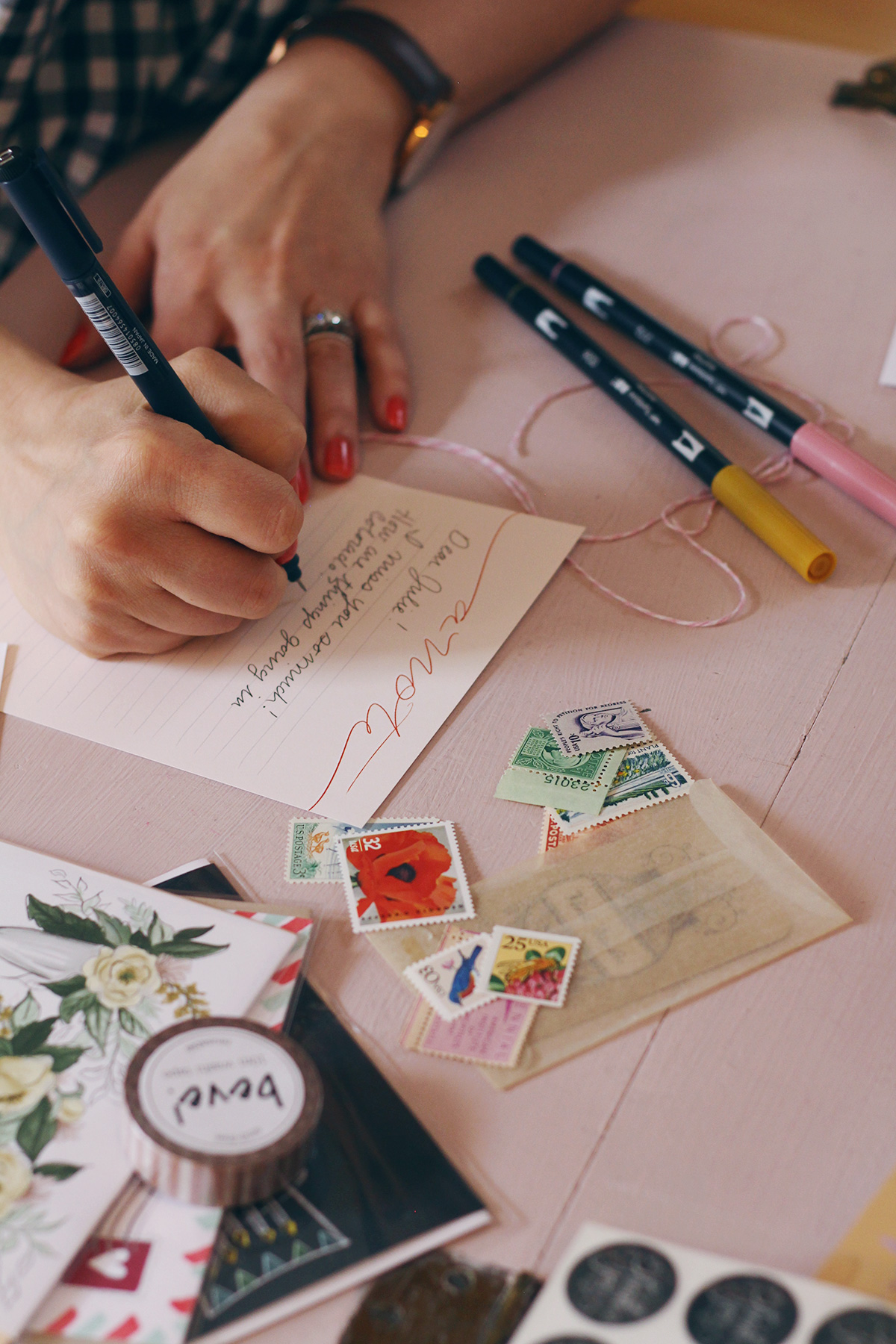 An Exclusive Lily & Val Note Card:
Another exclusive-to-the box item! This "HELLO" notecard will be tucked into your box along with SIX other best-selling, everyday Lily & Val cards (but we're not going to tell you which ones!) Everything in the box has been coordinated and designed to work together with all the other elements for you to create the prettiest snail mail.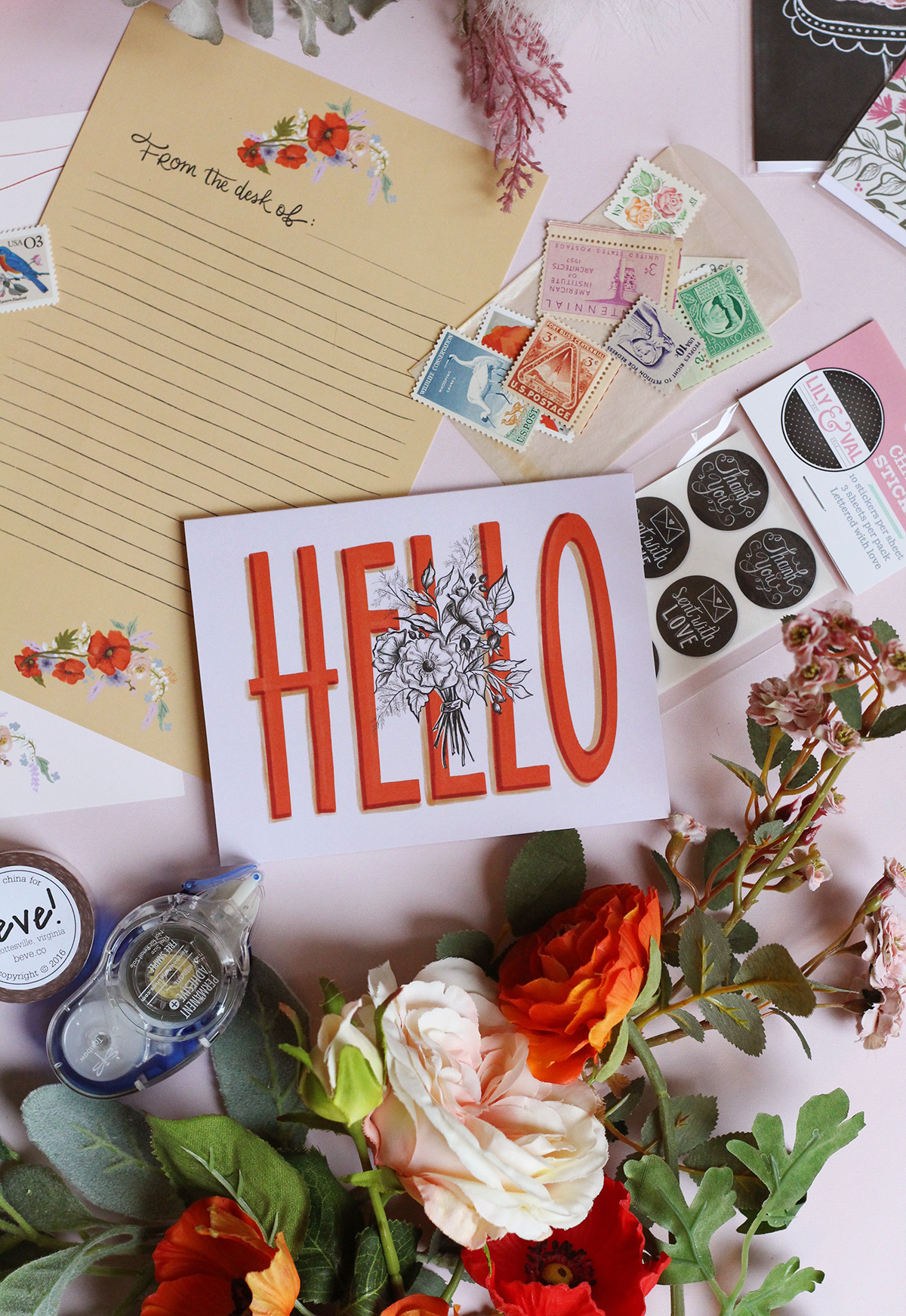 Tombow Dual Brush Pens & Drawing Pen:
We've got you covered in this box down to the pens for beautifully addressing envelopes and filling out the cards! If you follow me, you'll know Tombow Dual Brush pens are my absolute favorites and we chose the colors especially for the contents of the box.
Not sure how to use a brush pen? I've got you there too! Each box contains a little pamphlet with my brush lettering tips and a quick, little how-to. I'm confident you're going to love these pens as much as I do! And stay tuned to the blog later this month for more inspiration and ideas for using a combination of Tombow Dual Brush Pens and Mono drawing pens to creatively address envelopes.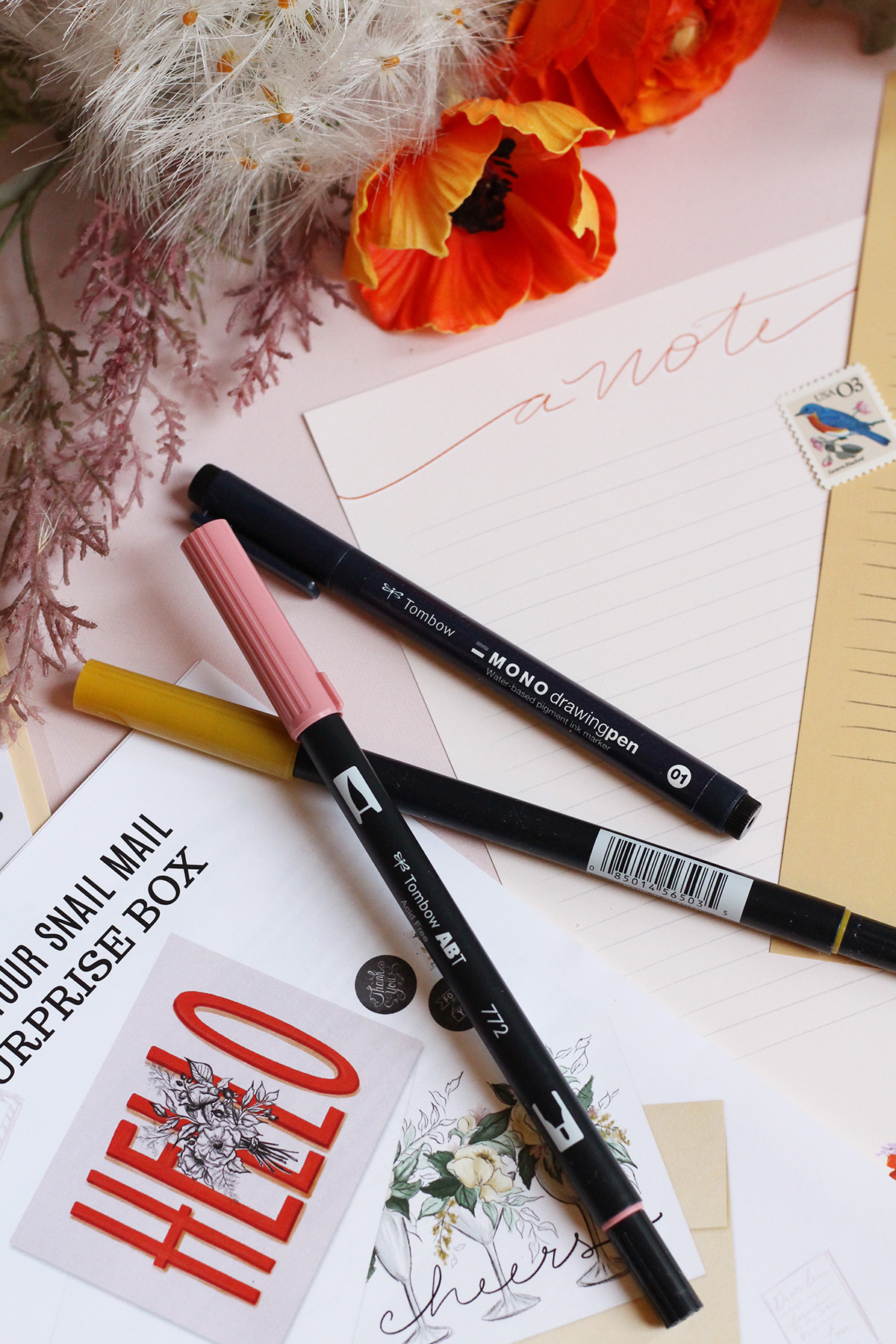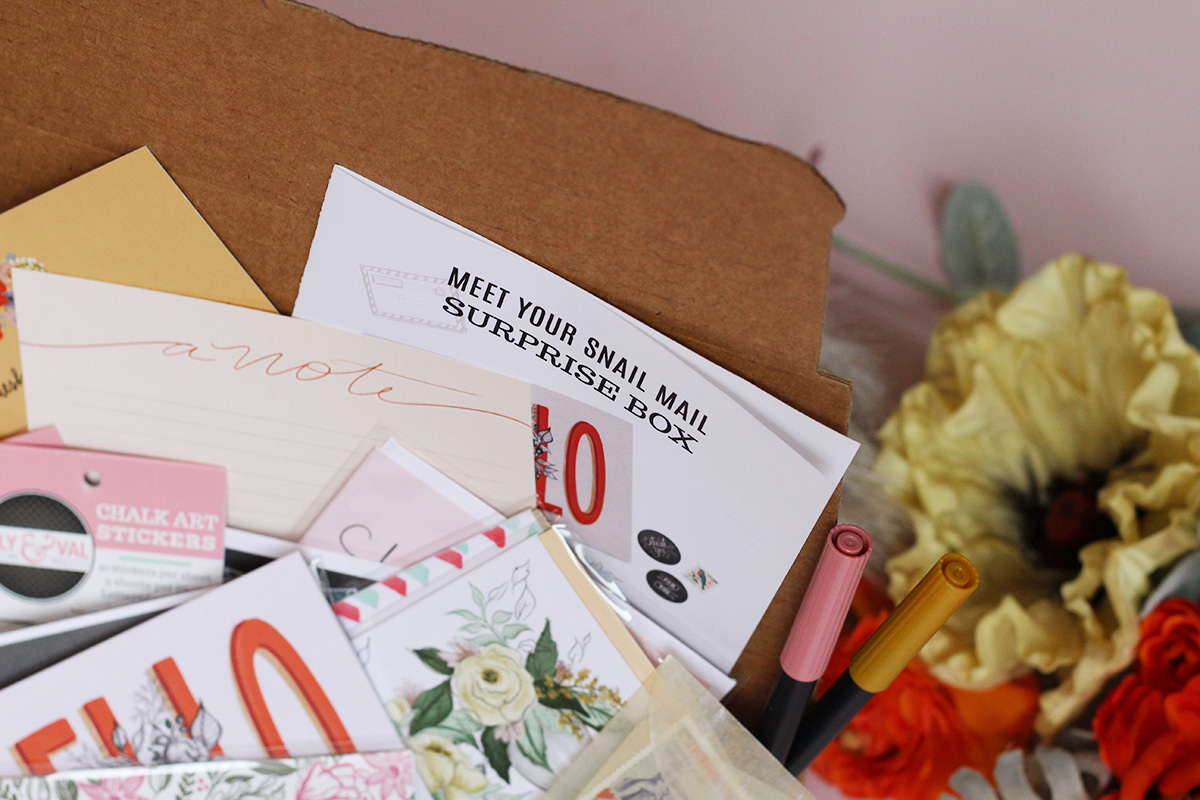 Vintage Stamps:
There is nothing quite like vintage stamps to elevate an envelope and really make someone smile when they receive your letter! The unused, vintage stamps in the box have been custom picked and color-coordinated by Virginia of Verde Studio just for us! Verde Studio is my favorite shop for finding vintage postage and I'm honored that she designed these amazing sets for this special box.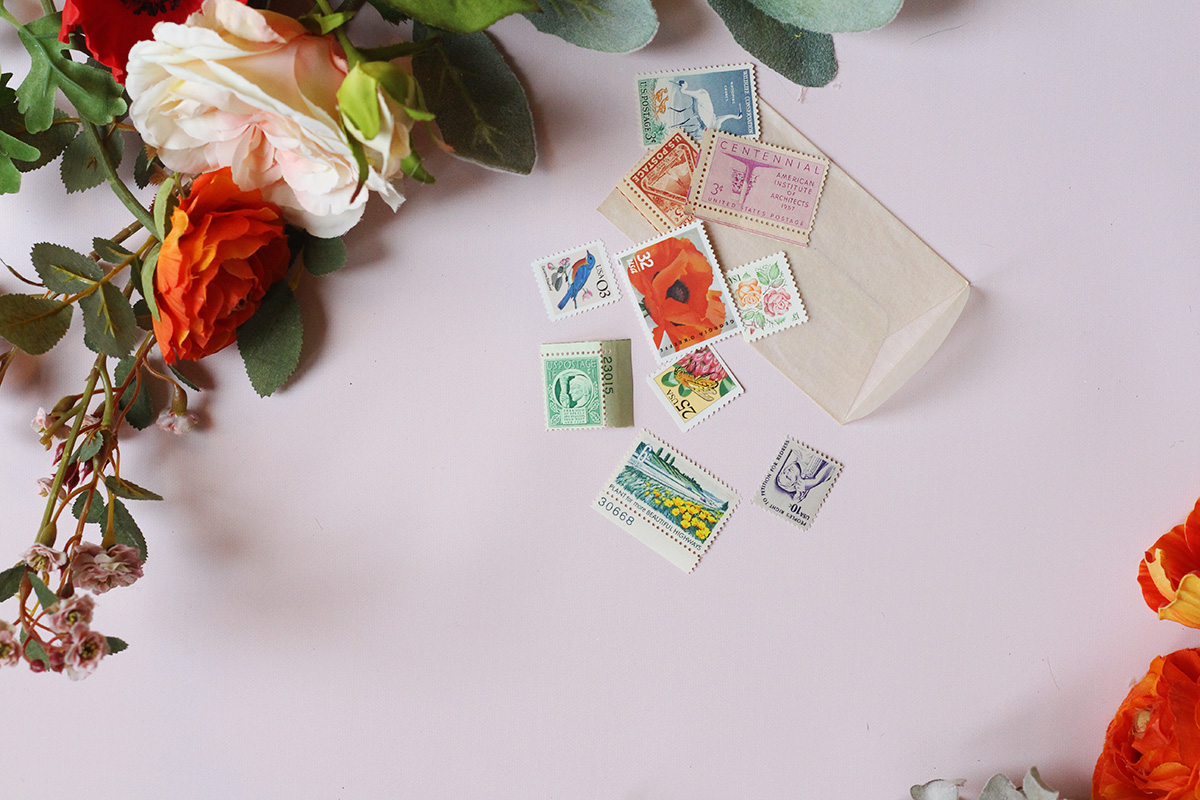 That is all I'm going to say before I reveal too much! What I can say is that this Snail Mail Surprise Box truly has everything you need to create many pieces of thoughtful correspondence with a total value of over $70! All that's missing is your sentiments and creativity poured onto the paper! What better time than National Letter Writing Month to take some time for sending someone an extra special happy mail surprise.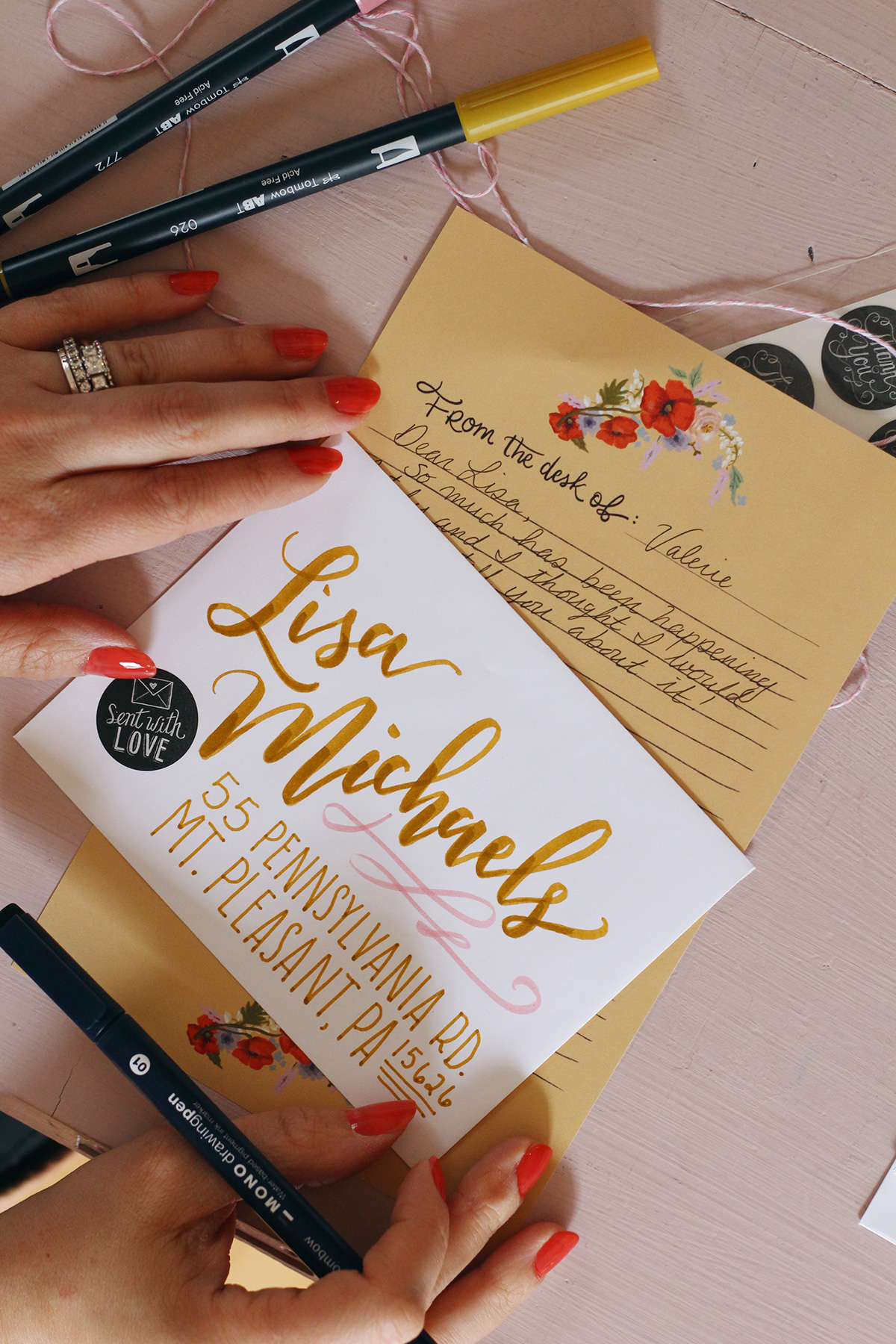 Set Those Alarms
The day before the box goes on sale (April 10th at noon EST), we will be jumping on Facebook LIVE to show you even more!
A few other announcements to answer your questions before the boxes go on sale:
* The price of the box includes shipping! The value of this Snail Mail box is approximately $70 so we can assure you it's going to be an amazing deal!
* Because the box is already priced as such, no other discounts or coupon codes will apply.
* Boxes are currently only available in the U.S. (international friends, we are very sorry and hope to have a future solution!)
*You guys are just the best. We love you!
Sign up to receive L&V emails and be notified when the box is on sale! And don't forget to set those alarms- Wednesday,  April 11th at noon EST! We expect to sell out quickly!