I have been out of school for quite some time, but there's still something about this time of year that makes me anxious to get new paper supplies! Well, be still my paper-loving heart because today we launched TEN new desk supply products in the shop! These items have been much-requested for so long!
In this season of back-to-school, it also seemed like the perfect timing t0 include a dose of learning as part of our "school supplies" launch! So, from now until Monday, September 25th, you can get our Chalk Lettering Bundle for an extra 25% off!! (Use coupon code: NEVERSTOPLEARNING at checkout!)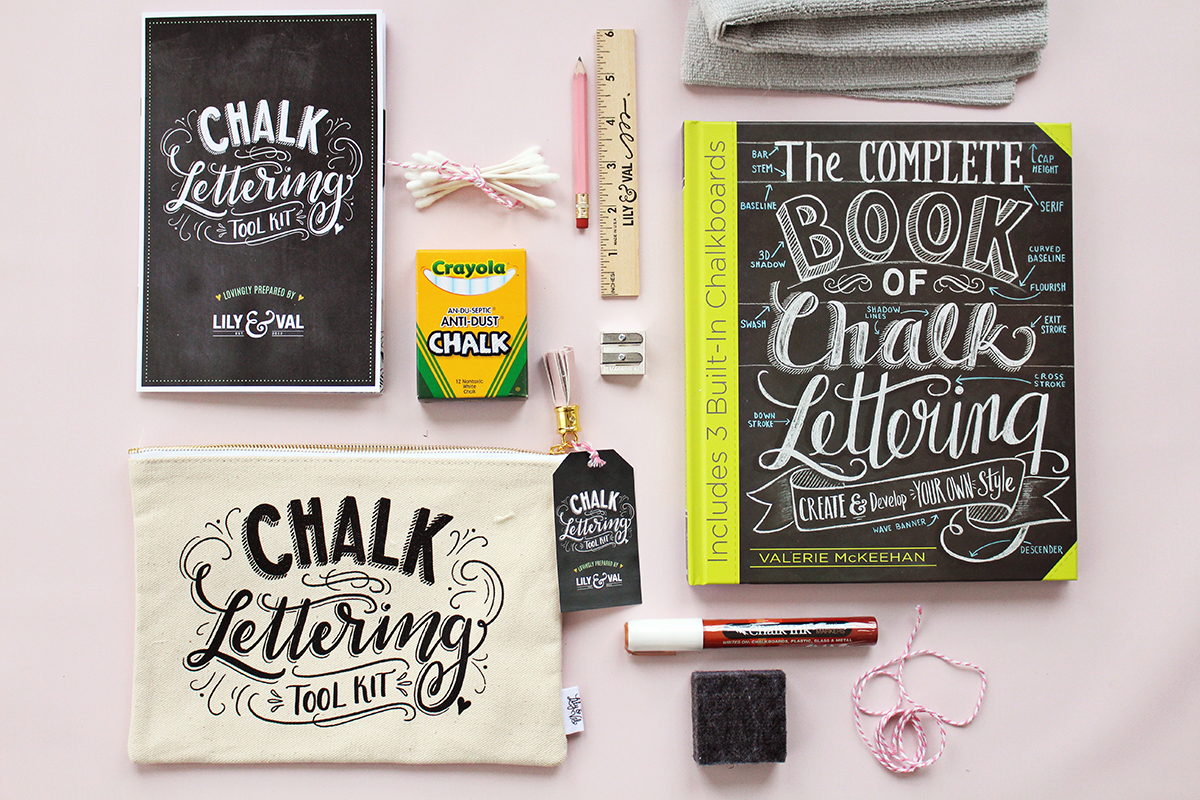 The Chalk Lettering bundle includes a signed copy of The Complete Book of Chalk Lettering plus our award-winning Chalk Lettering toolkit! I hand-picked all the supplies in the kit and it's everything I use regularly to create chalk art!
Between the book and the kit, you'll have everything (and I mean EVERYTHING, the book even includes fold-out chalkboards) to get started learning a new hobby!
The bundle is already a reduced price as opposed to purchasing the book and toolkit separately, so the extra 25% is really an amazing deal!!
And now for the paper supplies…
Whether you're getting started in your school year, working at an office, or trying to get more organized at home, we have some pretty paper goods for you!
The launch includes two weekly planner pads (a large one and a small one), a magnetic notepad, a 2018 agenda/planner, a tear-off notepad, a trio of three sewn-bound notebooks, a spiral bound notebook, a soft-cover journal, and TWO wall calendars. Whew!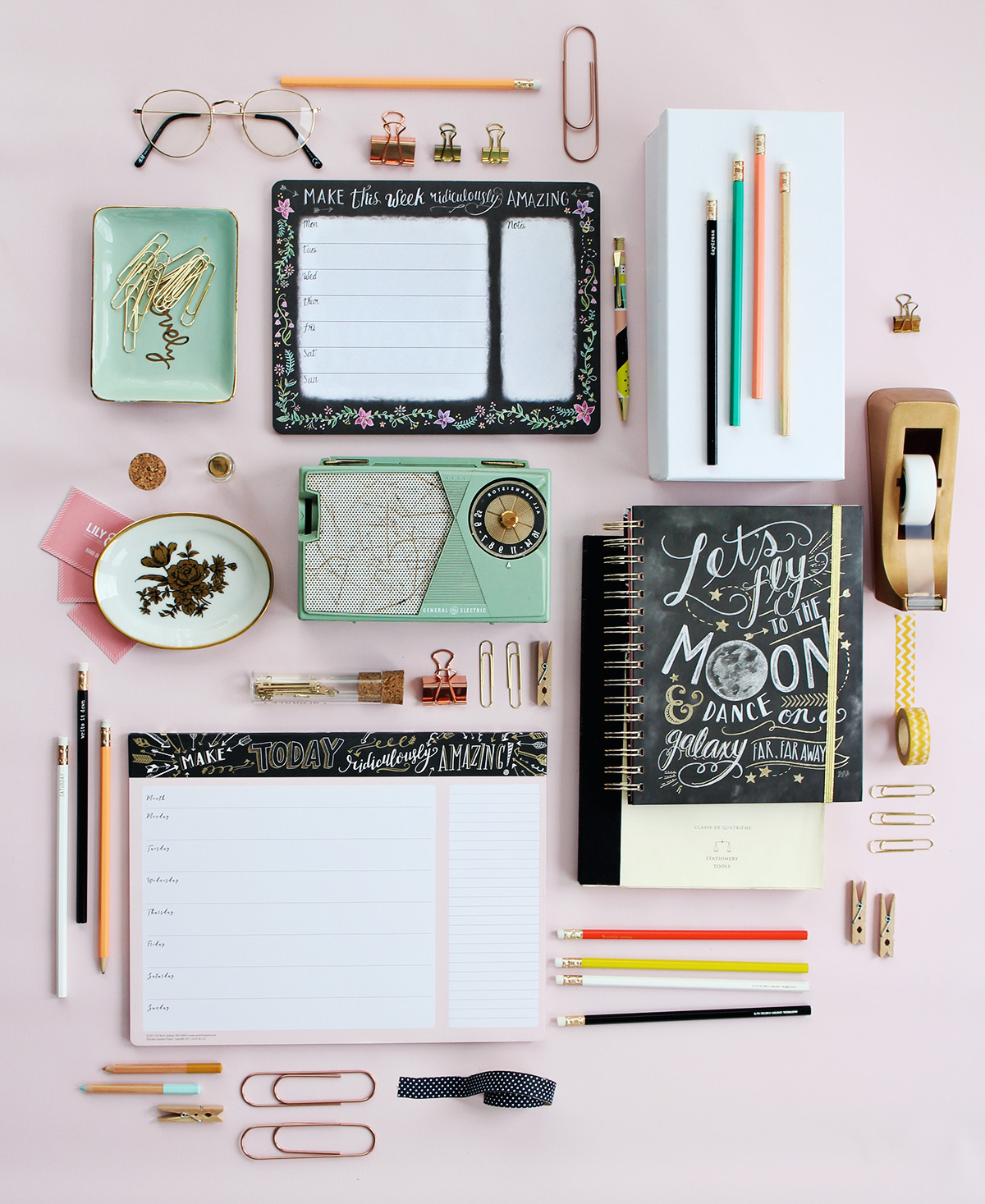 Below is the Agenda Planner! It has gold foil details (as do many of the products in this launch!)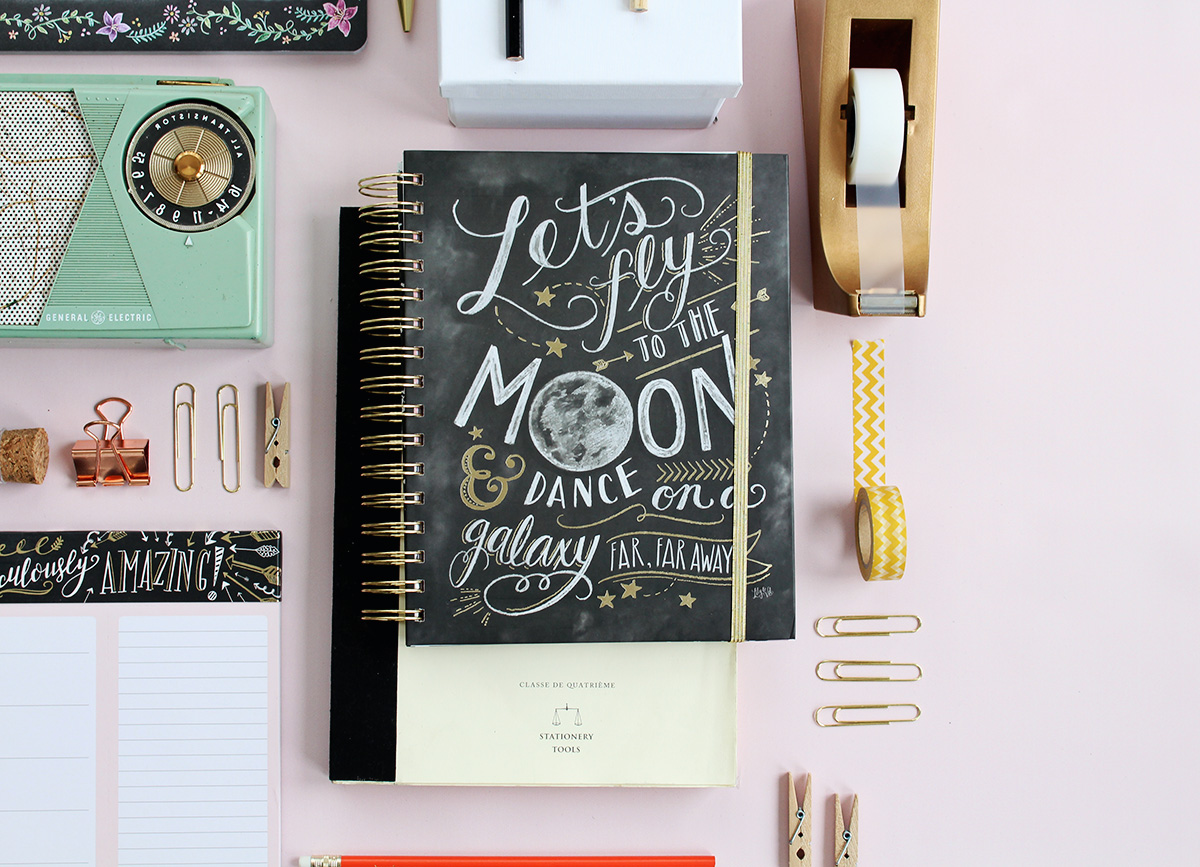 A fun sticker sheet is included in the front! It also has both monthly and weekly layouts as well as plan-ahead and goal-setting pages.
Below is the gold foiled magnetic notepad– perfect for the fridge. I love the blush, black and white colors on many of these products. It's elegant but cute!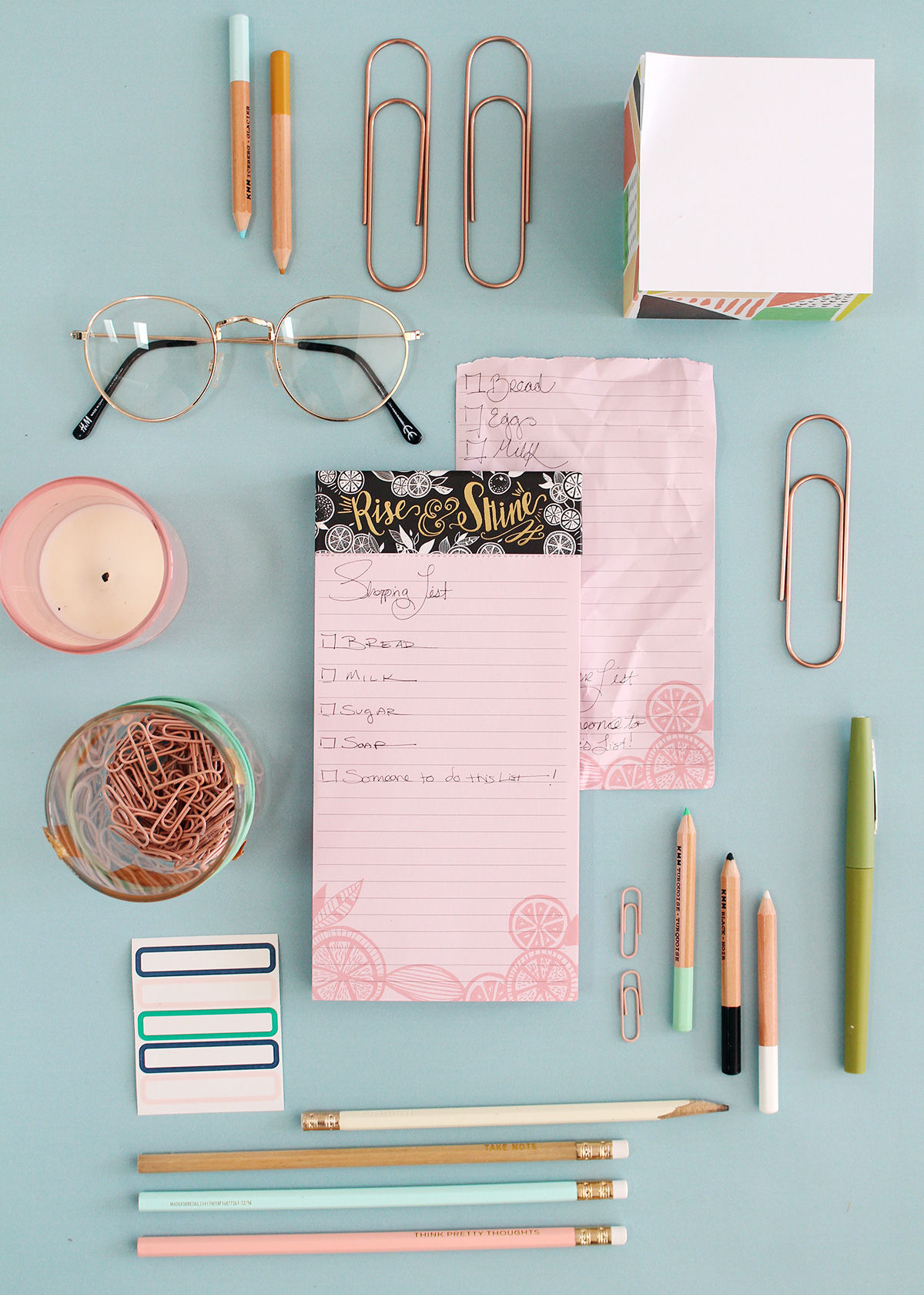 The size of the below weekly planner pad is SO nice. I love how large it is for all my weekly planning ahead.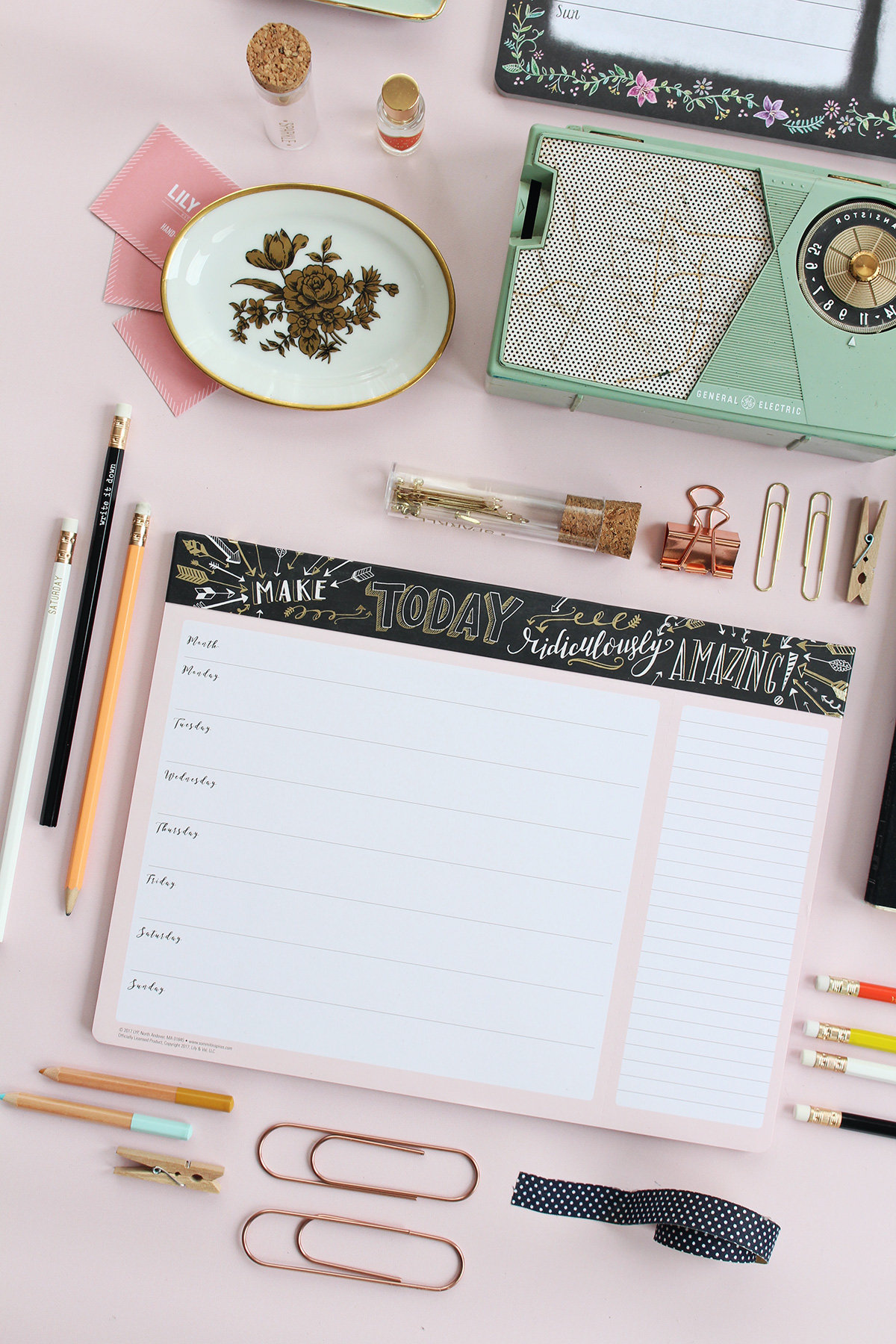 Another tear-off notepad. The "adventure is out there" chalk art theme coordinates beautifully with the planner and journal, too.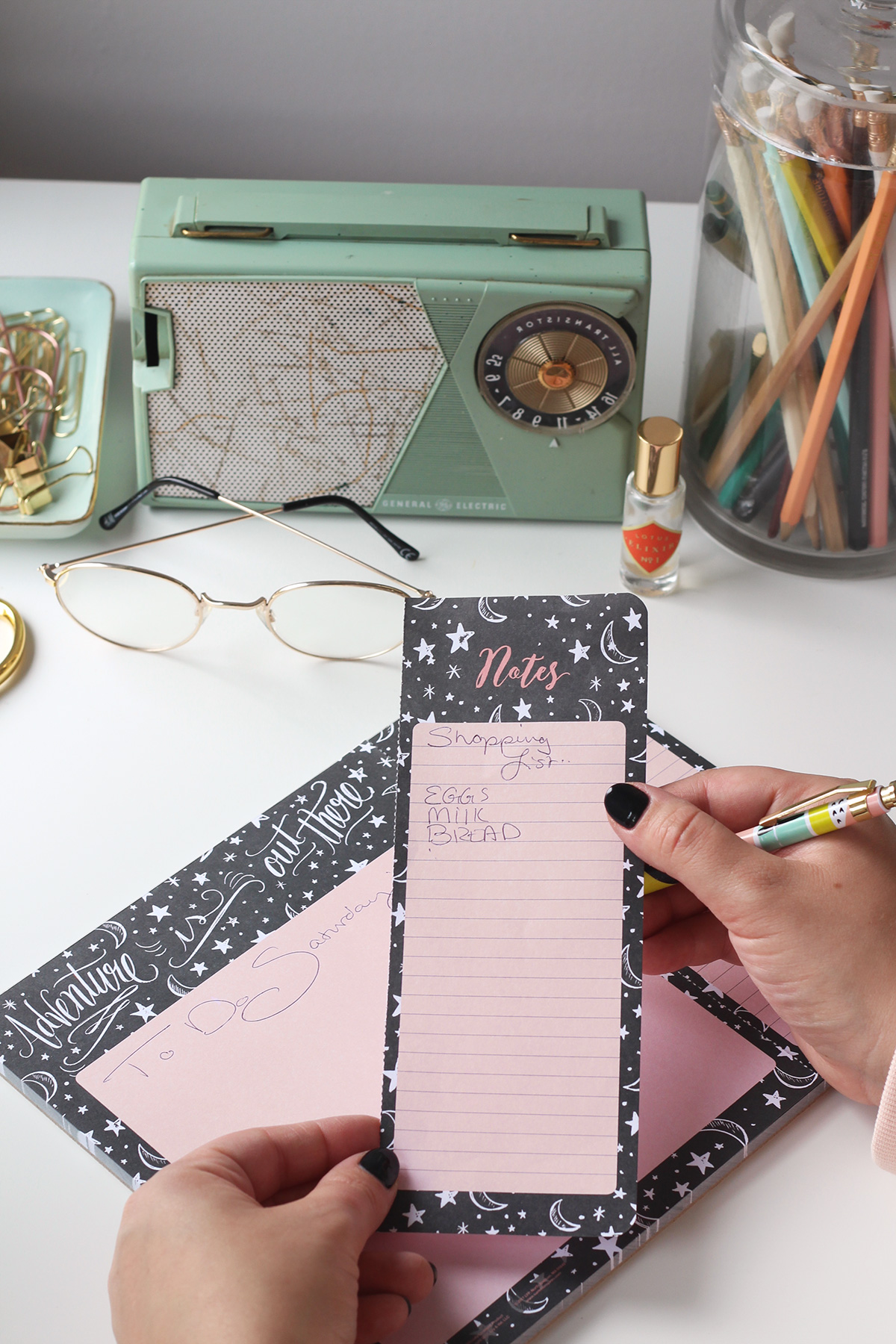 I love the flower illustrations in our smaller weekly planner pad. I keep this one at my home studio!
Three gold-foiled notebooks beautifully packaged together and ready for gifting! Or, give two and keep one for yourself! 🙂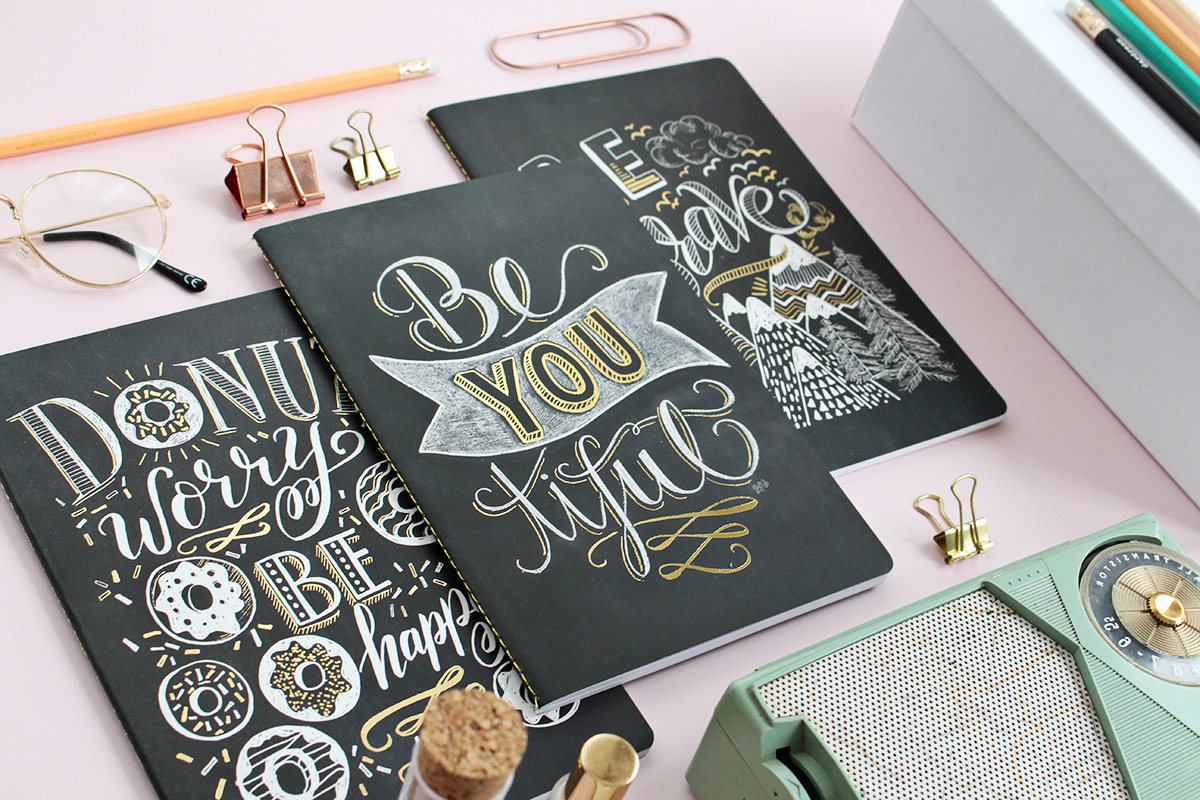 I think my favorite part about the "Adventure is out there" journal is how the gold foil sparkles on some of the stars.
Calendars launched today too!
Our best-selling "Cooking with Love" recipe calendar is back for 2018 and I'm pleased to introduce a new recipe wall calendar featuring Craft Cocktail recipes. Our recipe calendars sell out every year, so be sure to grab yours right away!
I really hope you love this collection as much as I do!  I can't wait to hear what you think.
Don't forget to take advantage of that 25% off on the Chalk Lettering Bundle, too (code: NEVERSTOPLEARNING)