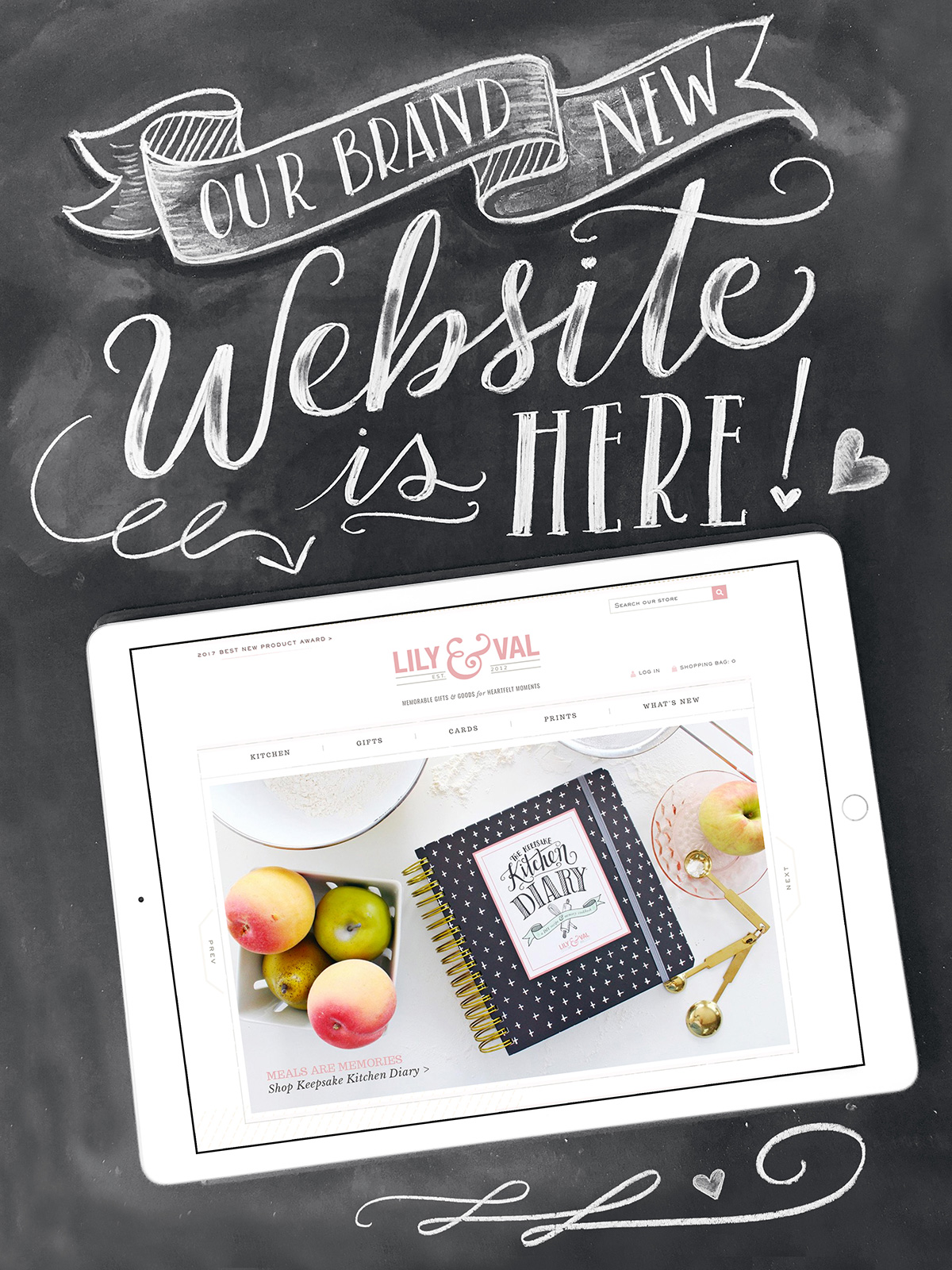 Friends! The brand new lilyandval.com has been in the works for many months and I'm thrilled to finally get to reveal it to you! This new home on the web is a big step for our little company and it's filled with MANY improvements for our amazing customers. I'm excited to tell you about a few…
New Tagline:
Unveiling our new website seemed like the perfect opportunity to also reveal our new tagline: Memorable Gifts & Goods for Heartfelt Moments. Ahhh! Typing those words makes me so happy. It sums up the heart behind what we do at L&V.
Product Categories:
Our vastly improved product categories will make your shopping experience more streamlined. With drop down menus + both top and side navigation, the new website is much easier to search through each product type and category.
Larger Product Images:
Our product photography shines on this new website, allowing you to see large photos of each product to really capture the details in every design. I especially love the roll over zoom function on a mobile device – just run your finger across the photo.
Convenient Footer Navigation:
The footer of the site now contains every place that you may want to go! No more searching around – just head to the footer and you can find it there including FAQ, Workshops, Flagship Store, Wholesale, and more.
Store Locator:
Also located in the footer is our "Store Locator" function! This brings up a map, where you can type in any zip code and it will bring up stores near you that may carry our products!
Those are just a few of my favorite improvements, but we also have a brand new about page, videos on product pages, AND a much-improved review system where you can share your feedback. I'm just thrilled for all of it! A HUGE thanks to our wonderful web designer and developer, Love Inspired! I highly recommend them! Cathy is a dear friend and one of the sweetest people you will ever meet.
To celebrate our launch, I put together the ultimate L&V favorites package! It includes over $300 worth of Lily & Val best-selling products. Follow the instructions below to enter! Good luck! We're also offering 25% off your purchase on lilyandval.com now through Monday with coupon code: NEWSITE
Giveaway includes: A Keepsake Kitchen Diary | Signed copy of The Complete Book of Chalk Lettering | Award-winning Chalk Lettering Tool Kit | XOXO trinket tray | Coffee chalk art print | Set of 3 French Building Prints | Seek Beauty Zippered Pouch | Hello Lovely Zippered Pouch | Hand-Lettered Cotton Tea Towel | Pack of Recipe Cards | 10 best-selling L&V cards
Enter below:
a Rafflecopter giveaway