Friends, I wish I could tell you that I set out to whip up some cute, DIY packaging, but the truth is, I just ran out of time and needed some wrapping in a pinch! Without a stash of holiday wrapping paper (besides this beautiful black and cream Sugar Paper LA tissue paper I picked up at Target at the beginning of the season), I needed to create my own festive packaging.
This idea ended up being very simple and I love how it turned out, so I thought I would share it with all of you in case you find yourself in a similar, last-minute wrapping situation.
Luckily, I keep a roll of white kraft paper on hand at all times. No matter the season, you can ALWAYS dress it up with a cute ribbon, string, or hand lettering. I also had a simple white gift bag. Add to that: a string of red bakers twine + Tombow Dual Brush pens in a few shades of green, plus black and a brown and that's all you need!
The drawing technique I used on all three packages is very simple and similar for each. Just think of drawing upside-down "V" shapes with a tiny curve at the ends.
The key is to keep it imperfect and loose. The best part about that is you cannot mess up. The messier the strokes, the more organic your trees and branches will look!  Don't overthink it, just quickly scribble out your brush strokes with the lightest green color first.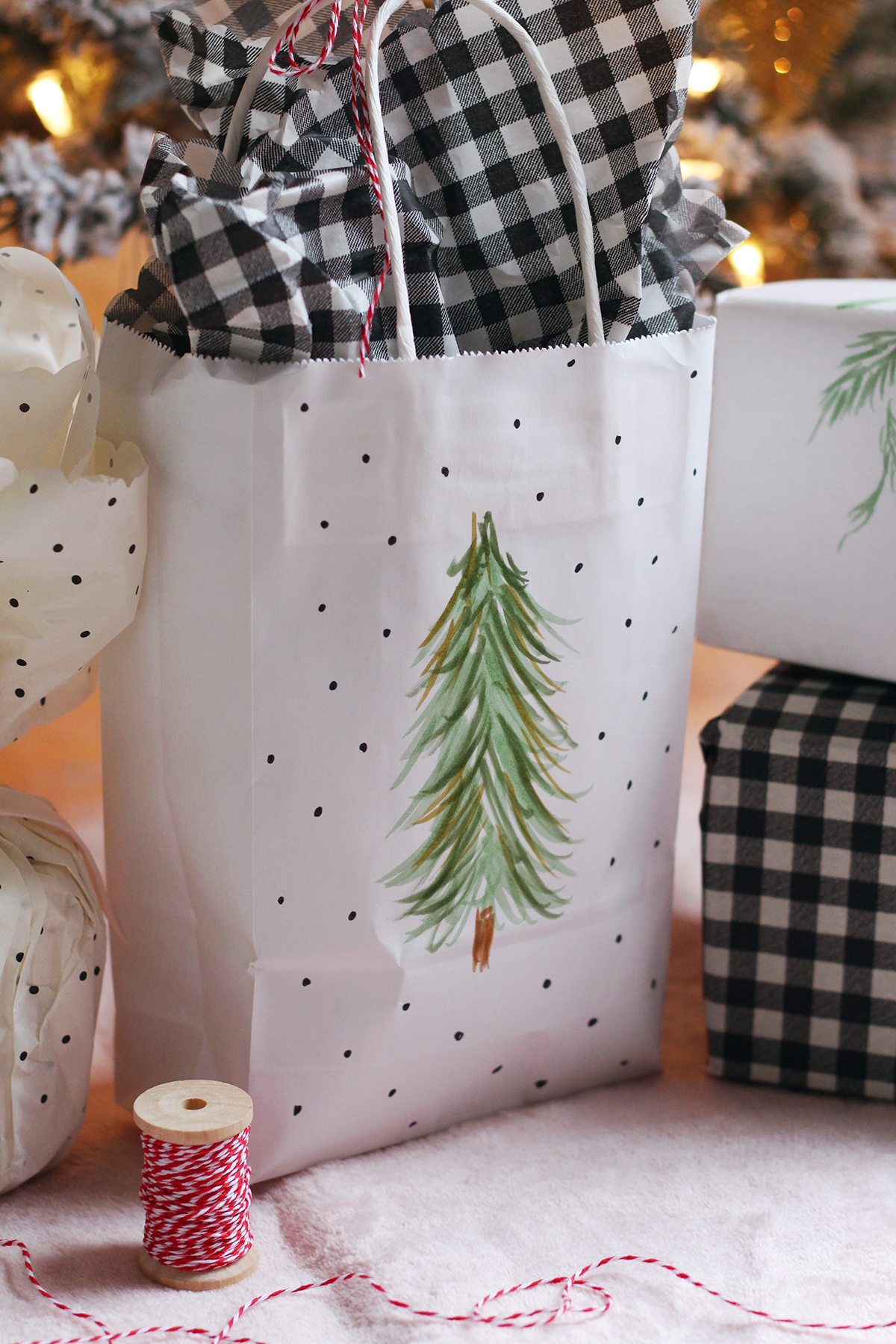 Once your first layer of green strokes is down, add a few loose strokes in a darker shade of green on top. You don't want to cover up your bottom green layer, just add a few stroke shadows to give a hint of dimension. On this large tree and small trees, I repeated the process using a third, olive green color, but two colors will do the trick just fine! You can add some messy tree stumps or just leave the greens as-is. You truly cannot go wrong!
On the bag above, I finished it off with some small black dots to mimic the dots on the tissue paper.
Creating greenery branches instead of a tree follows a very similar stroke pattern except you can add a long stroke, which becomes center of the branch with small strokes protruding off this center line. Again, keep it loose and imperfect. Actually being hurried is helpful here!
Simple red bakers twine finishes off your packages and adds a festive touch!
Easy and pretty wrapping done in a cinch! I just might wrap all my gifts this way! Happy wrapping, friends.