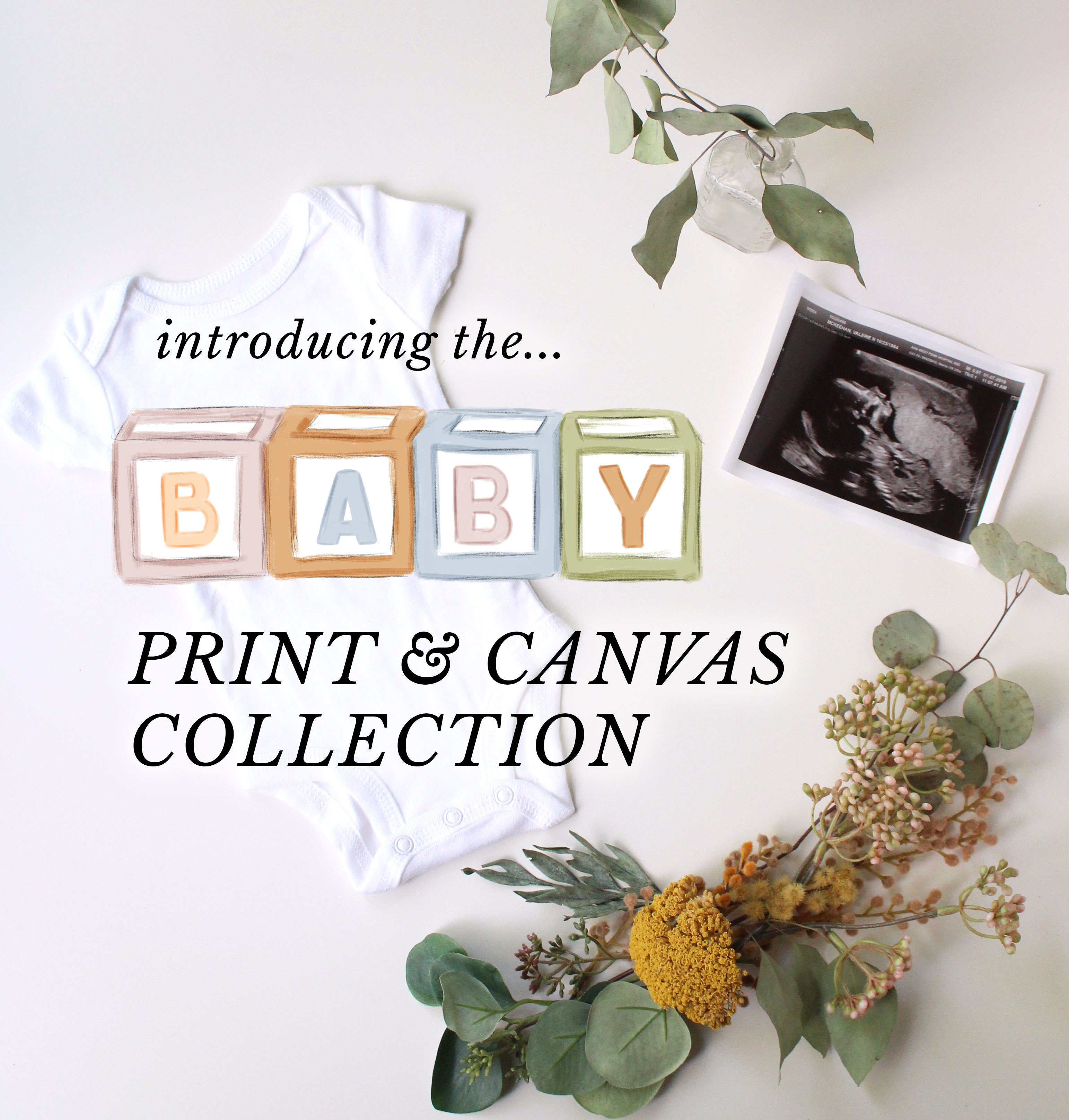 Friends, I can't tell you how excited I am to share the Lily & Val Baby Print & Canvas Collection with you. Creating a nursery collection has always been on my dream list, but when I found out I was expecting a little one myself this past Fall, I knew the time was now. It's a crazy feeling because this will be the last launch before I take my first break in almost seven years for maternity leave! Ahhh! I can't wait for you to see everything.
Dreaming up and drawing this collection while carrying my own little baby girl has been such a pleasure and joy. In fact, this collection means a lot to all of us here at L&V because we'll be welcoming THREE new little ones to the team in 2019. Yep, all three of the women of L&V (myself, Emily our Creative Coordinator, and Nicole our Operations Manager) are also expecting! So to say we have had babies on the brain is an understatement. It's such an exciting time and definitely makes for fun team meetings! 🙂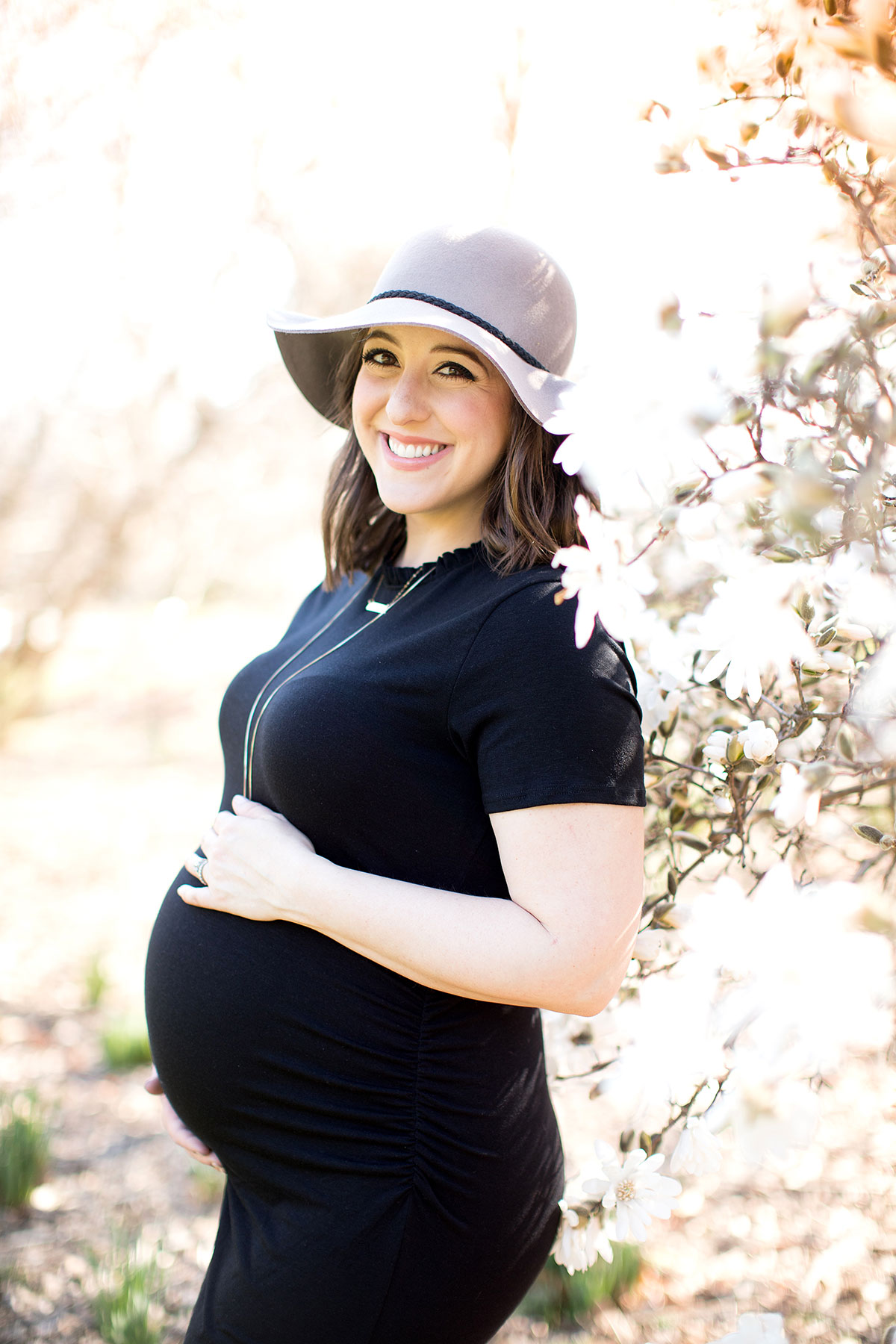 On a side note:
Thank you for following along with all the different chapters of L&V.  This business and work have always been a piece of my heart. I love creating things that I would want to have and put in my home. Thank you for letting me share it with all of you and coming along for the journey. It means the world!
So…I introduce you to you the new designs…
This sweet woodland print was the very first piece I drew. I wanted it to feel whimsical & fairytale, like a page out of a storybook! I also love the little "deer" play on words. It comes in three colors for a girl, boy, or gender neutral!
I can't help but get this song stuck in my head every time I see it! The little clementines were so fun to draw. I love the lettering mixed into the illustrations -I just think it's fun, child-like, and pretty!
Another design with a storybook feel! I love the pencil-sketched partial "tree branch" border and the message.
I've had such a thing for gingham lately and there's something especially cute about this small scale, hand-drawn gingham for baby's room. But deeper than that, this verse really hits me and I knew I wanted to incorporate it into the collection as well as my own baby's room.
Earlier this year I read the book "Without Rival" by Lisa Bevere and it was excellent. I wanted to share just a little excerpt from the book. These words were shared with me when I needed to hear them most and I thought maybe there was someone that needed to hear them too…
"You are the only example of you! You are the beginning and the end of you. There is not a designer sample scheduled for mass production. In his lineage, there are no copies, or same, and no equal.

…God uniquely created your DNA and knit your frame in secret so he could surprise the world. He authored how your heart expresses itself; he was the architect of your smile and the melody of your voice; he made all your features with the fondest thoughts of only you in mind. He celebrated along with your parents your first smile and watched with affection your first steps.

Because of his tender, intentional care, there are multiple facets of your life that express and reflect his love uniquely. He wove all these exceptional aspects and specific talents into the package of you, his daughter. He knew each attribute would be expressed best through your feminine form… Marvelously loved one, there is absolutely nothing accidental about you."
I realize Lisa was speaking to women here, but this truth is for every human being. We are chosen and loved. I can't get enough of that life-giving message, something we all need to hear.
The look of embroidery really gets me! It's cozy and cute. Although I can't embroider myself, I thought I would draw up two designs that would have the same look and feel! I love how fluffy the lambs look in this one.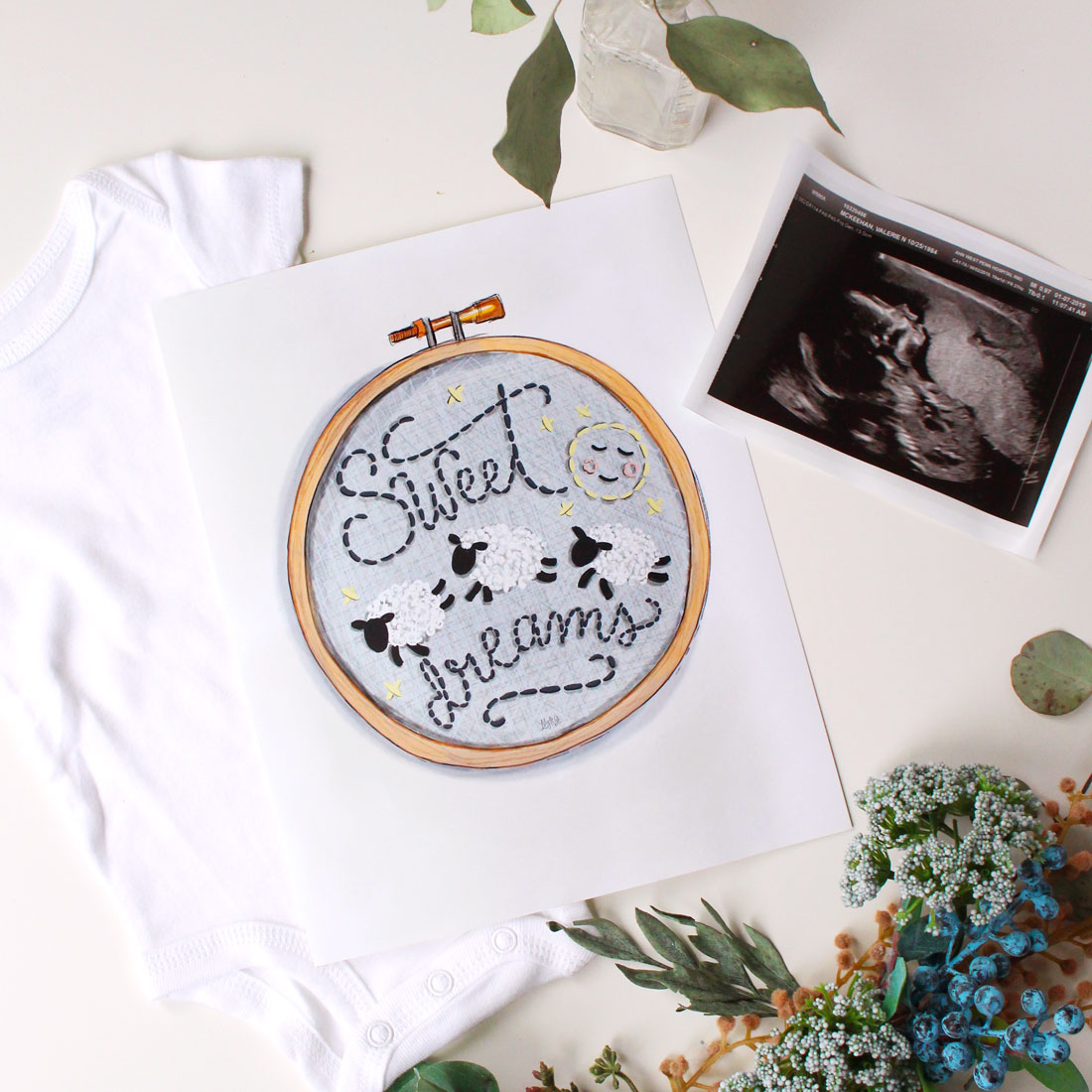 This one I drew especially for my own tiny miracle…
These next two prints have the cutest vintage feel to them! You guys know I love that pencil sketched texture! The little clothes, soft lettering, pretty border, nursery rhyme….I just can't get enough of this pair.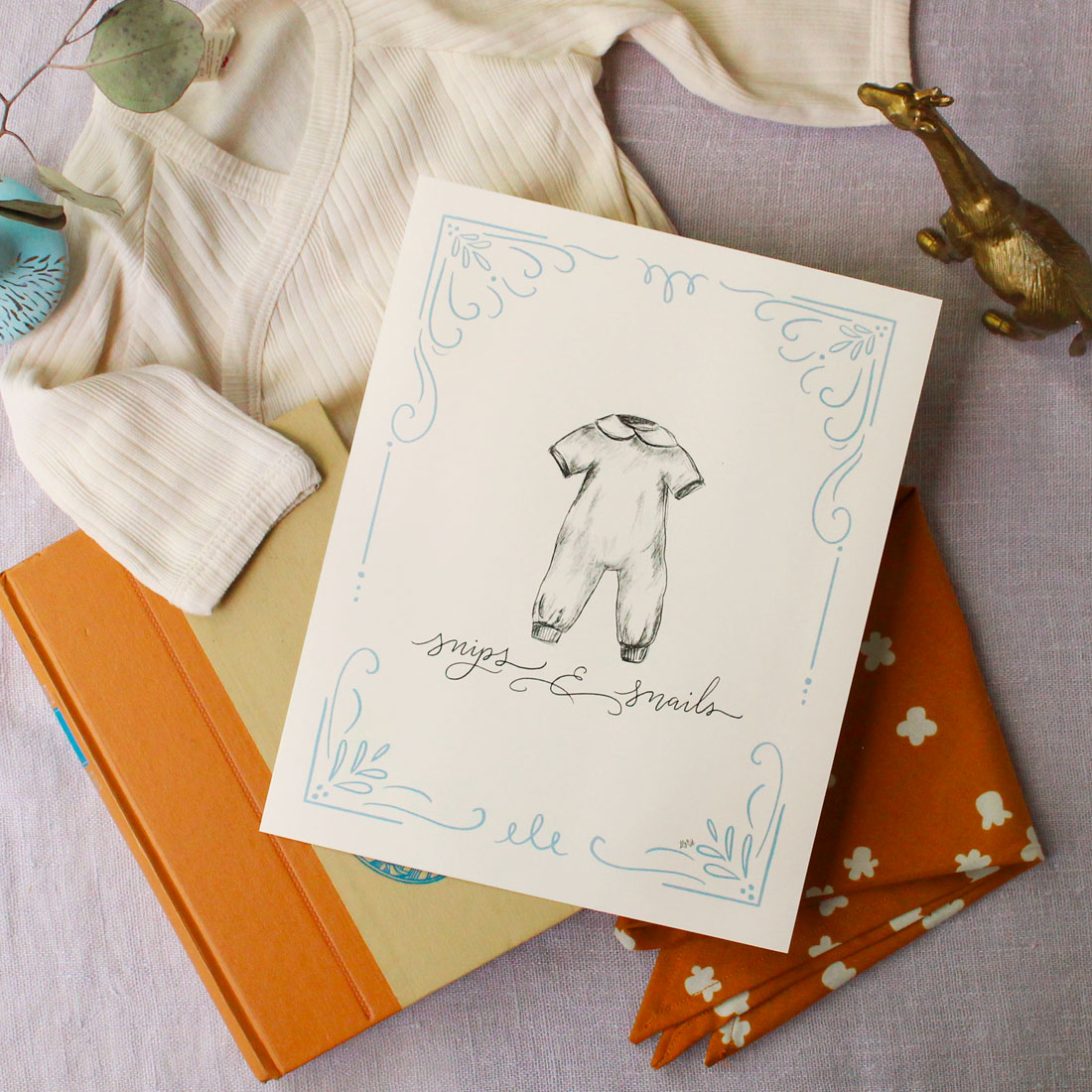 Another design inspired by a song! A few months ago, Mak and I put together a playlist for our baby – songs that we want her to know (got all the classics in there like Billy Joel, The Beatles and Queen), but also songs that remind us of her and this precious time in our lives. "Your song" (the Moulin Rouge) version made it on the list and I just love this phrase for a baby's room so much. Again, we included two color options!
This next print is minimalist, but very detailed when you get up close! With the other illustrated storybook-esque prints, I wanted to also include a simpler, hand lettered design that could work for both a boy or a girl and have that same feel. To me, this looks like it could have been torn out of a children's fairytale book. And isn't this quote one of the sweetest for a baby's room?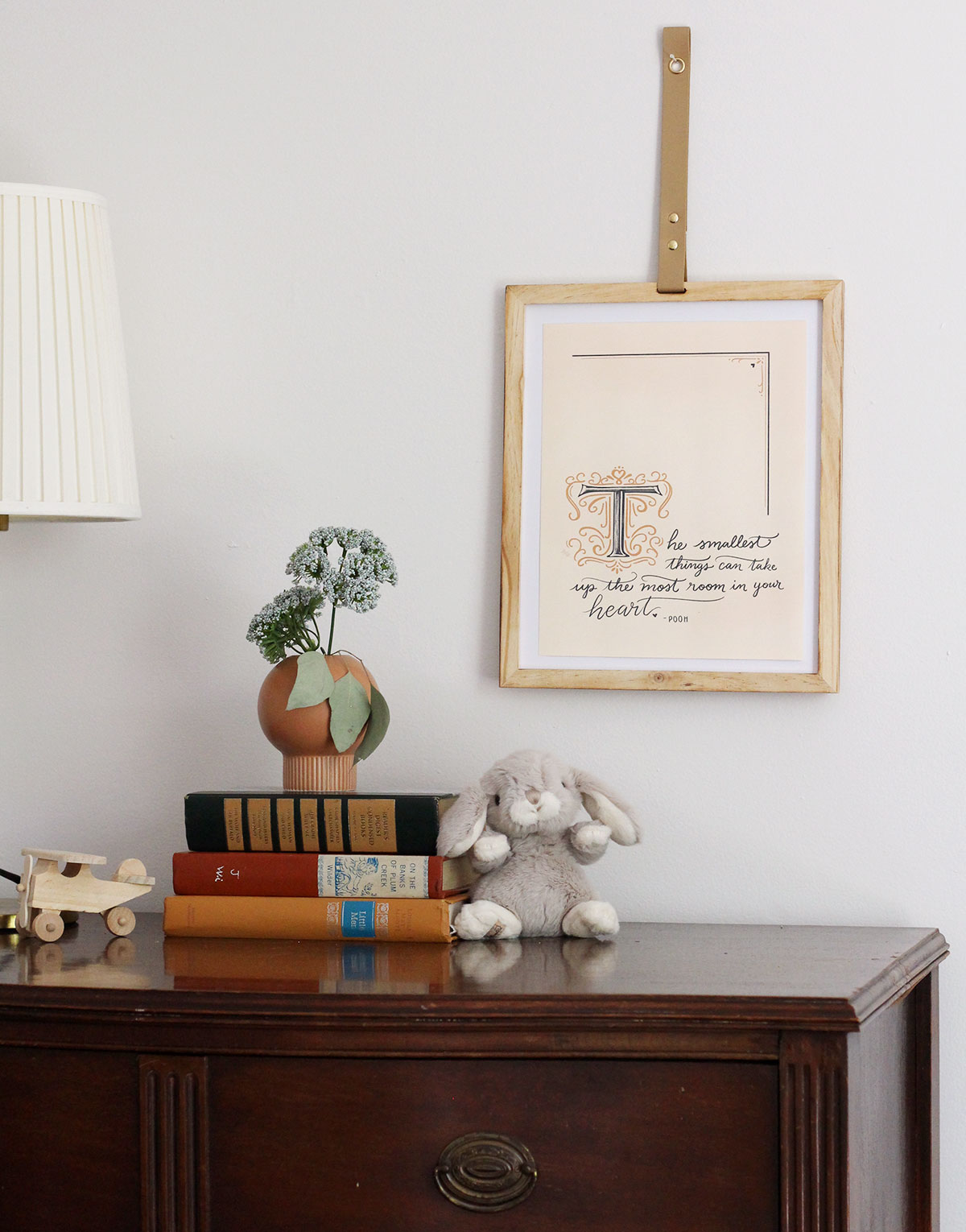 Cute blocks in a cute color palette.  Another important reminder for the littlest children to the children at heart.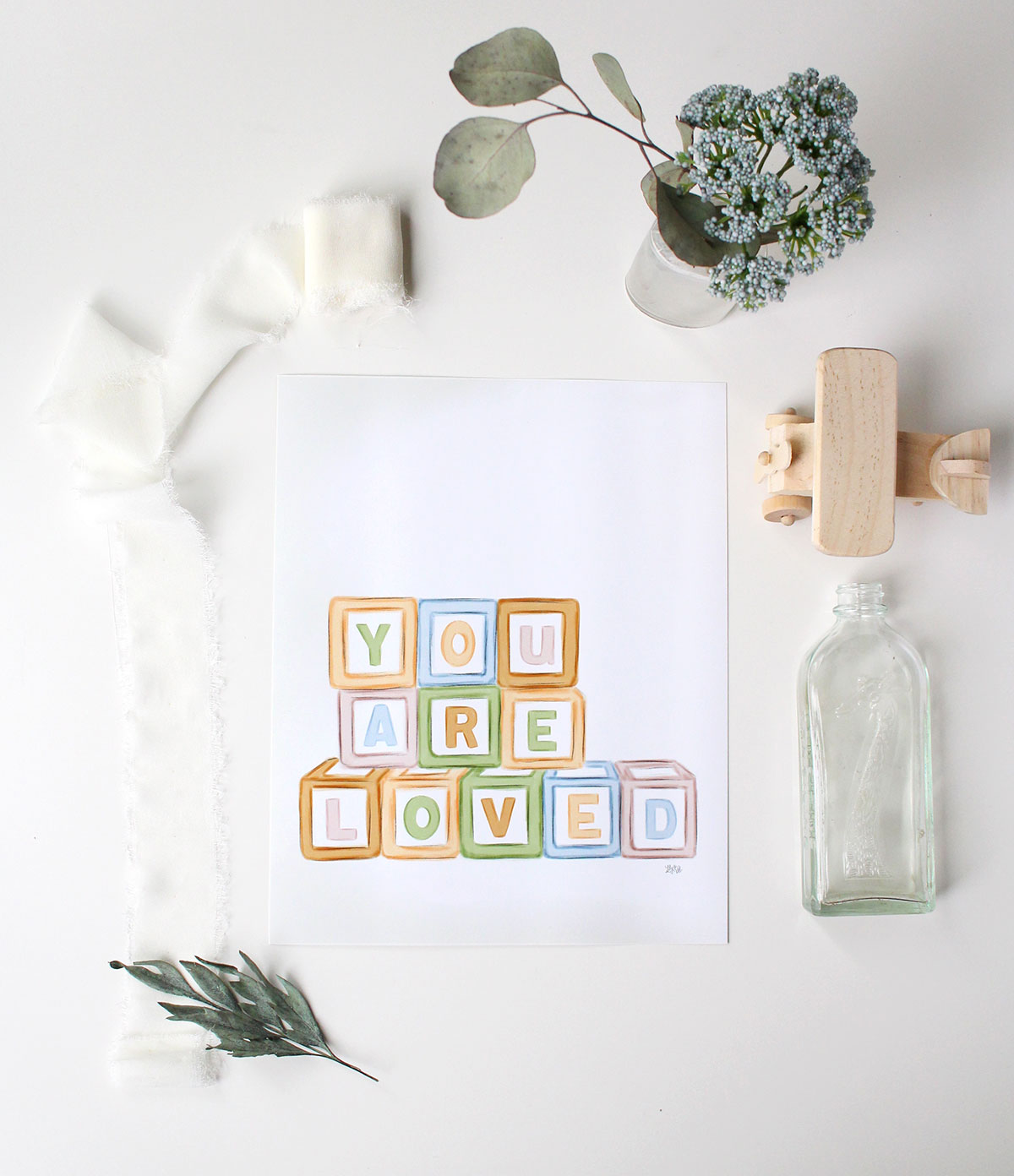 This one is feminine and elegant! Right now I'm in the midst of working on baby girl's nursery and it has developed into a Parisian theme! I was inspired by the book "Paris in Bloom" by my friend Georgianna Lane.
Lots of flowers, pretty ornate details…I love seeing it all come together! This design will definitely be a part of it!
Fill-In-The-Blank Prints!
Ok, guys! I am SO excited for these.
Create your own custom, heirloom piece of art! They come in four different styles with space to record all your baby's birth stats, date, location etc. along with two little footprints.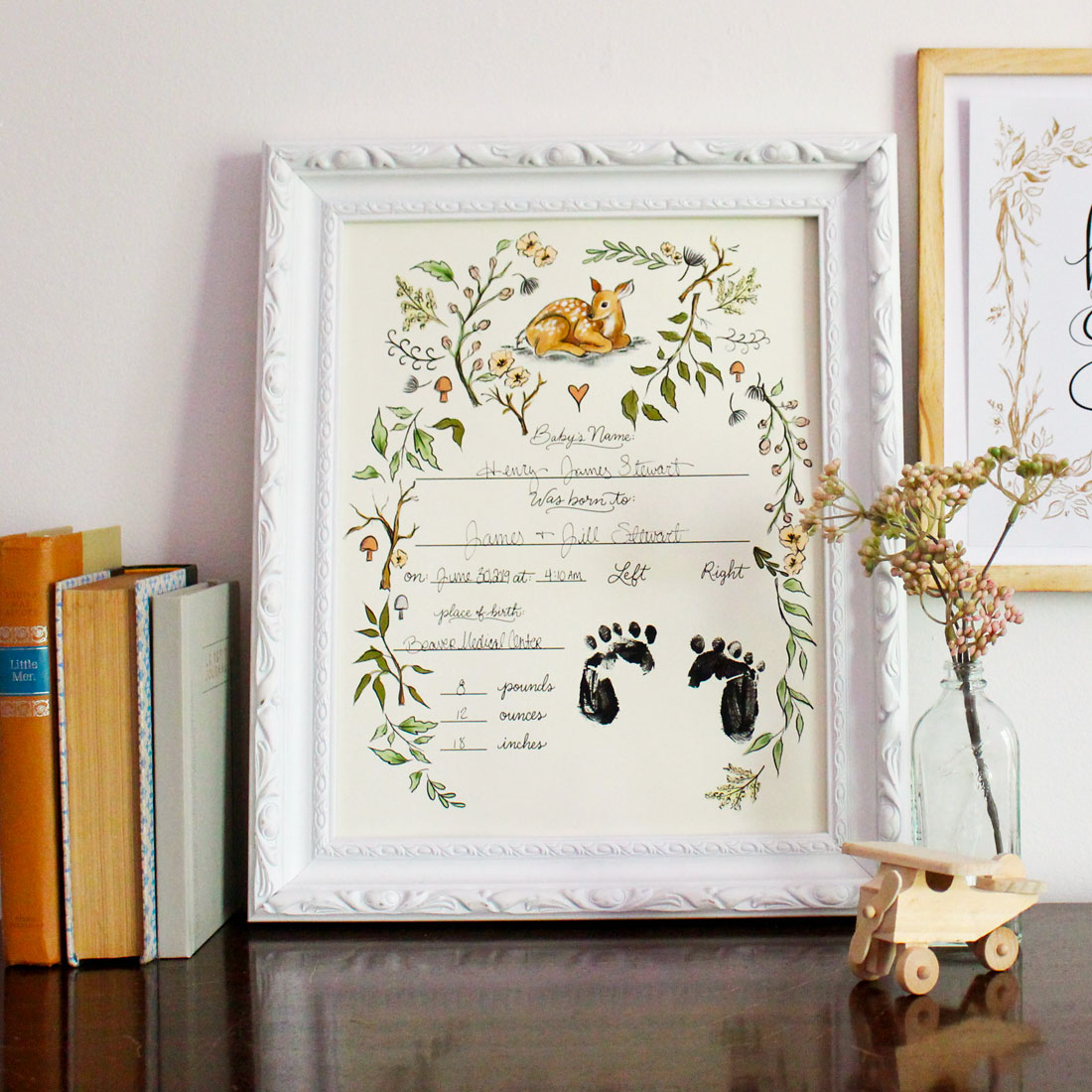 Each style comes in two sizes (8×10 or 11×14). You can see the size difference below. Also, for your peace of mind, two prints are automatically included in your chosen size in the event of a mistake when filling out! It happens!
Any of the birth stat prints will pair beautifully with other prints in the collection for a coordinated display in your nursery.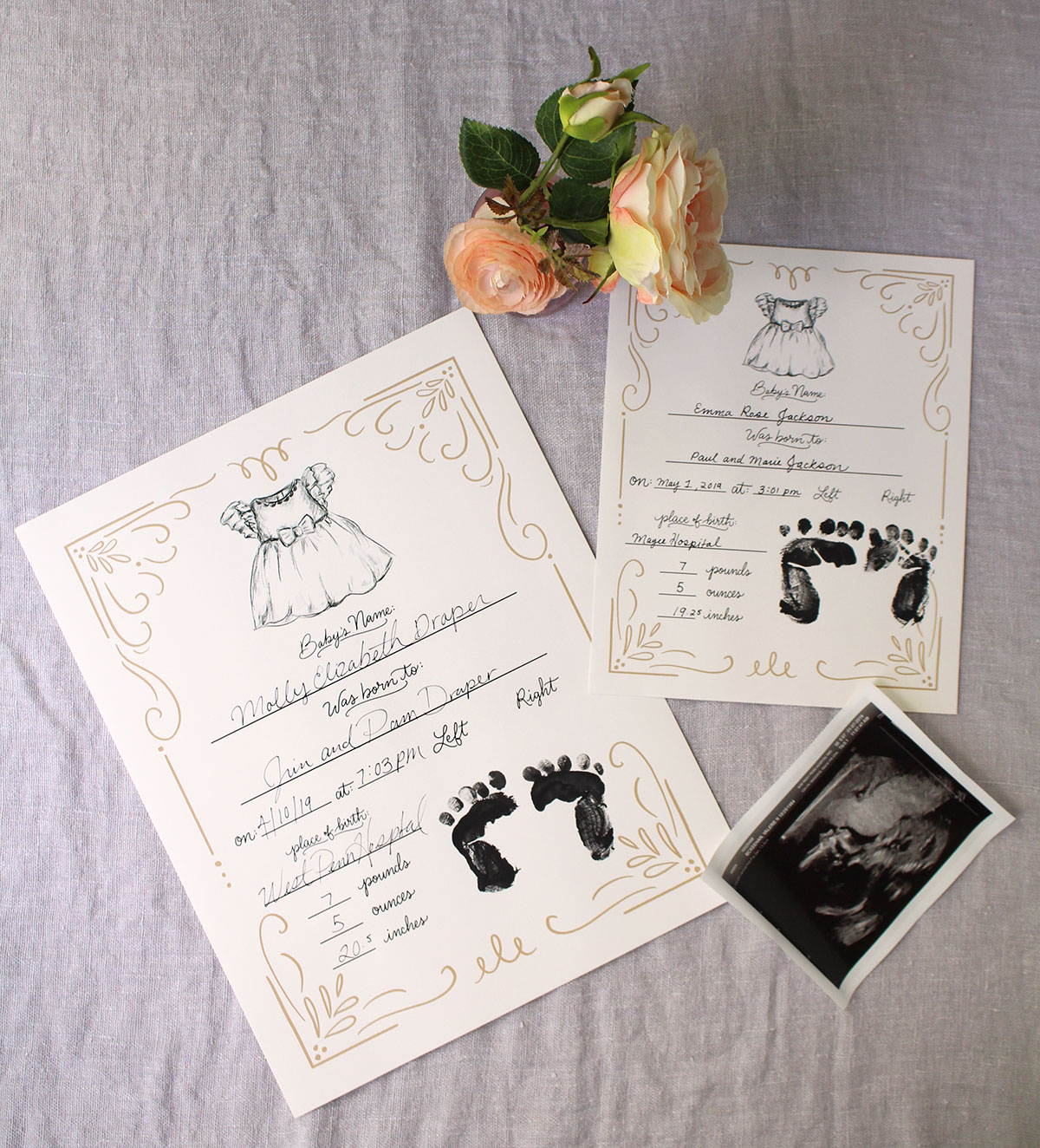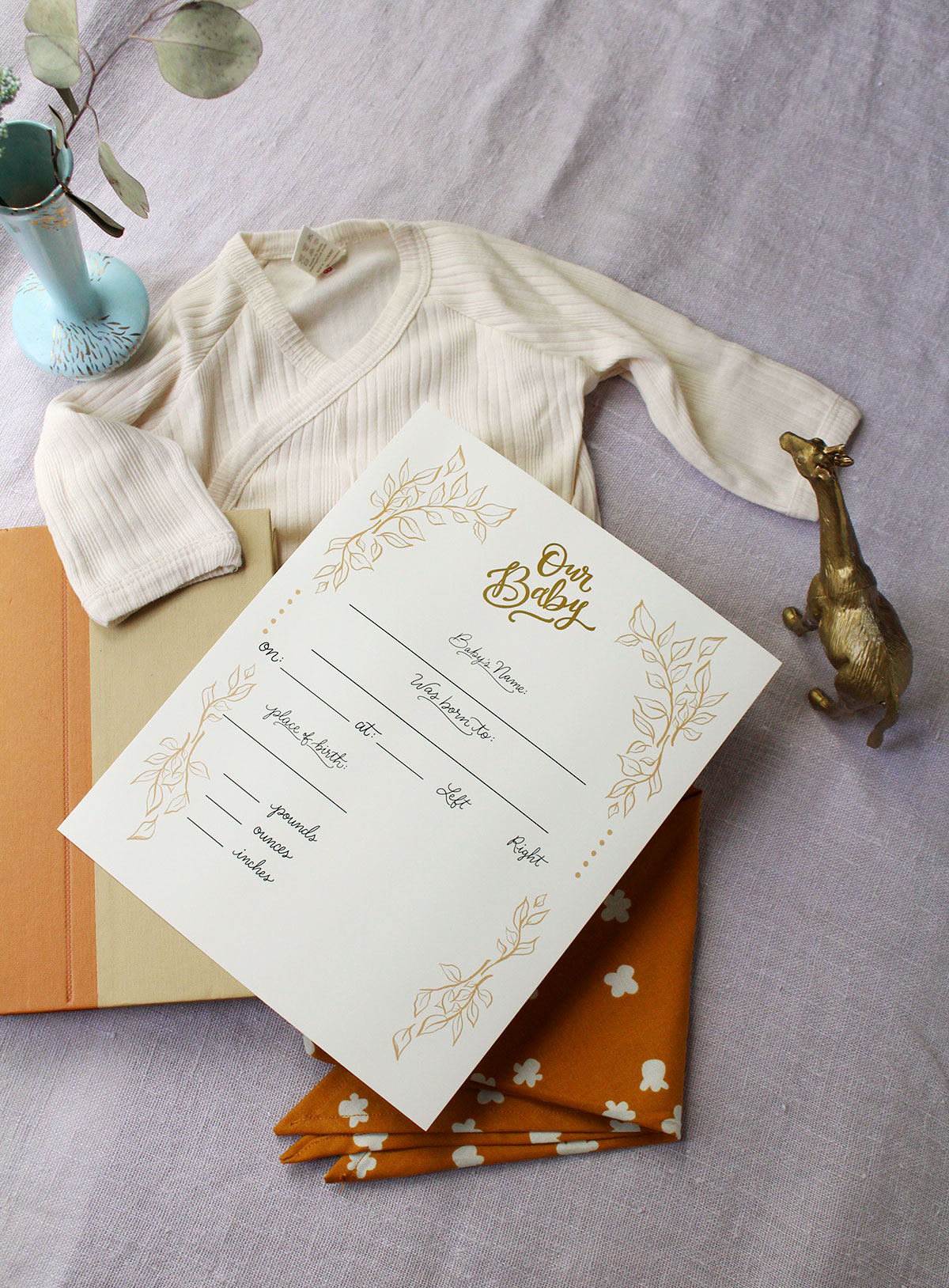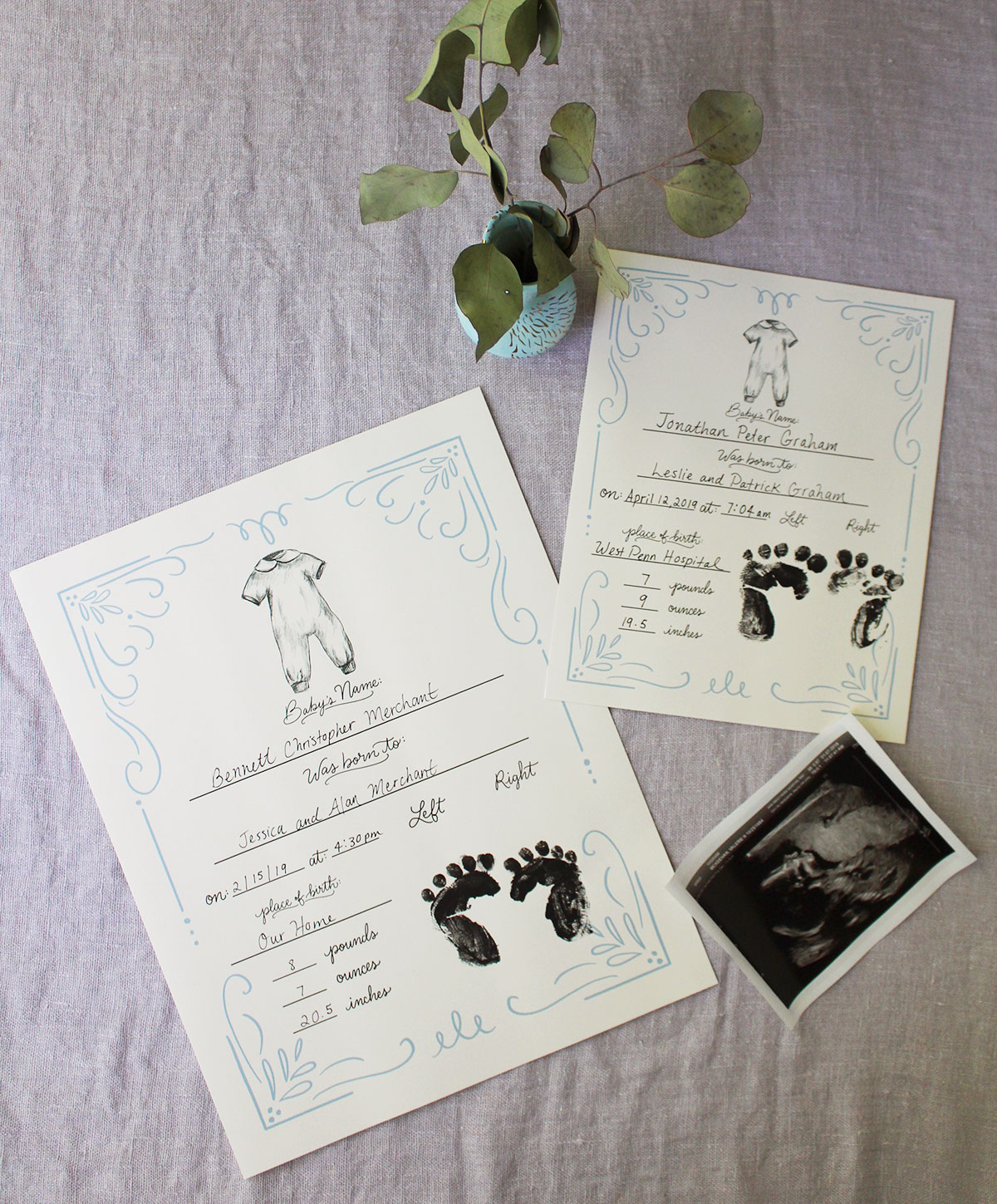 Thank you again, everyone, for the support! I hope these designs make you smile and warm the spaces of your precious bundles. xoxo