FRIENDS! It's the most wonderful time of the year (well, to me it is anyway!) Dreaming up and drawing Fall designs is always my favorite – no surprise there! This year, we released eight new prints to cozy your home this Fall.
I started calling this collection "Back to Basics" (chanelling Ina Garten here!) and that seemed to stick. So, we're taking it back to basics with our Fall 2019 collection, which means making room for the warm and classic elements of autumn that made us fall in love with the season to begin with. From pumpkin spice styles to prints that encourage staying home—we hope these designs will delight the cardigan-clad Fall fanatic!
Here are the new designs…
As you work your way through your fall checklist, make sure you don't miss any essentials with this adorable pumpkin spice print. Whoever said 'it's possible to have too much of a good thing' has surely never had pumpkin spice!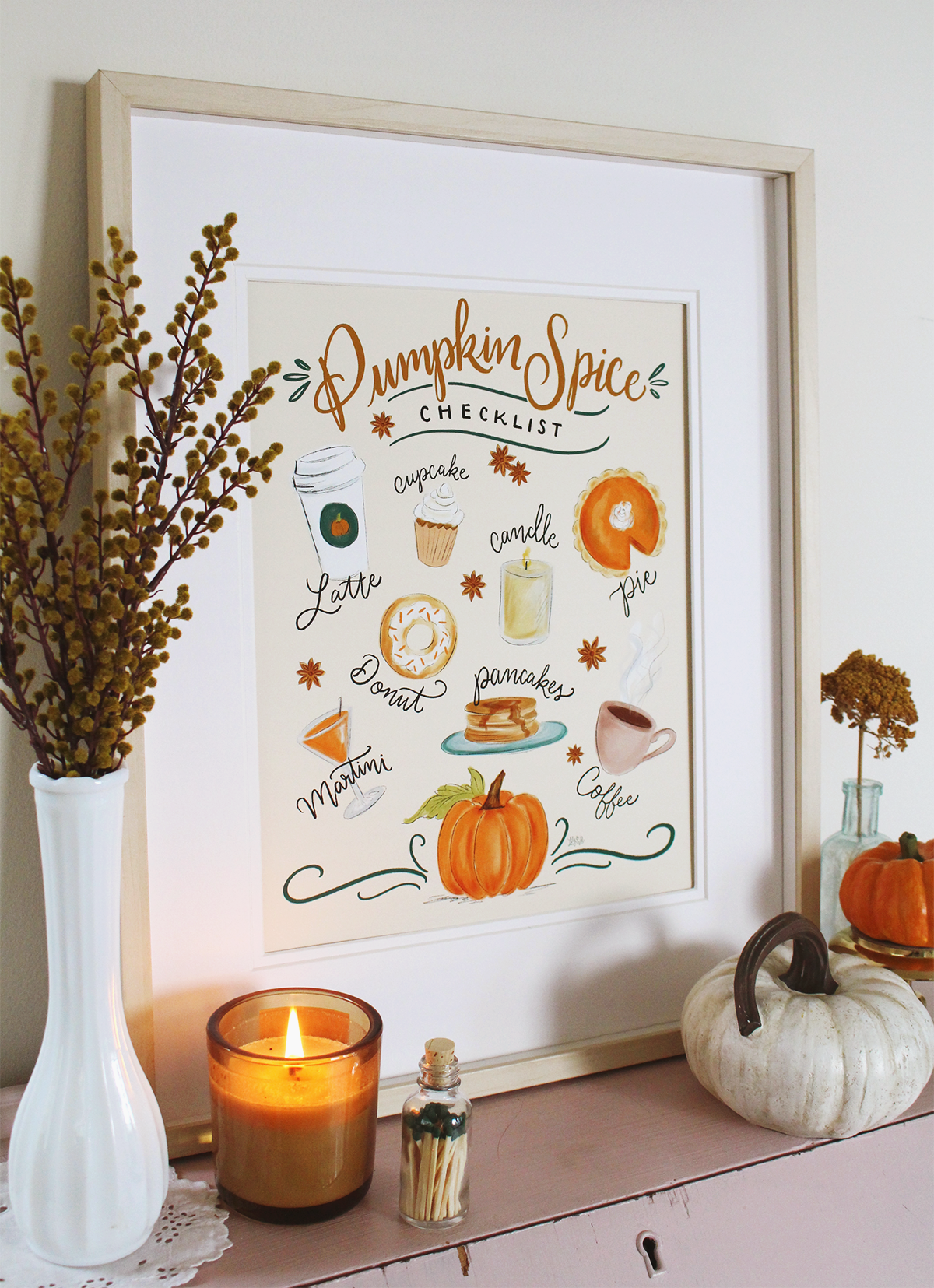 Pumpkin Spice Is My Love Language
Love can be complicated, but not with this print. The pumpkin spice groupie will get a little giggle out of this design, and that puts a huge grin on our faces. Pair this with our other pumpkin spice prints for positively pumpkin-spiced space!
Are you an expert in the art of staying in? Do you love curling up with a good book and a cup of tea? Have your friends been known to ask you for grammar advice? Whether that sounds like you or someone you know, one thing is for sure: every detail of this design was hand-drawn with the bookish type in mind.
As timeless as a great pair of leather boots, this chalkboard print is an instant classic. It is fun, sweet, and a breath of fresh air—all the fixin's to a Happy Fall.
Staying in doesn't mean you're missing out—it means you've got everything you need right at home. This warm gingham print pairs perfectly with a pair of fuzzy socks and a cuddle buddy. (Sorry, neither of those are included with purchase.)
For those who would live in a perpetual Fall, keep the seasonal spirit alive as long as possible with this detailed chalkboard print inspired by classic Fall foliage. Can you hear the leaves crunching beneath your booties? No—just us?
Whether you're eating Grandma's famous lasagna for the 500th time or trying your love's cheesecake for the first—there's no doubting the memories that are made at every bite. Place this sweetly drawn print in your kitchen to remind yourself of all these special moments shared around the table.
We can practically taste Mom's famous pumpkin pie when we look at this cute pumpkin print. It's the perfect seasonal touch for those who love welcoming friends and family into a festive, cozy home just as much as visiting the local pumpkin patch.
I can't wait to hear what you think about this year's new Fall prints!