The best part of cooler weather….burning candles! It's just the best way to warm up your home visually and emotionally! So, we thought we would round up our favorite candles of the season!
Of course our number 1 fall candle pick this season would have to be from Rockaway Candle Co. (You may recognize this candle from our Fall Surprise Box!) You all know how much we love the darling Morgan, who is handmaking these beautiful sophisticated candles while in college, but when you smell her Pumpkin Sweet Cream Candle, you will know why we love it so much! The almond notes are divine.
Next up, so many great fall scents to choose from Candelles. You guys are familiar with these candles from our many past collaborations with them! We love her classic Pumpkin Roll candle and Vanilla Maple, both good enough to make your mouth water. Another great option for those of us who don't want to be hungry…her Sweater Weather and Cabin Getaway candles both have a great Fall feel to them.
This drop-dead gorgeous candle has a wonderful earthy scent. The Oak and Moss candle is as inviting as an evening by a bonfire.
Fellow Pittsburgh small business, Sweet Water Decor's "Pumpkin Spice" candle is everything you want a pumpkin spice candle to be – warm, spicy, and nostalgic.
Another longtime favorite around the Lily & Val team is the Bourbon & Tobacco Flower candle from another Pittsburgh local, North Ave. Candles. Amanda makes these cleaver scents to specifically capture various banned book titles. Her creative scent combinations truly capture the spirit of all of the stories she features.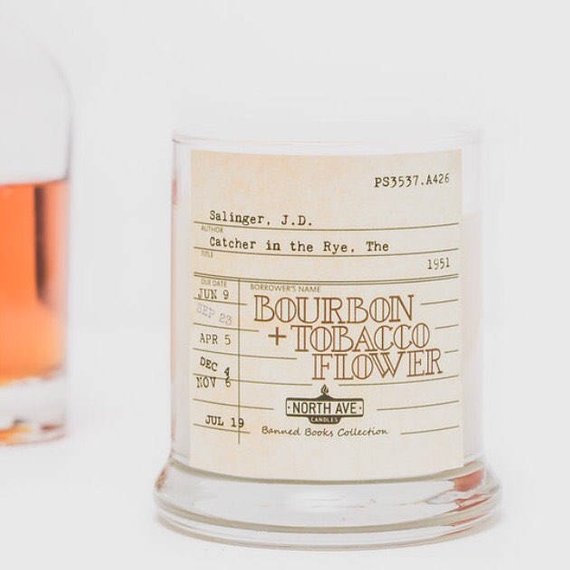 We hope you check out some of these lovely scents from some of our favorite fellow makers. Enjoy your cool evenings this fall by flickering candle light.
Our Lily & Val Loves Series contains affiliate links. That means a little bit of your purchase through these posts helps us just a little too! This changes nothing about your purchase price, and we are not asked to feature these items. These are just things we carefully pic because we love them and think you will too! Thanks for helping spread the love! xo