We have all seen those perfectly decorated shelves in Pinterest kitchens and magazine bookshelves "mine will never look that good". The art of setting up an open shelf of any kind is actually pretty simple when you break it down and become intentional about what you choose to set out in your home.
These kitchen shelves were a very simple remodel that I completed recently, and I just love how they opened up our tiny kitchen space…. and I do mean tiny.
Tip #1: Keep Large Things Neutral
Try to keep big things neutral. I know I have given this tip before in decorating posts, but it truly makes your life so much simpler. Having a fun wallpaper or color on this wall would be lovely, but if you arent 100% confident in your overall design, this can just complicate things. Avoid a cluttered look and allow yourself some design wiggle room by keeping the space you are decorating neutral.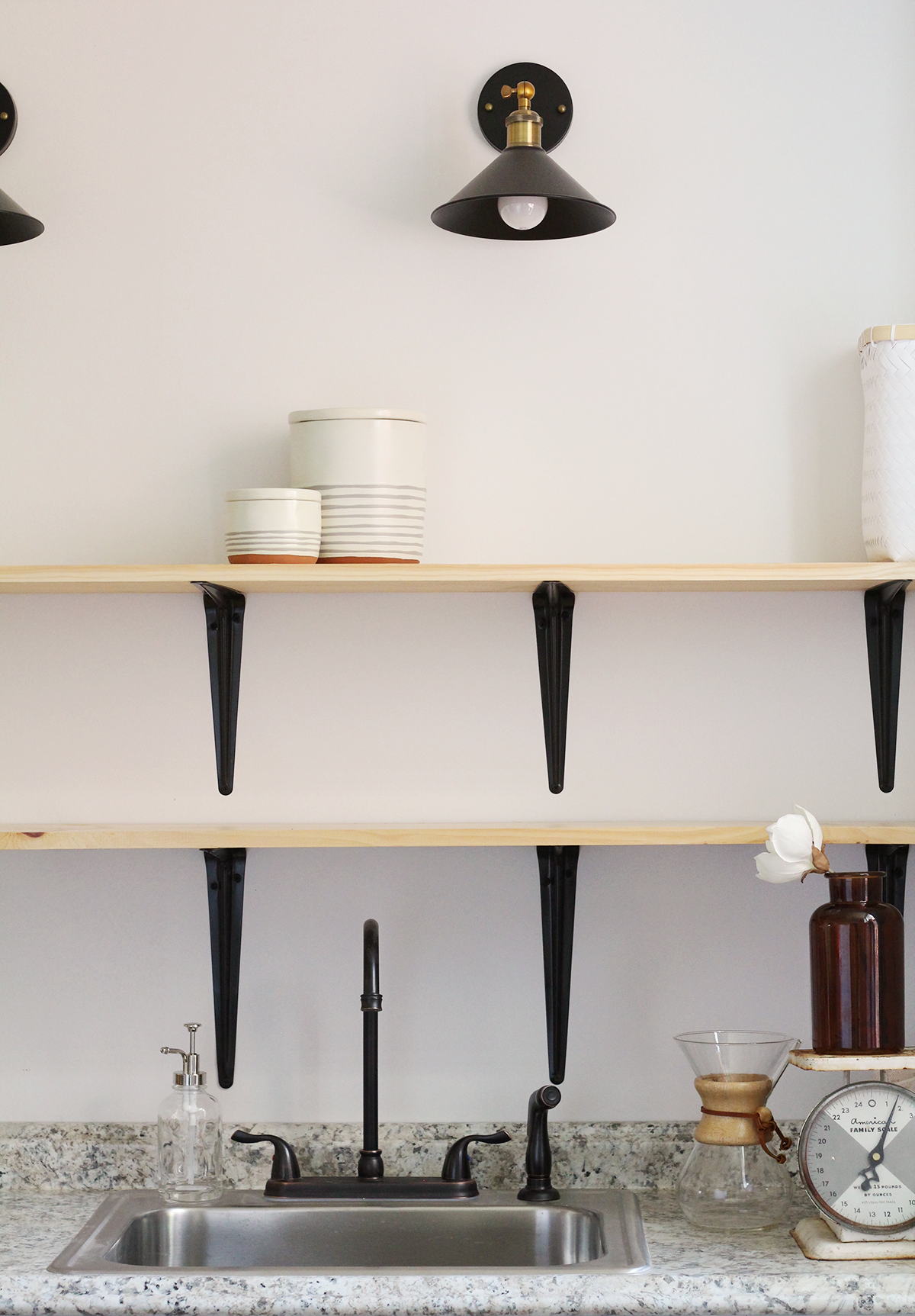 Tip #2: Leave Room To Breathe
Leave room to breathe. It's hard to not use every nook and cranny on your shelves, especially if you are working with a small space. Trust me, you will be happier with the look of your open shelves if you leave a little space and group your items. This gives your eye a place to rest and keep things from looking cluttered.
Tip #3: Pick a Color Scheme
Pick a color scheme. This may be your scheme for the room or it may be based on the collection of favorite items you already know you want to display. Keep it simple.
Here I used black and white with natural wood and peachy toned accents. A little green never hurts to use in a kitchen shelving space because it is so natural.
Mixing old and new object is one of my favorite things to do! This combo of a Chemex and a vintage spice bottle is just lovely!
Tip #4: Vary Sizes
Vary the size of your objects. This is really important to keep in mind when you are choosing items to store your not so beautiful things. Even open storage for your smaller items is a good idea. Again, this helps reduce clutter by keeping smaller items grouped and out of the way.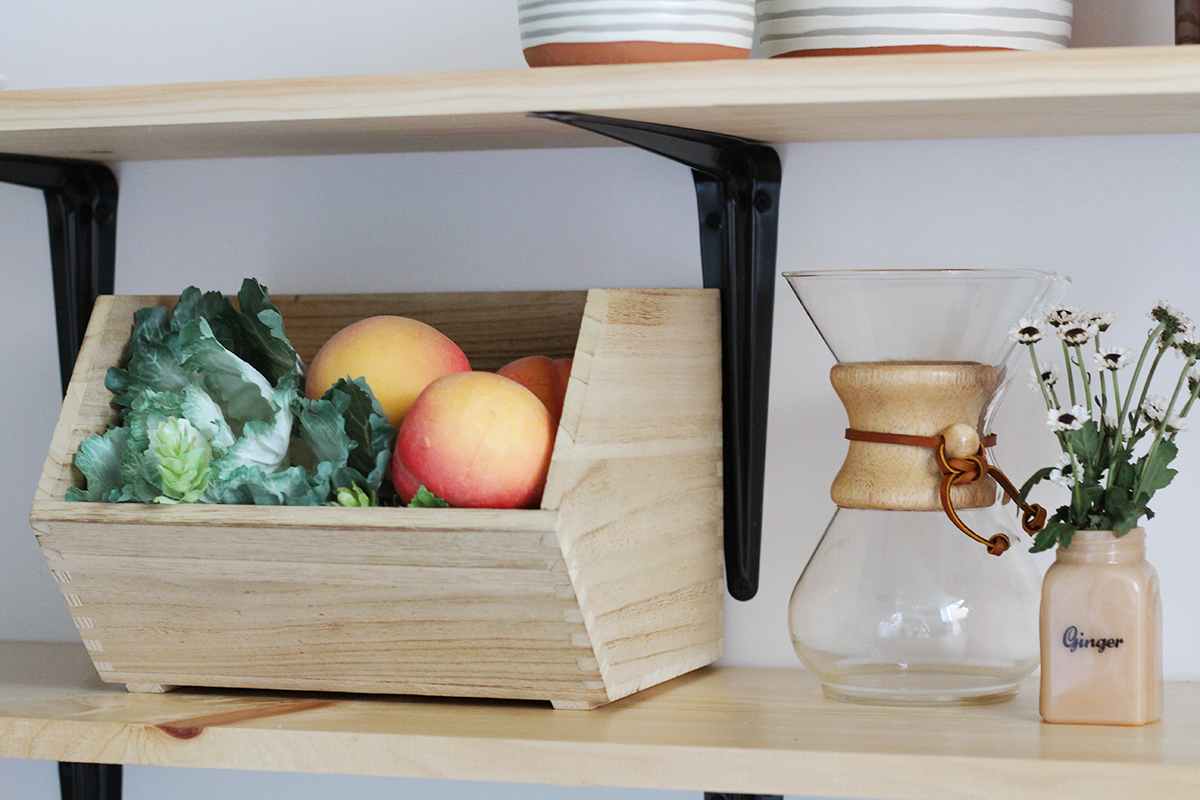 Tip #5: Vary Materials & Purposes
Vary your materials and purposes. In a kitchen shelving situation, you will need canisters, of course! But don't be afraid to display a couple of items that are purely decorative. This vase with a single flower serves no purpose, but it is a great place to store a vase and ties the look together. This will make your shelf styling look intentional and beautiful.
Bonus: For Kitchens…take things out of their packages. Canisters don't just hold flour and coffee. They can be for your families favorite snack, cereals, and supplies you don't often use (piping bags anyone?).
Tip #6: Include Baskets
Find some large baskets that are fairly neutral for your space. If you have a dark wooden bookshelf, look for a nice dark wicker. I love these baskets because they are a nice white (which allows them to blend into the walls), but they also have that natural wood accent we need for the color scheme.
You will want open and closed containers for different items. Keep in mind, if you are going to be accessing the items often don't bother with a lid. Lids can end up being another thing that clutters up your space.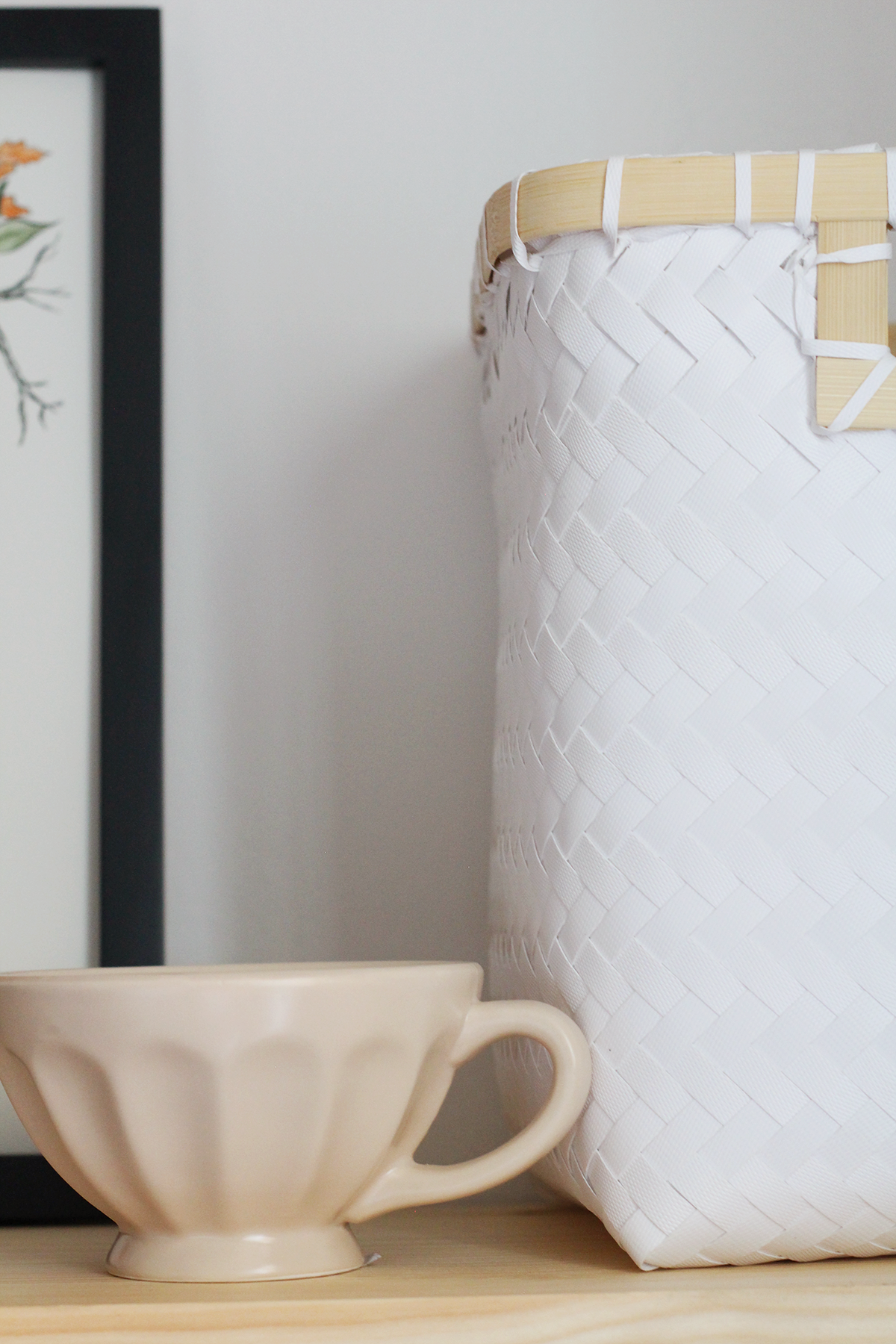 Tip #7: Create Groupings
Group your items. Create little groupings to disperse objects of different color, texture, and size. Here I used these groupings to structure the space of these very long shelves. Think about making little moments you would want to snap a picture of, then step back and adjust the overall look as needed.
Tip #8: Layer
Layer some items, but not too many to avoid cluttering the space.
Tip #9: Tie It Together
Adding in a large, decorative element is a great way to tie a shelf together. I love the colors of the "Everything beautiful in its time" print (It will be releasing next month in the Lily & Val 2018 Fall Collection!) This 11×14 was perfect to add some scale to the shelf design.
By leaving yourself spaces that seem too large, you give yourself permission to play around with the decorative elements of your shelf.
I hope you give your open shelves a refresh! Let us know how they turned out and tag us on IG @lilyandval. I can't wait to see what you come up with!
Happy decorating!
The fall collection launches on August 16th. So if you love this print as much as I do check it out! There are so many other great options for any color scheme in the collection too…I'm in love!