Hey guys! FALL WREATH TIME! I love coming to you with faux floral tutorials, because they are so versatile and can be a great way to do something creative to refresh for the seasons. 
For this season's wreath, I wanted to share some fun tips that go beyond just the basics of building a great wreath! For some basic instructions for beginners check out this post    or for help selecting good faux florals check this post for all your Faux Floral Basics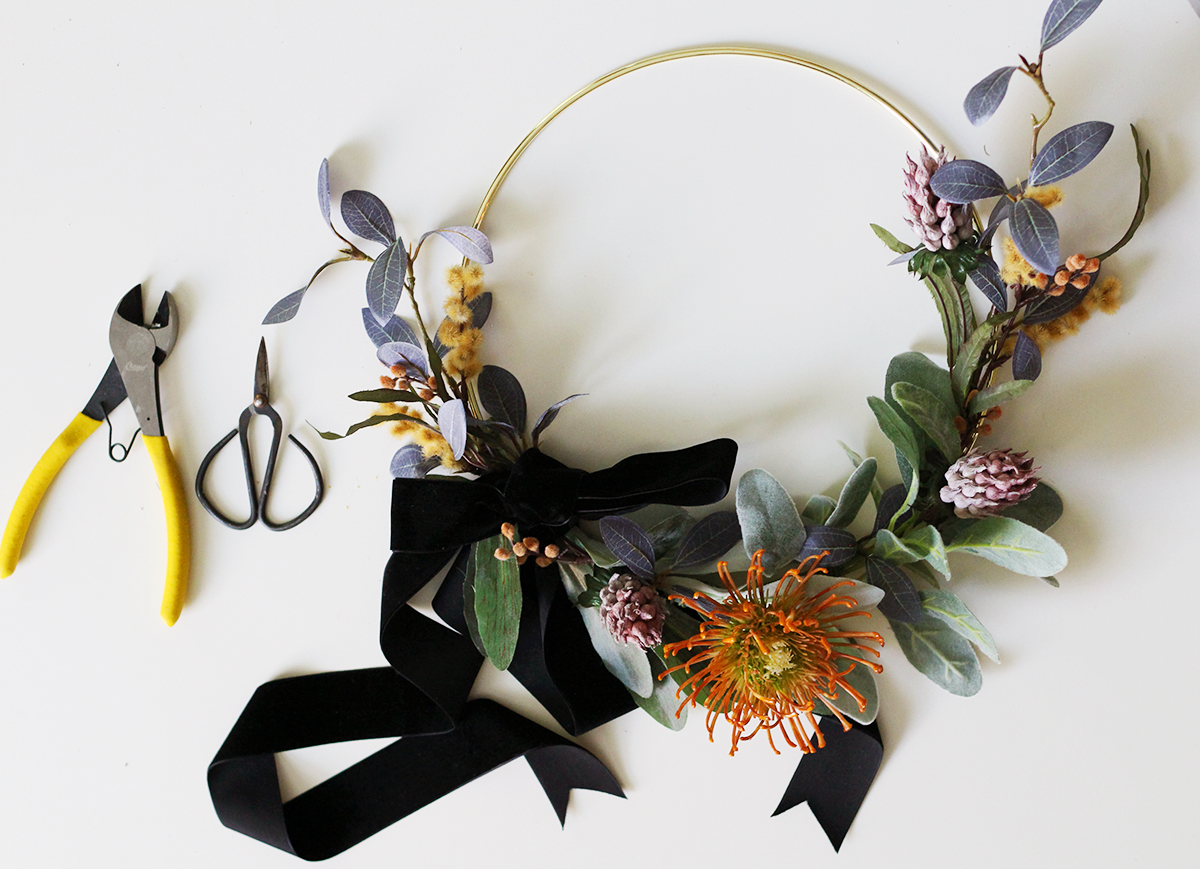 To begin, make sure you have:
A pair of wire cutters
scissors
floral wire  
a circular frame (you can also use any size, or even try a wooden embroidery hoop!)
A well-placed ribbon can be appropriate in a modern wreath when you use it in a simple way. Here I selected a classic black velvet ribbon. The color, texture, and 2 in width were great to make a statement and add a modern touch to my fall wreath. 
You will also need some "leafy" stems and a statement flower that will steal the show and be the main focus of your wreath.
Of course, I love my always versatile lamb's ear, but these plum colored eucalyptus leaves added a nice touch of that dark sophisticated purple that Iwanted to incorporate into the design. I have no idea what kind of plant the spikey mauve paper flowers are trying to be…but they looked good in my bundle and adds a nice variation of texture and size that the wreath needed.
Hint: I like to have at least two "leafy options" and at least 2 sizes of a "floral" element as a basis for any wreath.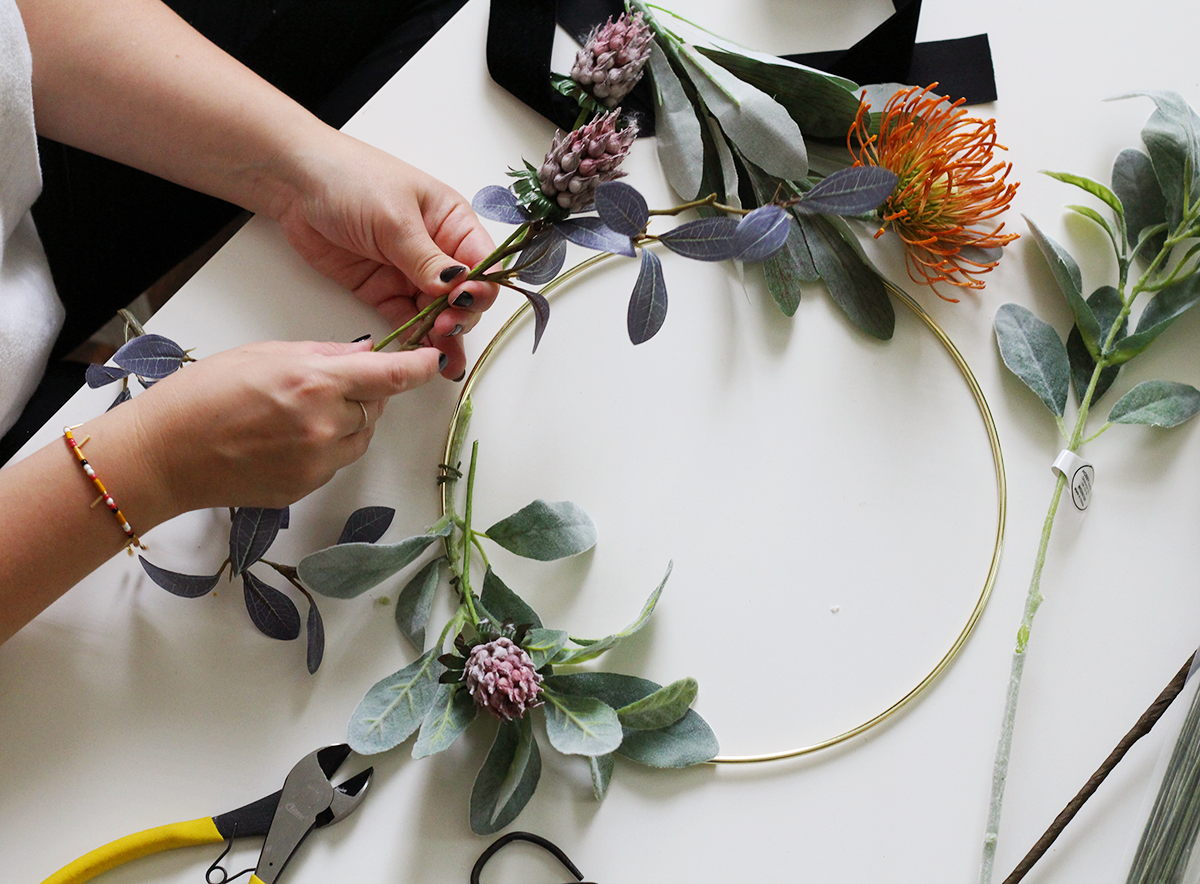 When working with a very thin hoop, It is best to use the paper wrapped wire and bundle a few sprigs together before wiring them on. If you wire each piece separately you may have more trouble adjusting your layout as you build, and use too much wire.
Honestly, it's also just easier to hold onto and attach the florals to the thin frame when you use this method.
You can always fill in as needed. So don't be afraid! Nothing is permanent here!
This year I went with a little more traditional color scheme, but with a fun twist!
I found this great orange spike flower in the tropical section of the florals! Tropical for fall?? If you want to try something new…take the floral out of its normal context to see if it will work for you. Once I removed the leaves, this "tropical" flower was a perfect accent to my modern fall wreath!
As you have been layering your florals in one direction…eventually the question is.." How do I stop?!"
Well, you can go all the way around. But if you want to leave part of your wreath exposed, it is best to stop by reversing direction and filling in the holes. This means once you have gone about 2/3 of the way around what you want to cover, stop. Place your statement flower. Then add your remaining sprigs going the other direction and overlapping.
Then go back and fill over the hole as needed with a few more sprigs or add a ribbon!
I like to do an asymmetrical deep cut "v" on the ends of my ribbons. No reason. I just like how dramatic it looks.
See what we did there?! No more gap!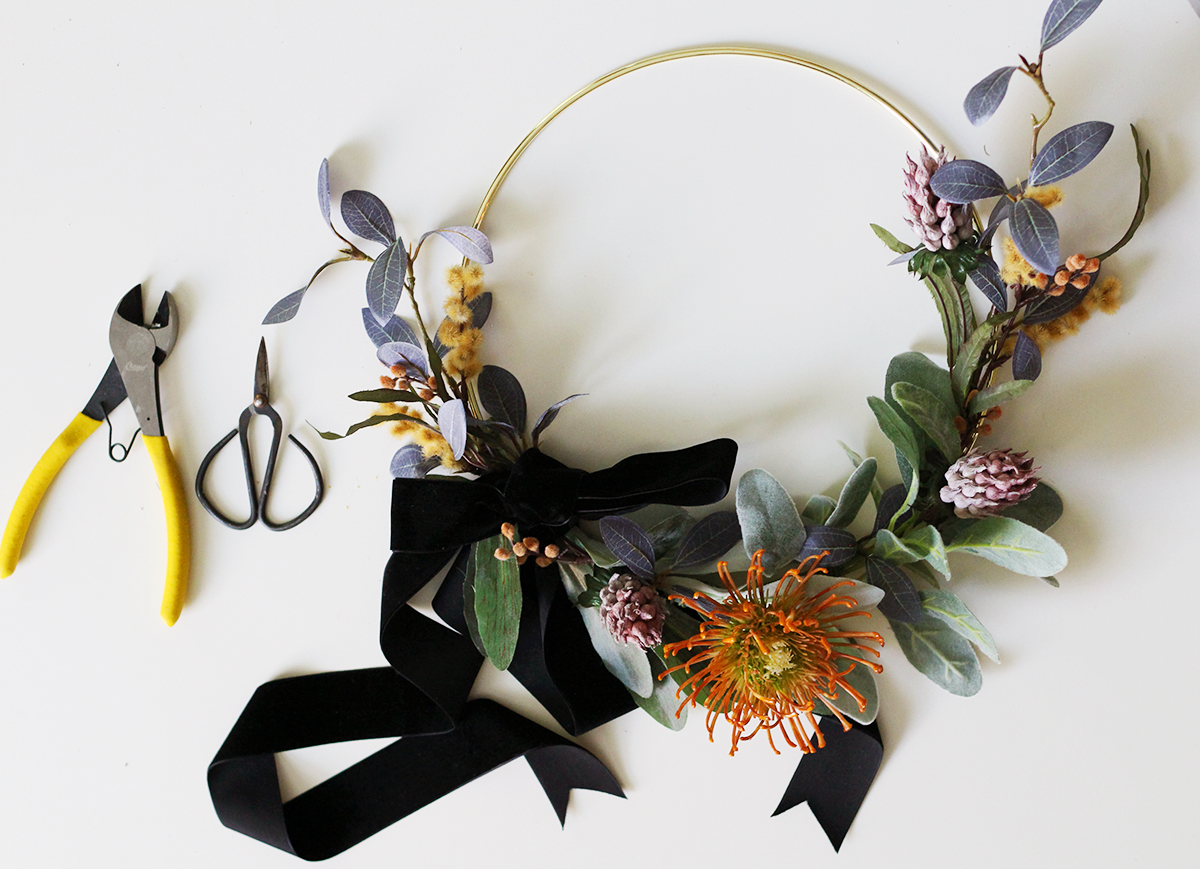 Lastly, Consider leaving your ribbon tails VERY long. It adds another fun element to your design and is a unique look for your modern fall wreath.
I love my new fall wreath and I hope you do too! Give it a try and be sure to tag us so we can see your beautiful handiwork!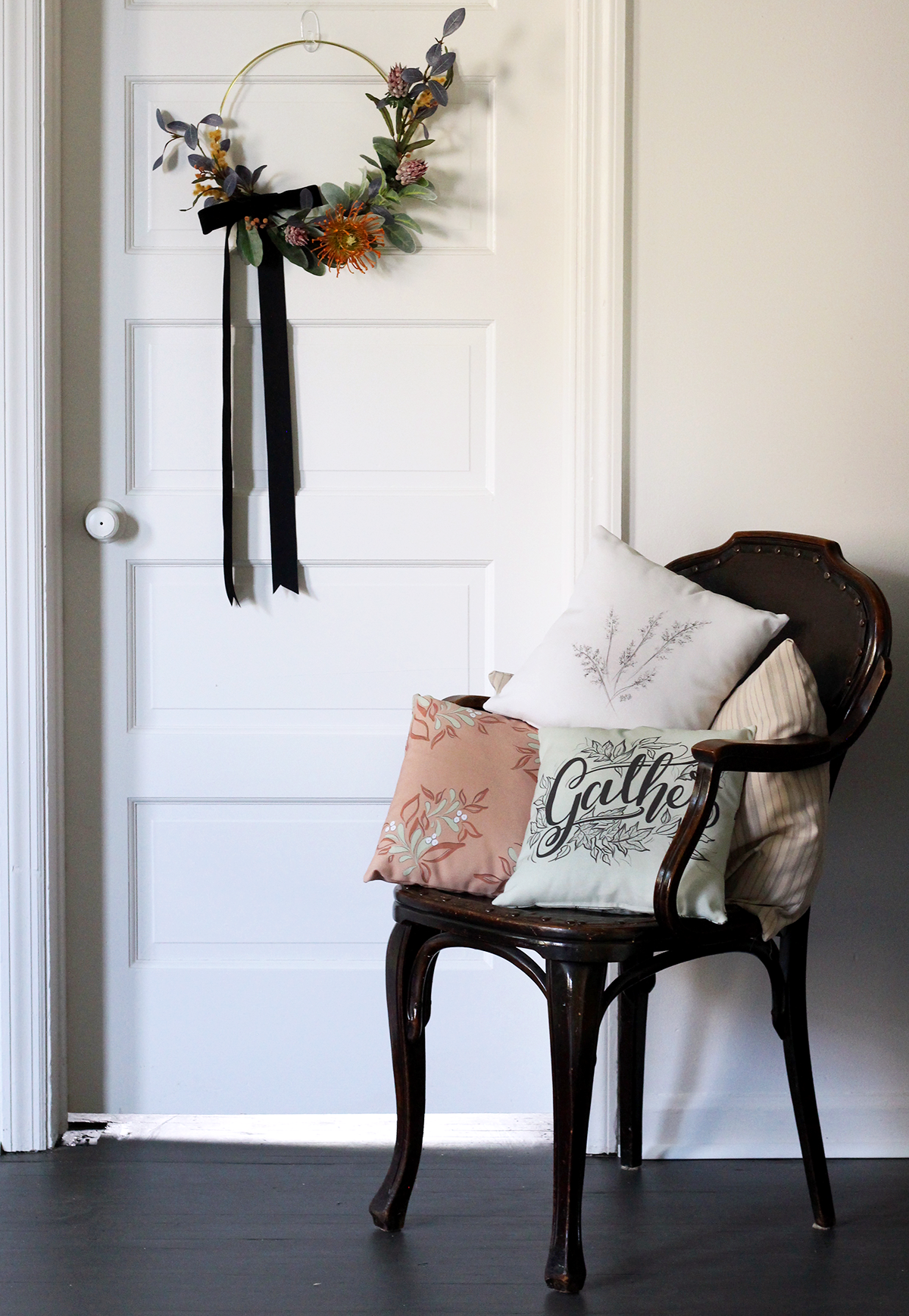 P.S. This Fall wreath pairs beautifully with the pillows and art from our new Fall Collection!