Most people either have a strong love of coffee or a strong love of tea, but I've always loved both! If someone really twisted my arm though, I would have to say tea is my favorite. Hot or iced, you can't go wrong with a cup of tea.
I like trying all different types, but I have a few that are my current go-to's.
Harney & Sons Hot Cinnamon Sunset:
Although cinnamon isn't a typical warm-weather flavor, I like drinking this black tea all year round. There is no sugar added, but the sweet cloves and orange peel give it a subtle sweetness that I absolutely love. This is quite possibly my favorite tea ever.

Harney & Sons Paris Tea:
This tea is just so unique. It is a fruity black tea with vanilla and caramel flavors, plus a tiny hint of Bergamot. Mak gifted it to me after our trip to Paris last October and I've been hooked.

Numi Aged Earl Grey:
Speaking of bergamot, this is my favorite Earl Grey tea! I love drinking it for breakfast.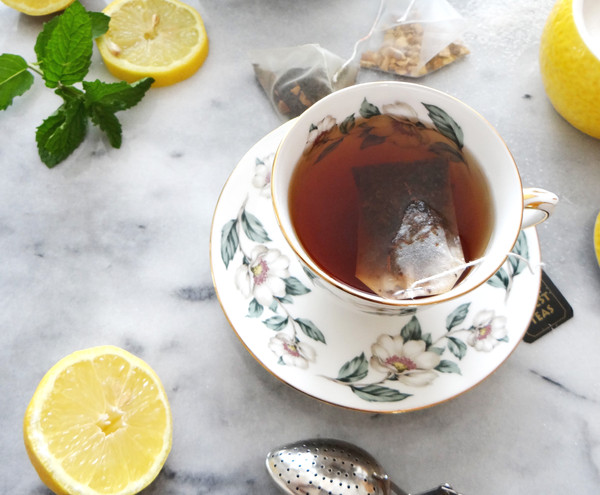 I also asked L&V Shop Assistant & Marketing gal, Emily, to share her favorites:
I love this tea because it just what it says- refreshing!  Mint tea has always been a personal favorite because it has such a crisp and clean flavor.
Tazo Apricot Vanilla Creme:

With a splash of milk, this tea is so delicious!  If I need a caffeine boost, this is the one I go to.  The scent alone is amazing!
Traditional Medicinals Organic Nighty Night Tea:

If you ever need a tea to get you to unwind, look no further.  Not only does it help relax me in the evening, it also gets me ready for bed- fast!  It's difficult to stay awake after a couple cups of this tea.
I hope these tea suggestions give you some new things to try! I'd love to hear your favorites in the comments below.
Interior designer and fellow tea lover, Michaela of Michaela Noelle Designs, is a girl after my own heart! I love the way she framed and added her L&V Tea Time print to her adorable kitchen.
Read more on Michaela's blog. She has some great ideas for decorating your apartment kitchen! I definitely used one of them and purchased this marble pastry board (used in the photo above) to cover my ugly apartment countertops!
Happy tea drinking! 🙂