Let's face it. Pineapples are totally having a moment right now.  In food, on clothes, decorating walls- this fruit is everywhere!  I for one am not complaining since I have a weakness for all things pineapple!  Not only is it a quintessential symbol of summer, our
pineapple chalk art print
is a cute way to welcome your guests all year round.
ln fact, the universal symbol of hospitality is – you guessed it – the pineapple!  I loved the idea of taking a cue from the pineapple's spirit of friendship and hospitality as inspiration for these projects. Since the first day of school looms just around the corner, it's time to throw that end of summer party and soak up the remaining summer moments by the pool! Make your guests feel welcome with these super fun pineapple ideas to decorate your space!
The Painted Pineapple
Try this fun idea for a bright, eye-catching centerpiece. Grab a bottle of gold spray paint and spray the base of the pineapple 'til it shines. Then add your choice of color to the leaves with spray paint or a brush for more precision.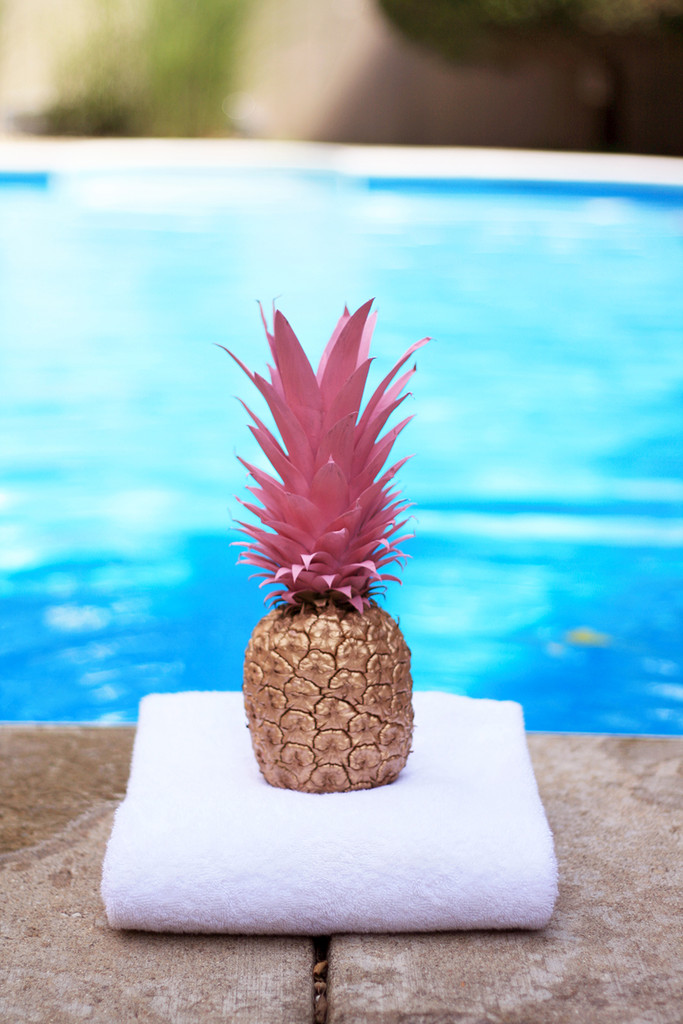 The Floral Pineapple
Floral crowns even work for fruit!  This idea is for those who are short on time and want to add some fresh flowers to their party space.  Pineapple leaves make the perfect pocket for flower stems!  Just cut the stems and tuck into any open areas! Tip: To minimize the flowers wilting, be sure to do this right before guests arrive and avoid leaving the arrangement in extreme heat.
The Pineapple Lantern
If your party takes place after the sun goes down, add the perfect ambience with candlelight! Using a pineapple corer, remove the fruit from the base of the pineapple.  Then, carve out triangles or any shape in the rind (like carving a pumpkin), and add a votive candle!  This one is worth the extra bit of work.  I love the way it turned out!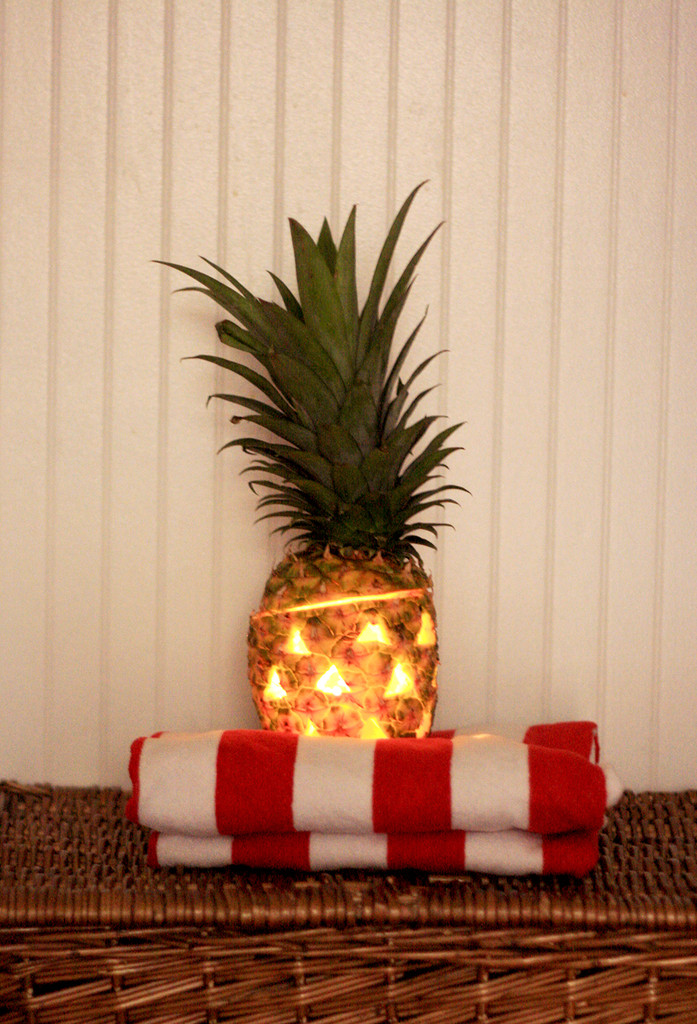 Now, for the next important question: what do you do with all that lovely pineapple fruit?  Here is an easy recipe to serve for dessert!  Add the fruit of one pineapple, the juice of one lemon and one lime, and 1/4 cup of sugar into your blender.  Blend until there are only small chunks of pineapple.  If it becomes too smooth, add a couple handfuls of ice.  Pour into a mixing bowl and fold in an 8 oz container of cool whip. Let the mixture set up in the freezer for about 30 minutes and then enjoy!  Serves 4-6 guests.  You could also pour the mixture into popsicle molds for a treat by the pool!
We hope you enjoy these ideas and the last days of summer!  Also, save the date: the Lily & Val Fall Collection is launching August 11 and we can't wait to share it with you all!