Wow! The past two weeks have been quite a whirlwind! The Lily & Val Flagship Store Grand Opening happened on October 8th and then we launched our 2016 Holiday Collection on lilyandval.com! I've been dying to show you guys these photos of the store and document what our very first floor-set looked like! If you're ever in the neighborhood of Pittsburgh, PA – stop by and see us!
I couldn't have been more thrilled with our opening day! It was a surreal experience and one that I will never forget! Thank you to every person that visited, sent text flowers, comments, and kind words. They all meant so much more than you know.
I hope you enjoy this little virtual, photo tour of the space. I am beyond excited to show it to you…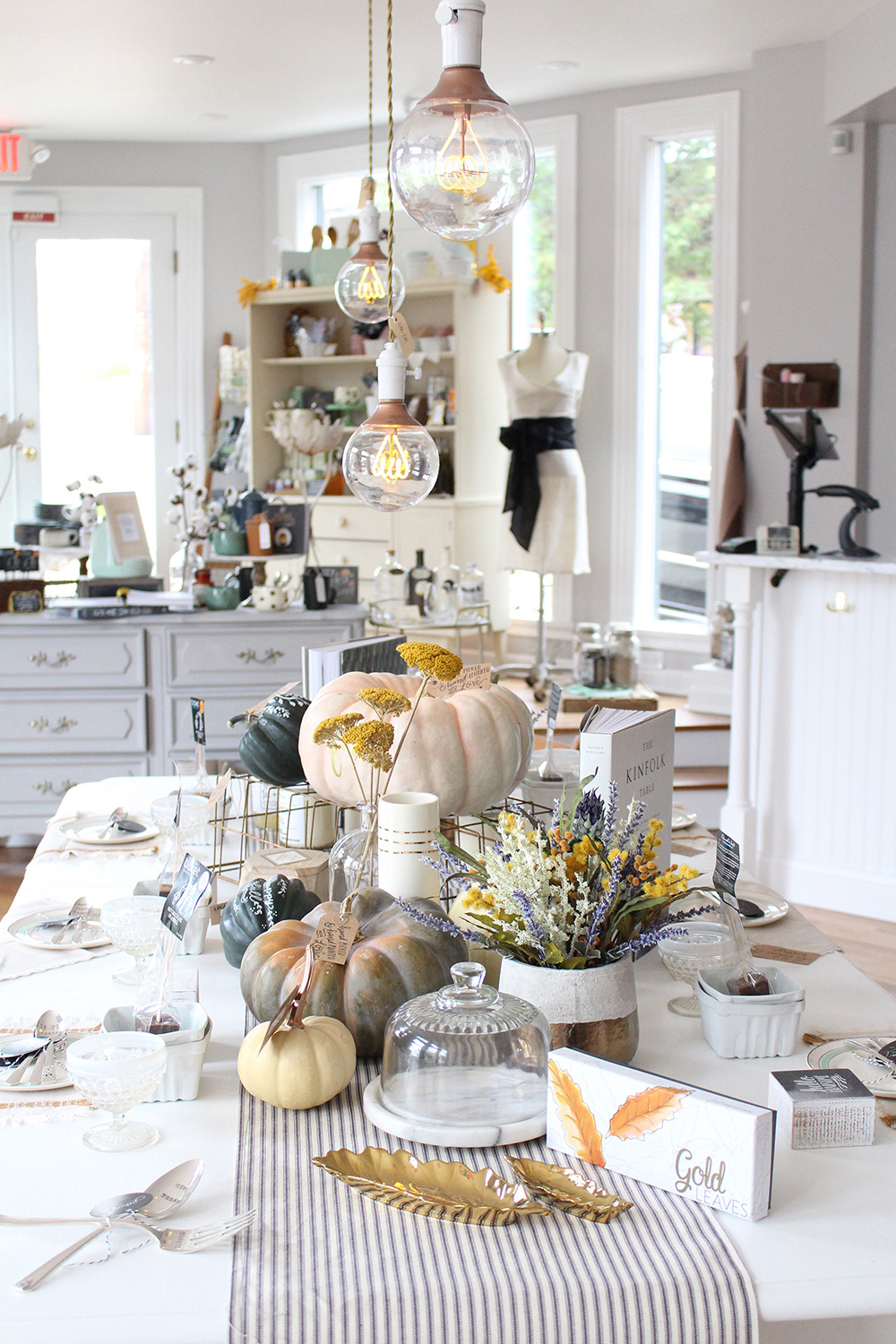 The chalkboard mantel wall with a  fireplace (it works!!) is one of my favorite parts!
I'm so proud of the concept of our shop! We worked to create a unique vibe that coincided with the artwork and everything the Lily & Val brand represents – coziness, warmth, nostalgia, creativity and inspiration. The store is an eclectic mix of our own product mixed with products from some of our favorite handmade artists and makers. Additionally, we wanted the store to carry unique, one-of-a-kind items! We curated amazing vintage finds in the shop as well as offer handmade faux-floral arrangements and pillows, which will be constantly changing!
Below: A French marble vintage dome, hand painted/lettered pumpkins and a gorgeous faux floral arrangement!
One of our favorite makers in the shop is Jillian Rene Decor.  Her amazing hand-sewn pillows have been featured in Better Homes & Gardens, GQ, Vogue, Redbook, and so much more! I'm especially in love with her hand-embroidered "x" pillows!
The Sign & Seal Station™! Ahhh! I finally got to see this idea of mine come to life and I'm so thrilled with it! I hand-painted and restored this antique letter-writing desk in the perfect shade of pink. Everyone that purchases a card has the option of upgrading to the station where all my favorite pens, tools, stickers, stamps, and washi live!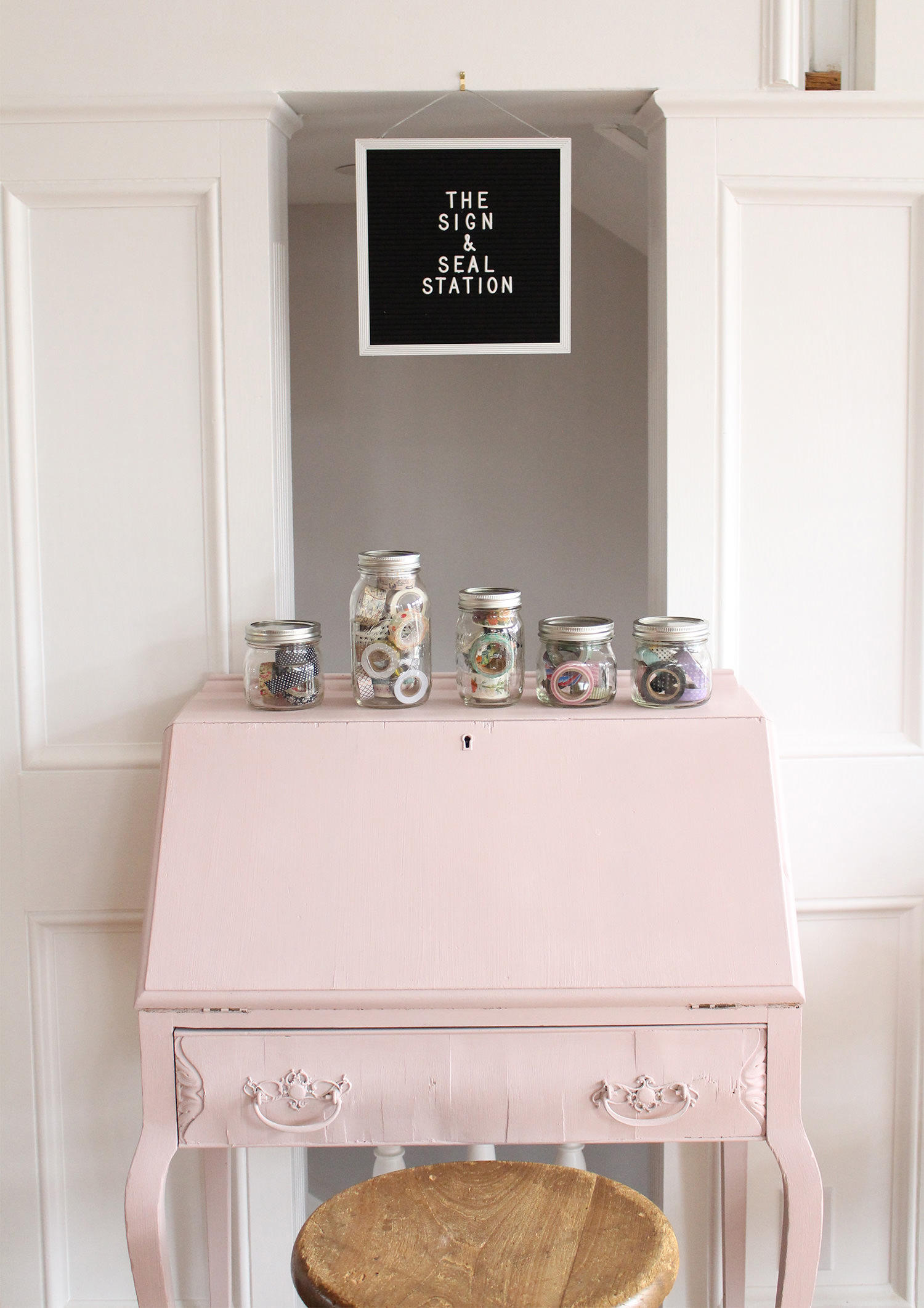 The print bar menu contains every available L&V print! We offer a few options for framing and displaying there as well.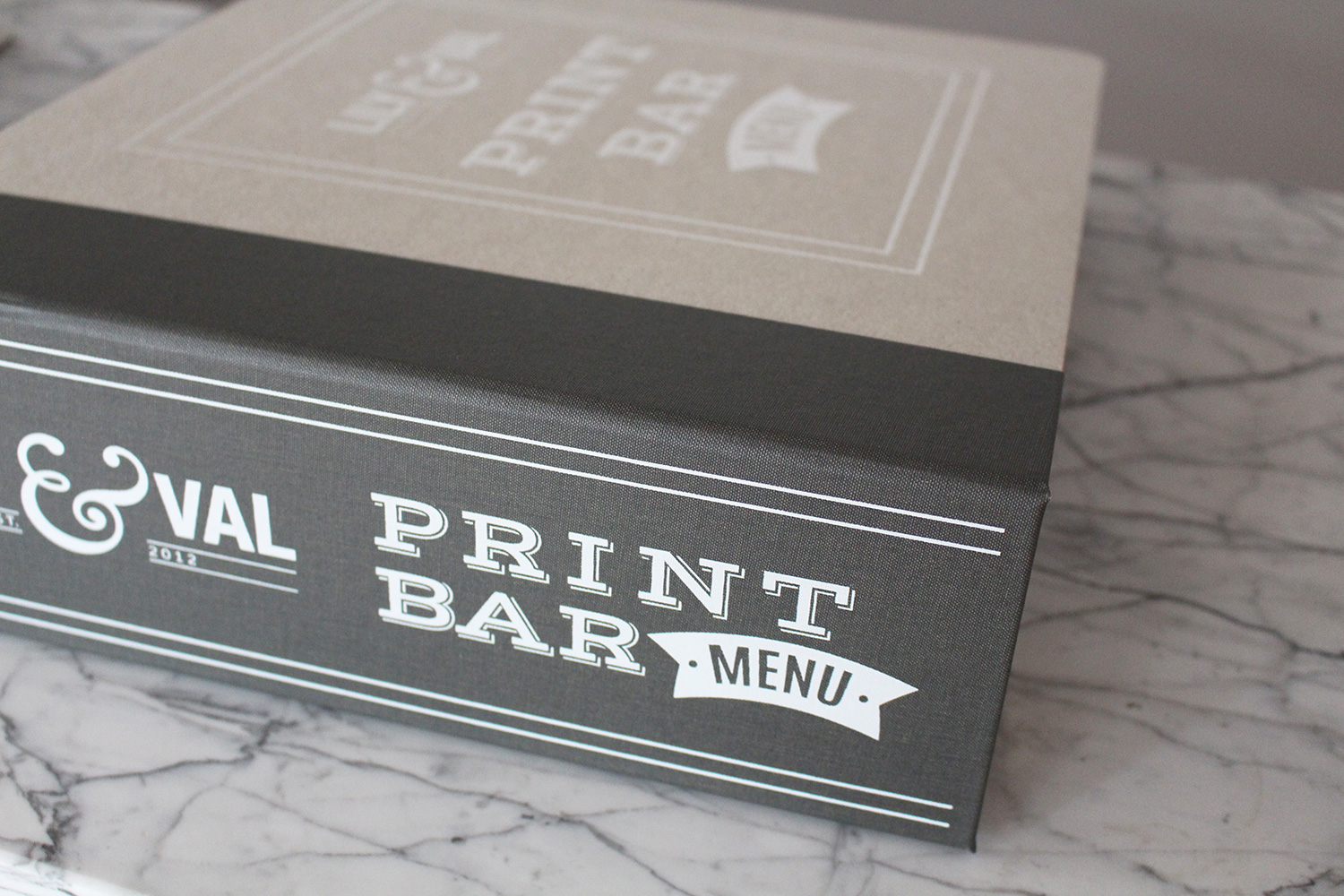 We even have a small section, especially for the guys! Manready Mercantile is based out of Texas and makes amazing  bath products and other goods for men. We are also carrying Henley & Sloane socks, which are hand-stitched in London.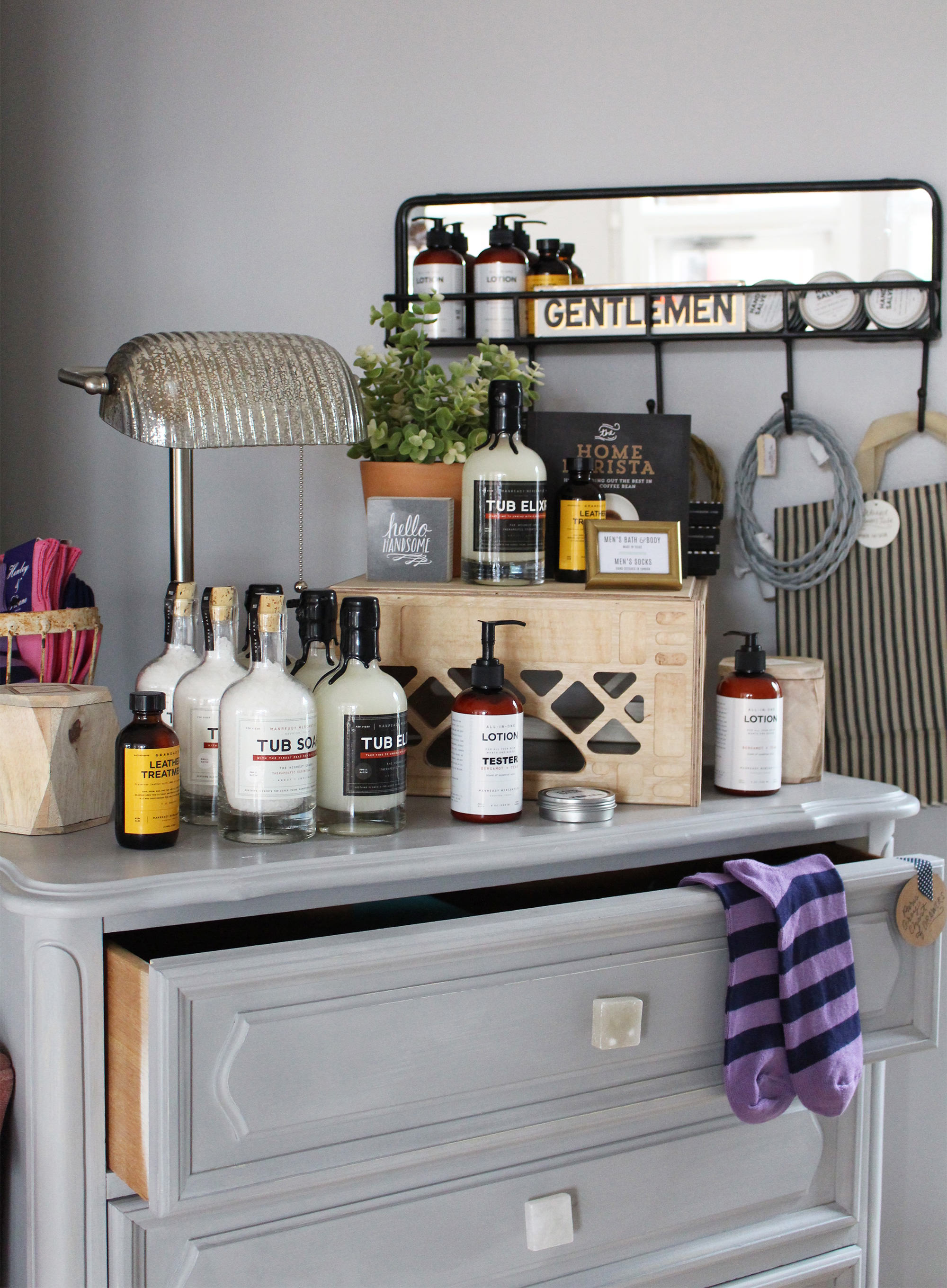 A wall of Lily & Val hand-drawn cards! I have to brag for a second about this card wall because it is actually its own unit! Scott from Rivet Design Co. custom built this massive piece for us. He is also responsible for building our print bar (another favorite feature!) and our window display shadow boxes! He did such an amazing job. I was blown away.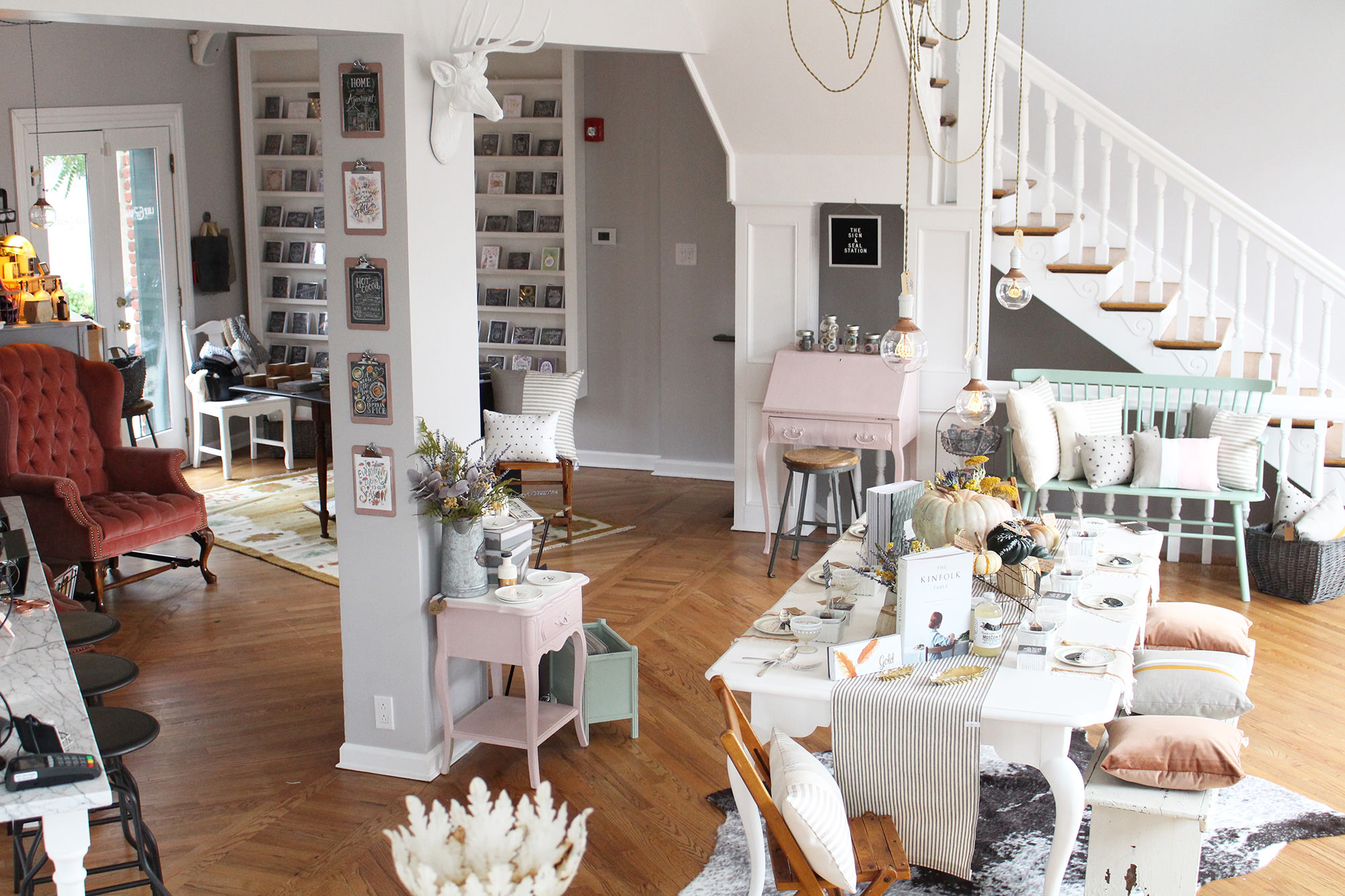 A kitchen section was a must in the shop! Here you can find products from NS Pottery, Ticket chocolate, Leaf & Twig organic tea, which is local,  along with local honey! We also carry lovely aprons from Heirloomed and gorgeous kitchen docks handmade by Stak Ceramics!
WAAM Industries makes these great canvas lunch bags that we are using as part of gift sets! We carry their beautiful totes, too.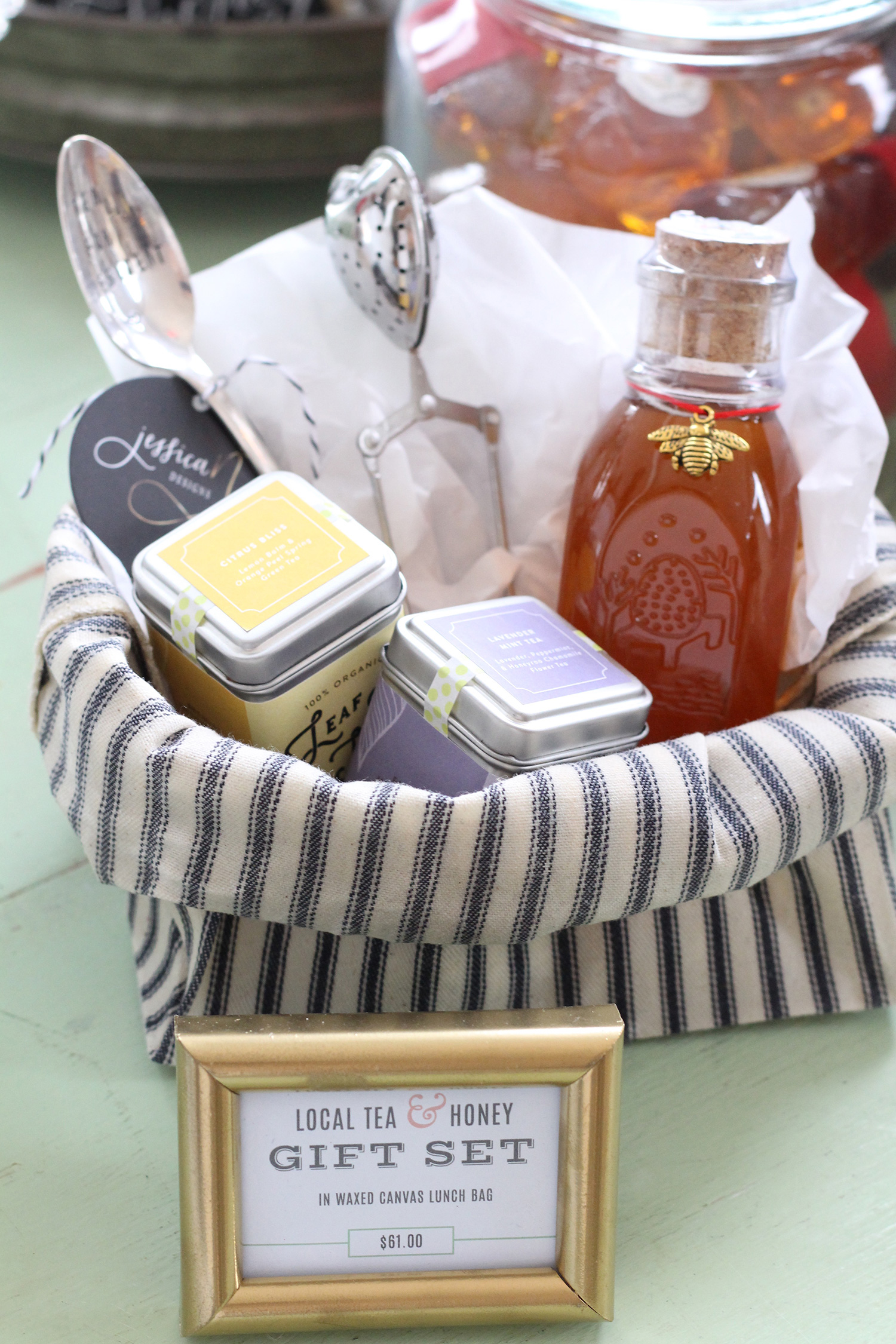 A special spot for Keepsake Kitchen Diaries and L&V tea towels produced through Primitives By Kathy!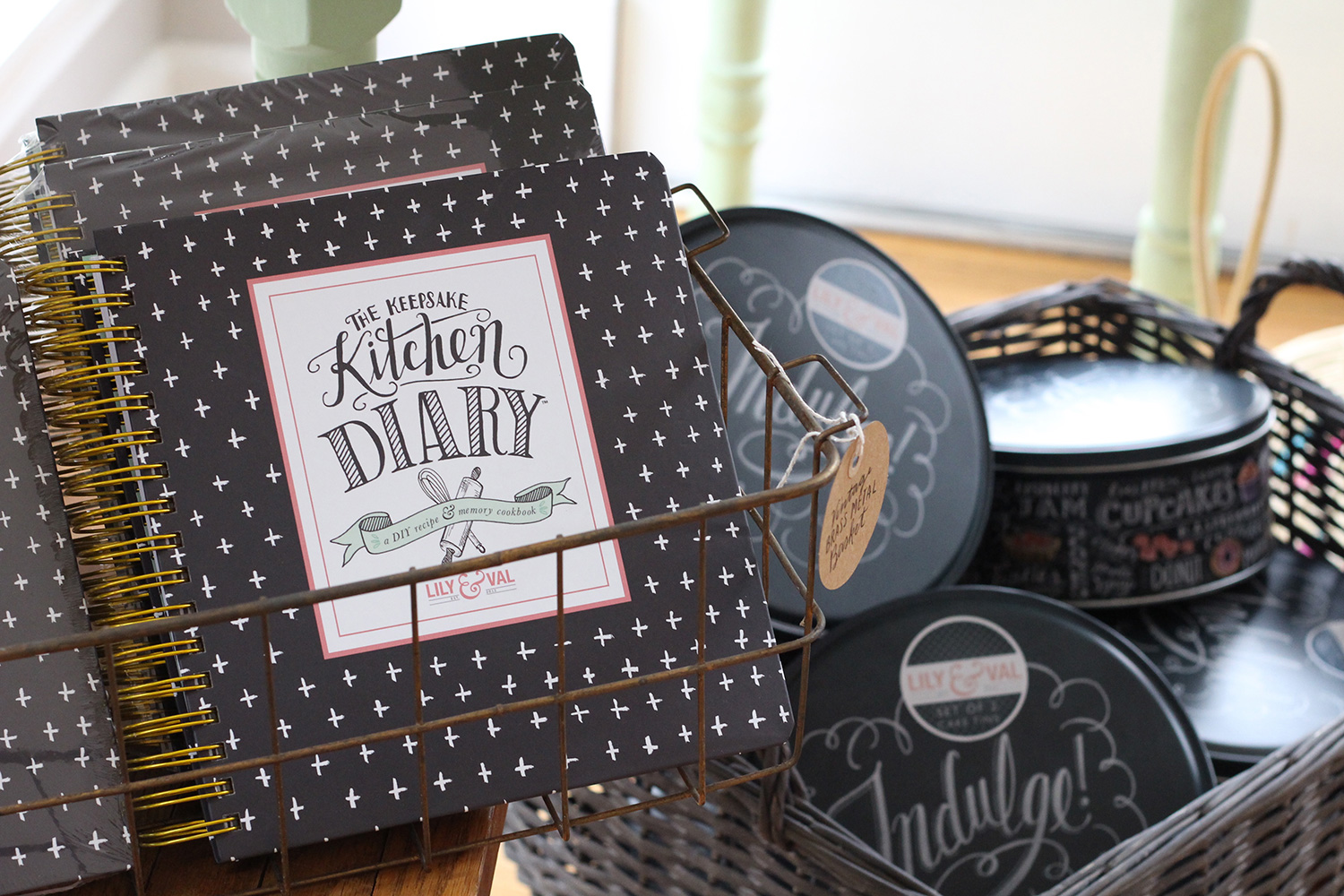 These adorable handmade, porcelain ring cones are made by Honeycomb Studio and the pretty stacking rings are made by Jessica N Designs! 
The hanging light fixtures are made by Oak & Elm Outpost. I think they really make the space!
 I also love our little bar section! Yes Cocktail Co. offers the most delicious cocktail mixers! We have been mixing up a mocktail we named "The Lily & Val Refresher"  using their Hibiscus Rose concoction for our customers to try. The wine glasses are by Sweet Water Decor, another Pittsburgh company.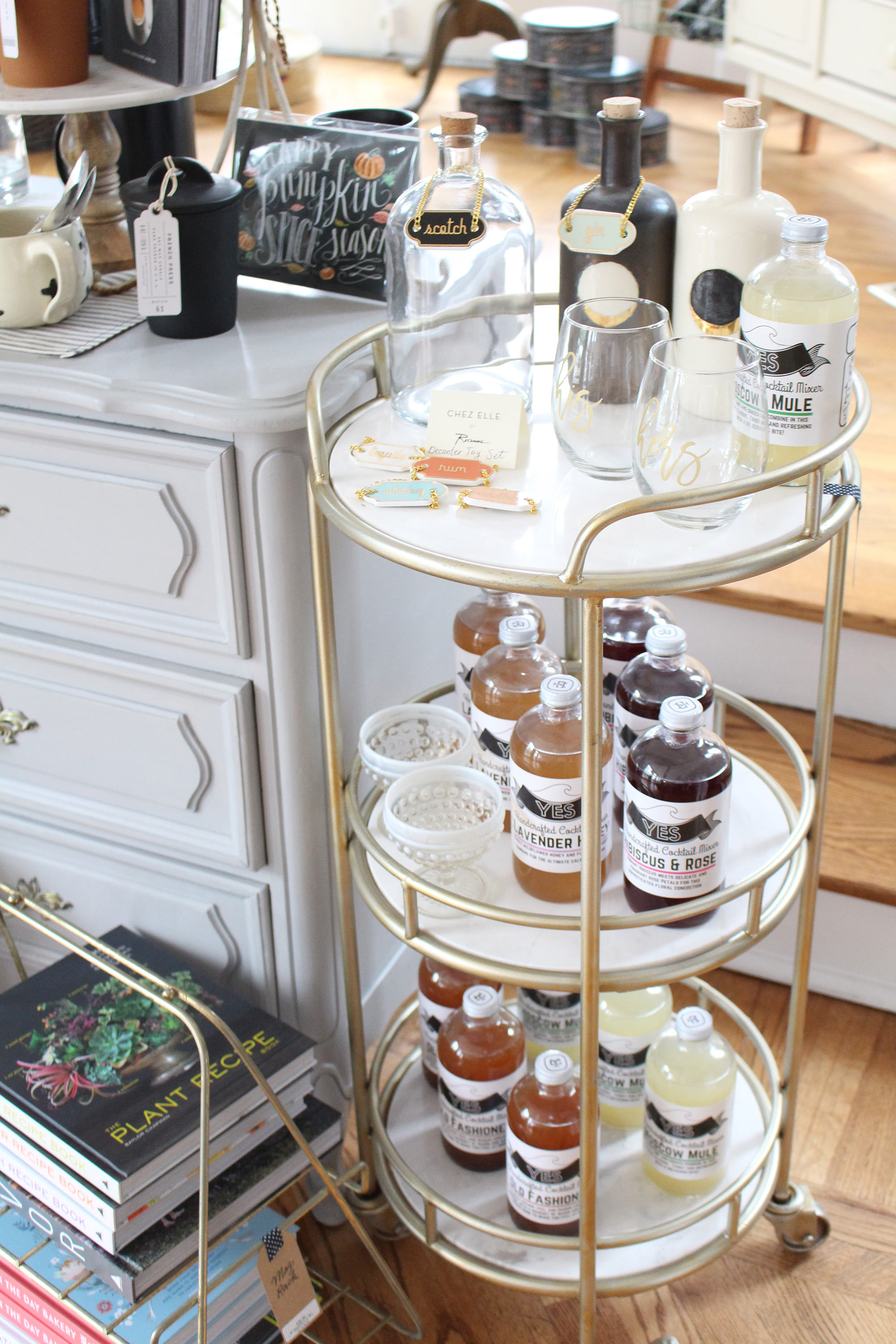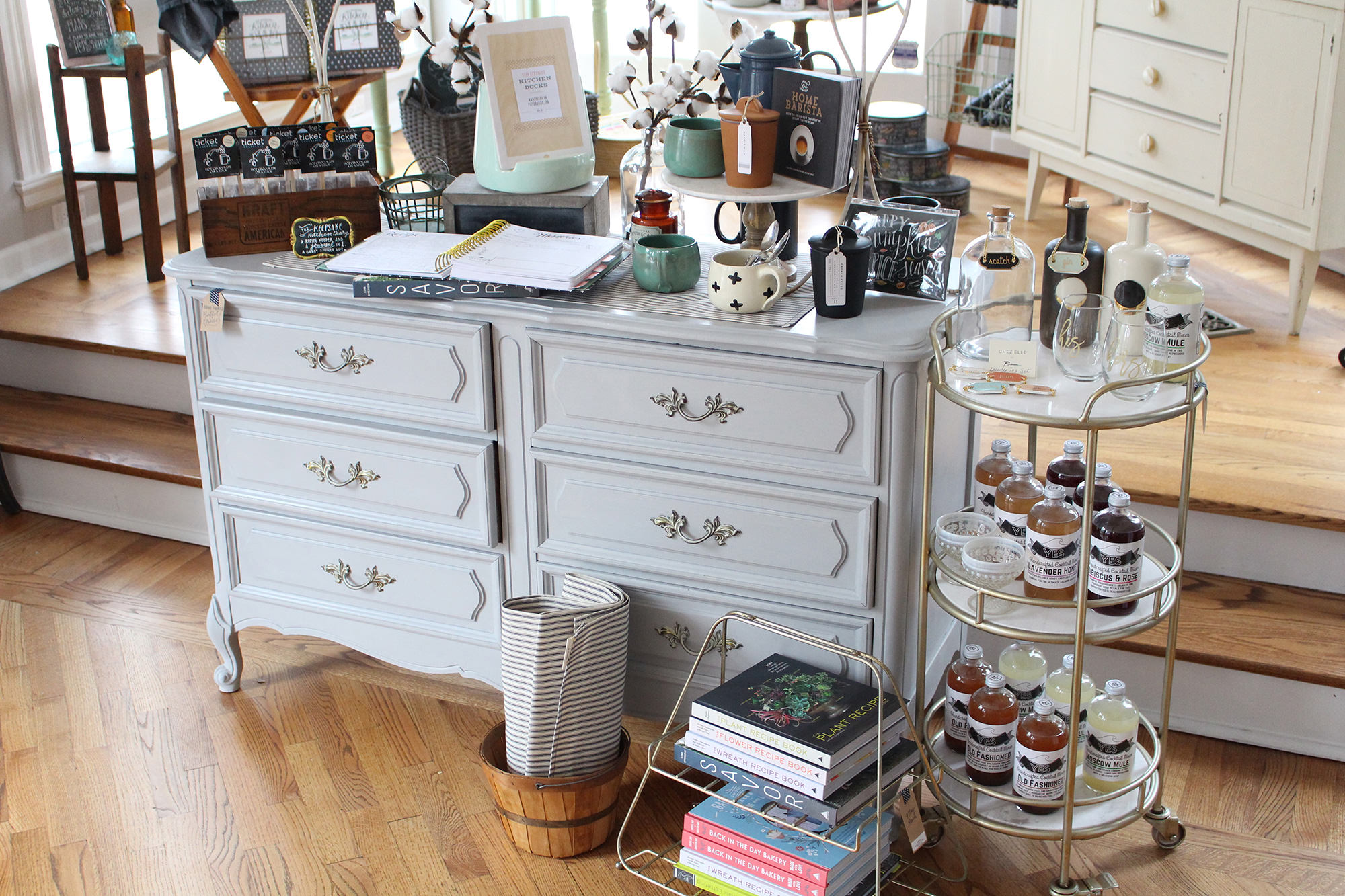 Our women's bath and body section includes an array of products by French Girl Organics! Also,  we love our candles by Candelles, which are hand-poured in Pennsylvania!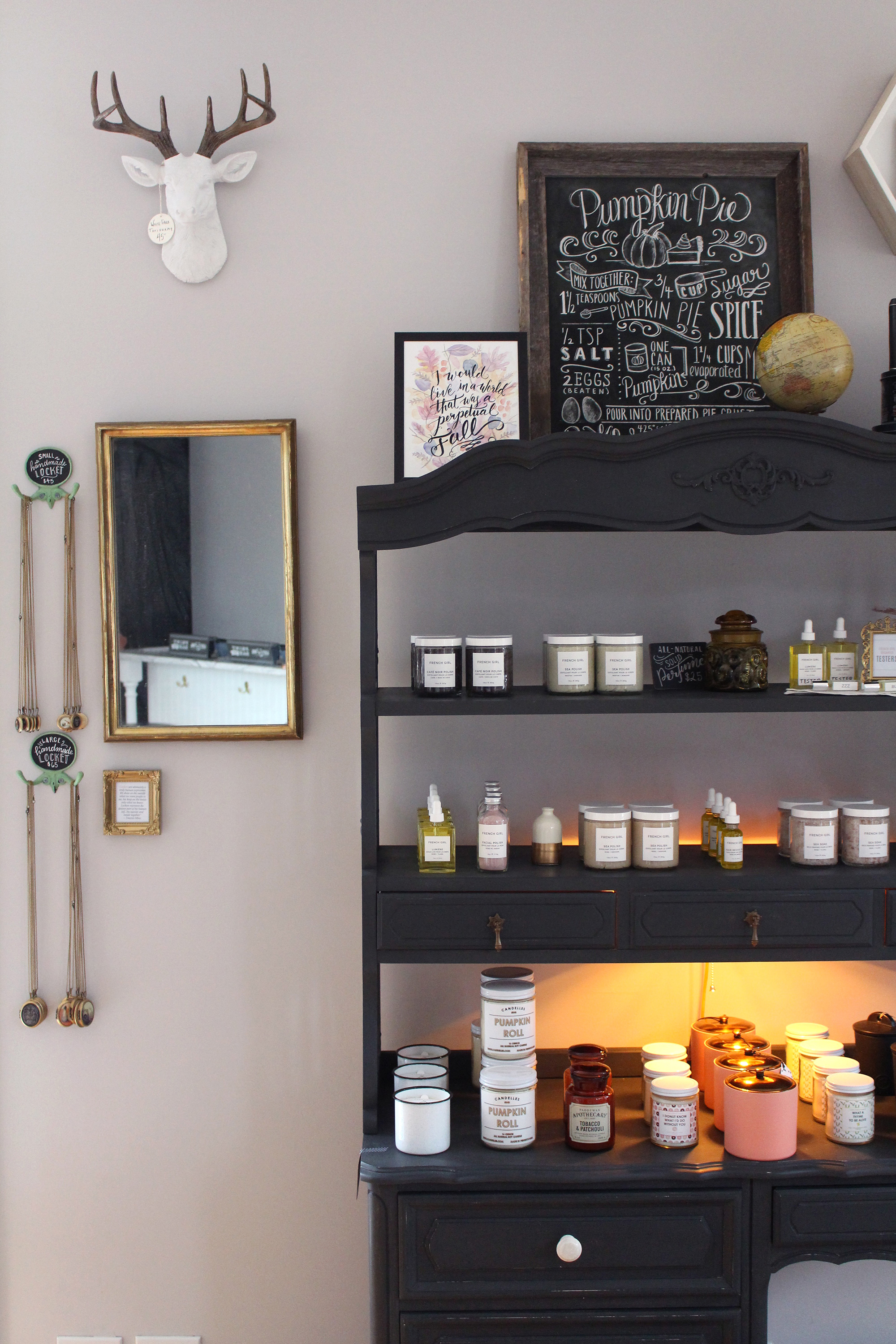 Items from the Lily & Val locket collaboration with Dearest Mine are available along with a selection of her other gorgeous, handmade lockets!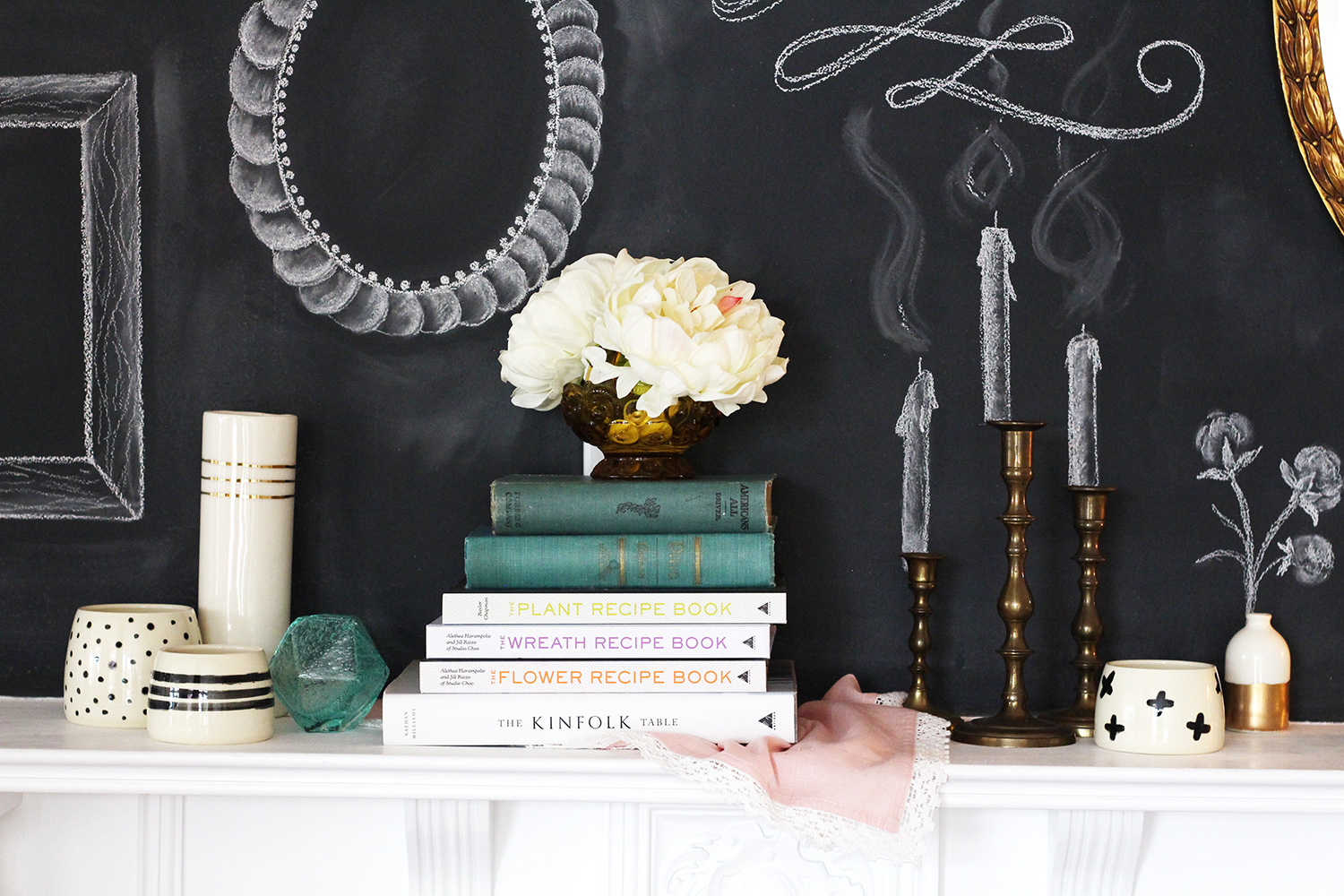 I hope you enjoyed this look inside our Flagship Store!  This is just a taste of the items you will find inside. We will also be changing things up regularly!  For our friends living in or visiting Pittsburgh, we can't wait to meet you in the shop!