We're stepping into that time of year where our mailboxes fill up with holiday wishes from friends and family!  While I love accumulating these cards, the pile grows very quickly and I have a hard time throwing them away at the end of the year. This goes for any time of the year for that matter! Some cards are just too pretty to throw away and although we might be a little biased, we especially feel that way about Lily & Val cards!
For that reason, we came up with a few fun ways to keep your cards, but also transform them into something functional. These little DIY card pockets are simple, easy and really cute!
Simple magnetic card pocket
Use craft paper glue to seal the edges of the card so that it forms a pocket.  While it dries, glue heavy duty magnets to the back of the card and let set.  Once everything is dry, just find a place to hang it! If you're one for decorating your refrigerator, we think this is perfect!  Leave it next to your grocery list with your favorite pen right where you can see it!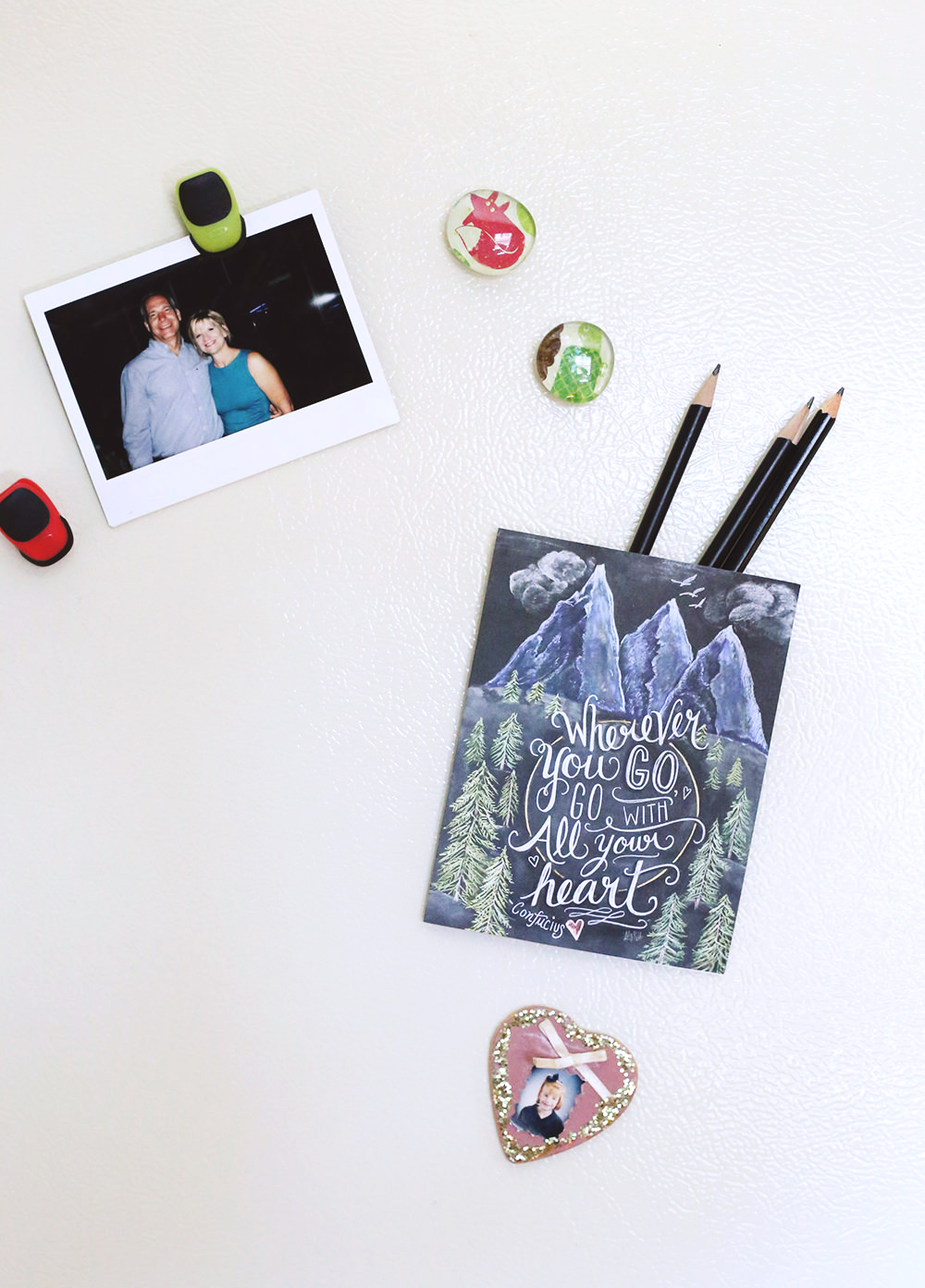 Washi & stitched pockets
A washi tape pocket is ridiculously simple – just create a pocket with a pen or your finger and tape the edges down with washi tape of your choosing!  I've tape this pocket next to my desk and it adds style and purpose to my wall!
To create the stitched pocket, glue the card edges again and let dry. Then, use a heavy duty hand sewing needle to hand stitch the sides closed.  I left the strings long and tied them so I could hang it! The colorful string really pops against the black and white card!
Because I love the stitched card look so much, I created another version to hang on our guest room door!  The flowers tucked inside make it bright and welcoming!
The push-pin pocket
If you've got some spare room on your corkboard, add a card and pin down the edges with push-pins for instant storage!  Keepsakes, markers, notes are easy to reach and also look really nice in this DIY pocket!
Now your keepsake cards can be enjoyed with a new life. If a card is too pretty or too special to throw away, we think these card pockets are the perfect way to recycle them!