Here at Lily & Val, we're all about taking something simple (like a cupcake) and doing something small to elevate it. I present your new favorite way to top anything – candied rose petals.
Cupcakes have a special place in my heart. Not because I'm good at making them – definitely not – but because the first thing I ever baked for my boyfriend (before we were together) was a batch of two dozen cupcakes. I told him they were for sharing with his mom because I was so embarrassed I made 24 cupcakes for someone I just met.
These candied rose petals taste exactly like a rose smells and leave a sweet aroma throughout the house. They're even good to eat on their own! We sampled quite a few in the L&V office.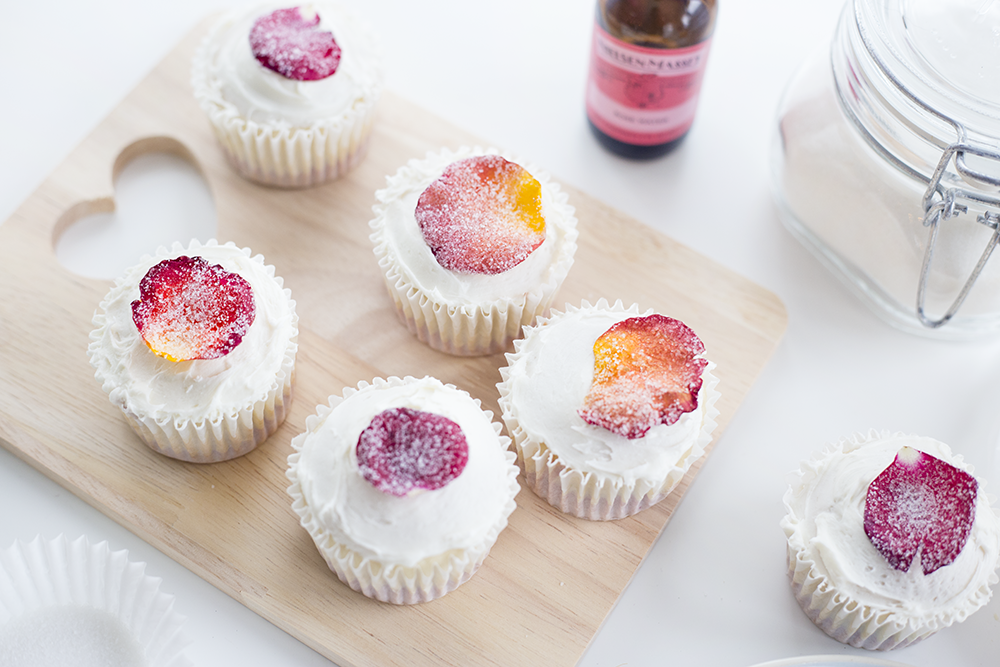 Candied Rose Petals Recipe
I recommend starting your rose petals first before your cupcakes as they have to dry overnight.
Ingredients:
Whites of 1 egg
1 cup white granulated sugar
1 tbsp water
Pastry brush (or small, clean paint brush)
Parchment Paper
Directions:
In a small bowl, mix one tbsp of water with the whites of one egg. Whisk with a fork until combined. This will be your egg wash for the petals.
Pick up one petal at a time and brush both sides (using the pastry brush) with the egg wash, thoroughly coating it. Then place the petal into the cup of sugar and flip it over, so the sugar is covering both sides. Place the finished petal on parchment paper in a single layer and let dry overnight.
Lemon Rose Cupcake Recipe
Ingredients:
1 box of white cake mix (I used Pillsbury) *Be sure to use egg whites only*
1 can prepared vanilla frosting (I used Duncan Hines)
1/2 tbsp Lemon extract
1/2 tbsp Rose extract
Cupcake liners
Directions:
Prepare cake mix using the directions on the box, including 1/2 tbsp of both the lemon and rose extracts. After mixing but before pouring into cupcake tins, separate your batter into two bowls. In one bowl, leave your white cake batter and in the second bowl, add a few drops of purple food coloring. If you don't have purple, mix in a few drops of red and blue.
Pour 1/4 cup of the purple batter into each cupcake liner. Using a different measuring cup, top the purple batter with the white batter until the liner is 3/4 full. Bake according to your cake mix's direction.
Once the cupcakes are cool, place a candied rose petal on top of each one – and voila! A beautiful dessert that you made with a boxed mix (I won't tell).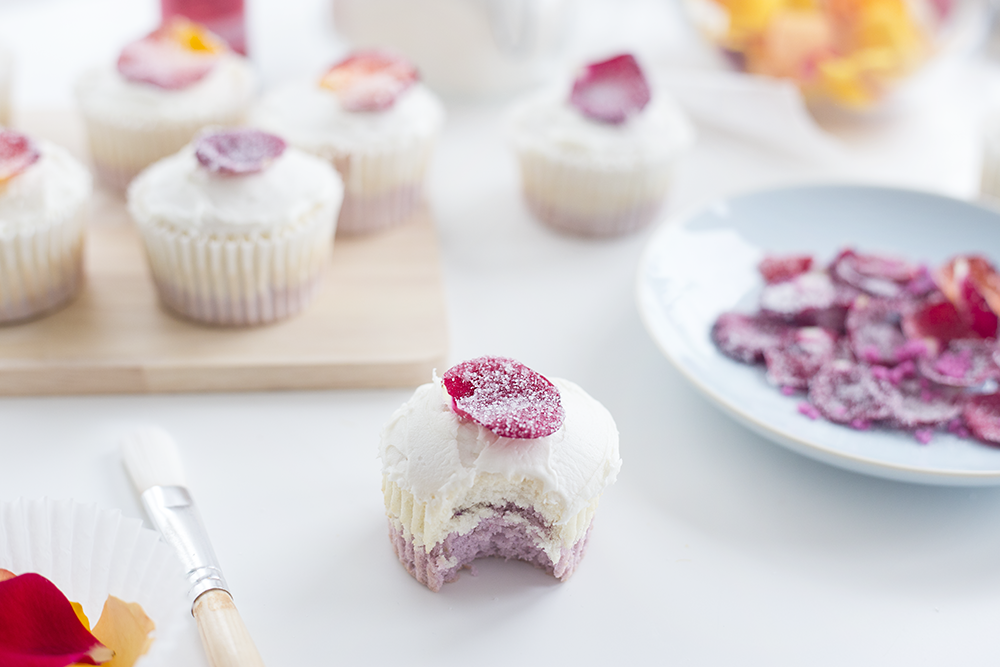 Making candied rose petals can be a little time-intensive, but it's a great labor of love. I haven't fed these cupcakes to anyone who didn't go crazy over them – all the responses were "You made this? How?" and other flattering statements.
Taking something simple and making it beautiful is one of our favorite things at L&V.  We'd love to see what you create! Let us know in the comments how your rose petals turn out and be sure to tag us in your Instagram photos with #lilyandvalliving!