It is that magical end-of-summer / beginning-of-fall time of year when peaches are at their peak! I just can't get enough of peach season and as much as I am a pumpkin-obsessed girl, I will be sad to see these summer delights go away! In order to take full advantage, I picked up a bunch of fresh peaches at the farmers market and brought my Peach Cobbler illustrated recipe print to life!
I love cobblers of all sorts! I think that's because I'm more of a fruit girl than chocolate. Give me all the fruit pies and cobblers and I will be happy! I also think there's something very cozy about cobblers and this one is the perfect way to transition from summer into the heaviness of fall dishes.
Besides how delicious they are, I think peaches are just beautiful! I was inspired by their colors and gorgeous texture when I drew this illustrated recipe! Peach and mint are one of my favorite color combinations and probably what I love most about the print.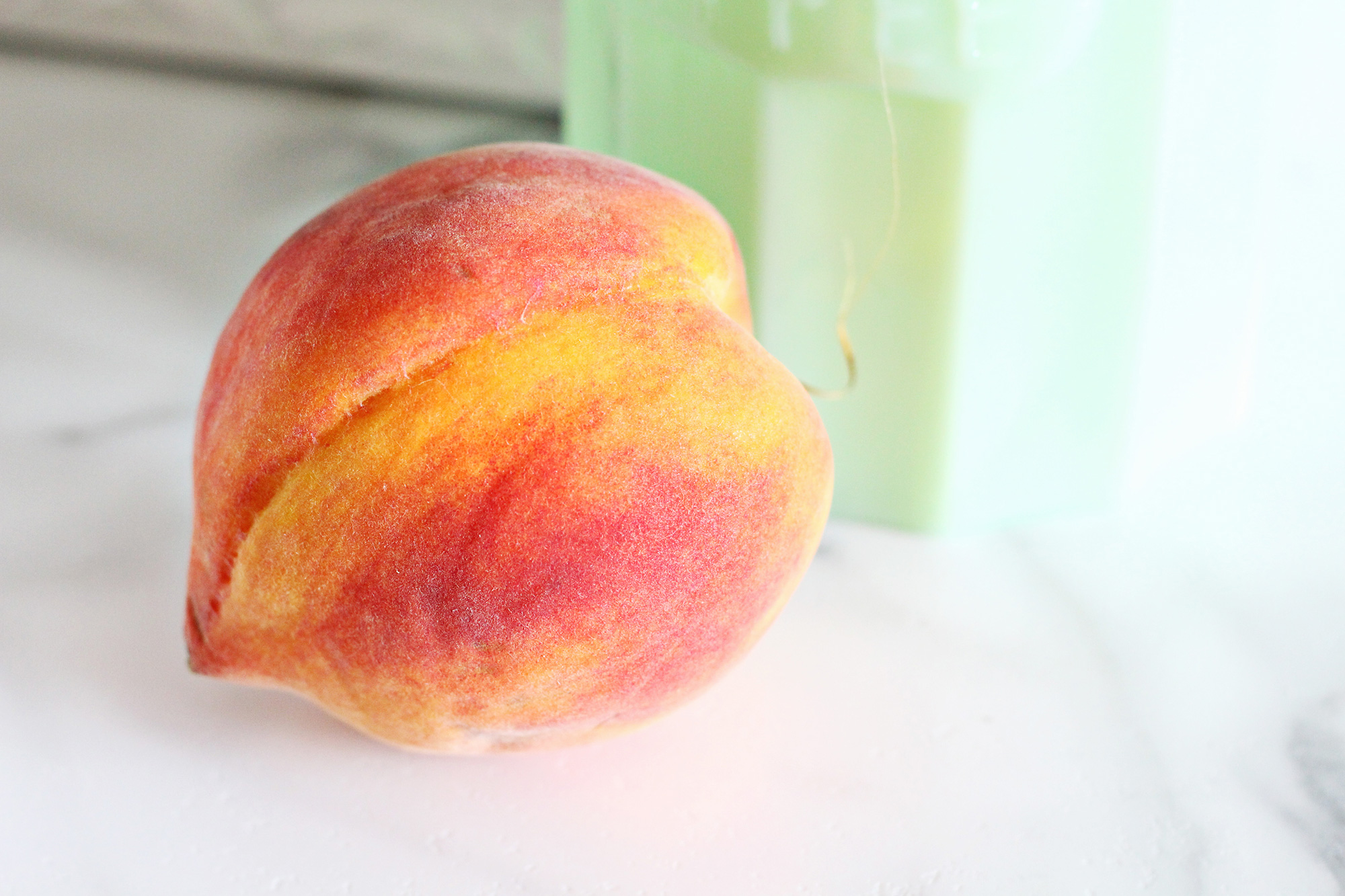 This recipe was so good, I had to record it in my Keepsake Kitchen Diary! I also recorded our trip to the farm to pick up the fresh peaches.  I love when a recipe has a story to it and the Keepsake Kitchen Diary gives you room to record those important stories. I will enjoy looking back on it each time I make this recipe!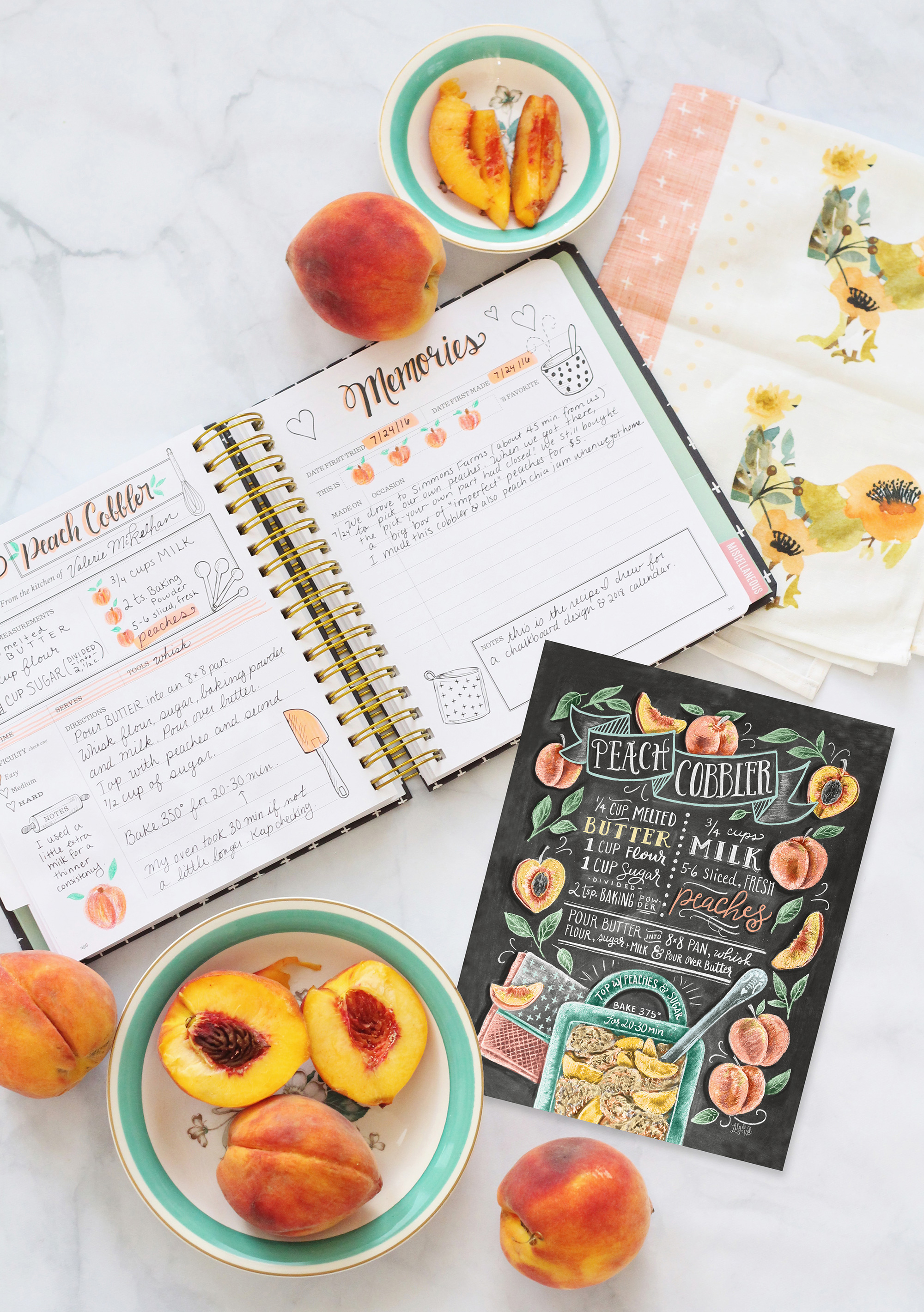 I also decided to get a bit crafty on the pages of my Keepsake Kitchen Diary! A peach-colored Tombow Dual Brush Pen and red, yellow, orange, and mint colored pencils were perfect for adding tiny details to the spread.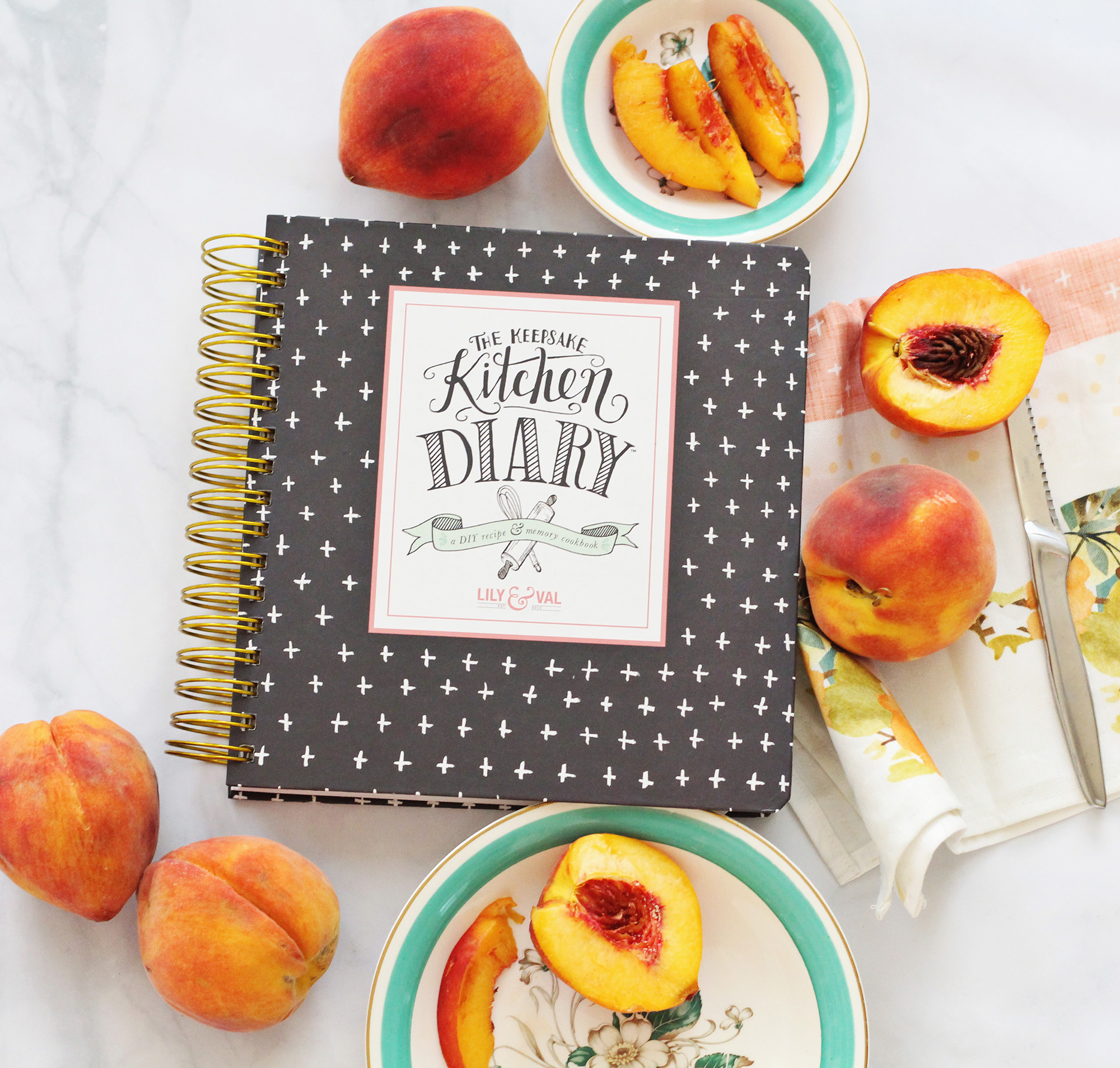 The cobbler was so delicious – both Mak and I really enjoyed it! My Dad always eats cobblers and pies in a bowl with milk on top. I think it would be delicious that way too!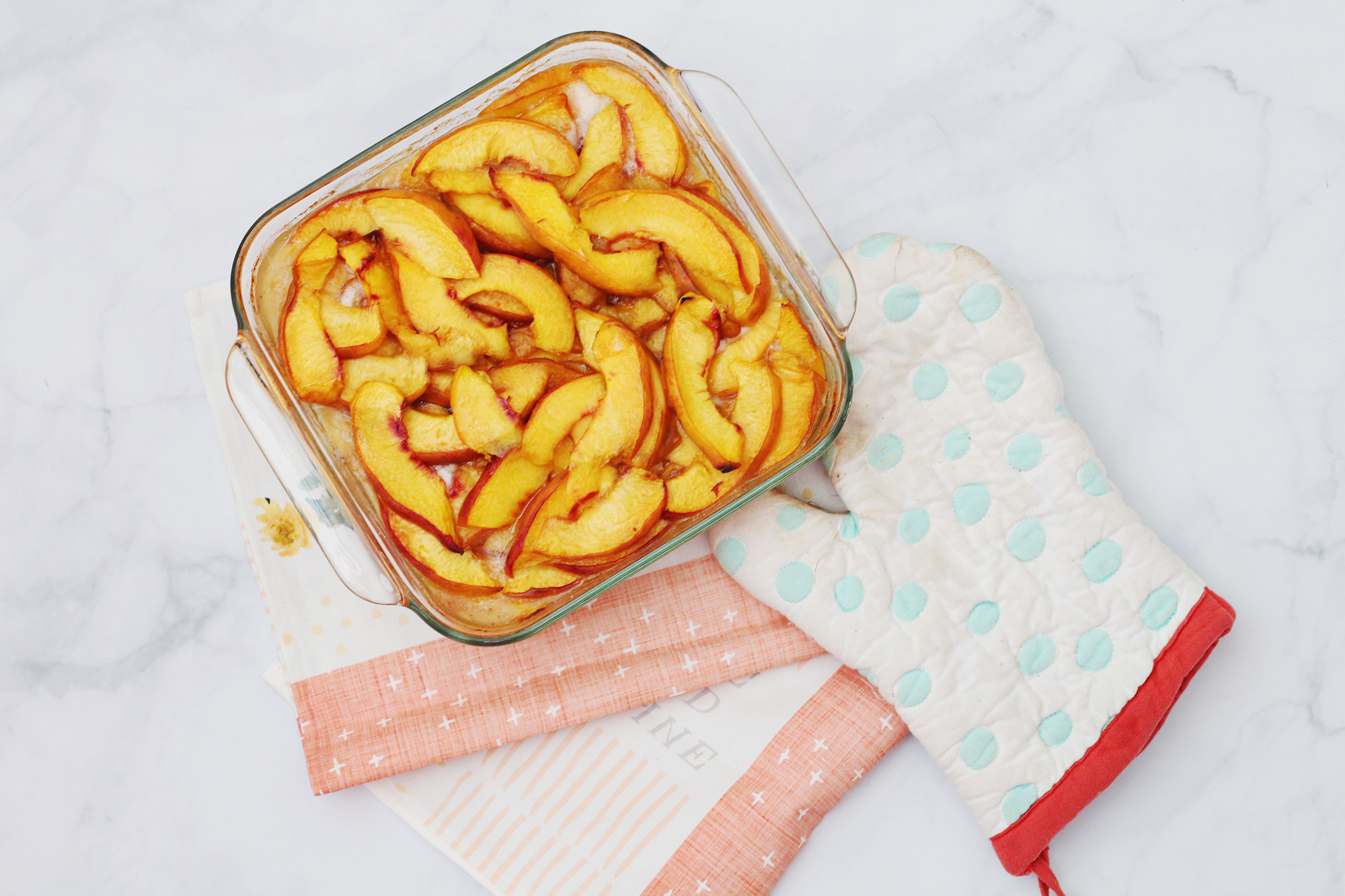 Here's the recipe: 
Ingredients:
1/4 Cup Melted Butter
1 Cup of Flour
1 Cup of Sugar (divided into 2, 1/2 cups)
2 Tsp. Baking Powder
1/3 Cups Milk
5-6 Sliced Fresh Peaches
Directions:
Pour butter into an 8×8 pan or casserole dish. Whisk flour, 1/2 cup sugar, and milk. Pour the batter over the butter. Top with sliced, fresh peaches and sprinkle with the remaining 1/2 cup of sugar. Bake at 375 for 20-30 minutes.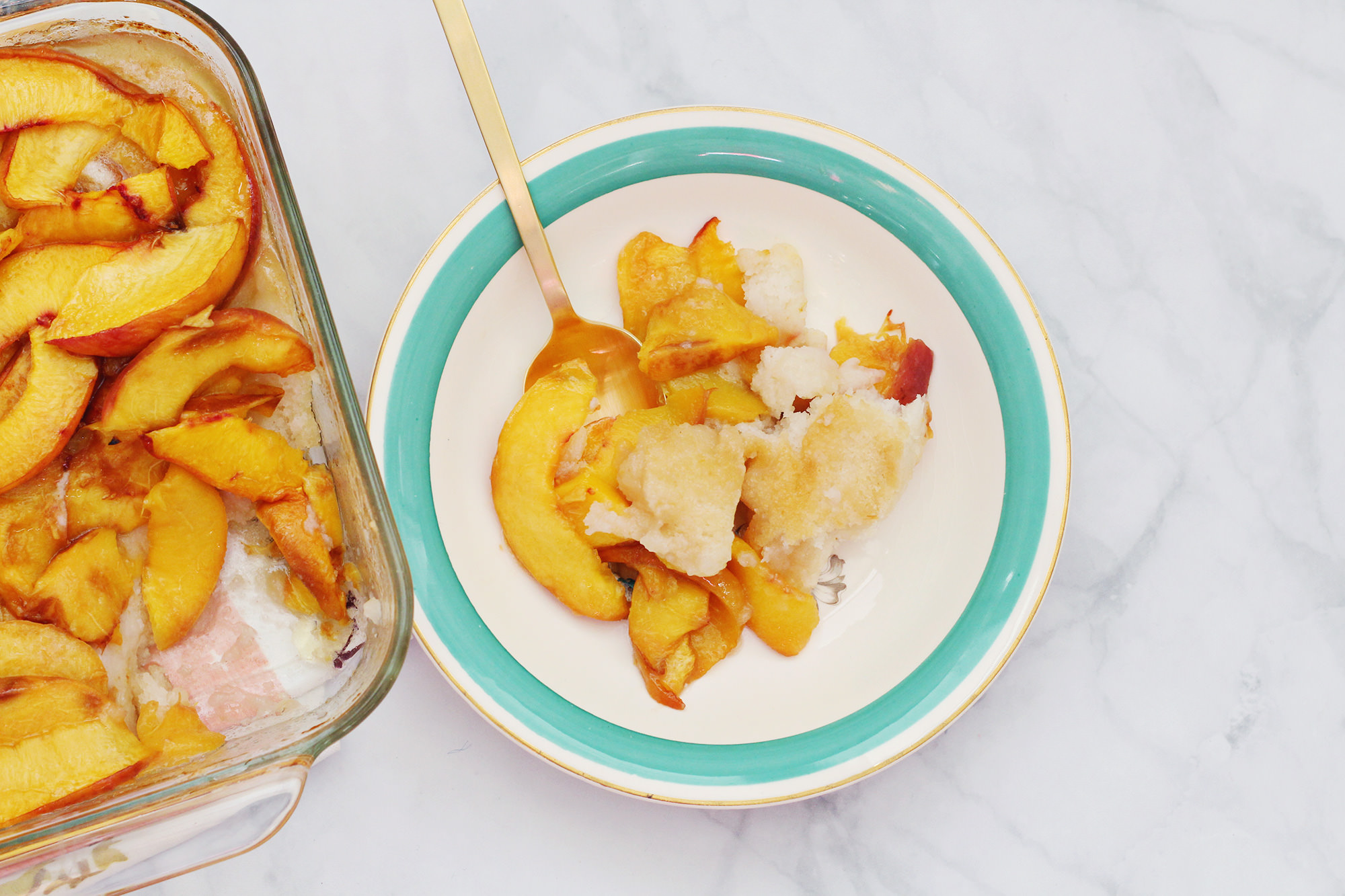 This is such an easy recipe and I hope it helps you savor the end of peach season!