It's that time of year for Pumpkin Everything and today I wanted to share one of my absolute favorite Fall desserts with you along with how I crafted the Pumpkin Cheesecake Bar recipe in my Keepsake Kitchen Diary using new Tombow markers & pens!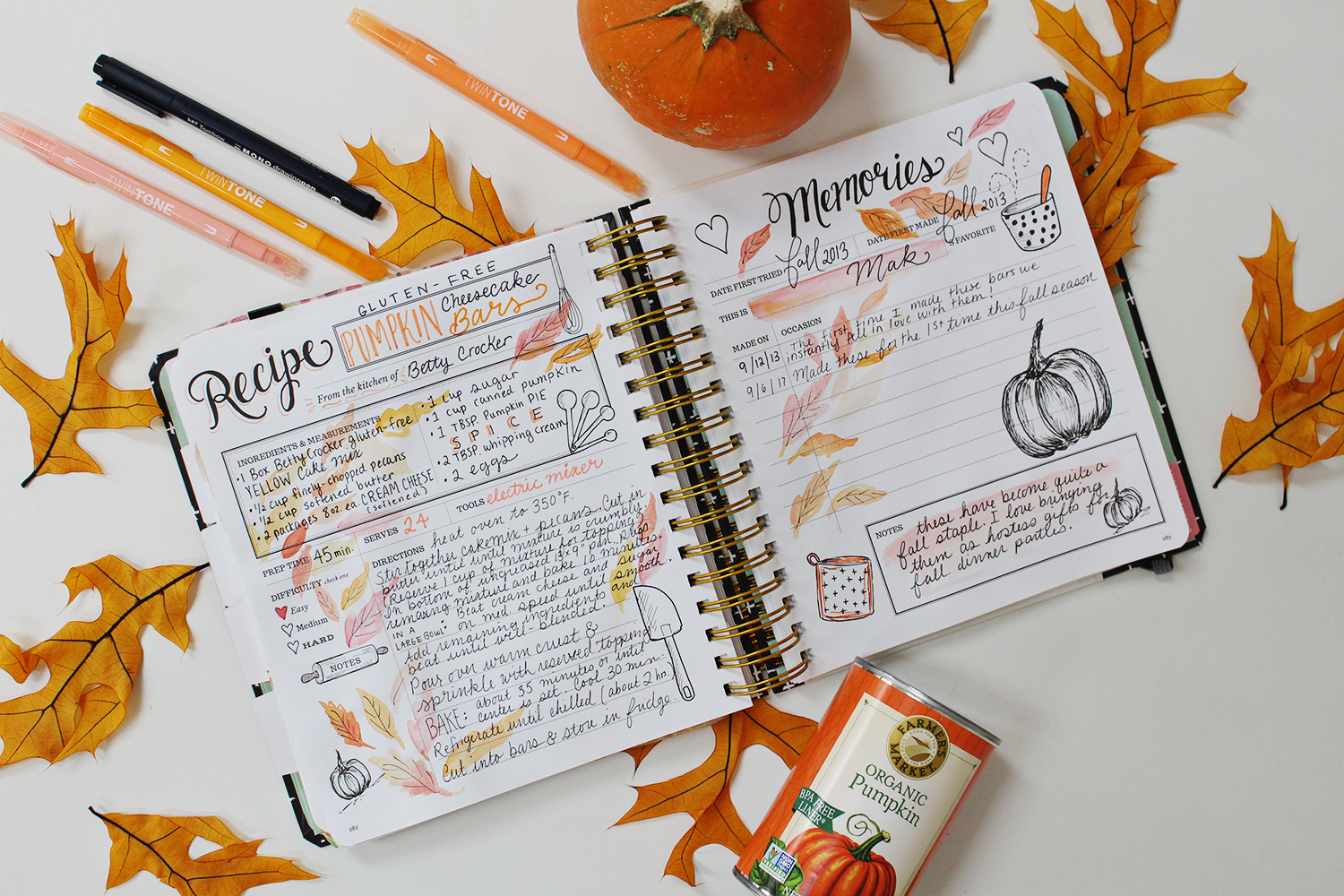 These pumpkin cheesecake bars are gluten free (Sadly, I've needed to be gluten free not by choice for the past 18 years!) But these bars are one of those instances where you forget that you are GF! For that reason, I've made them for dinner parties and no one has ever noticed the difference!
The original recipe is from Betty Crocker and the recipe uses her gluten free yellow cake mix, which is delicious!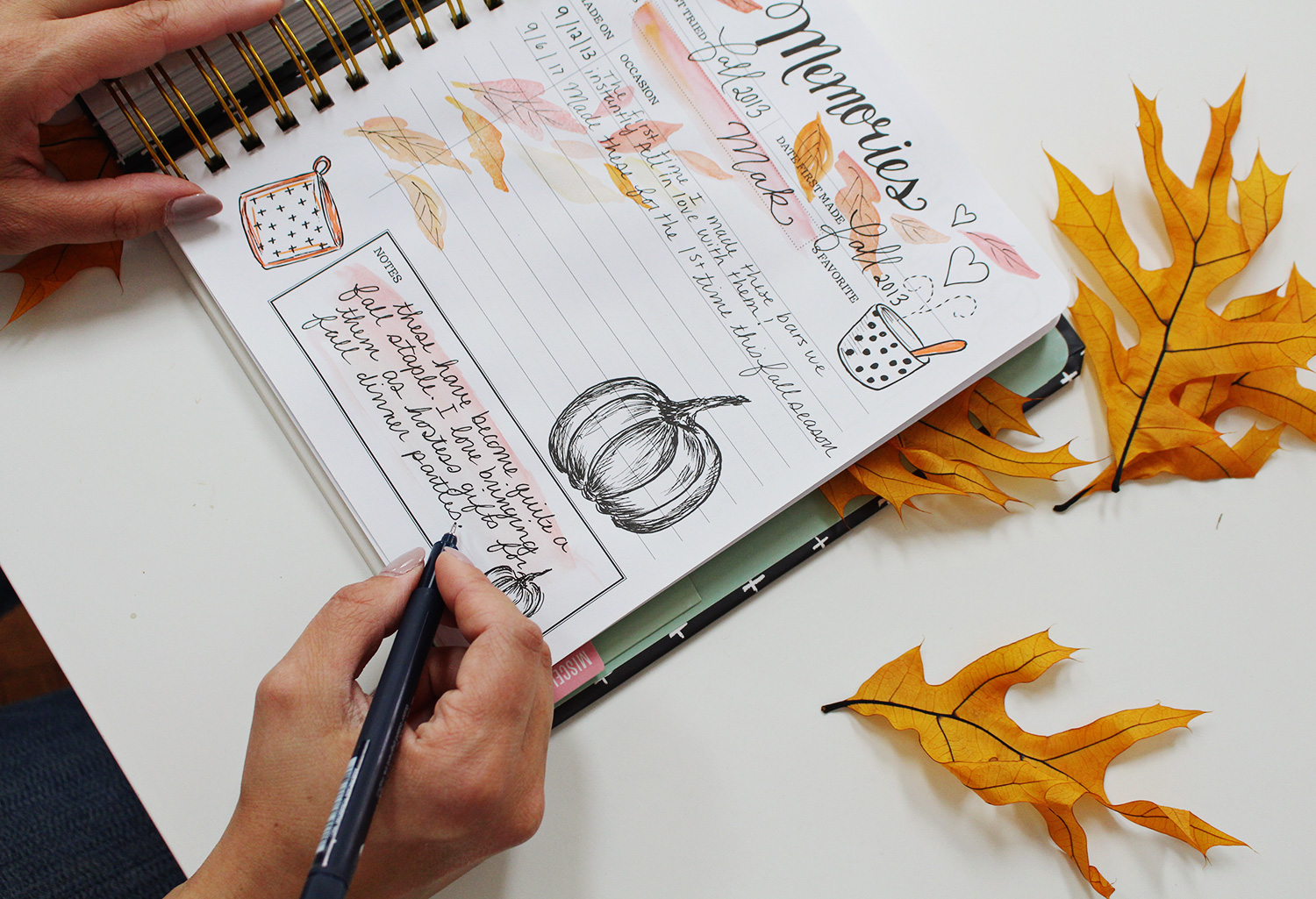 Filling Out The Keepsake Kitchen Diary
The Tools:
To craft this special recipe in my Keepsake Kitchen Diary, I used the new Tombow TwinTone Marker pens in Pastel as well as Tombow MONO drawing pens from the 3-pack. It was the first time I used both and I LOVED them. I would highly recommend these tools for decorating and filling in your Keepsake Kitchen Diary!
The TwinTones have both a fine point and a medium point, which was the perfect size. Neither pen bled through the pages. They would also be perfect for your planner and scrapbooking.
I also used my Angora watercolor pan. (I have the 36 color set.)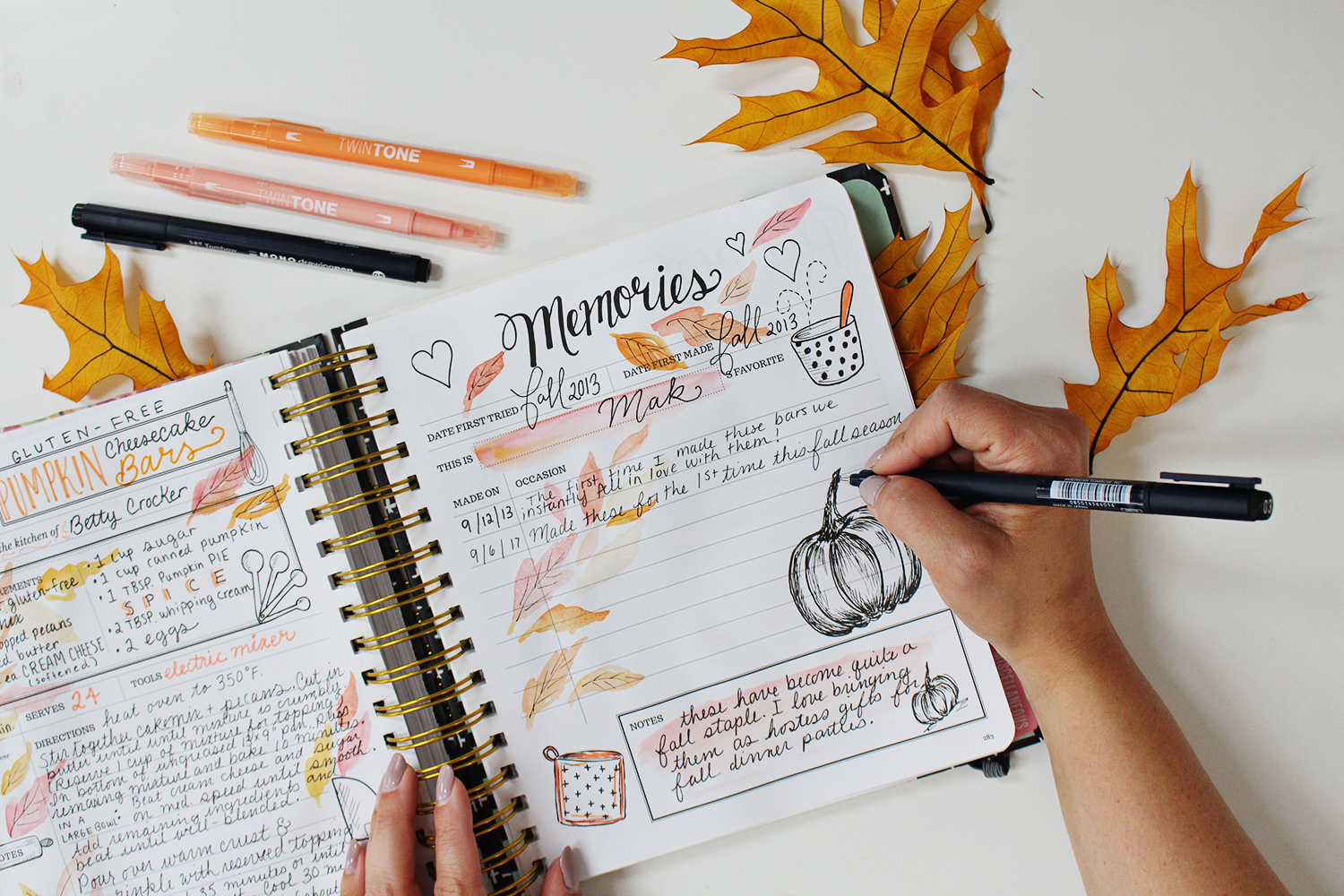 The Method:
I knew I wanted soft watercolor leaves to act as a backdrop for the recipe, so I started by painting these. When using watercolors in your Keepsake Kitchen Diary, you'll want to be sure to not oversaturate the page. The pages do hold watercolor, but since it's smooth (as opposed to watercolor paper), the key is avoiding warped pages as much as possible.
The technique works best for soft details with minimal brush strokes. I also used very little pigment to create that light wash.
After my leaves and washes dried, I was able to use my Tombow drawing pen to fill in the recipe and memories on top. The leaves were soft enough to make a beautiful background.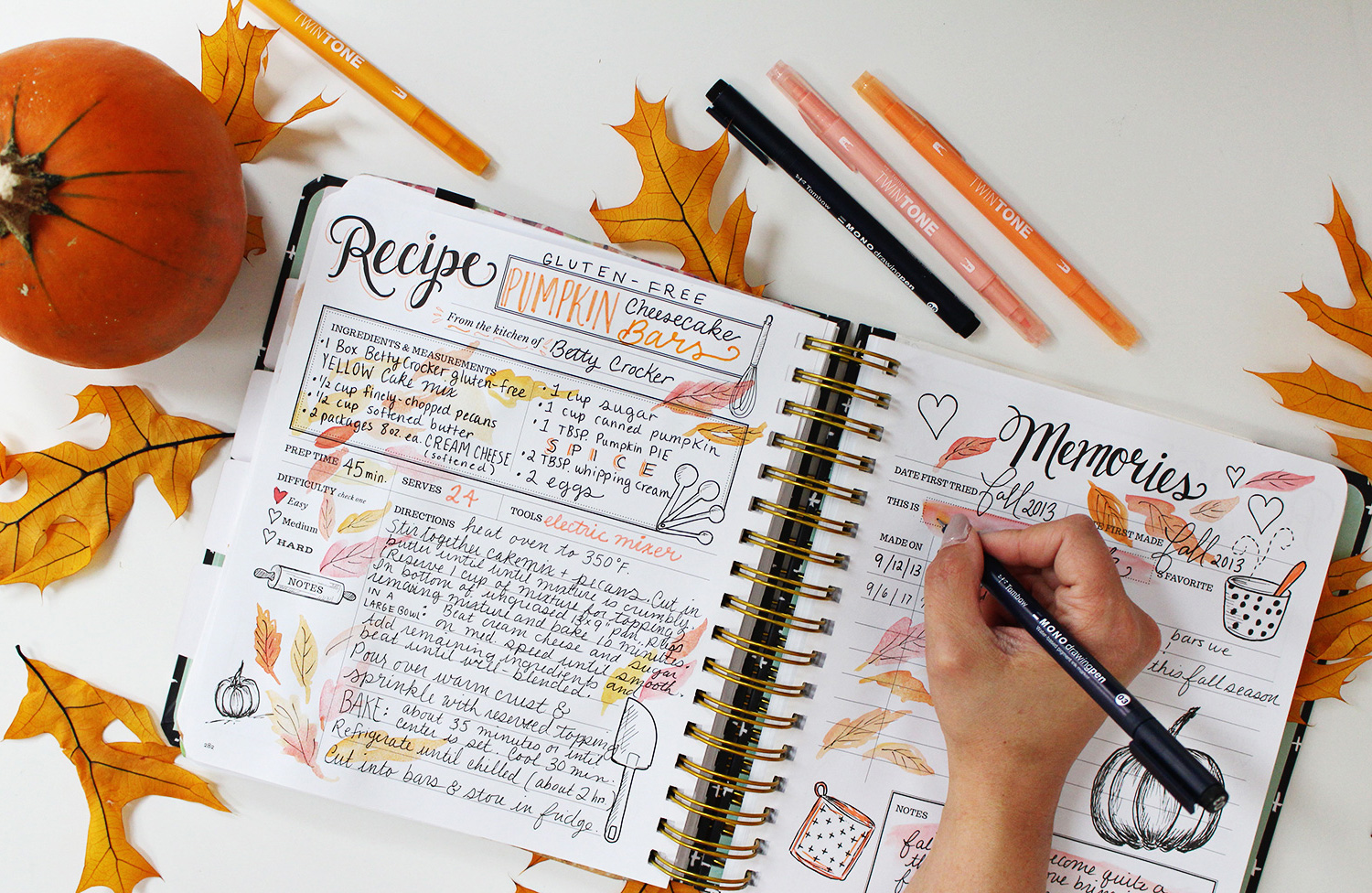 Tip: When filling in a more complex recipe, add two lines of text between each divider as I did here.
I wanted to include pumpkins on the pages since it is a pumpkin recipe, so I used the drawing pens to add black and white botanical-style pumpkin illustrations! I drew a large pumpkin on the "memories" side, but left myself enough room to continue to use this page as a running log of dates/occasions for each time I make them.
I thought about coloring the pumpkins but opted to leave them black to contrast the colorful leaves for a pretty balance.
Lastly, I went back through with my twin tone and added bits of color to the potholder and the spoon on the bowl illustration. I also used the smallest tip drawing pen to give some of the leaves fine veins.
I'm really pleased with this spread – it reminds me of what I love about fall and it was fun to create.
I can't decide what I like more about these bars – the crumbly streusel topping or the creamy pumpkin cheesecake. They are the perfect combination of both and certainly don't last long in my house! At the first hint of Fall, Mak always asks me when I'll be making them! I hope you enjoy!
Gluten Free Pumpkin Cheesecake Bars by Betty Crocker
Ingredients:
1 box Betty Crocker™ Gluten Free yellow cake mix
1/2 cup finely chopped pecans
1/2 cup butter, softened
2 packages (8 oz each) cream cheese, softened
1 cup sugar
1 cup canned pumpkin
1 tablespoon pumpkin pie spice
2 tablespoons whipping cream
2 eggs
Directions:
Heat oven to 350°F. In medium bowl, stir together cake mix and pecans. With pastry blender or fork, cut in butter until mixture is crumbly. Reserve 1 cup mixture for topping. In bottom of ungreased 13×9-inch pan, press remaining mixture. Bake 10 minutes.
In large bowl, beat cream cheese and sugar with electric mixer on medium speed until smooth. Add remaining ingredients; beat until well blended. Pour over warm crust. Sprinkle with reserved topping.
Bake about 35 minutes or until center is set. Cool 30 minutes. Refrigerate about 2 hours or until chilled. For bars, cut into 6 rows by 4 rows. Store covered in the refrigerator.