I always love collaborating with my friends at Mixbook and today I'm thrilled to show you the seven brand new custom holiday photo card designs for this season! As always, these designs were hand-drawn with love.
I haven't yet decided which one I'm going to choose for my own cards. Last year, I used this one and absolutely love how it turned out!
Keep reading to see all of the new designs plus I have a special coupon code for you this year! 
Merry Berries:
The soft blush with the pop of red is just so lovely for Christmas!
Pen & Ink Botanical: This black and white card is minimalist yet detailed. Any photo would work beautifully in this card!
P.S. Don't forget about the matching labels! Every card has a label option to go with it.
Jingle Bell Rock: A fun and playful card! Also, the theme of this year's Lily & Val Holiday Collection. 
Tis the Season: I think this card is so unique with the hand-drawn greenery pattern. The tiny oranges are my favorite part.
A Partridge in a Pear Tree. This one is a real contender for my own card this year! I love how whimsical it feels and the oval shape for the photo.
JOY: Bold lettering + a pretty hand-drawn magnolia. I think magnolias are unexpected for Christmas and I love that!
And last but not least, Traditional Greenery: If you're looking for a bright pop of color to send in the mail, this red card is eye catching and elegant!
I hope you like all of the new cards!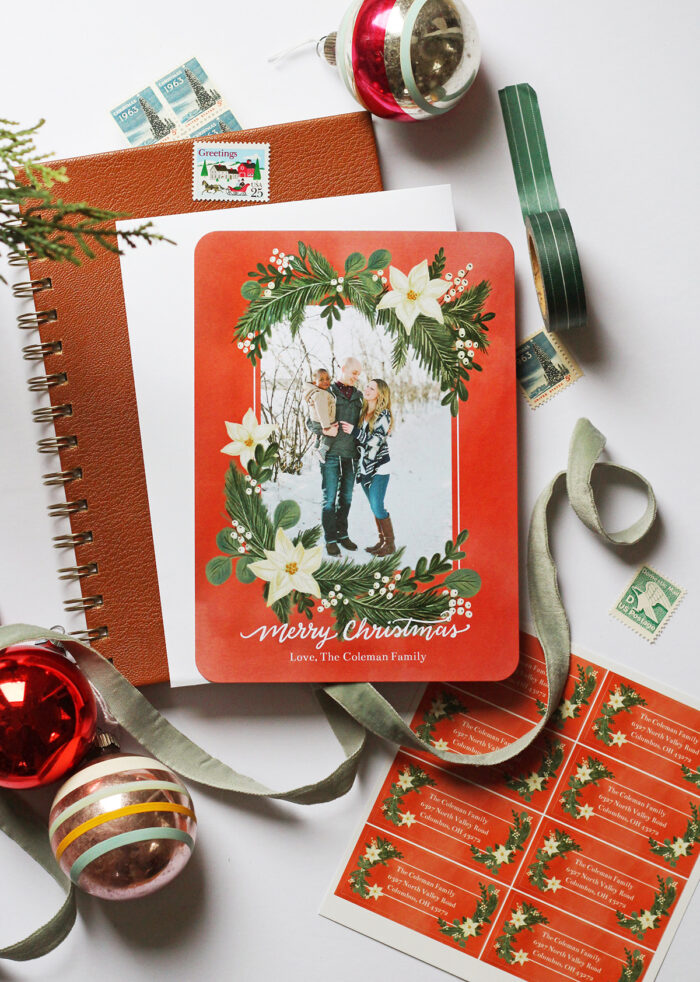 Take a peek at all the Lily & Val For Mixbook Photo Card Options here, including previous year's cards that are still available!
You may recognize a lot of these designs as prints in the Lily & Val shop! Also, if photo cards aren't your thing, most of the designs are also available as cards without the photo on lilyandval.com.
And as promised, a coupon code for you! 
Use code: DESIGNER19 on Mixbook.com ​for 50% off cards for new customers! (expires 12/20/19)
The Mixbook editor is so easy to use and makes ordering your Christmas cards I breeze!  I hope you enjoy customizing your Christmas cards! I can't wait to see which one you choose!!