I've been getting a lot of questions about framing and displaying Lily & Val chalkboard art prints! There are many possibilities for framing depending on the look you are going for and I hope this post helps bring some inspiration. One of my absolute FAVORITE ways to display the chalkboard prints is in reclaimed wood frames (like pictured above.) It is so rustic and cozy. I especially love this look for the holidays. My source for the pictured reclaimed, barn wood frames is Hobby Lobby!  Each frame is completely different. Some have more visible weathering than others and I love that each one is unique. They are made out of real reclaimed wood as opposed to frames that are manufactured to look this way. The imperfections are so charming!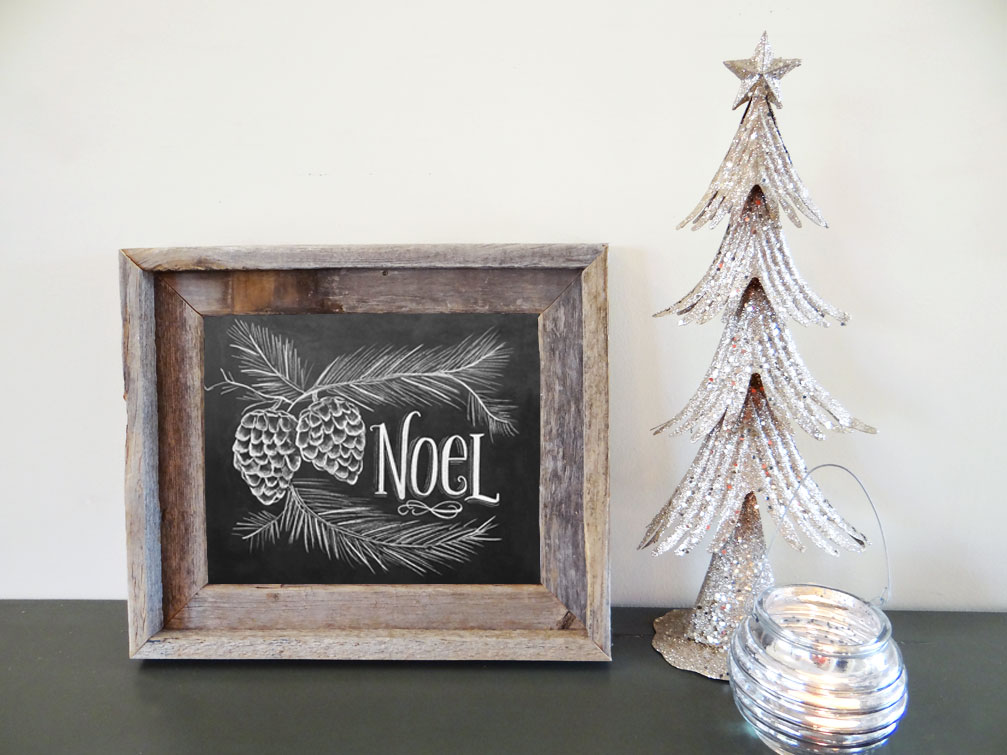 Another recommended framing method is a white frame or white mat. The contrast is beautiful and really makes the chalk artwork pop. This also provides a more sophisticated / sleek /  modern look. When using a white mat, I recommend a black frame.  This look is classic and really lovely.
To provide the most realistic chalkboard appearance (minus the dust, of course!) Lily & Val prints can be framed without the glass. Simply place the glass BEHIND the print for sturdiness. This option is only recommended if the print is displayed in an undisturbed area free of moisture (no bathrooms). Another thing to keep in mind: An 1/8″ "extra space" is included around all four sides of each print. This small space is intended to protect the edges of your print prior to framing as well as provide additional displaying options like dry mounting. If the print is going to be dry mounted onto a hard surface, the extra space will be helpful in that process. If you are framing the print in an un-matted frame, the edges will need to be slightly trimmed. I'd love to see how you frame and style your prints! Please feel free to email your photos to val@lilyandval.com.