Oh hey there, friend! I'm not sure how you've joined me, but thank you for being here. I know this space is usually a place of pretty letters and fun recipes & projects, but I've had it on my heart to talk about something a bit deeper and share two lessons that came out of a brief period away from the distraction of Instagram.
Most days I start my morning on Instagram scrolling through the never-ending supply of the pretty and perfect. It's like a craving and I soak it all in. I too want (& try!) to keep up with these images. After all, I'm in the business of pretty, right? But here's the thing: lately, I've felt drained. The invisible pressure mounts and I grow anxious, feeling insecure about my every move. I scrutinize everything to the last degree, but yet somehow feel like I'm still falling short. Do you feel this way too?
I took a few days offline and it forced me to refocus and think. To connect with my deepest values and the values I hold dear for Lily & Val. This company, which started as a hobby, has changed in so many ways I could have never imagined. Along the way, I've felt insecure, overworked, incapable and scared. I've also felt humbled, joyful, excited, and incredibly grateful. The business of creativity is an interesting one, and although I wouldn't trade it for anything, I want to be real. I want to live out my values.
I realized a couple things during my brief time offline:
1. Saying I believe something and living out those beliefs in tangible ways are two different things.
2.  Being vulnerable is hard and scary, but worth it.
Let me explain a bit more…
Lily & Val is a company built on the idea that the small things become the big things. The seemingly in-between, mundane and ordinary moments of life add up to a life well lived and are often the subject of our nostalgic feelings when we look back. I believe this wholeheartedly, yet I tend to let these moments slip away in exchange for more work and in general, just MORE. The chase has left me tired. If this is a struggle for me, I thought it might be a struggle for you too.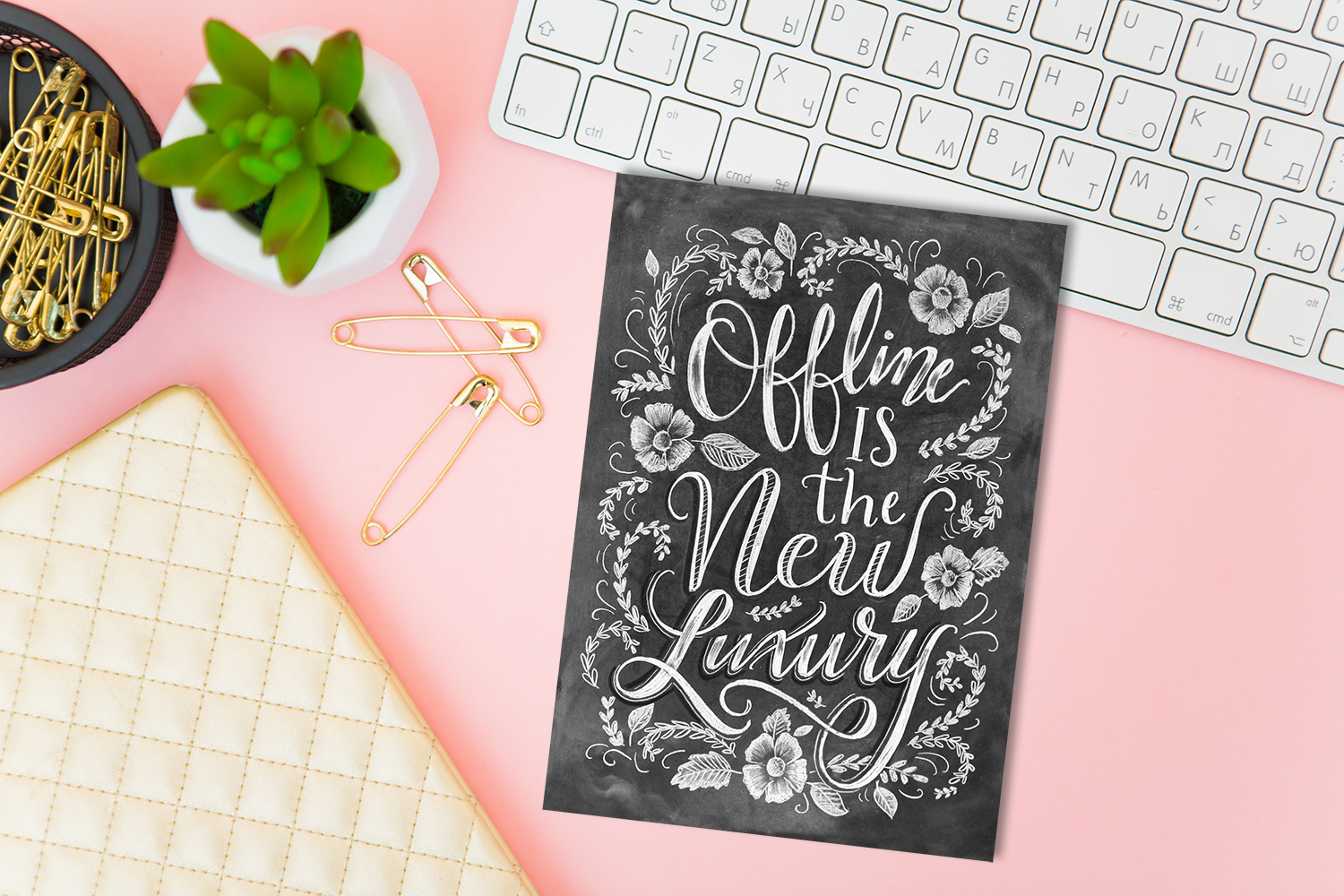 Vulnerability doesn't come naturally to me. In our edited, online worlds, I have to believe it doesn't come naturally to a lot of us, but I'm craving it. I want to open up about creative struggles, insecurities, and my attempts to regain the values I set for my life and business. This feels a bit unnatural to me, but I'm attempting to embrace the real, the awkward even. There's no denying business is hard. I've let a lot of that cloud my purpose and what I want Lily & Val to stand for.  I want to slow down, enjoy the coziness of my home, take morning walks, start journaling, cook dinner with my husband, and make lots of offline memories with friends this summer. Less hustle, more hygge. 🙂
If you've joined me on this journey recently, or if you've been following along since the beginning chalkboard days, I want to say thank you. I'm still in awe at this life I've been given and I want to live with a thoughtful intention. It will be bumpy along the way and certainly not perfect, but that's life. In chalk art and lettering I say to "embrace imperfection," and I'm slowly learning to accept this in every area of my life. Here's to more unedited moments and letting go.
("Just be yourself' photo was taken by Gina Zeidler at Inspired Retreat. We were to write down the advice I would have given when I started my business. It is still very appropriate and something I'm telling myself now.)