This just in: new kitchen-themed lovelies from Lily & Val! A slew of recipe cards, tote bags, and new prints hit the shelves and we are beyond pumped to share them all with you. You can read more about the heart behind the collection here. With that and the idea in mind that great recipes are meant to be shared, we brainstormed 7 ways to use our new recipe cards and spread the love!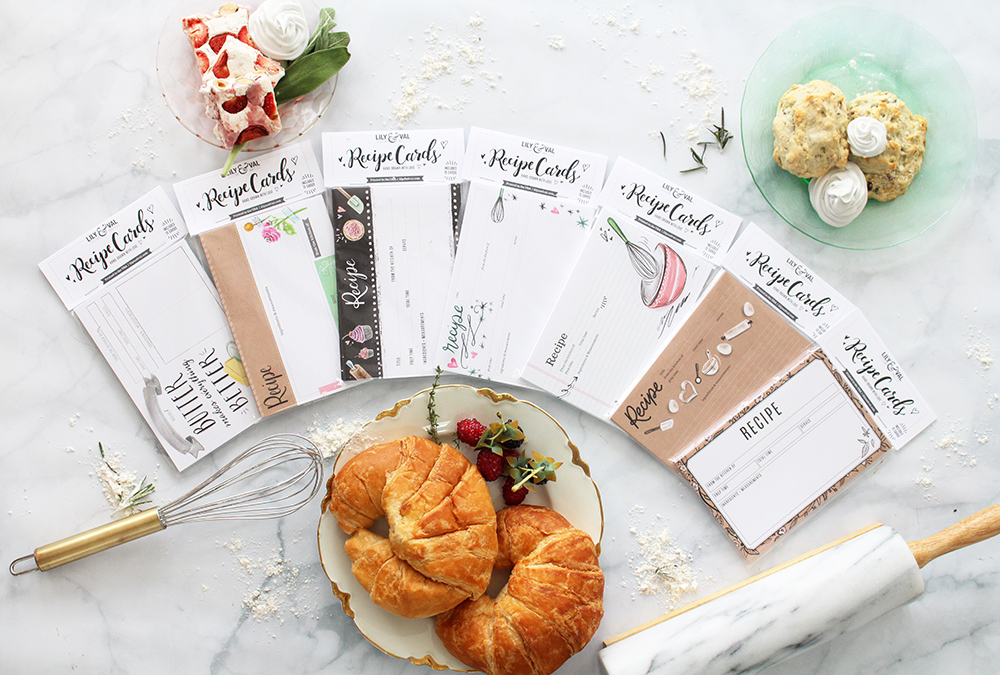 1) Hand-Deliver a Dish
Know a friend who could use a little pick-me-up? Bake a decadent dish and hand-deliver it to their door with the hand-written recipe in tow! They'll appreciate the indulgence, the company, and the possibility of making it for themselves while following the instructions you included. Our "Butter Makes Everything Better" card is a great accompaniment to a sweet treat.
2) Send a Surprise Snail Mail Recipe
Recently, my good friend Virginia sent me a card with a joke and a smiley face written inside. The gesture was simple, but it has been providing me with an endless amount of joy this week. Taking a page out of Virginia's book, we recommend mailing a hand-written recipe card to a friend! Our chalk-illustrated recipe cards pair perfectly with this classic "Celebrate" card.  Add a few mini party hats to the package and you have a sweet birthday surprise. (PS: you might need a bigger envelope to comfortably fit the recipe card plus the note card.)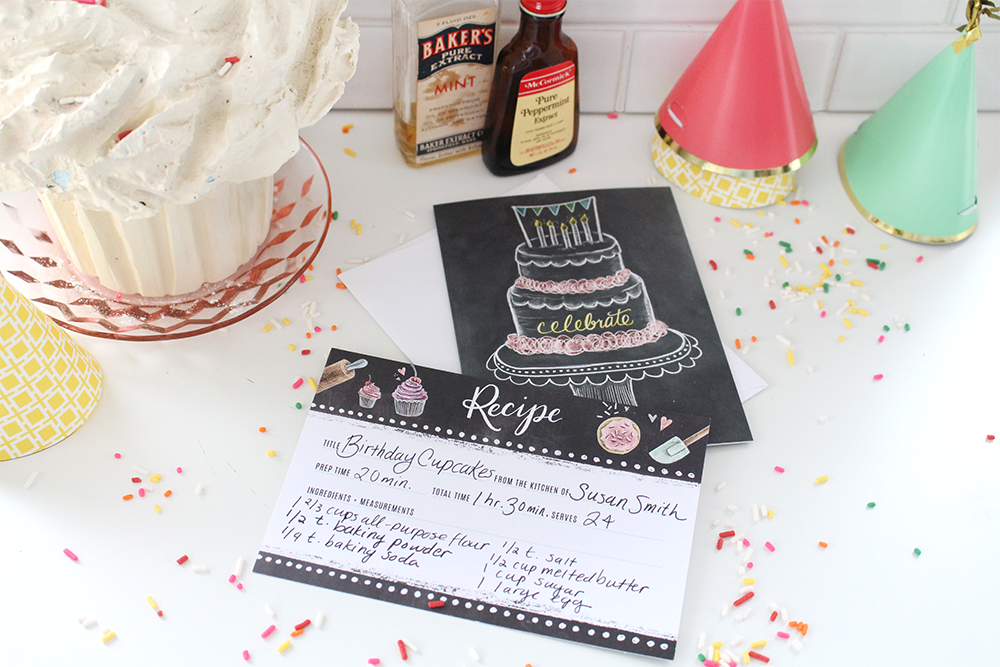 3) Host a Bridal Shower Recipe Party
Bridal showers inspire the exchange of well-wishes, advice, and especially recipes! Bring a package or two of our Floral Recipe Cards to a bridal shower. Then, encourage guests to share their culinary secrets with the bride-to-be. Another idea is to send a recipe card with the bridal shower invitations and ask guests to bring their hand-written recipe with them to the shower! We think our Floral Recipe Card design is perfect for a bridal party!
4) Reminisce with a Family Member
We all know the dishes that cause our families to enter into a sort of Battle Royale for the final bite. Pick one of these favorites and ask the top chef in your family to memorialize it with their own hand-writing on recipe cards. This is a favor I'm sure they will be honored to accommodate, especially if you emphasize their skills in the kitchen when asking. Each person in the family can then have that special recipe card to keep and remind them about past family gatherings.
5) Inspire An Office Lunch Party
A good luncheon doesn't need an occasion – inspire a recipe exchange for the office! Have coworkers sign up for a dish to bring. Each person can accompany the dish with a stack of recipe cards with instructions on how to make it! As we believe every recipe stirs up a memory, sharing dishes is a way to spark up a conversation and learn something new about your fellow coworkers.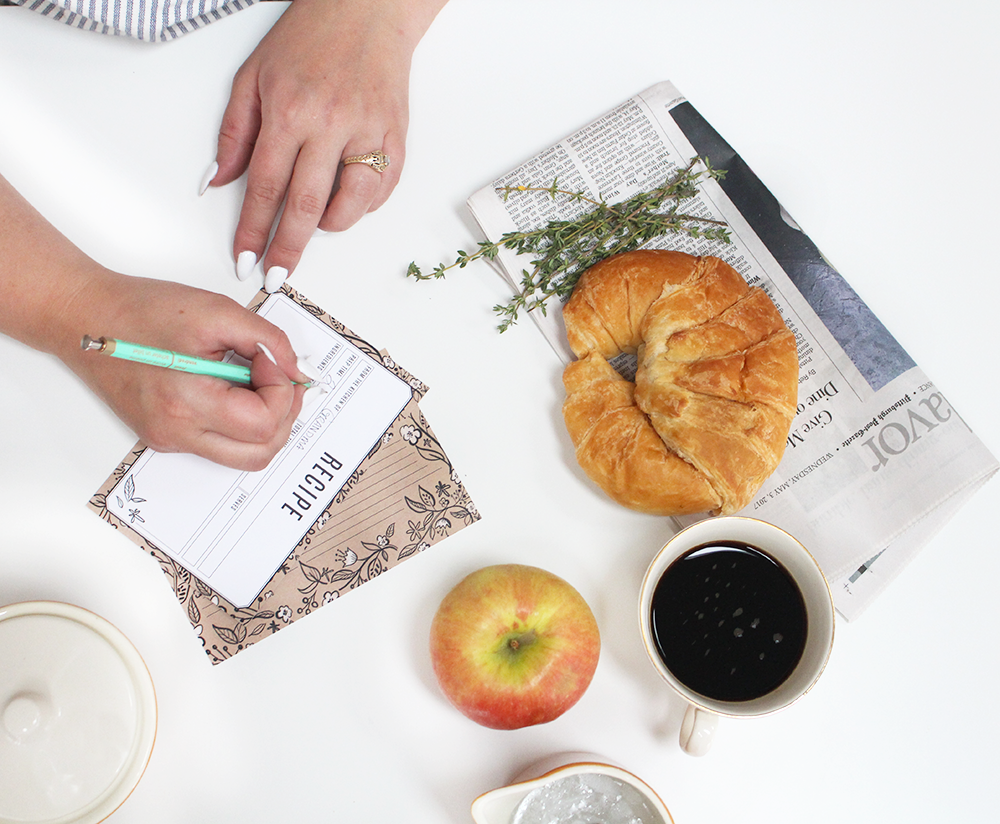 6) Give A Thoughtful Housewarming Gift
After a long day of moving and preparing the house for guests, it's always nice to have a ready-made meal at your fingertips the next day. As a housewarming gift, we recommend a homemade meal complete with the recipe! Get a pack of our Kitchen Mixer cards, fill out the first one for your pal, and tie the remaining empty cards together with a bow.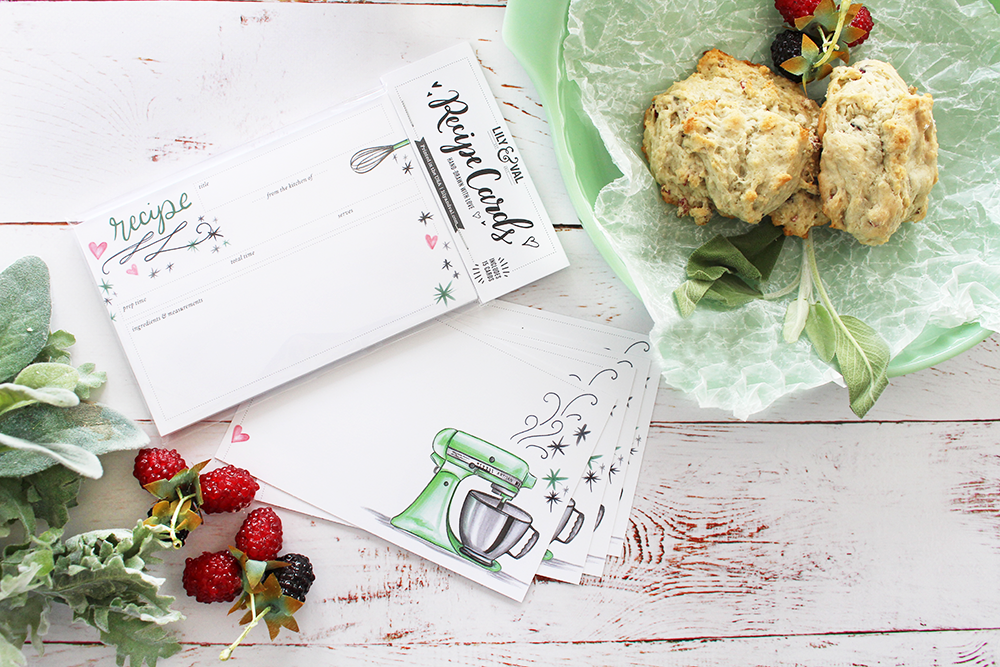 7) Have a Potluck
Every Monday night, my friends and I get together to shamelessly watch reality shows on television. Sometimes there is a theme for bringing food and sometimes there isn't – but I can guarantee, every single time recipe exchanges occur. Host a little potluck of your own! Ask guests to bring a dish and have an assortment of recipe cards ready on the "buffet" table. Guests can easily swap recipes as they nibble. The party doesn't need to be fancy, decorated, or even well-planned! Simply invite a handful of friends and watch the fun happen. The "Watch Me Whip" cards will be well-loved in my circle.
What are your ideas for spreading the love with recipe cards? Comment below and let us know!
Shop all of our new recipe cards here.
Don't miss our last post – we have a huge giveaway going on over there!
See them all below and let us know which one is your favorite!