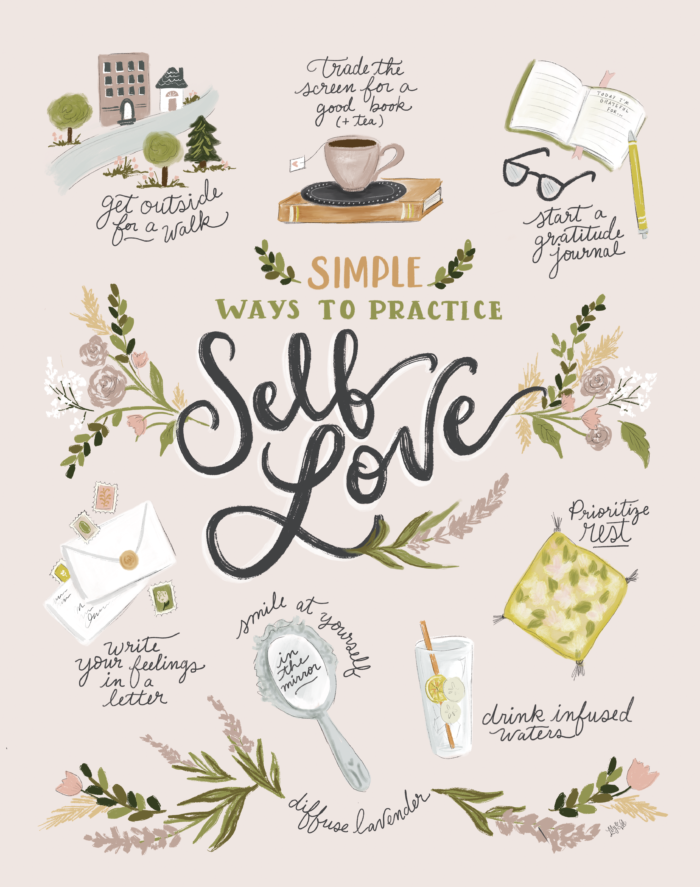 With it being Valentine's Day this week, I thought I'd share something that's been on my mind lately: Self Love. I know, I know it seems that "self care" and "self love" have been buzzwords lately, but for good reason. It's so important to take the time to fill ourselves up so that we can pour into others. The world needs who you are meant to be and I believe practicing some self love is the first step in living that truth.
<h3>So here are 8 ways I've been practicing self love lately and, of course, I had to draw them out.  These things are simple, but sometimes it's the simple things that make the biggest difference.</h3>
And if these resonate with you too, this drawing is available as a print in the shop! It would make for a great reminder on your desk, I think.
1. Get outside for a walk.
This may seem so obvious, but guys, I need this reminder to get outside. I NEVER regret it. There's something about being out in the fresh air and moving a little bit that brings me back to life.
2. Trade the screen for a good book + tea.
This is what I'm reading lately! And Vanilla Comoro by Harney & Sons is my favorite tea  (it's decaf, which makes it perfect for evening.)
3. Start a gratitidue journal.
Go ahead and treat yourself to a brand new journal (isn't that the best feeling?!) Listing three things you are grateful for each day will do wonders, but don't stop there- add drawings, photos, dried flowers. Light a candle while you journal to make it a nice experience for yourself! Write poems, lists, whatever sparks joy to you.
4. Write your feelings in a letter.
I've written many times about the benefits of letter writing and one of those benefits is that it gives you the chance to get your thoughts and feelings out of your head and onto paper. It's therapeutic like journaling in that way. Plus, those thoughts will help deeper your connection to the recipient. Deep, meaningul, real relationships are incredibly needed in order to live a happy, fulfiled life. Not ready to share your feelings with someone? You could also try writing a letter to yourself or future self.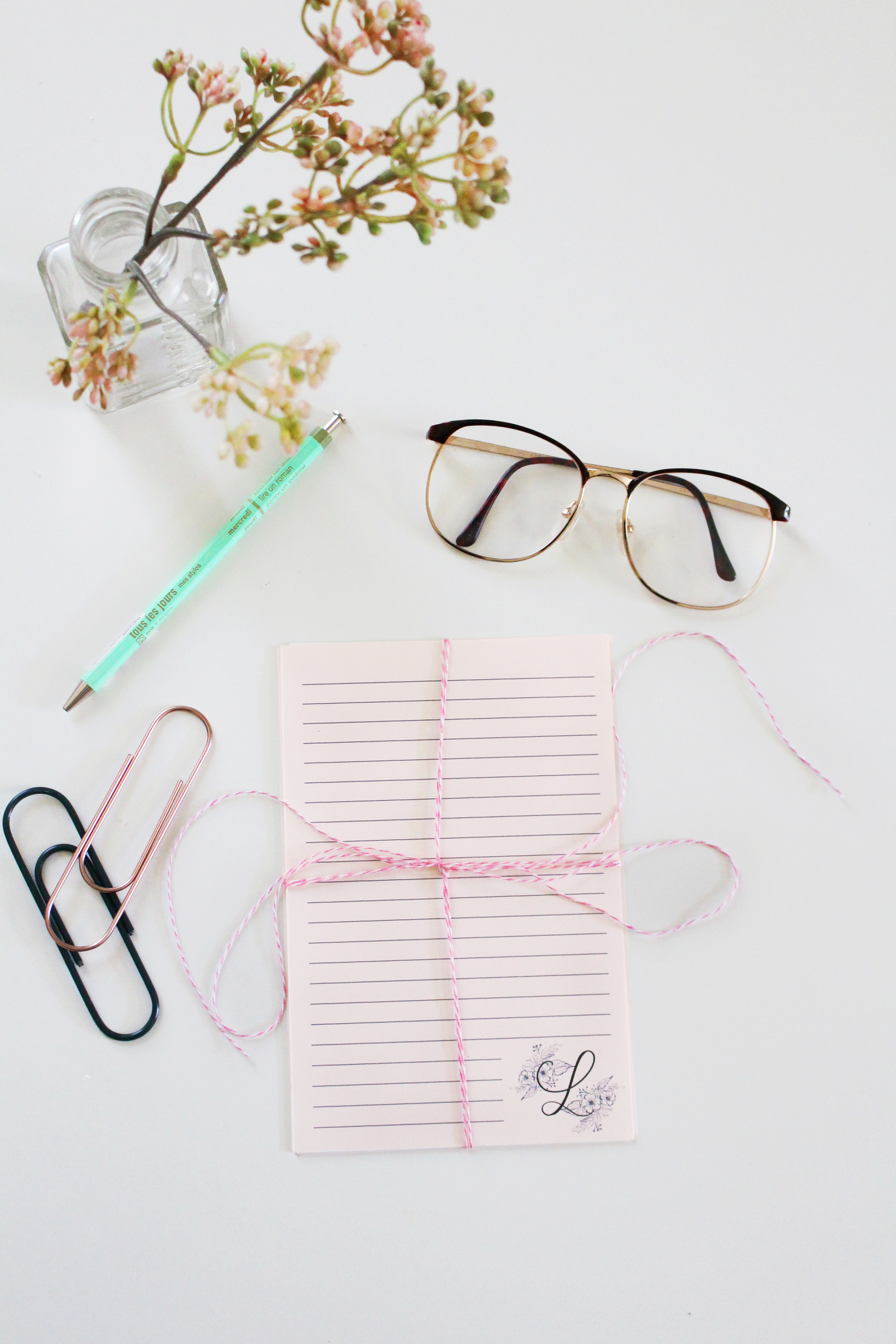 5. Smile at yourself in the mirror.
This is another one that might sound silly or overly simple, but it WORKS! Just try it. There's something about it that will make you feel kinder toward yourself. Everytime I look at myself in the mirror, I've been making a conscious effort to smile and it's been elevating my mood.
6. Drink infused waters.
We all know the benefits of drinking more water, but I just struggle with it. If I make it a little bit more special though, I'm more apt to drink it. It just feels like a treat with really minimal effort at all!
Try this strawberry mint water: 3 strawberries sliced 5 mint leaves whole 32 oz of water *infuse for a few hours or overnight for best flavor
Other great combos to try: cucumber & lemon, strawberry & basil, blackberry & ginger, mango & raspberry.
7. Prioritize rest.
This one is the most difficult to me. I have come to accept my personal capacity (it's different for everyone) and work with that. Learning how much rest I need has been crucial to my well being! That way, I can look at my obligations in any given week and make better decisions about what I can and can't take on. It's really an act of self love to say "no" sometimes. Learn your own rhythms, capacity, and prioritize the rest that you need.
8. Diffuse lavender.
Lately, I have been loving essential oils and learning all that I can. Lavender is one of those amazing, must-have oils beneficial for a host of things. In particular, though, diffusing therapeutic-grade lavender when you need to relax or before bedtime is a game changer! Even my husband thinks it's made quite the difference when we diffuse it at night.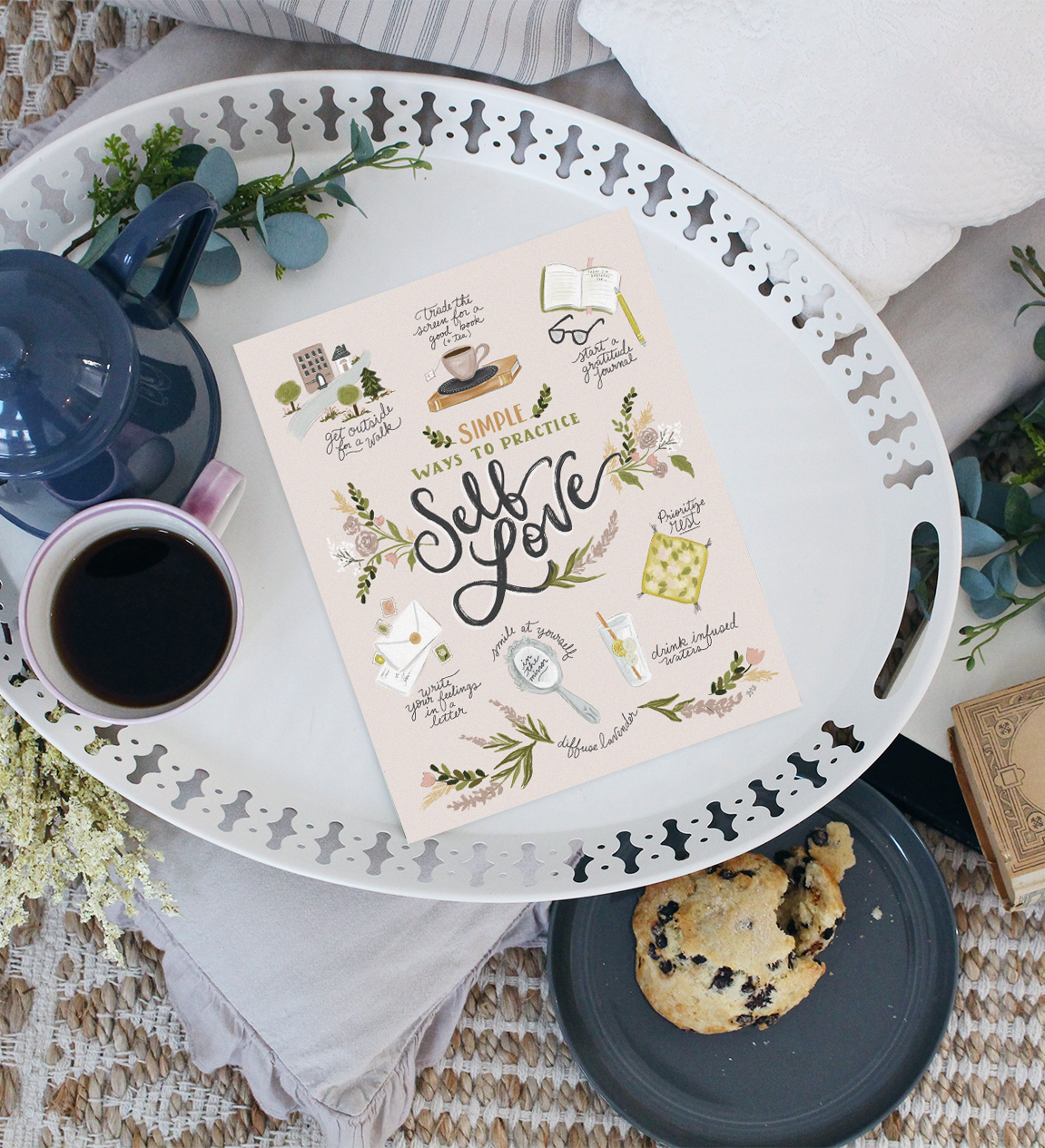 I hope you've enjoyed these tips and are feeling inspired to start your own self love practices! What is at the top of your list for self love? I'd love to hear it in the comments!
One of the quotes I mentioned – "the world needs who you were meant to be" – is also a new print in the shop. I just LOVE this quote so much. It's a great reminder to help us realize the importance of operating at our best selves. Find it in the shop along with the other prints mentioned in this post here! 
Happy Valentine's Day, everyone!