Finally, a bridal gift emergency kit they can actually use for the Big Day and pack for the honeymoon! We've put together a list of items to include in our hand-drawn Lily & Val "Bride" zippered pouch that will keep things rolling on the day she says, "I do!".
Wedding Day Mishaps – Avoided!
A few of us on the L&V team have been in weddings before with different mishaps that needed attention on the spot. In addition to spare makeup and hair essentials (foundation, mascara, eye liner, comb, etc.), we've found these items to be the most helpful:
– Baby wipes and a Tide To-Go Pen: yes, we mean actual baby wipes. These little guys are used to wipe off dirt from the bottom of the bride's dress for photographs. Furthermore, the to-go pen will help the cause even further.
– A spare set of wedding bands: in case that ring bearer has too much on his mind, it's better to have something to put on newlywed fingers than nothing at all! We recommend a stylish stacking ring that you'd want to wear later anyway.
– Makeup remover towelettes: even the most cool and collected bride can be subject to tears of joy on this emotionally-driven day.
– Needle and thread: any dress can be stepped on or caught up on a snag. Head off a noticeable tear problem with this little bit of preparation.
– Wisps from Colgate: they're like mints on steroids! These little wands act as mini disposable toothbrushes.
– Tweezers and band-aids: Did you think those rustic wedding photos on a natural log were going to be easy? While they may be dreamy, we recommend tweezers on hand for any accidentals – splinter or otherwise.
Packaging Your Bridal Gift Emergency Kit
Now it's time to make it all look cute for fun gifting to the bride!
Fill a piece of tissue paper with all the cosmetic goodies you have on hand: illuminators, mini nail polish, eye liner, blush, lipstick, mini perfume, and some rose hand cream. We used a fun hair tie bracelet to seal the deal around the tissue paper (below).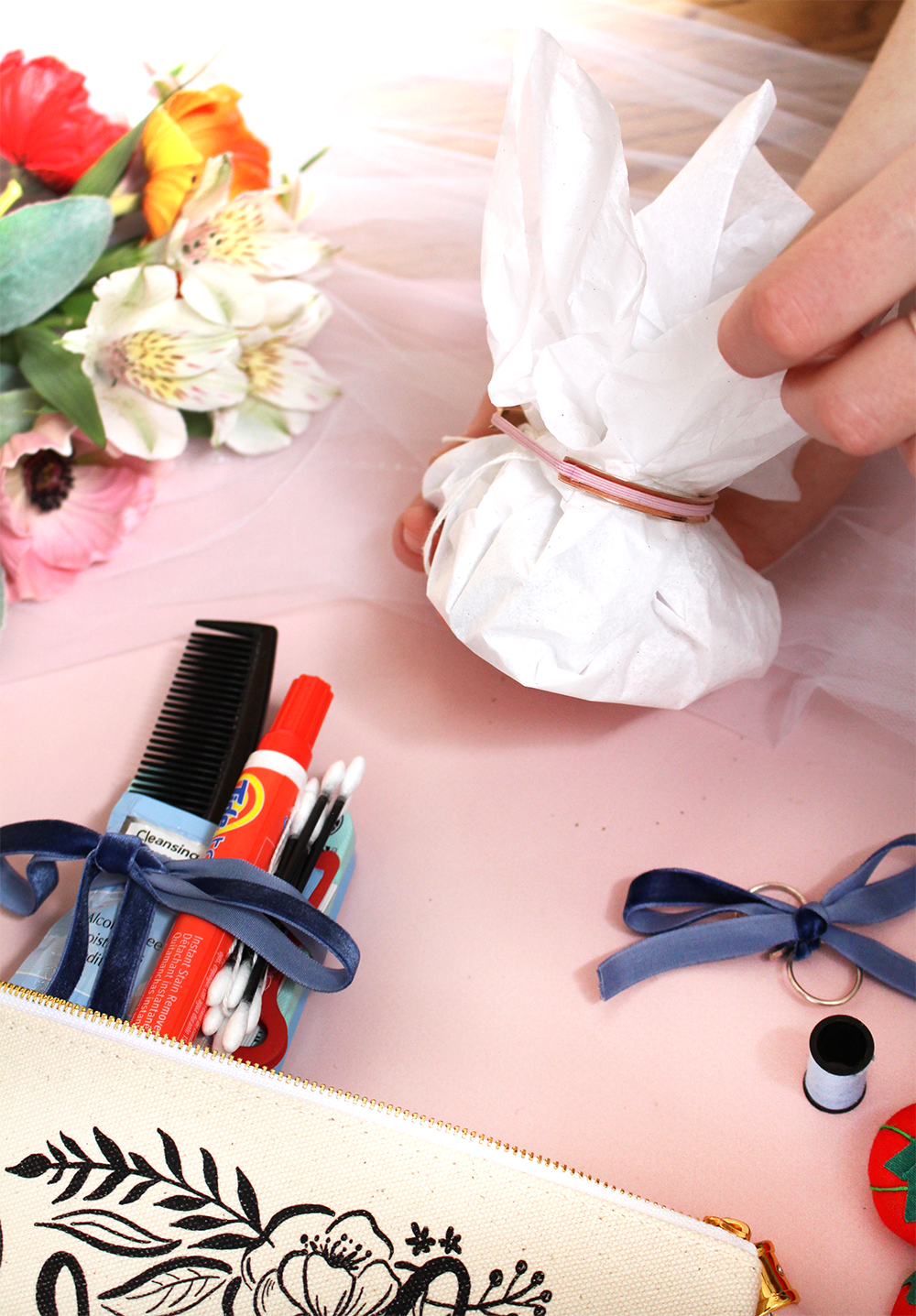 Next, bundle together all the practical items like the towelettes, mints, q-tips, etc. and tie them with a beautiful blue ribbon. Also, this blue ribbon can also serve as a little "something blue" in the ceremony.
Lastly, make the bridal emergency kit personal with a hand-written tag! We recommend a vintage-y blue tag to match the ribbon. Tie it on the zipper pull with the ribbon and extra wedding bands to really set off the look.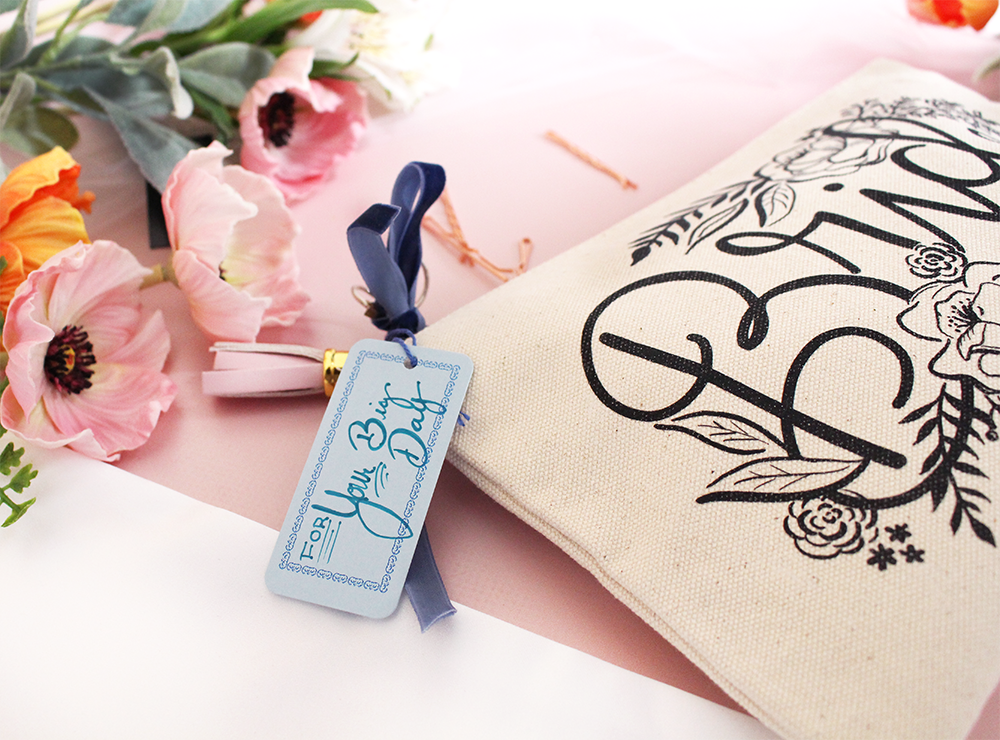 This kit can contain countless items! We chose the prettiest to photograph (of course!), but made a list of other necessities to give you a little inspiration: mini hair spray, eye drops, stomach reliever, Advil headache reliever, tampons, baby powder, mouth wash for extra freshness, safety pins, lip mask for dryness, bobby pins, hair ties, and peppermint oil. Peppermint essential oil is said to increase concentration and eliminate headaches naturally.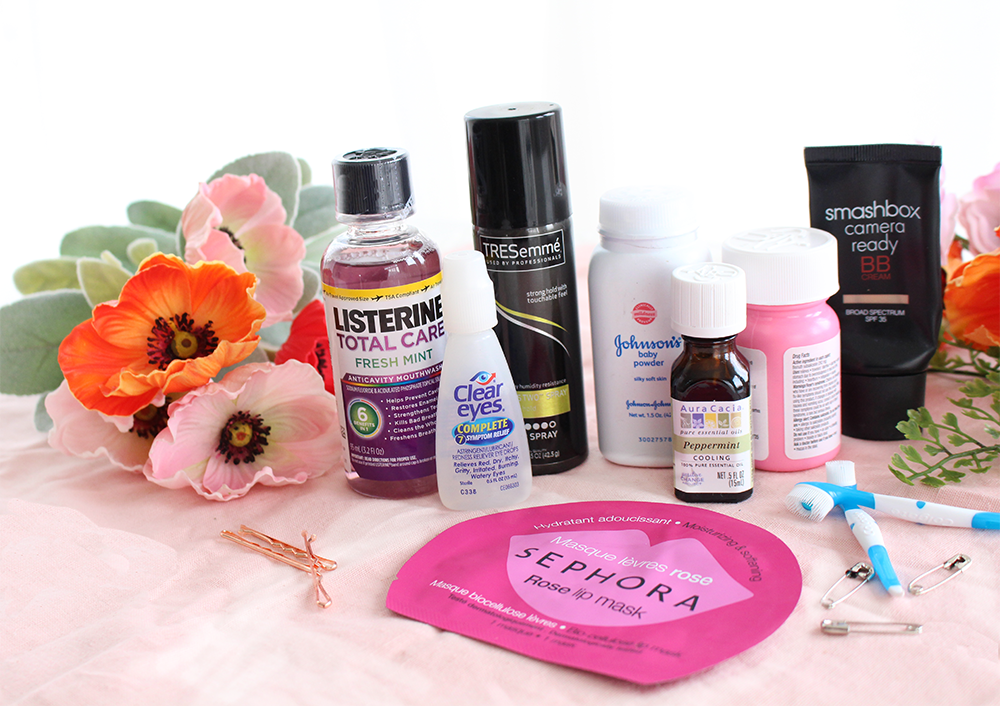 You know the bride best! Whatever items you decide to put in the bridal emergency kit, you can be sure she will appreciate it on the Big Day!
Have a story about a wedding day problem being solved with an emergency kit item? Tell us in the comments!