We've talked about recipes and crafting days with the Keepsake Kitchen Diary – but today, you will see how to approach pages that you may want to have a little more pizzazz! Of course, your recipe memory book is yours to be as intricate or as simple as you wish – simple is beautiful. Though, we can never say no to a Keepsake Kitchen Diary Scrapbooking Extravaganza – nor can we resist sharing our tips for exploring your creativity for an adventurous recipe spread!
Choose a Category
Sweet or savory? Soup or starter? If you don't have a recipe in mind quite yet, start with a category and mentally explore the dishes you remember from that category. I chose dessert this time…and most other times as well! This particular hand-drawn divider in the Keepsake Kitchen Diary has become very familiar to me…
Pick your Recipe
Grab that inspiration! Choose a recipe that excites you – or one that gets your mouth watering at its very mention! For the spread below, I chose to go down a road of bookworm delight. You see, I am quite a nerd – particularly when it comes to the Harry Potter fandom. With the release of Fantastic Beasts and Where to Find Them came a glorious opportunity to try a new recipe, and to make my own recipe page for a dish that really came alive in the movie.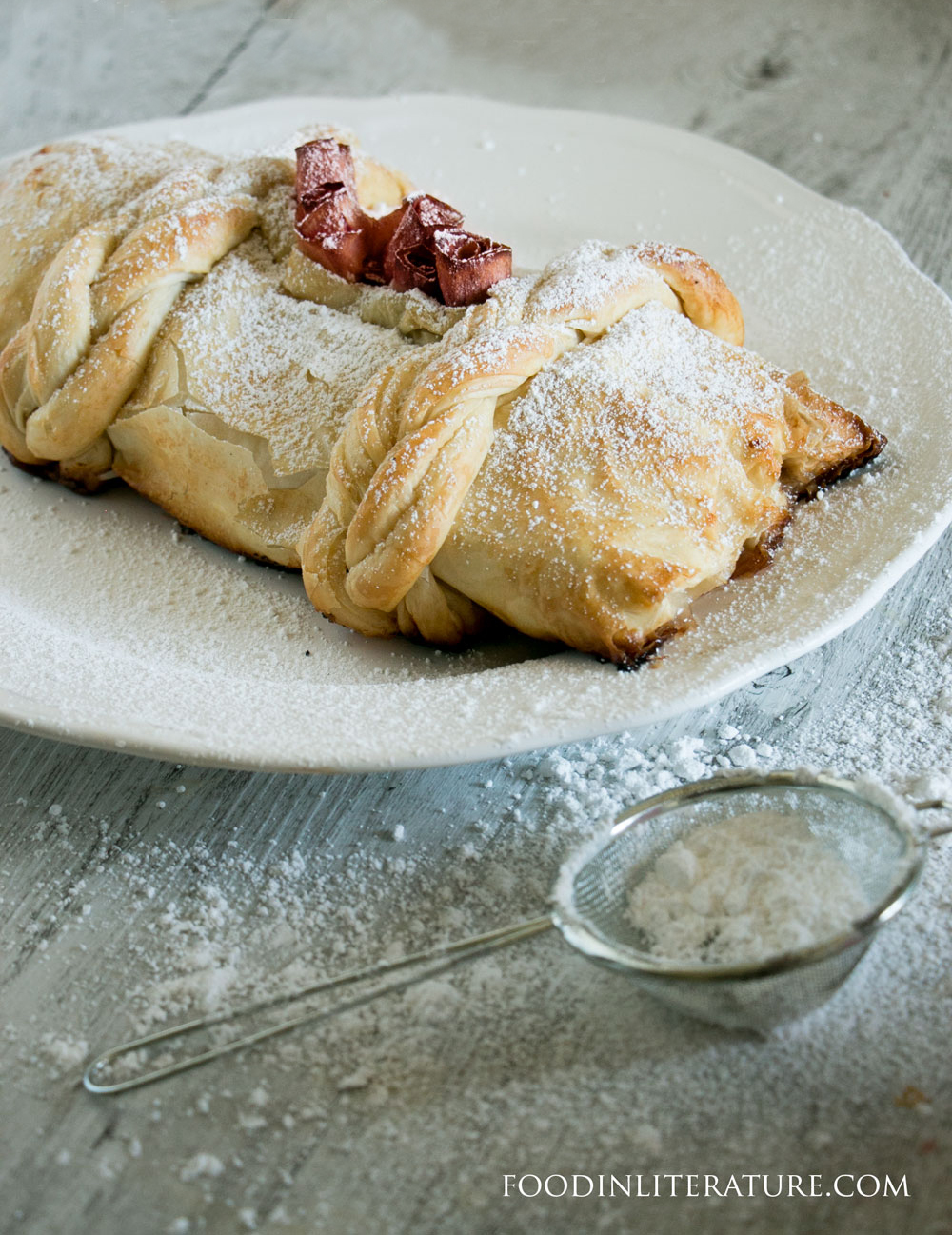 In the movie, a character named Queenie waves her magic wand as a captivated crew watches a mouth-watering Apple Strudel assemble and bake in midair. Myself being without a magic wand, I ran to Pinterest in search of the perfect Apple Strudel recipe. (The above photo and recipe credit to Bryton Taylor)
PS: Below is one of my favorite Keepsake Kitchen Diary scrapbooking opportunities – the notes section! (close-up below). Did I mention your handwriting need not be perfect?
Decide on a color scheme
How does the recipe feel to you – spring, fall, winter, summer, light, heavy, bright? Choose your direction based on the memories or ideas the dish conjures up. You can use colors from the ingredients for inspiration. In the case of my apple strudel page, I wanted to stick with the color scheme that surrounded the character who baked it into being – Queenie! Her attitude was feisty feminine with outfits and a complexion that favored pale and deep pinks. Voila!
Gather Your Supplies
Keeping things as simple as possible, the Lily & Val crew loves to pull fun paper patterns from various books. We find Flow's Book for Paper Lovers or various scrapbooking packets from your local hobby store to work perfectly! Choose your favorite paper in the color scheme you decided upon. Grab your preferred writing utensils and match them with the paper. We also like to grab a slew of washi tape and compare it side-by-side with the paper we chose. This is the time to play with colors and patterns – by laying them out first, you haven't yet committed. You can style your choices any way: mis-matched or matchy-matched is all kosher here.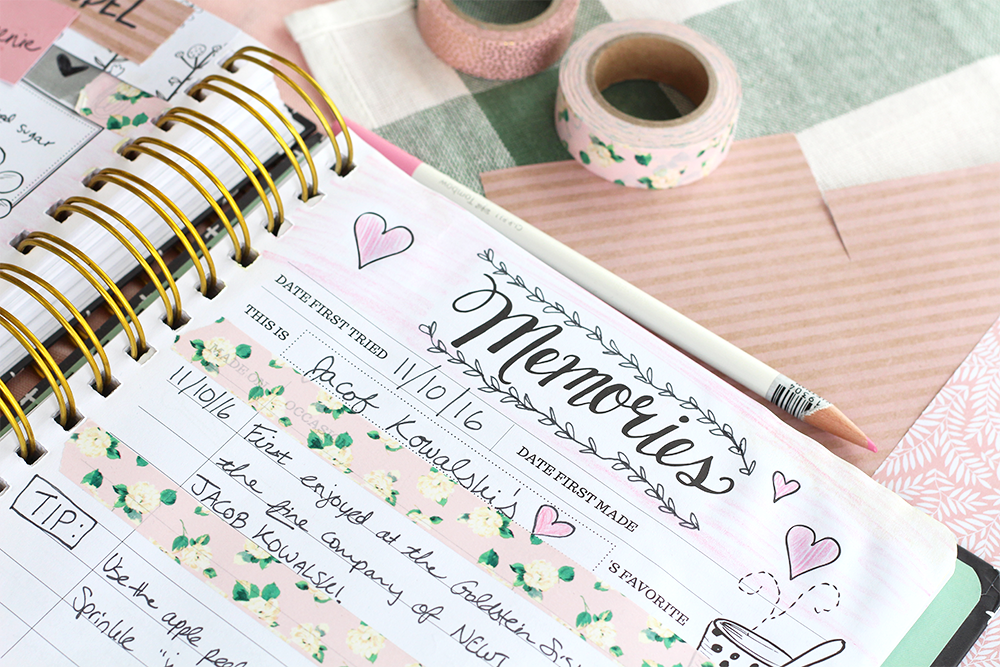 Layer up!
Mix your paper selection and don't be shy with that washi tape! Layers reinforce a scrapbooked feel and add interest with texture. Put paper on top of paper! Washi tape on top of washi tape! Getting crazy in here. Plus, the added bonus of layering is its ability to effectively cover up mistakes! See the fun, layered Apple Strudel title below? There are 2 consecutive mess-ups underneath that beautiful layered grouping.
The Reveal
And here you have it, everyone. The finished recipe spread. I can't tell you how long it took because I was having too much fun creating it to bother with the clock – however, I can tell you I whizzed through the creation with care-free ease. Above all – be sure to have fun with your recipes and your Keepsake Kitchen Diary scrapbooking adventures!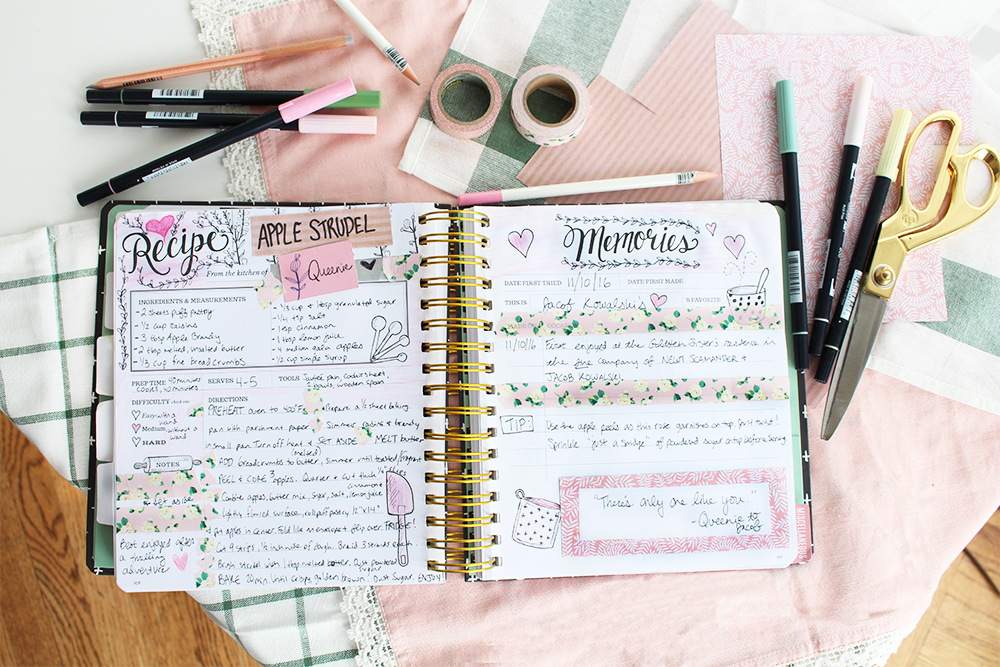 Remember to tag us in your creations – #keepsakekitchendiary and #lilyandval. We want to see!