You probably know we love vintage postage and snail mail around here. We hope you get a chance to send a few special letters during this years National Letter Writing Month on our new Downloadable Stationery Sheets.
To add a little pizazz to your next letter, card, or craft project, we have rounded up some of our favorite sources for vintage stamps both used and unused. Most of these sellers have ready made sets that will meet current postage stamp price requirements, but alway be sure you include enough vintage stamps to add up to current postage rates on all of your letters or packages.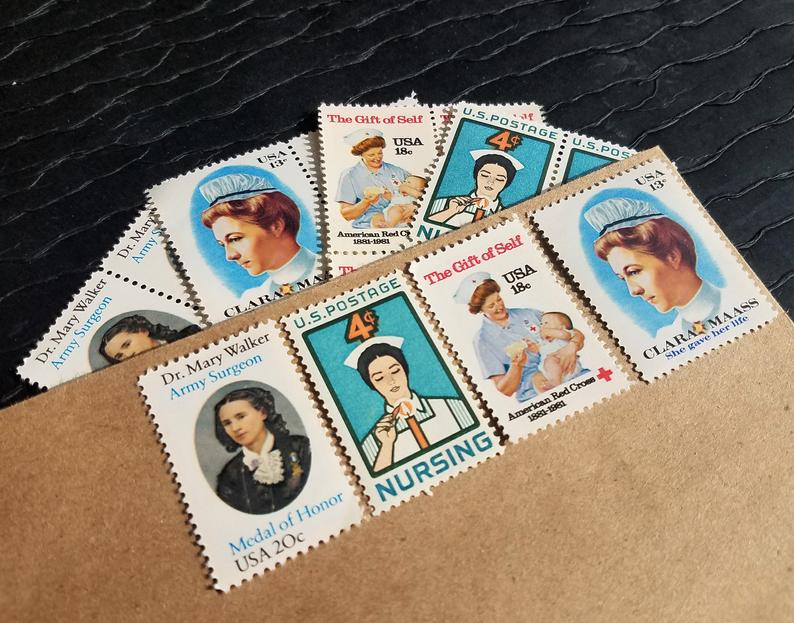 We have shared Verde Studio many times before because we just love their curated vintage postage stamp sets! We love that she includes unique themed sets as well like this super fun vintage nurse set.
I love that the Vintage Postage shop gives you the option to curate your own set of 10 or more stamps. Mix and match by theme or coordinate the colors to your  new printed stationery!
These floral vintage postage stamp bags are great to dress up stationery or other crafting projects. You can get them in sets of 40 or 80  for a great price. Try making a frame of floral stamps for a new spring decor piece.
These beautiful sets of pink floral themed stamps are ready to help you send your letters this spring. Each set has enough to send 5 letters or cards to your 5 favorite people.
How beautiful are these unused unique triangle stamps. They are sure to add a little flair to any special mail you send.
Happy National Letter Writing Month!
Our Lily & Val Loves Series contains affiliate links. That means a little bit of your purchase through these posts helps us just a little too! This changes nothing about your purchase price, and we are not asked to feature these items. These are just things we carefully pic because we love them and think you will too! Thanks for helping spread the love! xo