I change colors so frequently in our home…maybe too frequently. I love having a reason to play with a new shade. Every year around St. Patrick's day I get to use one of my favorite color families, GREEN!
There are so many shades of green, and they don't all play well together, but if you have a favorite shade of green, start there! I personally love emerald, kelly, and chartreuse greens.
Keep reading for my tips on how to decorate your home with the color green…
Keep Large Pieces Neutral
In order to be able to use new colors in my decorating, I keep most of the large elements in our home neutral. My preference is for a mixture of cool and warm colors. What does that mean? Cool colors include greys and black accents. Warm colors include tans and creams. Doing this lets you have fun with accent colors.
Choose An Accent Color
Once you choose the shades of green you will use, choosing an accent color to go with it will help make your green decor more sophisticated than the shamrock clad St. Patty's Day decor one usually sees this time of year. I chose to accent with mauve and plum this year, inspired by a painting I did last spring and a new vintage piece you'll see below. These colors are only used sparingly but provide a nice break from the green shades.
Unify The Space With Small Elements
Sprinkling the green shades all around your home helps to keep it from overwhelming your space and provides unity. Small elements are best to change out colors: think throw pillows, vases, florals, books, and trays.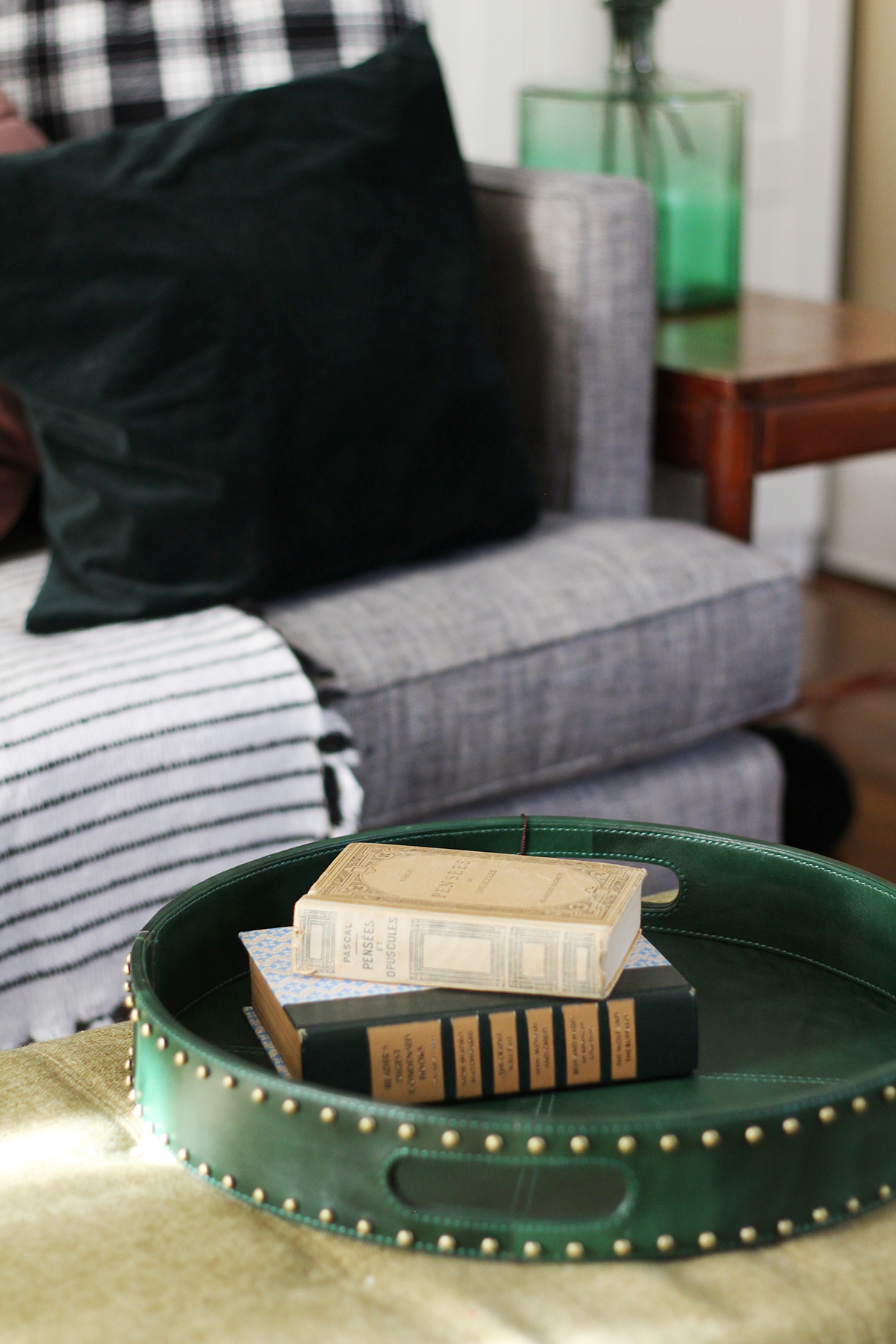 These black and white pillows are my favorite throw pillows. They go great with almost any color scheme I try out. Here I added a mauve pin-tuck and a deep green velvet pillow to the mix to make the room more festive.
Mix Textures
Adding a variety of textures helps keep the look clean. For example, I love using green glass. It's light and translucent while the velvet or leather of the other decorative elements provides a heavier look.
Add Faux Foliage
Of course, I love adding faux foliage into the mix. When you find the good stuff, make sure it matches the shades of green you're using and put it in a statement glass vase. This will tie any space together and give it a designer touch!
Here I used some beautiful blue/green, faux eucalyptus and these beautiful little tan sprigs that tie in the mauve and natural tones.
Contrast Deeper & Lighter Shades
When mixing shades of green, contrast deeper shades with ones that may be a bit lighter. This year I used a touch of chartreuse with my deeper emeralds. This was inspired by this marvelous vintage sewing basket that I recently added to my collection.
Can you spot the items from Lily and Val Loves? It's perfect for green decorating.
Use Artwork To Tie Your Color-Scheme Together
If you need something to tie your color-scheme together consider using artwork to make a statement. New art is easy to change out and can really bring color into any space.
I love the new "Love" chalk design on this beautiful, grown-up version of a green chalkboard. We are so careful with colors around here, and I think this shade of green will be the perfect fit for so many styles.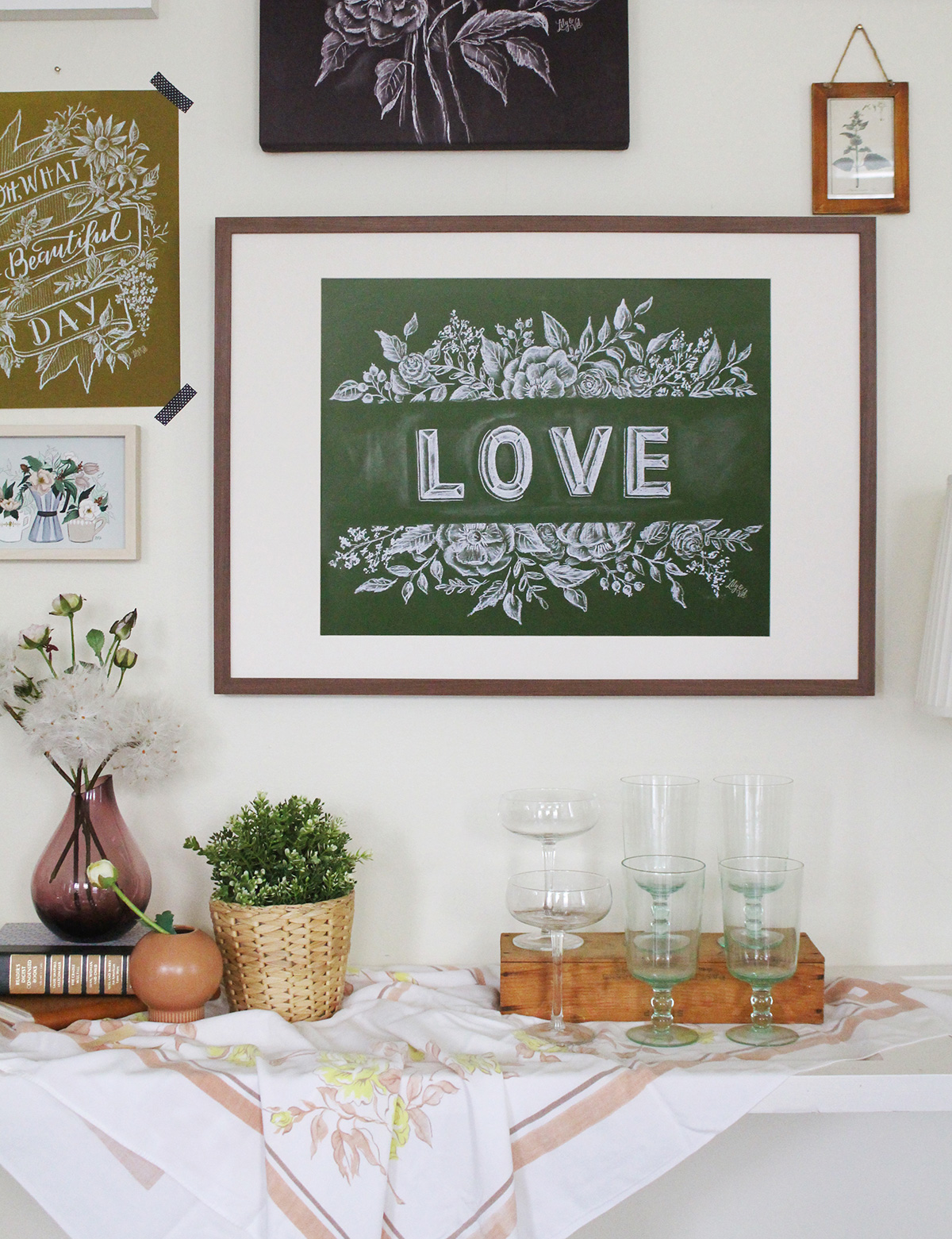 I hope that you enjoy incorporating some green into your home is a beautiful and classy way this spring. Happy St. Patrick's Day everyone!
Cheers!