After working hard through the winter, I like to take a nice warm afternoon to open the windows, let a breeze waft in, and reorganize my desk. Anyone else do this? I'm by no means a Type A person but I do find a little reorganization clears my mind and helps the creativity flow more easily. Keep reading for 5 of my best tips to refresh your desk for spring!
Go Vertical with Storage
One of my biggest messy habits is to leave loose papers, receipts and mementos everywhere. I take them out of my purse and let them pile up on my desk. My favorite way to solve this? Go vertical!
I recently bought this gold wall grid at Target and it has been a lifesaver. I use it to hang business cards I want to keep, inspiration (like the print in the photo, which is from Get to Workbook), my minimal faux wreath, ticket stubs, and anything else I need to remember to not throw away. Command strips are my best friend for keeping it secure.
You can find all sorts of vertical storage to reorganize your space – think shelving, wall grids, magnetic boards, bulletin boards, pegboards, hanging jars, magazine racks – there are so many great options!
Keep Necessities at Hand with a Pretty Pouch
Whenever I leave my desk to head to a coffee shop for more work, I tend to cram anything I might need in my purse pocket. This usually results in me forgetting something important or losing something at the bottom of my bag.
Now, I keep a handful of basics that I'll always need in a zippered pouch for easy travel. That way I can throw it in my purse while staying organized but it also looks adorable on my desk!
I keep my glasses (just in case), my Apple Pencil, my favorite pens, a few paperclips or binder clips, mini tape, a mini pencil sharpener, and my headphones in my favorite Lily & Val pouch.
Repurpose, Recycle, Reorganize
One of my very favorite ways to reorganize? Repurpose something else to make it work for you! For example, I cleaned out a Trader Joe's potted orchid (RIP) and turned it into a super cute utensil holder.
I already loved the clean white color, large volume and interesting design on the orchid pot, so why not recycle it and keep that beauty around? Nobody knows what it used to be, or how I have a black thumb.
Liven Things Up with Plants
Speaking of plants (and killing them), you can bring a lot of energy and life to your desk with fresh flowers! Or, if you can't keep flowers alive – like me – go with faux greenery.
In the below photo you can see my mini felt cactus (which doubles as a pin cushion) and on my wall grid is a desk-size faux wreath.
If you're good with plants, having some fresh ones on your desk will bring an oxygen boost and a wonderful smell. If you're bad with plants, faux ones will brighten up your space with pretty colors – it's a win-win!
Change Up Your Desktop Wallpaper
Whether you have a desktop computer, a laptop, or an iPad (like me), changing up your screen background can have a big impact on making things feel new.
Need inspiration? Every month, Valerie releases a free monthly desktop download! The April "Collect Beautiful Moments" download is here, but you can find all of our monthly releases here.
It's also a good idea to clean off any unnecessary documents or apps on your home screen to get rid of that extra clutter. I usually go through my folders every month or so to pare down.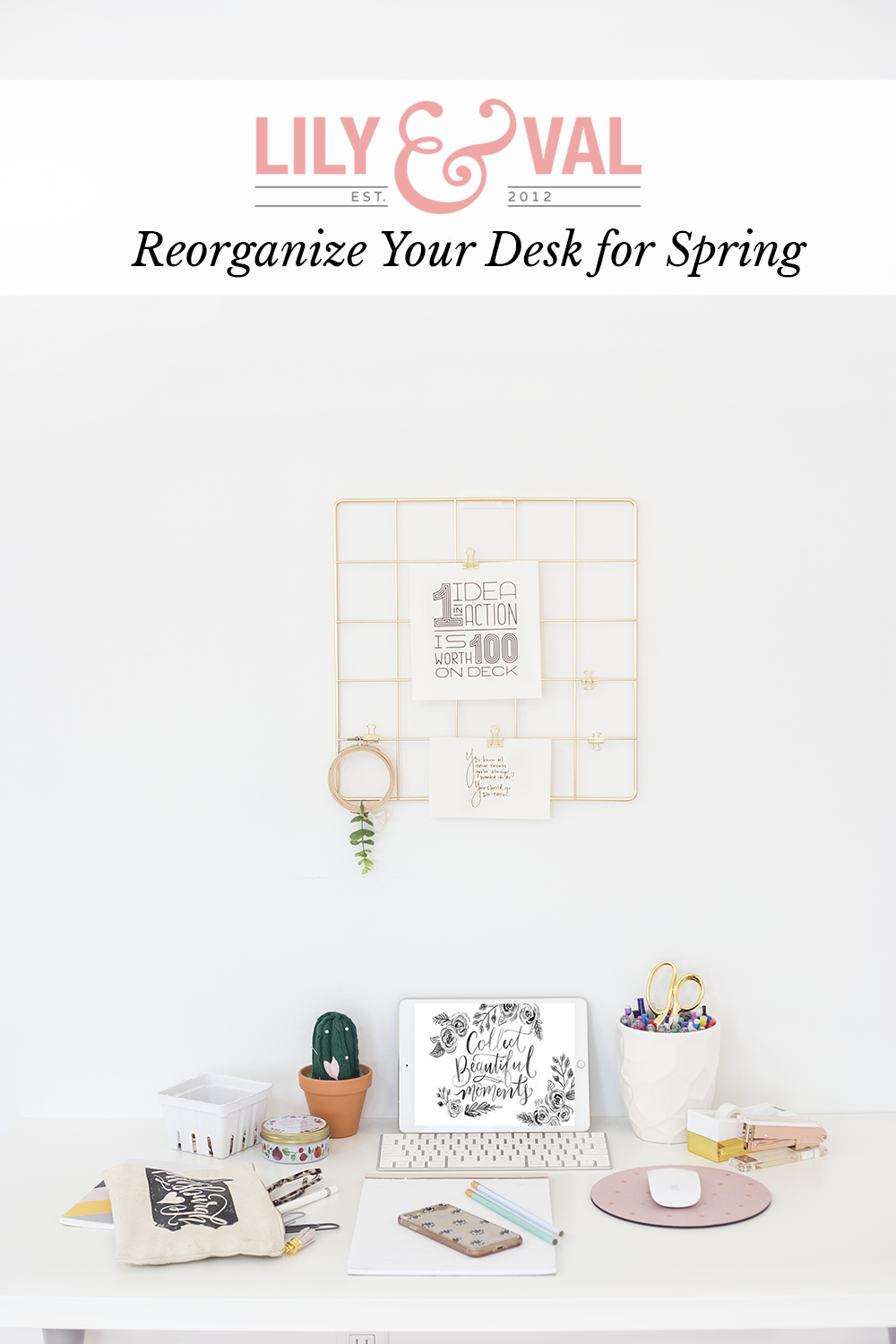 Well, I feel better! There's nothing like taking the time to reorganize to make me feel refreshed and ready for what's next. To inspire your organization journey even more, I asked the Lily & Val team what their favorite desk accessories are! Here's what they said:
Valerie – "I love my Inkwell Press Daily Download pad!"
Alivia – "My Seven Year Seltzer pen – perfect for Earth Day attitude."
Emily – "My vintage vanity pad, used as a desk pad!"
Julie – "I'm super proud of my oil and acrylic paint organization system. I got the idea from Pinterest. I 'made' it myself with a metal peg board, hooks and paper clips!"
Mak – "My Mr. Coffee coffee mug warmer from Alivia. 😀 "
My favorite desk accessory is my Sugar Paper lined notepad set (similar) – I love ripping off each sheet when I don't need them anymore. It's as great as popping a whole roll of bubble wrap.
So what did you think of this post? We'd love it if you would share your desk space with us! Tag us on Instagram with #lilyandvalliving and pin the above image if you want to share this with friends!
Happy reorganizing!