I'm so excited about this little addition to Vienna's nursery – a hanging flower mobile! I think this concept could be so cute as a flower chandelier for a party, too!
It's a bit time consuming to make because of the safety precautions for hanging above a crib, but I love how it turned out!
You will need:
A large wooden embroidery hoop
Natural colored twine/string
Various faux flower stems
Scissors
Wire cutters
Hot glue gun
Super glue
This project is especially nice when you have leftover faux flower stems from making other arrangements or wreaths! That way you get a nice variety, but I think an all eucalyptus mobile would be gorgeous, too! I went with these colors to match her nursery, but the possibilities are endless for combinations. Most of these faux flowers come from Hobby Lobby or Joann Fabric.
What to do:
To create a mobile with lots of interest, you'll want the blooms to fall at different lengths. This also helps you stagger greenery vs. blooms and fit pieces in any empty spaces. Think of it like creating a flower arrangement, you want a nice dispersement of color and texture. It helps to plan it out on the floor first. You can vary the length of the faux floral stem, but also tie the string on the embroidery hoop in different lengths to achieve the look you're going for.
To me, the trickiest part of making the mobile is having a way to hang it while you tie the blooms on. If you have a small, round side table that works perfectly. If not, you can balance it on a chair or keep holding it up once you tie a flower on to make sure it is hanging nicely.
Be sure to knot the string multiple times onto the bloom as well as onto the hoop. Again, safety is of utmost concern here! 
I took it a step further and hot glued all of my knots to really make sure they wouldn't come apart. Additionally, I used super glue on the heads of the blooms and leaves where they attach to the stems. Nothing should be loose, but I didn't want to take any chances. This is a time-consuming part, but important for safety.
To hang the mobile, measure how long you need from the ceiling, then cut two pieces of string that are each double that length. Tie each side of the string on opposite sides of the hoop to balance it.
I think Vienna likes it and that just makes me so happy to see!! She is three months now and just so curious about everything. I love seeing her soak everything in! She loves looking at the flowers and trees when we are outside too. A girl after my own heart!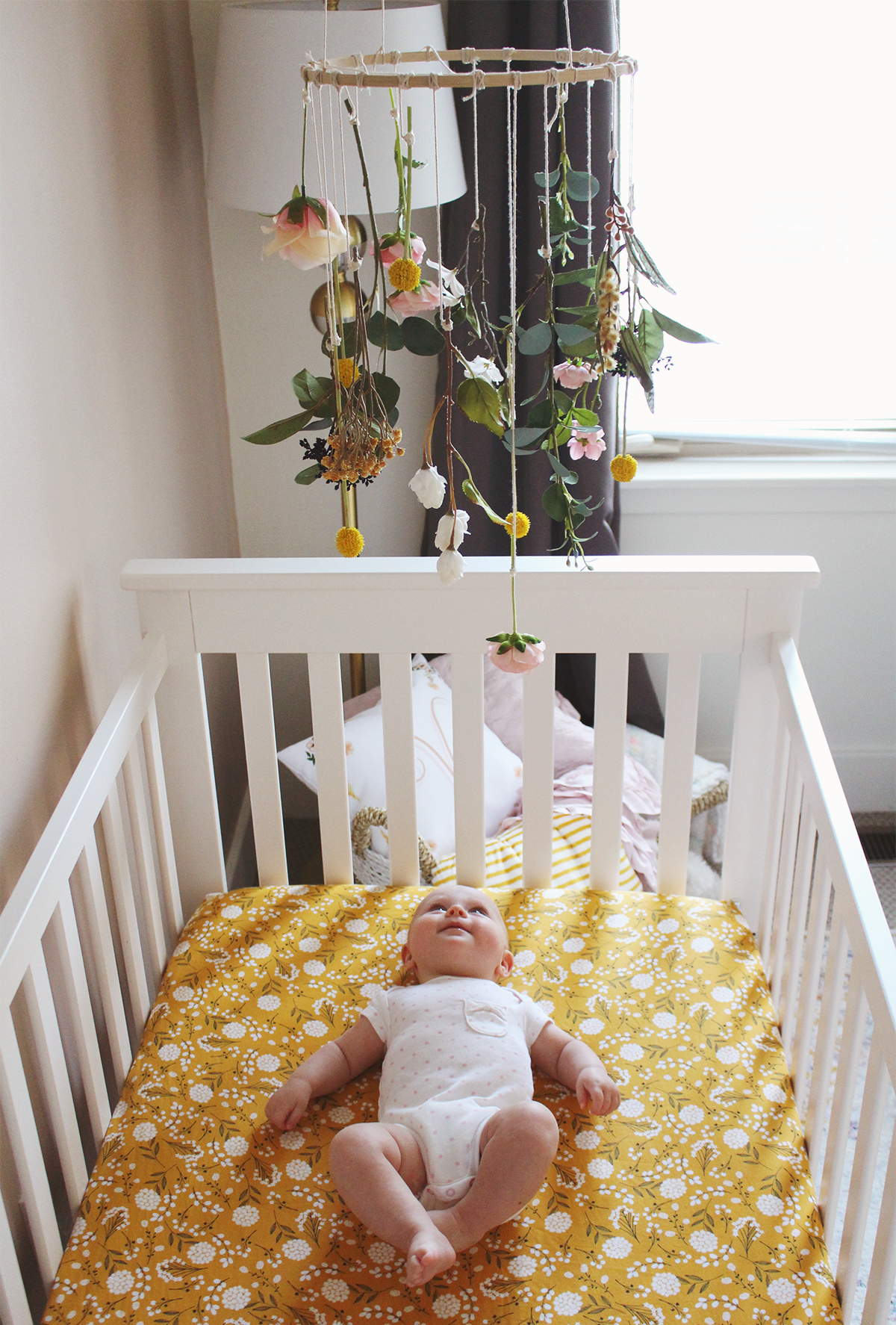 I really loved making this mobile! Let me know if you give it a try! 🙂